Each year at Christmas I like to put together a cookie box for family, friends, and neighbors. The content changes somewhat over the years; some cookies come and go, others are staples that stick around. I've put together a list of favorite holiday cookies that I've featured here on my site. Many of these recipes come from both my cookbooks: 100 Cookies and The Vanilla Bean Baking Book. My friend Amanda has a list of gluten-free christmas cookie recipes, if you're looking for those too!
I find that cookies bake most evenly on these half-sheet pans, and I like to use this cookie scoop. To remove cookies from the baking sheet, this spatula (actually labeled a pancake turner!) is the best.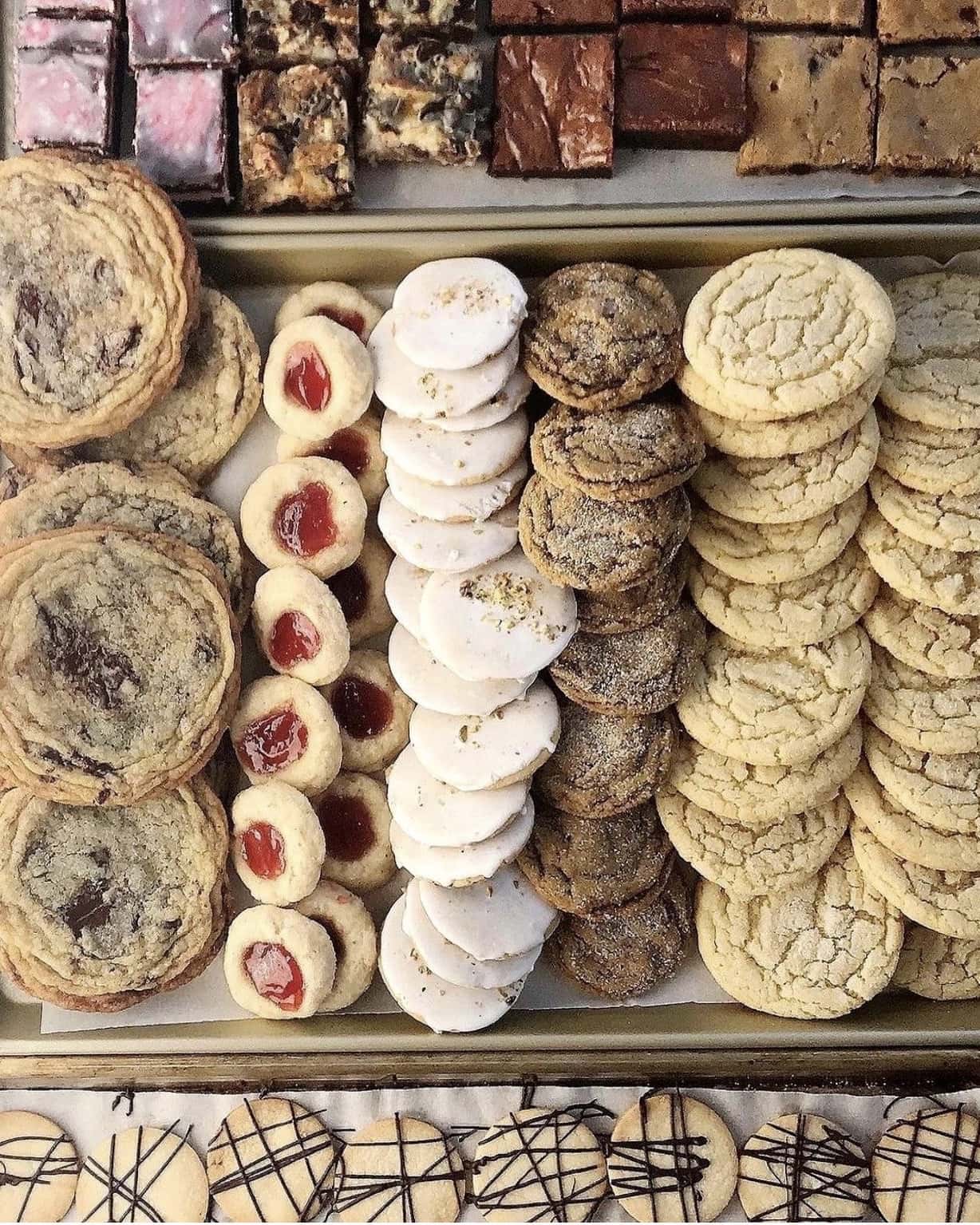 Freezing Baked Christmas Cookies
Most cookies are best eaten the day they're made, or within a day or two of baking. If you can't finish off a baker's dozen in 24 hours flat, the good news is that you can freeze them! Make sure your cookies are cool, then place them on a lined sheet pan in a single layer. Let them freeze for an hour or two, then once they are frozen solid, move them to labeled freezer-safe bags or containers to store. They can be stored for 1 month in the freezer (the longer they spend in the freezer, the less fresh they taste. I try to just keep them in there for a week). Move them to the refrigerator the night before serving.
Sometimes cookies or bars with cream cheese don't freeze quite as well. I have had mixed results; I have frozen cream cheese bars and had them thaw beautifully, but occasionally freezing them has changed the texture slightly.
Frosted/glazed cookies don't always freeze great – the glaze can get a little wonky in the freezer, and lose its glossy shine. I would recommend freezing the cookie base, and then glazing after they are thawed.
Freezing Cookie Dough
Most cookies doughs freeze well, but note that baking the dough from the freezer will result in extra baking time. The edges on larger, or thicker cookies will sometimes bake up darker, as the center will need more time to bake due to being frozen.
To freeze cookie dough balls, scoop the balls as directed, and freeze them on a parchment-lined baking sheet in a single layer. When the dough is frozen solid, transfer the balls to a freezer-safe storage bag. Dough can be refrigerated up to 1 month.
* (Please note that I haven't tried freezing the cream-cheese swirled red velvet cookies yet. I will be testing this week and updating accordingly.)
Gifting/Storing Christmas Cookies
Many people like to mail cookies as gifts or take them on long trips. If you are thinking of doing so, here are some tips: Fragile cookies and cookies that need to be refrigerated should not be mailed. Pick sturdy cookies, like shortbread, that will hold up over the distance or bar cookies that don't crumble easily.
Place the cookies in an airtight container, then pack the container in a mailable box filled with bubble wrap or other filler to keep them from bumping around. If the cookies are spending a few days in the box, you can wrap each one individually in the airtight container.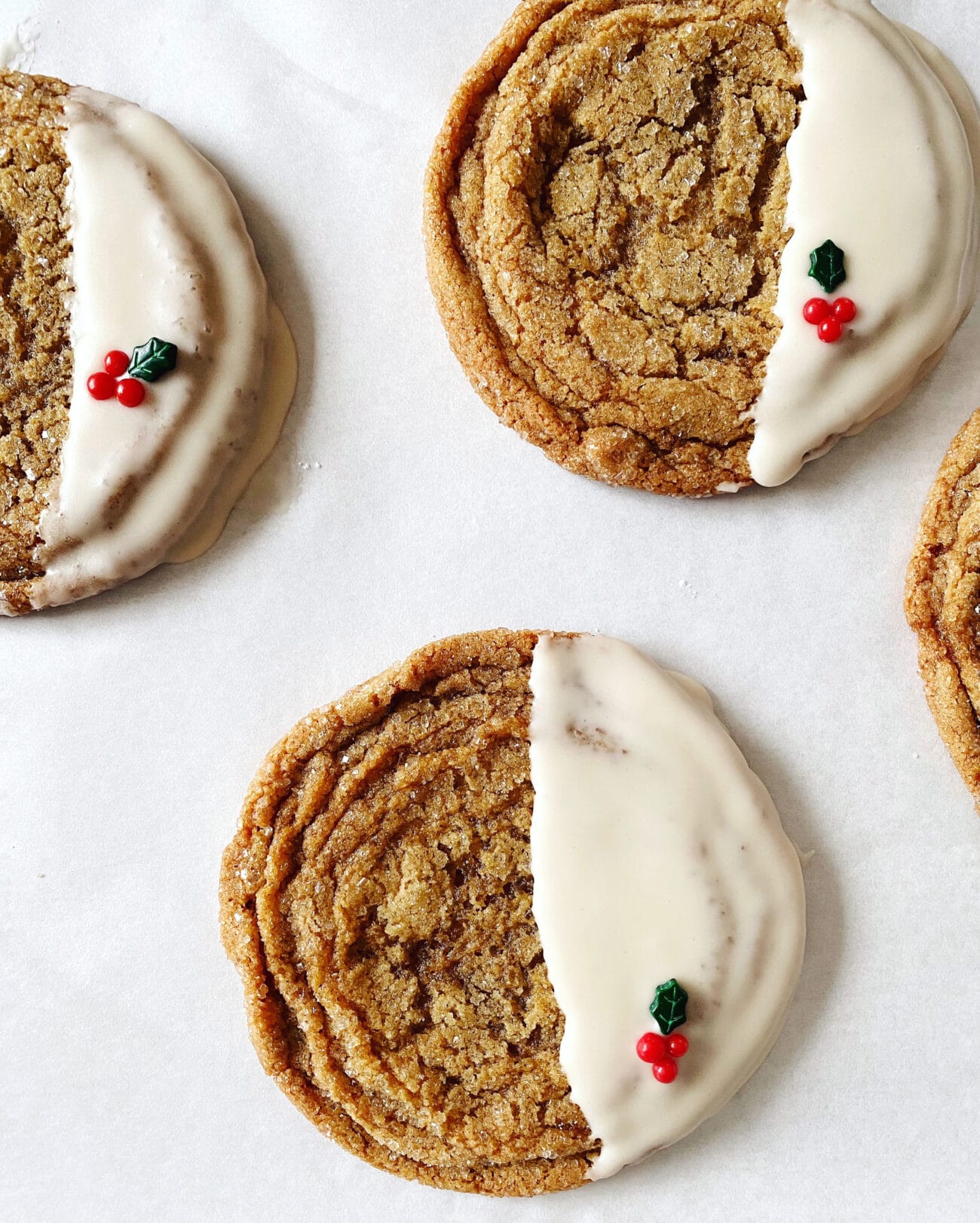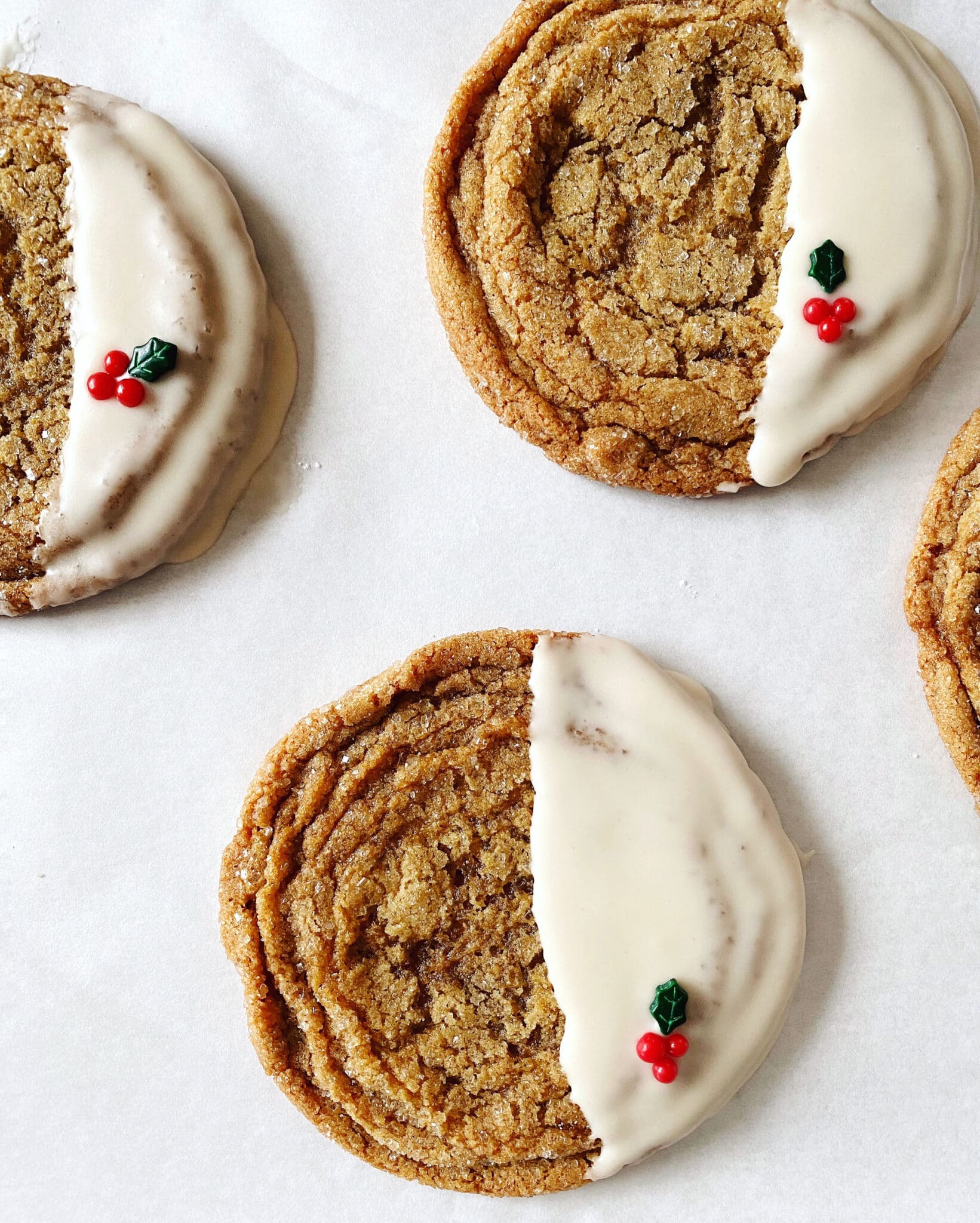 1. Pan-banging Ginger Molasses Cookies:
Crisp, ripply edges, a tender center, and a balanced mix of holiday spices make for a fabulous cookie. These cookies are large, but look lovely in a cookie box along with smaller circles, especially when dipped in Rum-Butter Glaze. Find the recipe here.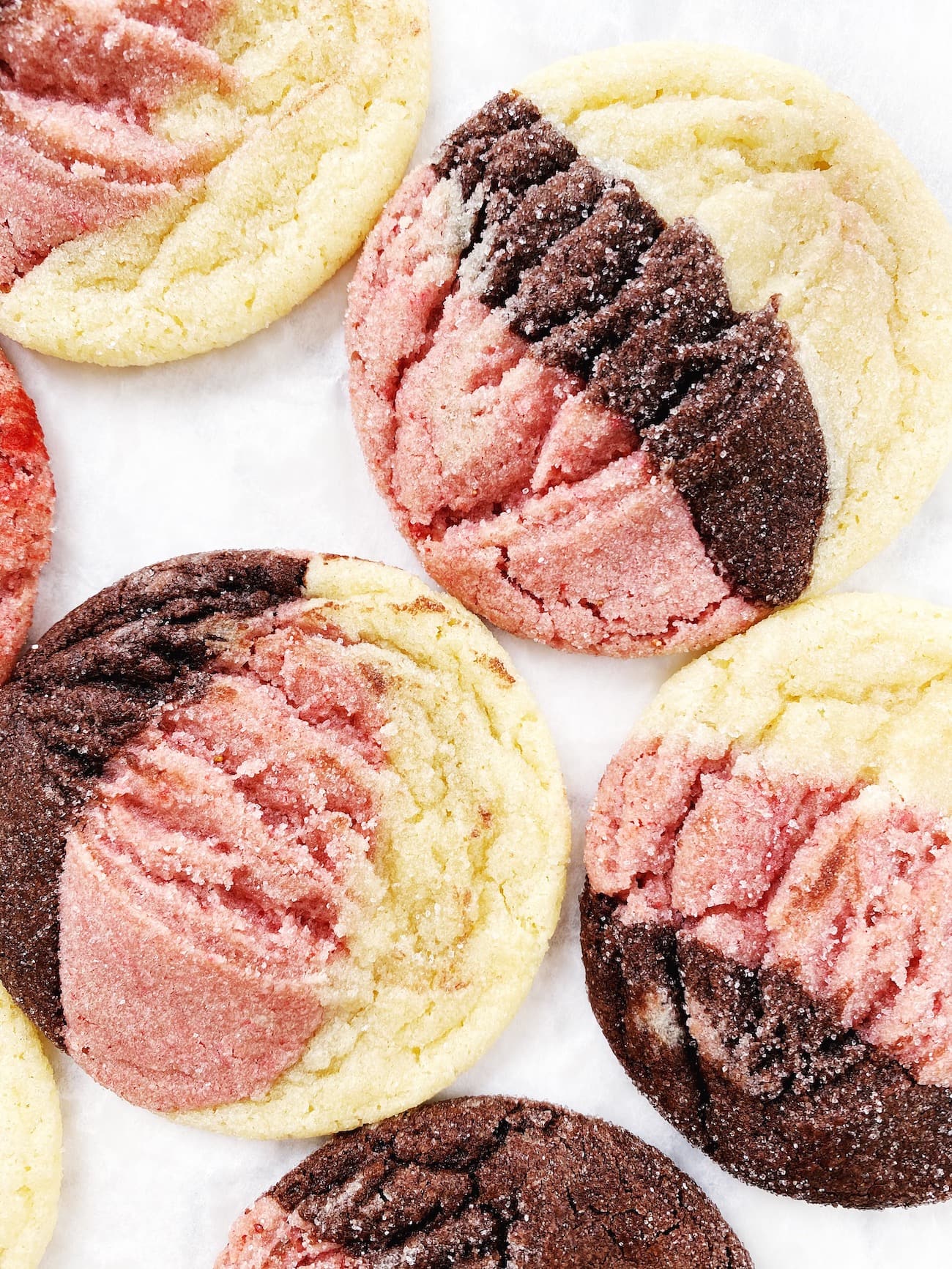 2. Neapolitan Cookies:
Strawberry, vanilla, and chocolate! This bright and tasty cookie is a family favorite. Feel free to switch up flavors: use 3 different shades of cocoa powder, swap raspberry for strawberry, or add some flavored extracts to personalize your cookie. Find the recipe here.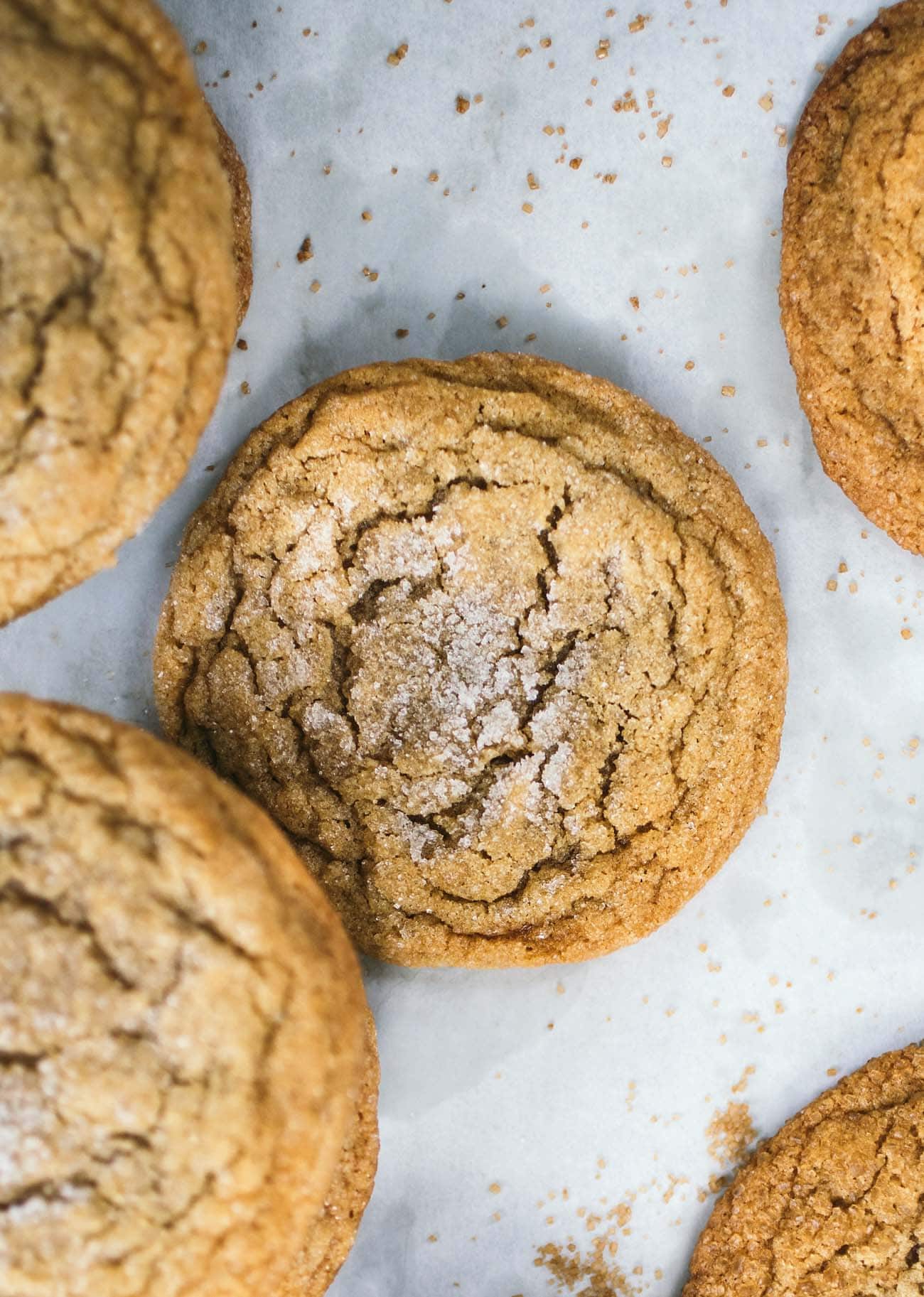 3. Chewy Brown Sugar Cookies:
They may not be as fancy as some of the others listed here, but they are downright delicious. And while I love a good sugar cookie, these have become preferred with anyone I share them with. Find the recipe here.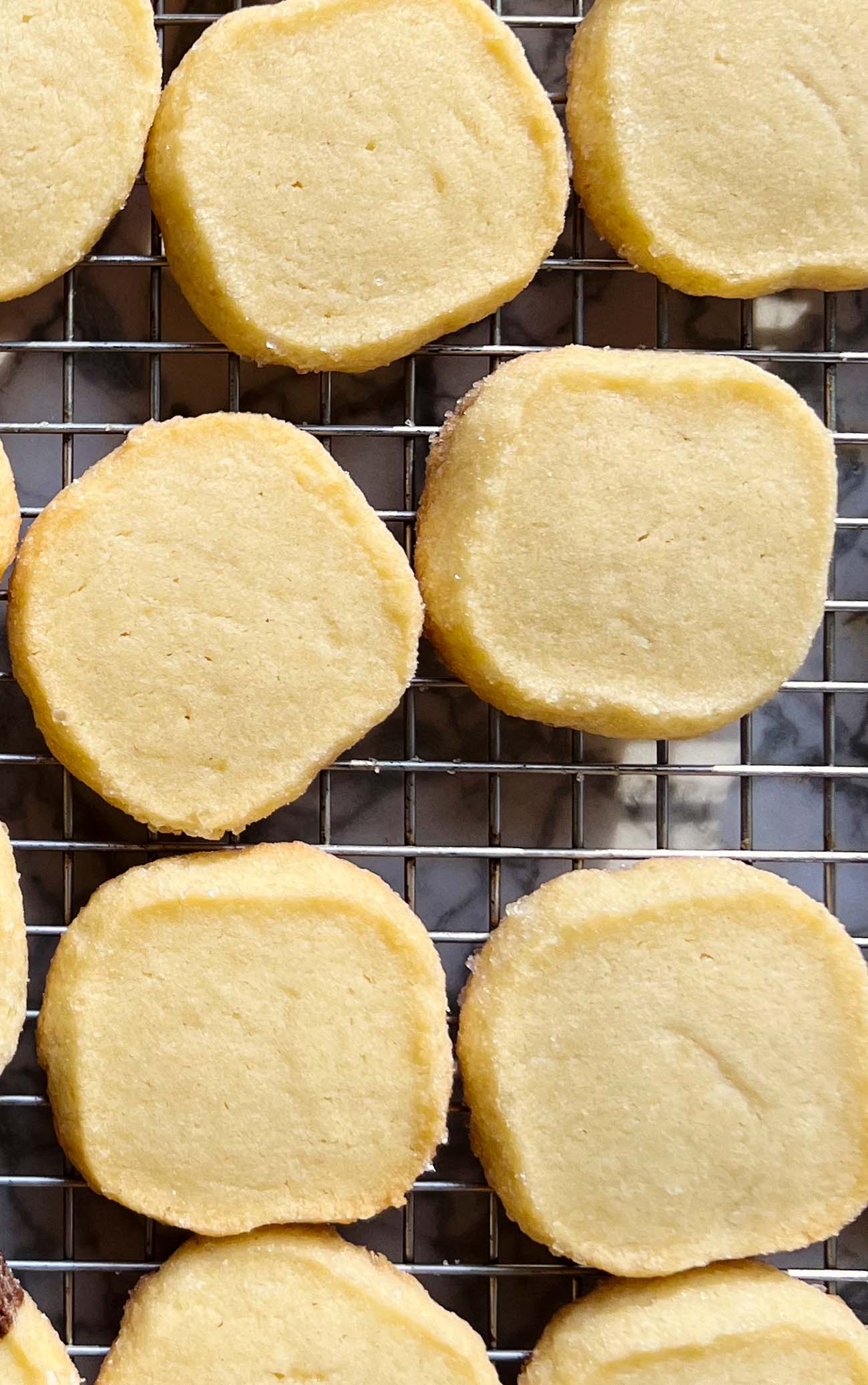 4. Buttery Vanilla Shortbread:
Buttery shortbread cookie with lovely vanilla flavor. My mom requests this one every year, and I willingly oblige. They pack and store incredibly well. Find the recipe here.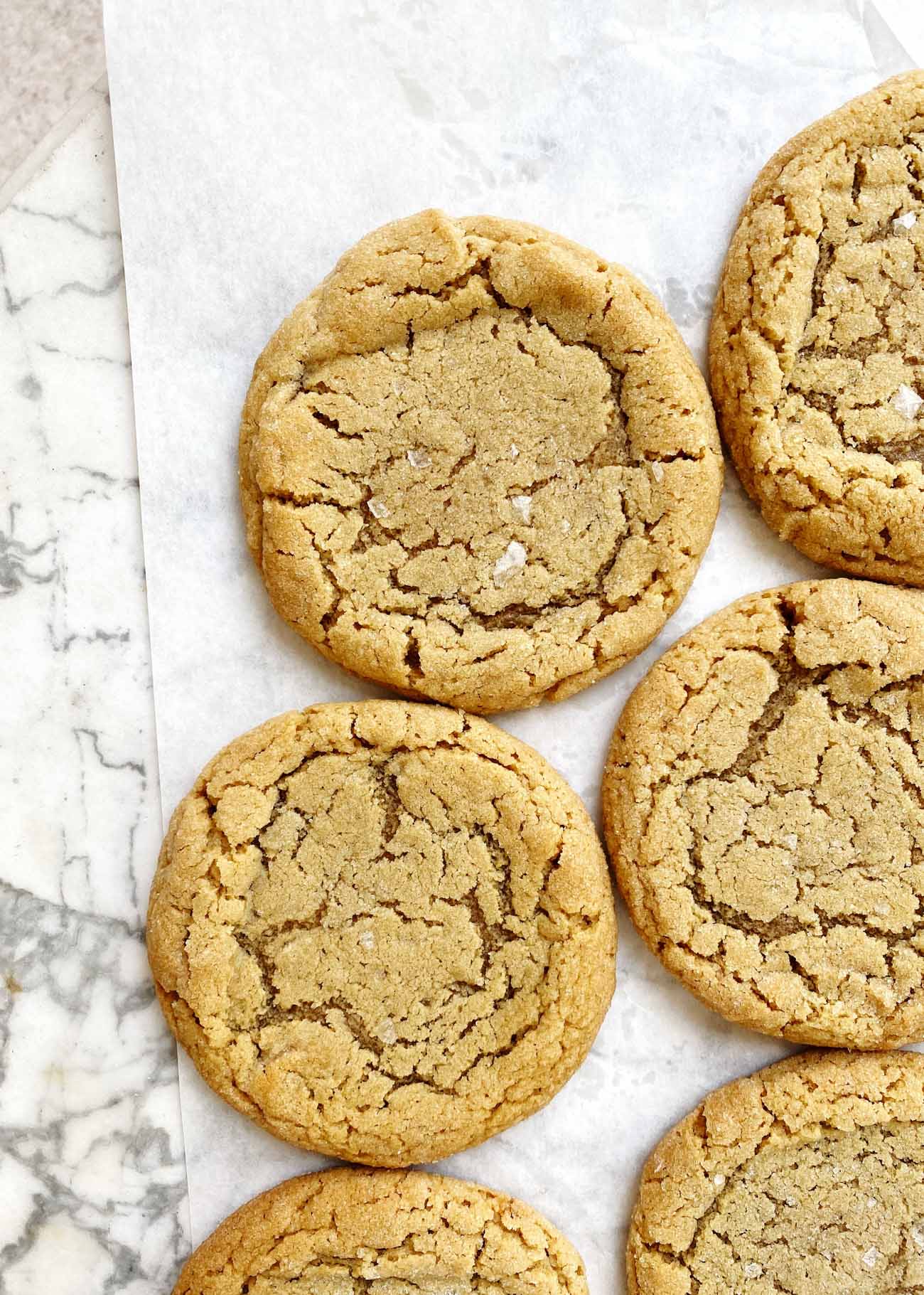 5. Chewy Peanut Butter Cookies:
These cookies are perfectly peanut buttery, with crisp edges and a tender, chewy center. They remind me of a peanut butter cookie you'd expect from a bakery, yet they're easy to make at home.
Find the recipe HERE.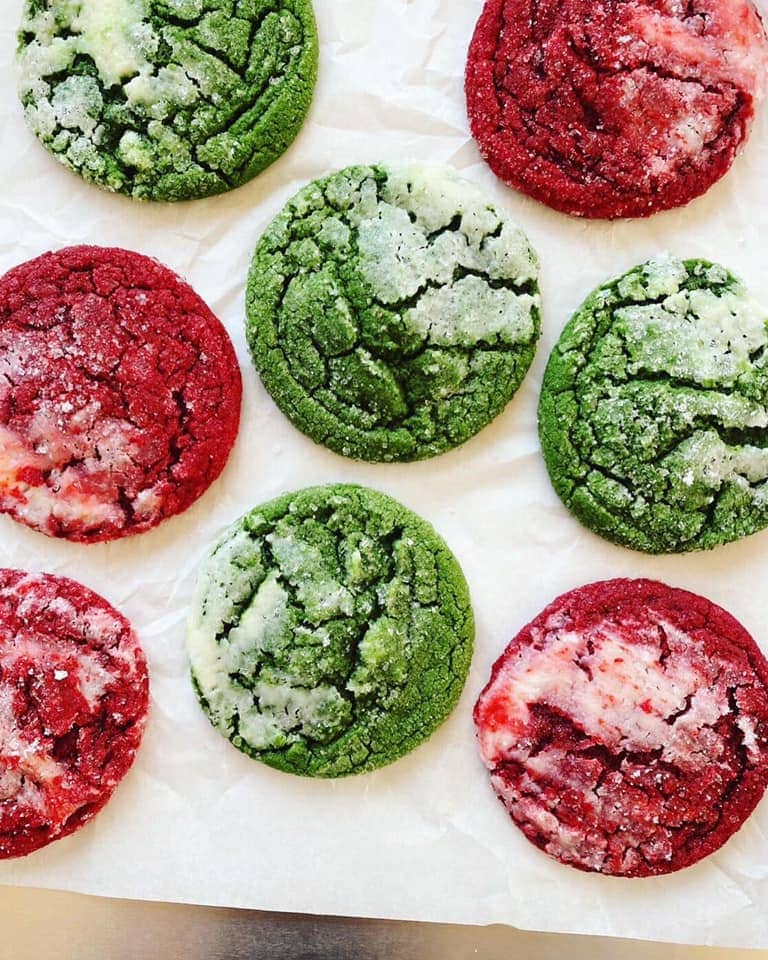 6. Red Velvet Sugar Cookies (and mint version):
The cookie base is my favorite sugar cookie: soft with crispy edges. It's vanilla and chocolate, with a hint of cocoa in them for a traditional red velvet taste, and the cream cheese swirl adds a nice creamy bite (as cream cheese frosting is typically used for red velvet cake), and tanginess to cut the sweetness. For the mint version, you'll use peppermint extract. Find the recipe here.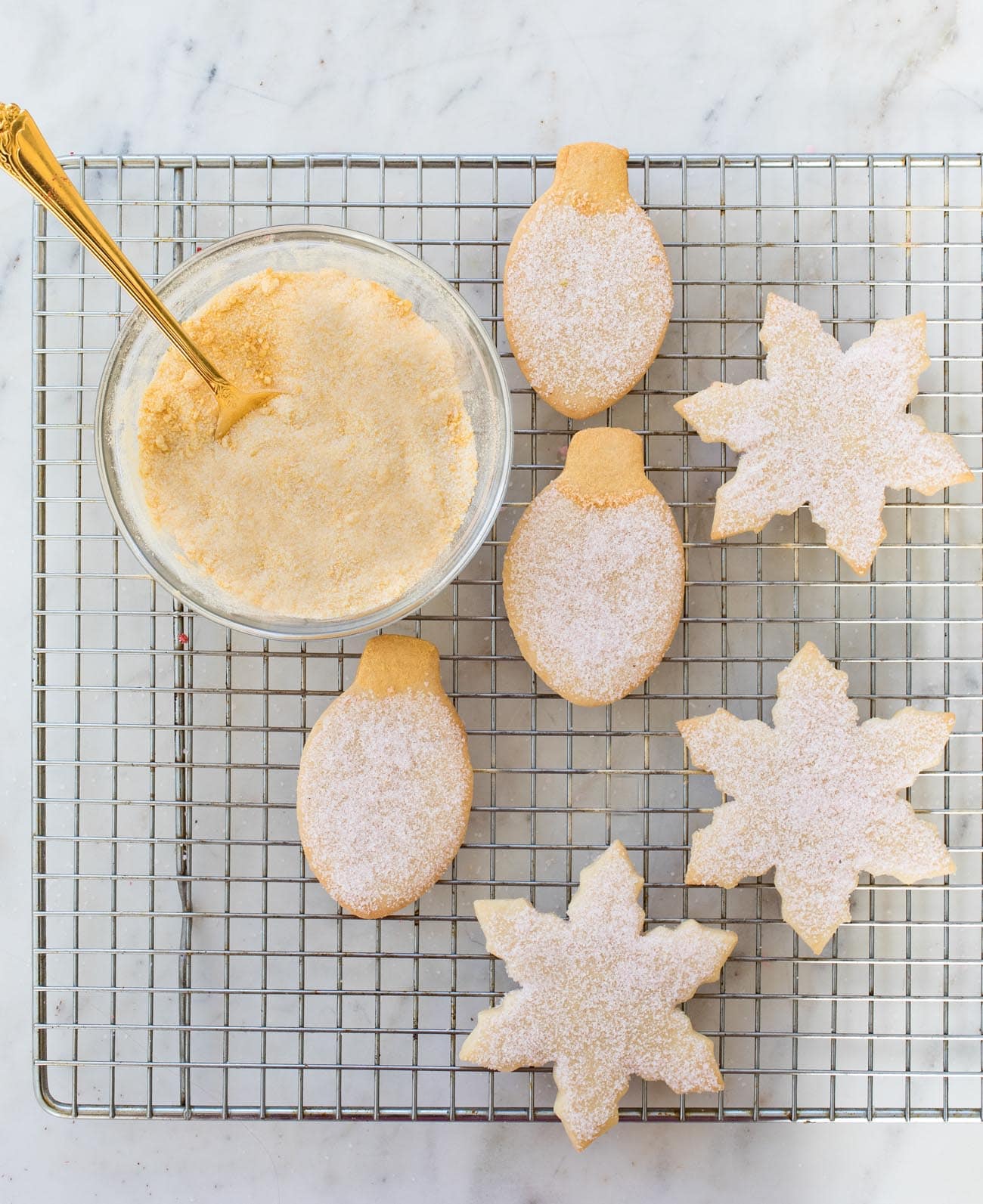 7. Holiday Cut-Out Cookies
These are the ones I make every year. They're buttery and light, with a subtle crispness. I'm sharing this recipe on the blog tonight (it's also in Baking for the Holidays!) and you'll notice coconut oil is an ingredient that sets them apart. The oil helps the cookies hold their shape, so the baked cut-outs mimic what your cookie cutter was. and keeps the cookies from spreading so much. ?Find the recipe HERE.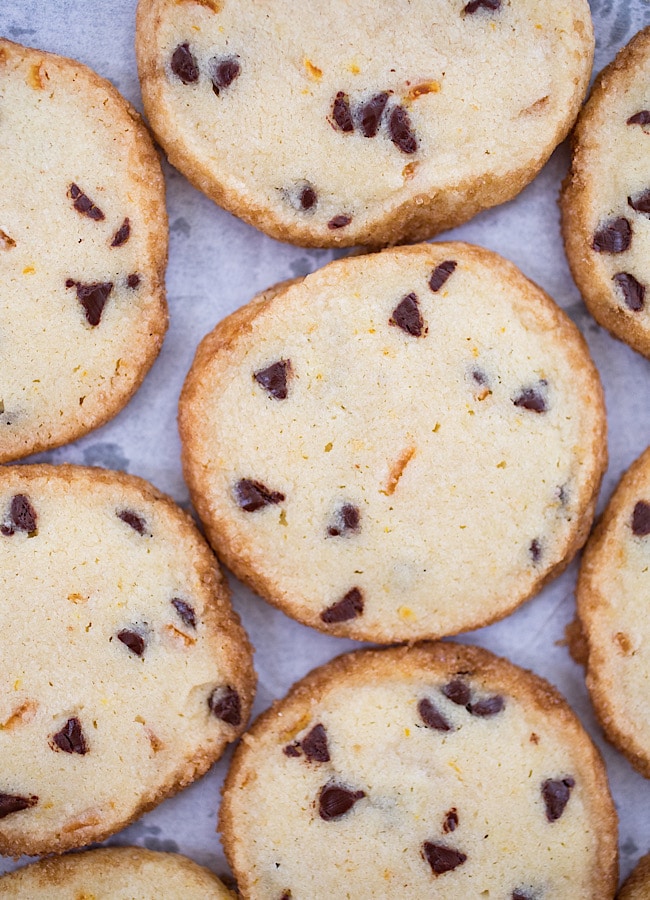 8. Chocolate Orange Sables:
More buttery, crispy goodness, with hints of orange and chocolate. I created this recipe for Bake From Scratch Magazine and will be putting it in my cookie box this year; it's become a personal favorite. Find the recipe here.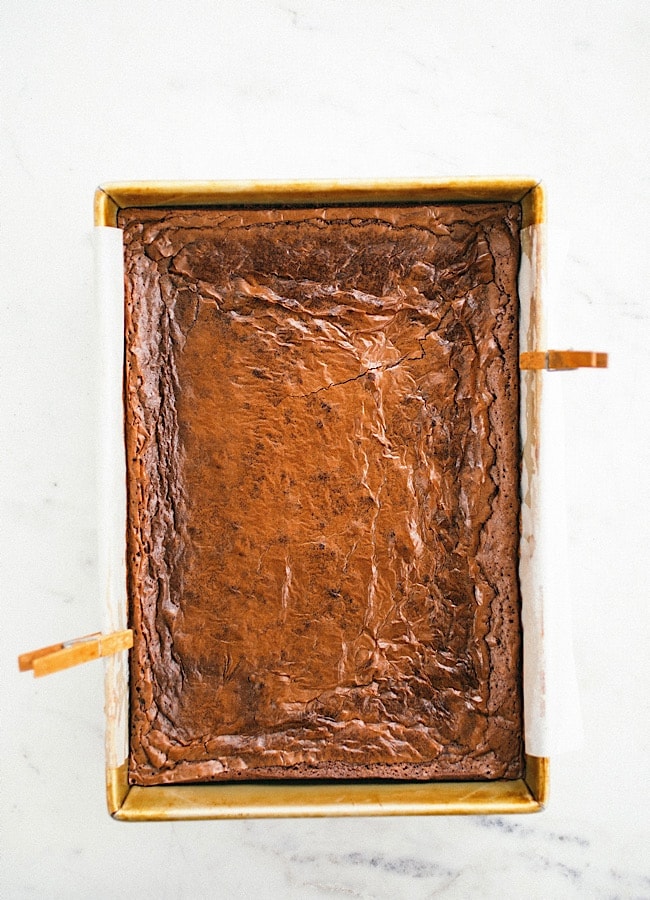 9. My Favorite Brownies:
This is my all-time favorite brownie recipe that I make often during the holidays and pack into boxes. They have a deep chocolate flavor, slightly chew texture (a nod to the boxed brownies of my youth), and a beautiful shiny top. Find the recipe HERE.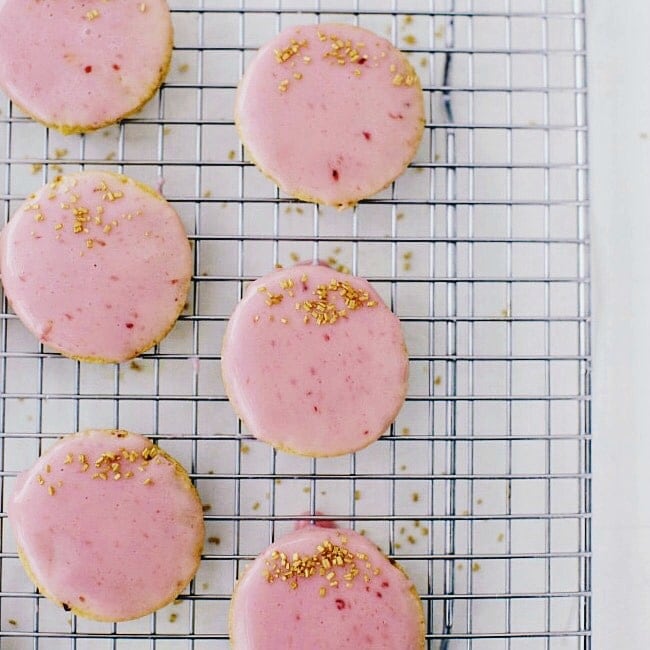 10. Olive Oil Sugar Cookies:
Crisp, olive oil infused sugar cookies that have lovely flavor, topped with a thin lemon or blood orange glaze. This dough is very forgiving, so if it cracks at all while you are rolling it out, you can patch it up easily. Find the recipe here.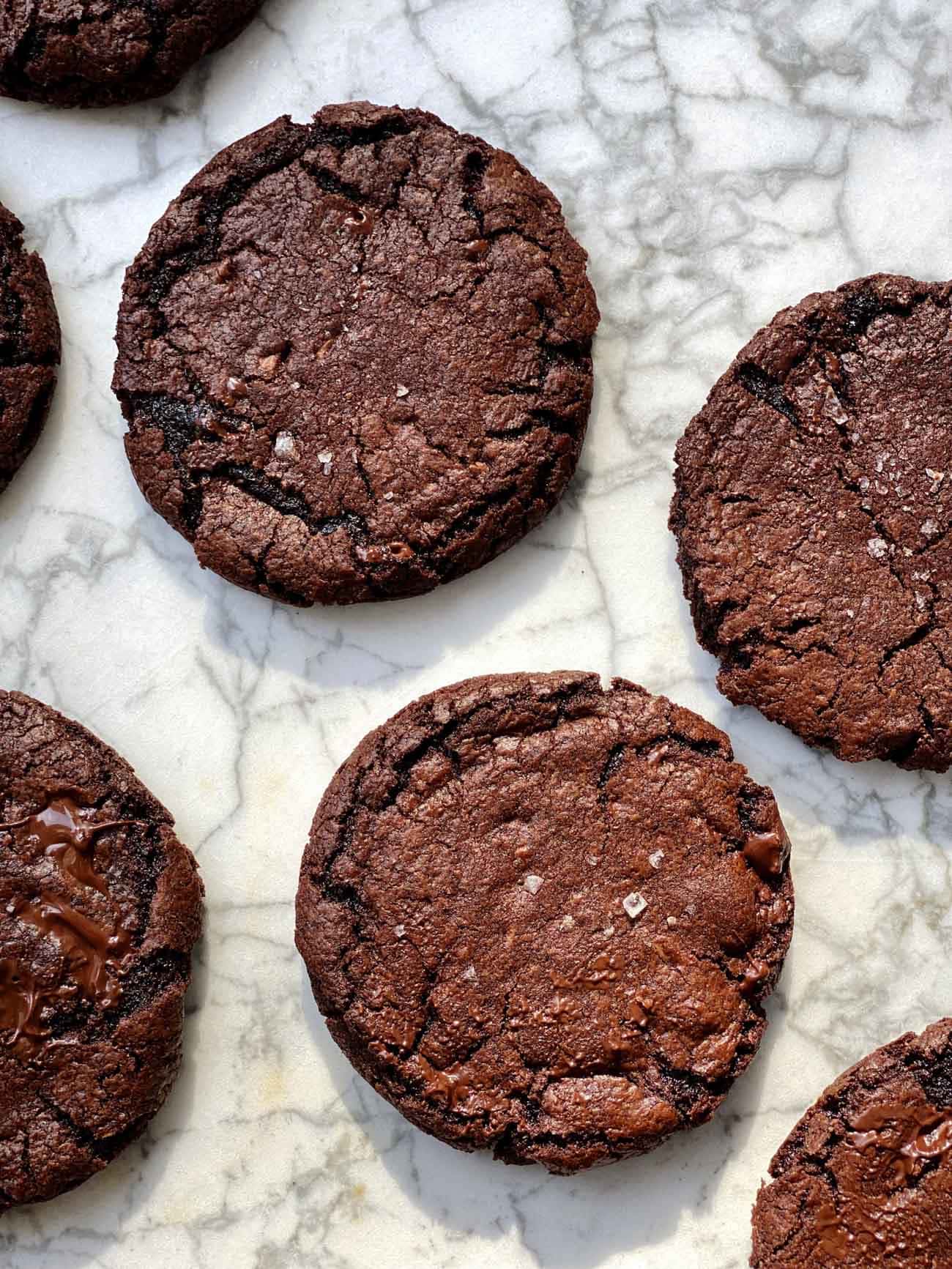 11. Ultimate Chocolate Cookies:
These cookies are for my fellow chocolate lovers. They are luxurious in every way, with two kinds of chocolate, rich cocoa powder, and a sprinkle of flaky salt to amplify the flavor. Find the recipe HERE.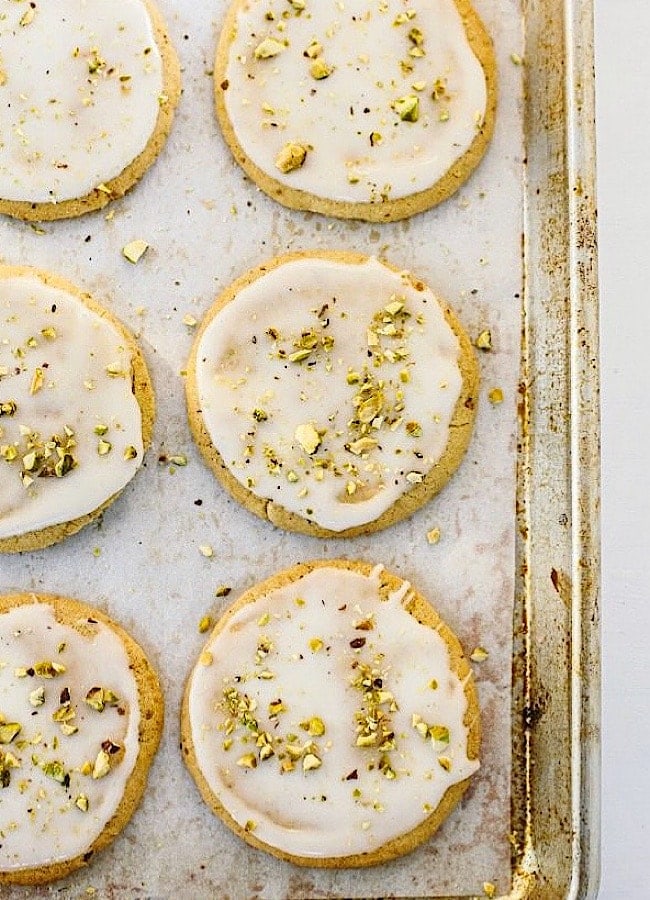 12. Olive Oil Cookies with Pistachio and Lemon:
I adore these cookies, and their bright flavor and pretty glaze studded with nuts. If you want to keep your box nut-free, flour can be substituted for the processed pistachios. Find the recipe here.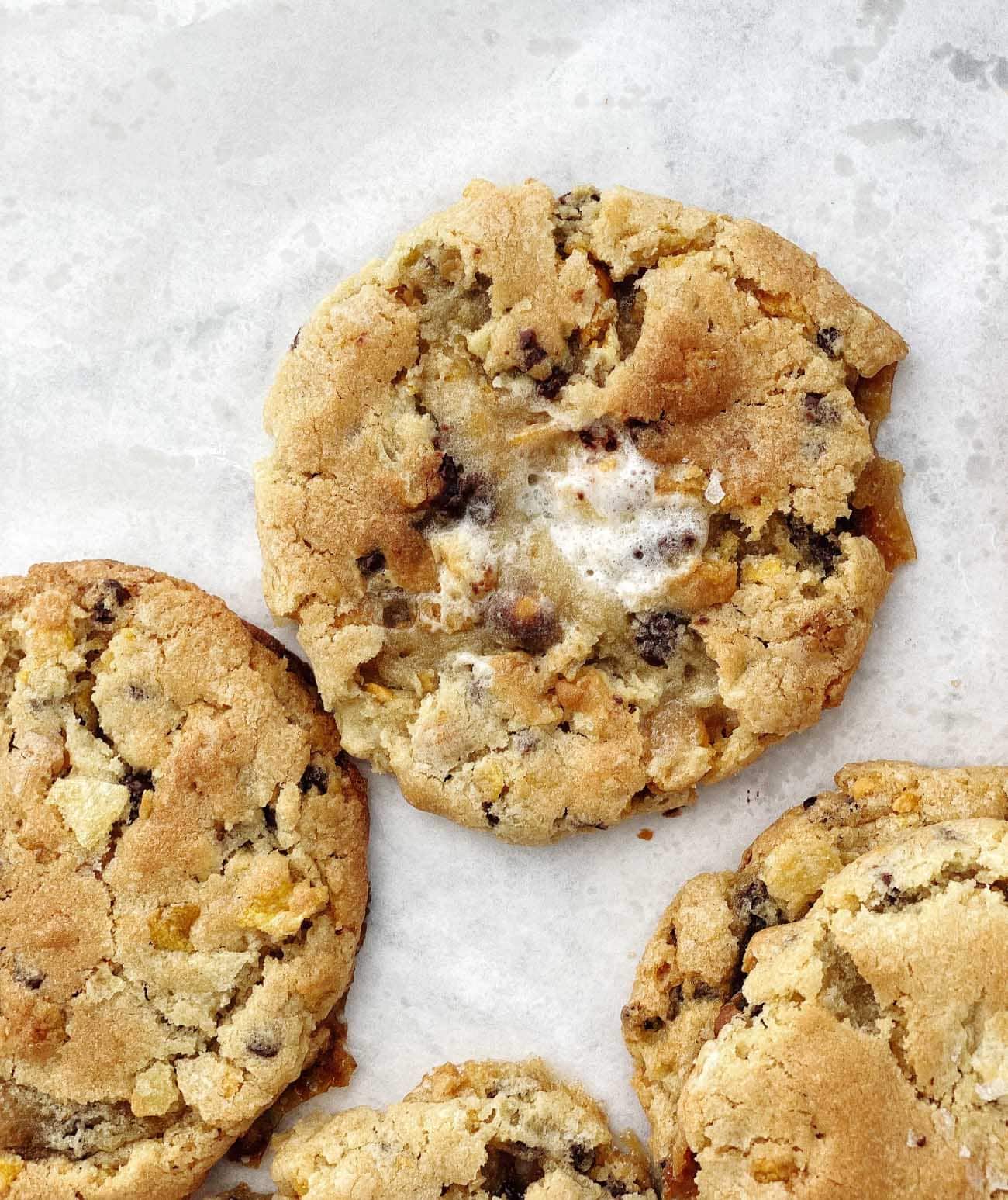 13. Seven Layer Bar Cookies:
I have a great love for Seven Layer bars, and decided to morph the two recipes together, sort of. There is no sweetened condensed milk or graham crackers like Seven Layer Bars traditionally include, but still seven layers of goodness: chocolate, butterscotch, potato chips, corn flakes, dulcey pearls, cacao nibs, and marshmallows. Find the recipe HERE.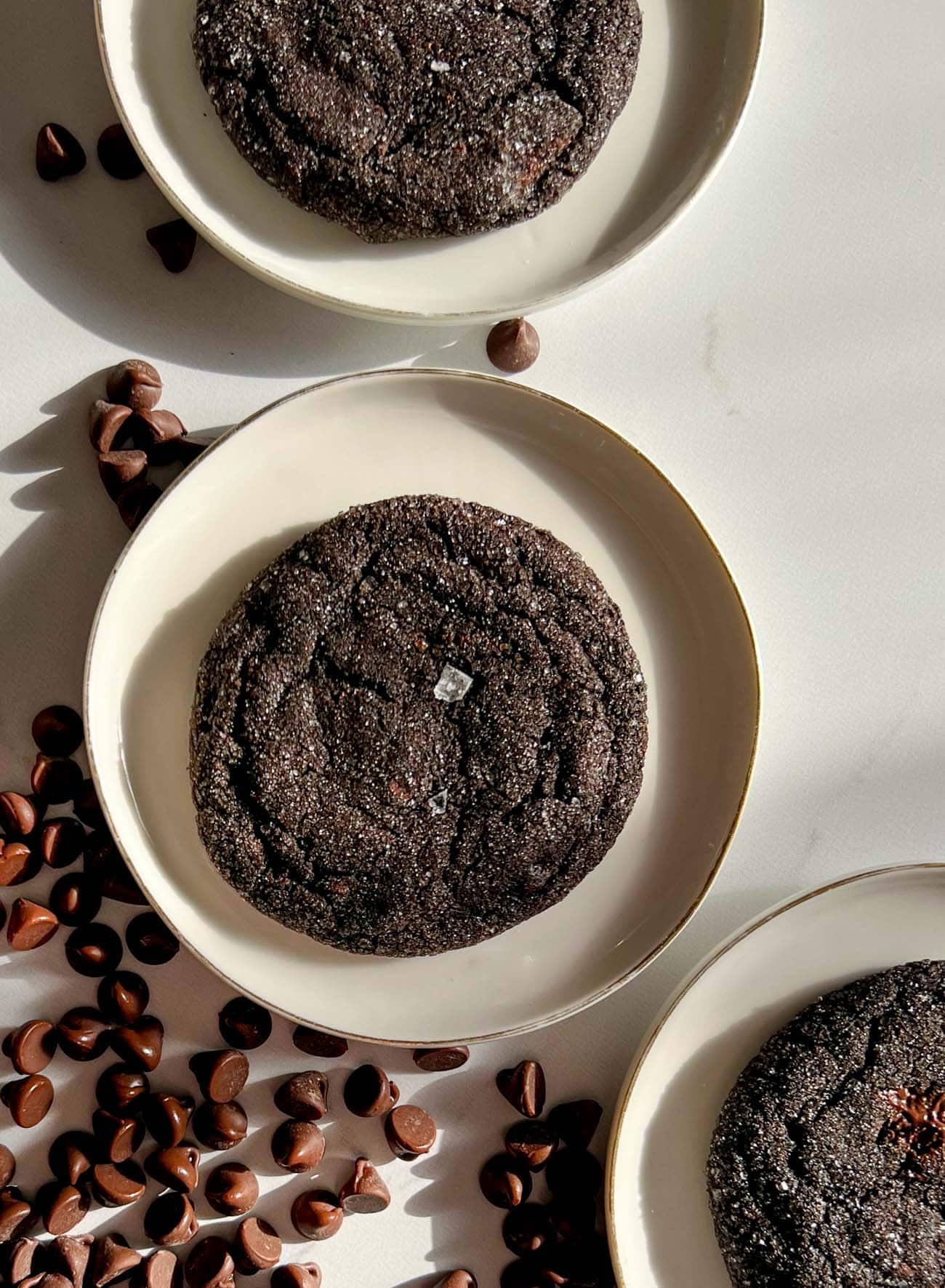 14. Easy Chocolate Espresso Sugar Cookies
These cookies are rich with so much chocolate flavor, have slightly crisp edges the day of baking, and a tender, rich center that lasts for days (which makes them perfect for cookie boxes). I've found the inclusion of ground espresso and a dash of coffee-flavored liqueur adds really nice flavor, and compliments the chocolate perfectly. They're incredibly easy to make, no refrigeration of the dough needed. Find the recipe HERE.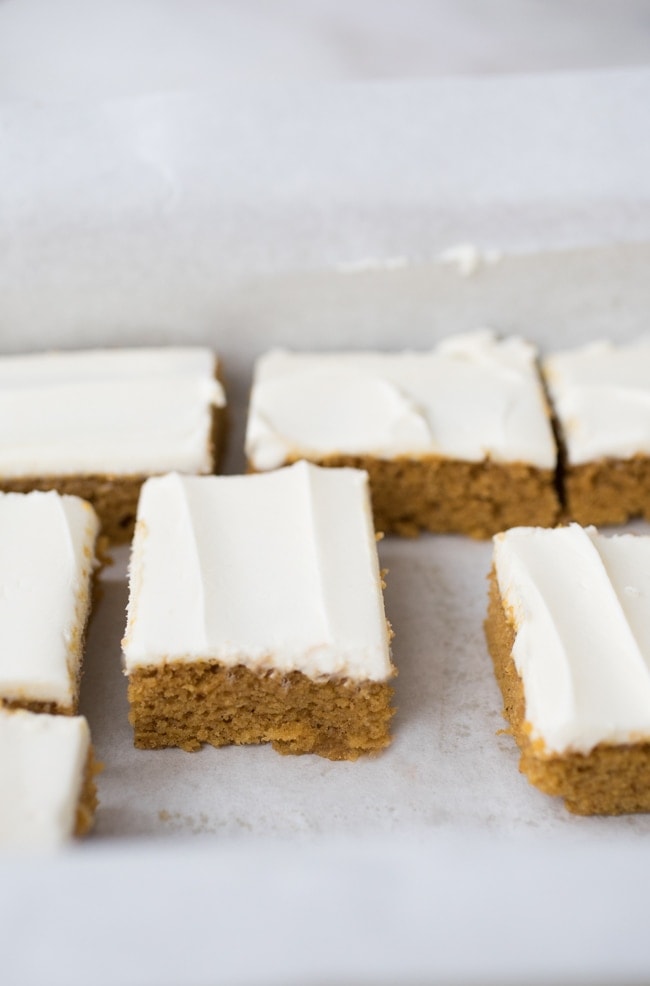 15. Pumpkin Bars with Cream Cheese Frosting:
These bars are so easy to make, and they are always well-received. This recipe makes a half sheet pan of bars, so there are plenty to give away. Find the recipe here.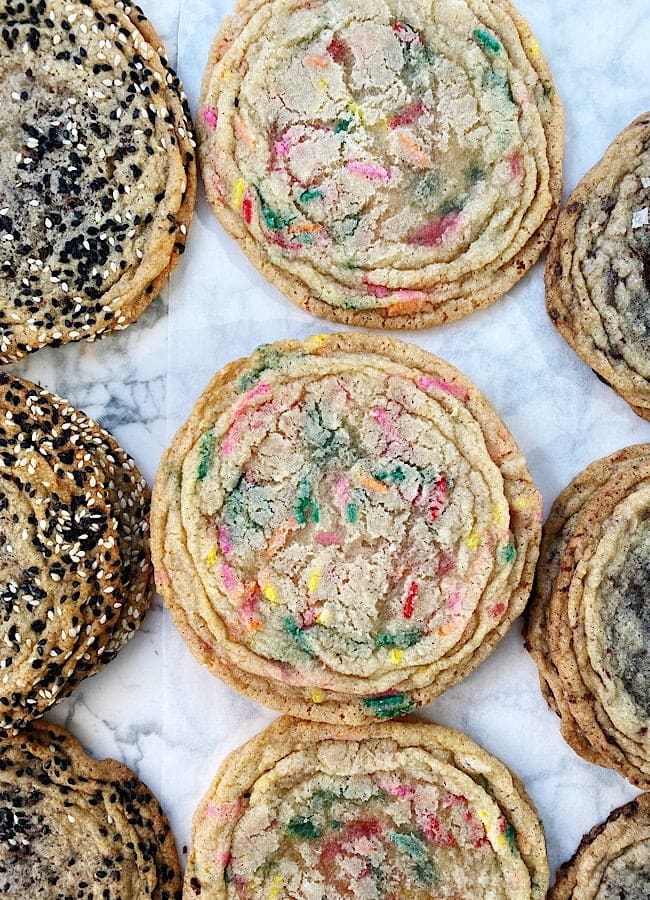 16. Pan-banging Sugar Cookies:
Another pan-banging cookies, with or without sprinkles. I prefer them with, and you can use holiday colored sprinkles if desired. Find the recipe here.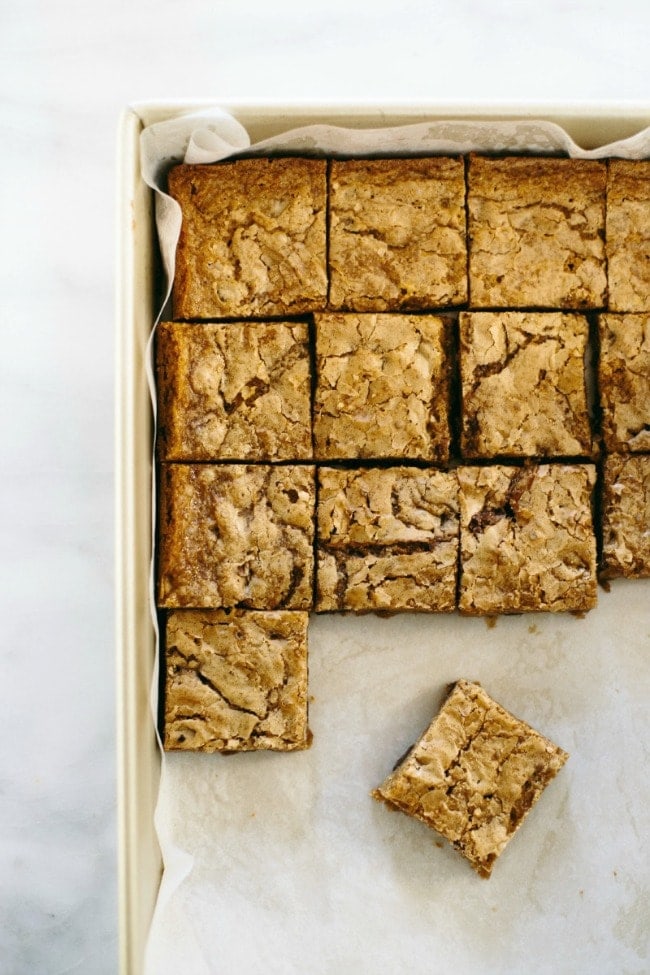 17. Coffee Blondies:
I've been making these bars for decades, and they end up in every cookie box I send out. They are well-loved by my entire family, and freeze like a dream. Find the recipe here.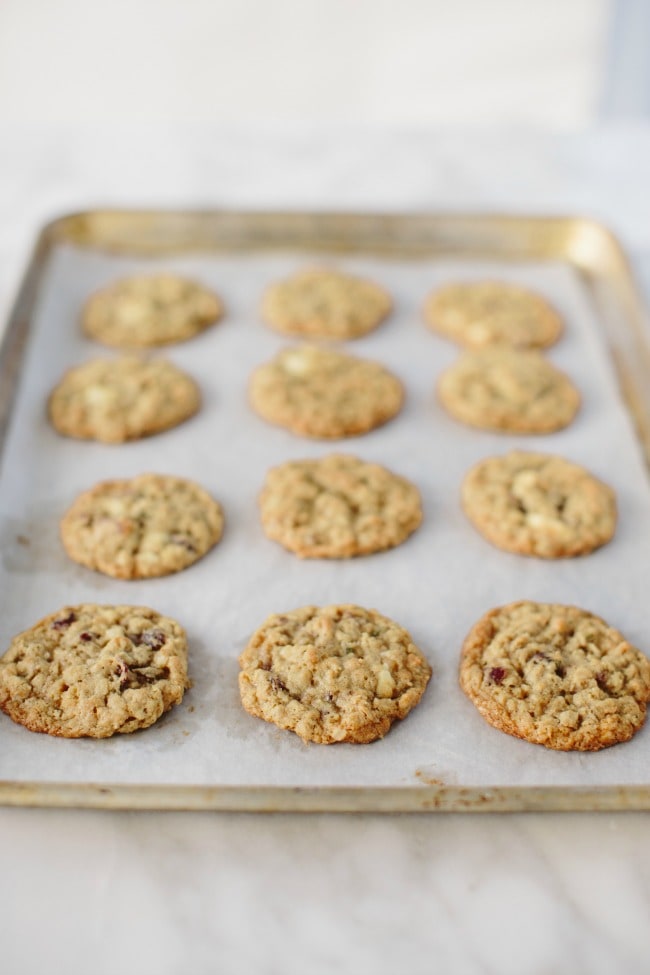 18. White Chocolate Cranberry Cookies:
Oatmeal cookies with white chocolate and dried cranberries, and a faint hint of rosemary. Delicious, and perfect for the holiday season. Find the recipe here.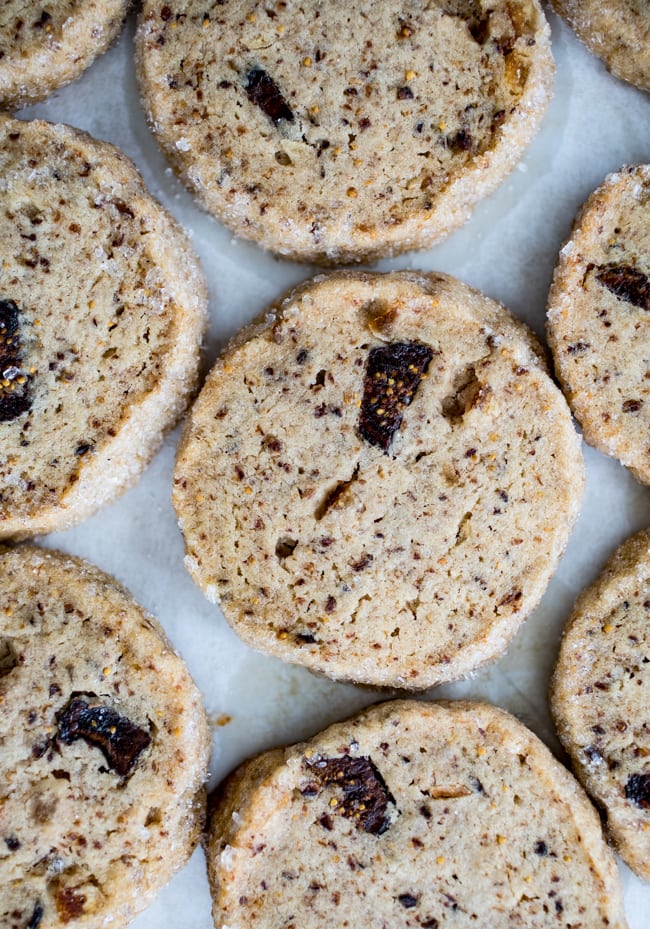 19. Fig and Orange Sables:
A classy cookie with a taste similar to that fig-filled sandwich cookie we all grew up with. Find the recipe here.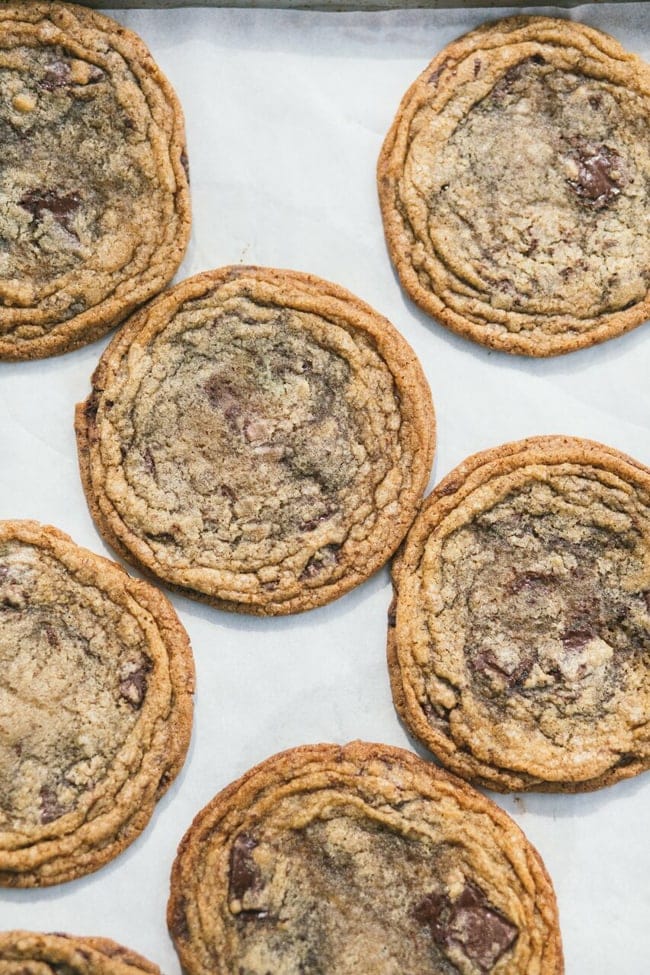 20. Espresso Pan-banging Molasses Cookies:
Crisp, ripply edges, gooey centers, a hint of molasses, espresso and chocolate – what could be better? Find the recipe here.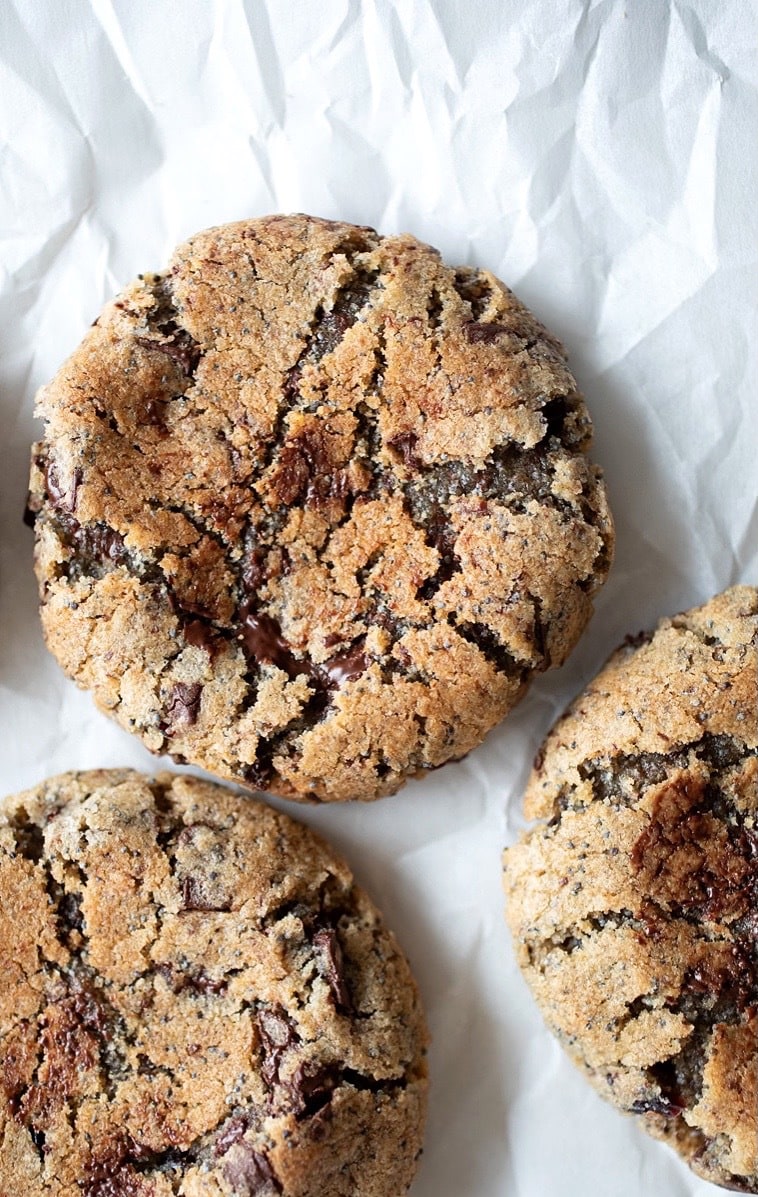 21. Rye Cranberry Chocolate Chunk Cookies:
The combination of rye, cranberry, chocolate, and poppyseed was intriguing to me when I read this recipe from Dorie Greenspan's cookbook, but the picture immediately sold me; the golden brown cookie with a slight indentation was so beautiful, and I jumped in the kitchen to start baking. They're amazing! The rye flour lends a nutty complexity that balances the chocolate, and the cookies have crisp edges and a gooey middle. Find the recipe here.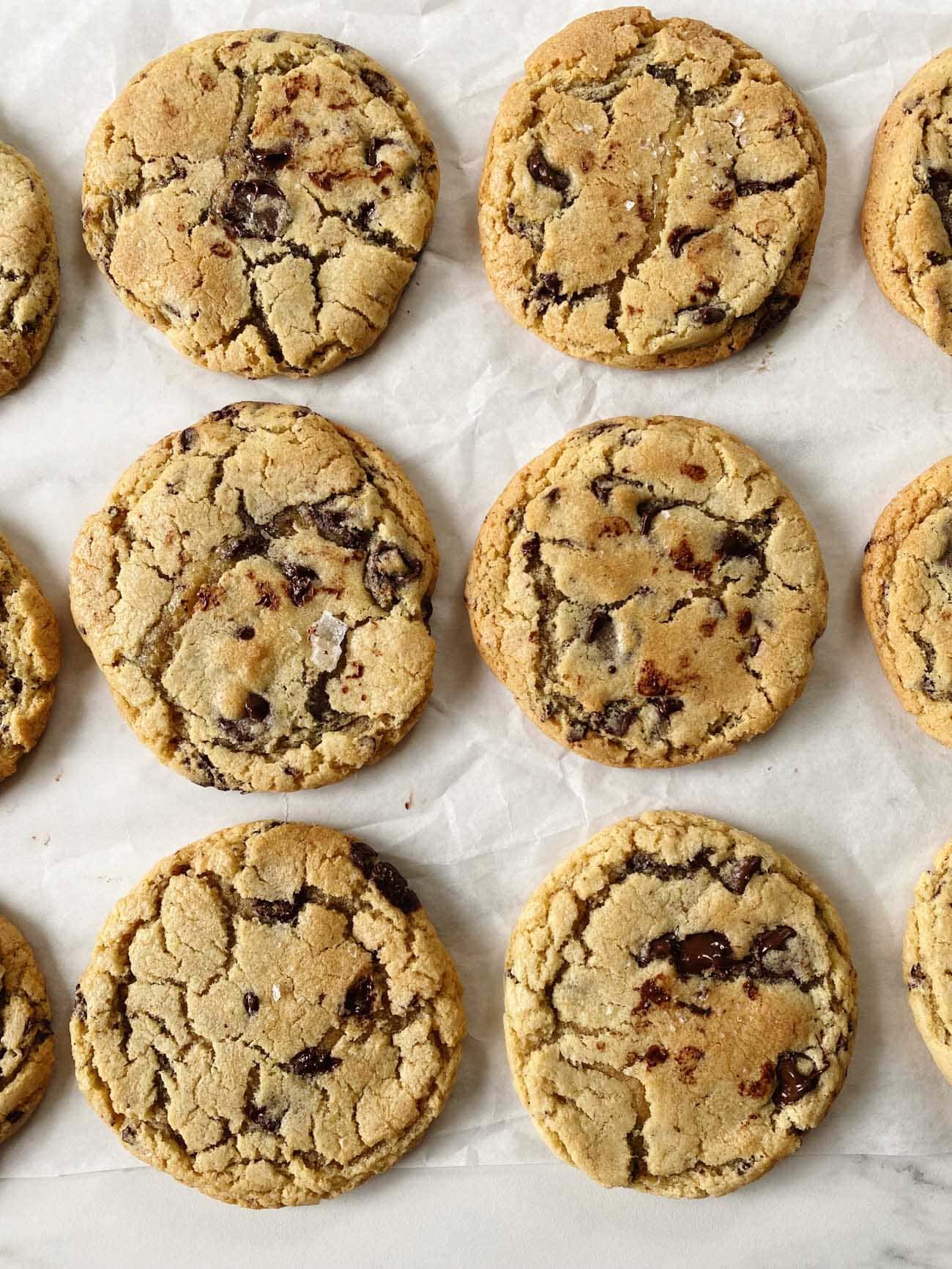 22. Perfect Chocolate Chip Cookies 2.0
I love my Pan-banging Chocolate Chip Cookies, but there is always room for change in my mind. I decided to work on a recipe that combined many of the elements I loved in my other cookies: crisp bottoms and edges, a thick, gooey, rich center, and deep chocolate and vanilla flavor. These are my new favorite. Find the recipe HERE.