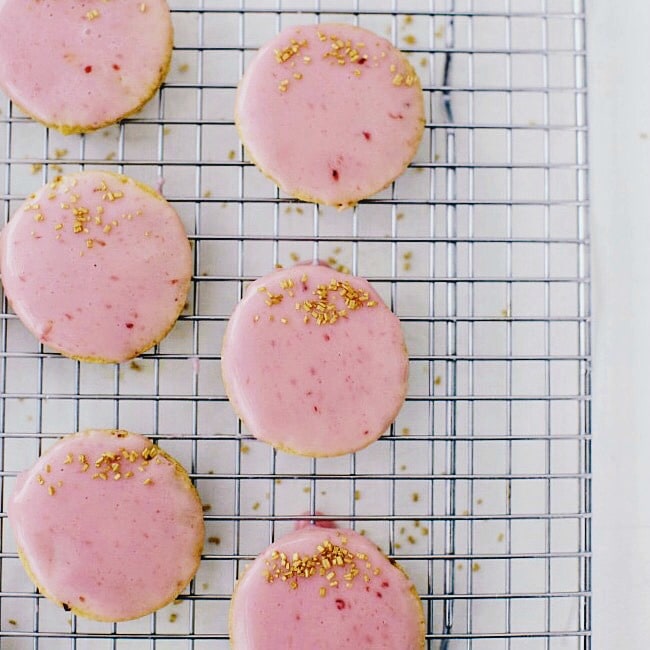 These olive oil sugar cookies are a variation of the Sugar Cookies with Lemon Glaze from my book. They can be made with or without the pistachios (both versions are there). I think they are good both ways.
Regular oranges will also work, but you won't get the pretty pink glaze. You can cut them out into different shapes (see hearts above), but they do puff up a bit when baking and sometimes won't keep sharp lines, depending on the shape. I find circles work best.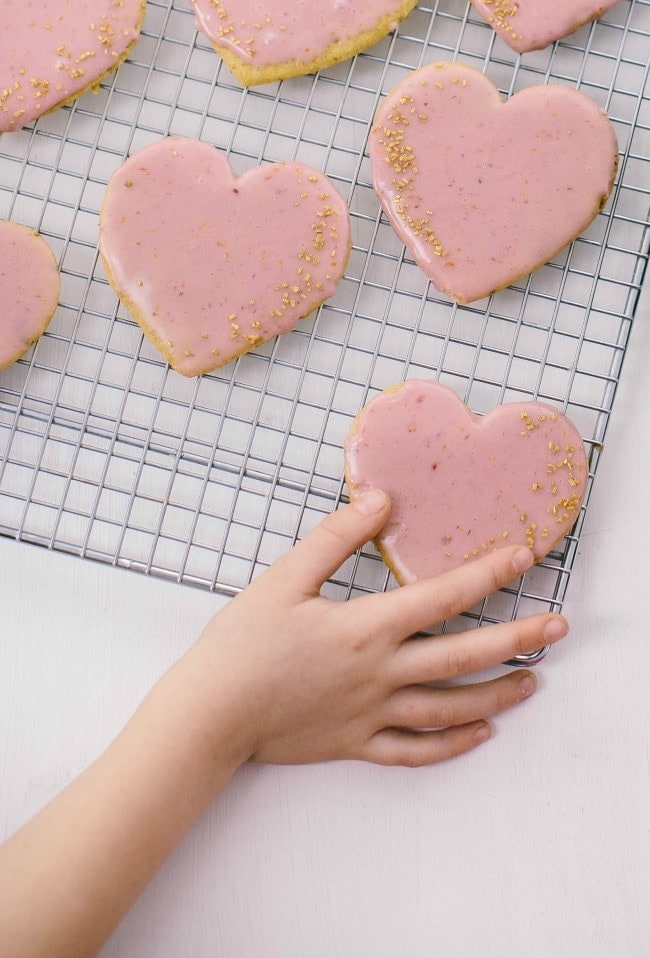 The day before my cookie book came out, I decided I was going to spend the entire winter reading. My plan was to take my kids to the bus stop each morning, send them off with a kiss and a wave, and then take a giant mug of warm coffee (with a splash of half and half), curl up in my bed under piles of blankets, and read all the books. Yes, all of them. However, today as I was washing dishes after an entire day in the kitchen baking, it occurred to me that I haven't done this once, not one.single.time. (O, to be sure, we laugh less and play less and wear uncomfortable disguises like adults, but beneath the costume is the child we always are, whose needs are simple, whose daily life is still best described by fairy tales.*) Alas. The pile of books on my nightstand will keep growing, I guess.
But, today, while I was bustling around my toasty warm kitchen, I did make treats to share with you. I know it's been quiet around these parts (I'll blame an entire month of recipes that just didn't quite turn out as hoped, and still need some work), but I'll have some new posts for you soon. And I do have cookies! I love them almost as much as I do my chocolate chip cookies. Plus they are pink, without any food coloring whatsoever.
But before you head off to find the recipe, I have one question for you. I am currently trying to revamp my newsletter/email, and am wondering what exactly you would like to see in such a thing. I've sent out a couple with new blog post highlights and any upcoming events, but I'd love your feedback on what actually makes you want to click open an email and read it. Or do you hate them? Delete them immediately? Tell me all.
*Leo Rosten
More Sugar Cookie Recipes: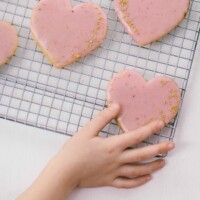 Olive Oil Cookies with Blood Orange Glaze
Servings:
2
dozen cookies
Crisp, olive oil infused cookies that have a rich flavor, topped with a thin blood orange glaze that's naturally pink. These work great as cut out cookies!
Print
Pin
Rate
Ingredients
1/3

cup

[43 g] roasted shelled pistachios*

2

cups

[284 g] all-purpose flour*

1/2

teaspoon

baking soda

1/2

teaspoon

salt

4

tablespoons

[57 g] unsalted butter

at room temperature

3/4

cup

[150 g] granulated sugar

1/4

cup

[30 g] confectioners' sugar

1/2

cup

[112 g] olive oil

1

large egg

1

teaspoon

pure vanilla extract
Blood Orange Glaze
1

cup

confectioner's sugar

zest

of a blood orange

2-4

tablespoons

blood orange juice
Instructions
For the cookies
Adjust an oven rack to the middle of the oven. Preheat the oven to 350F [180C]. Line two baking sheets with parchment paper.

Place the pistachios in a food processor fitted with a steel blade and pulse until finely ground. Add the flour, baking soda, and salt. Pulse to fully combine and set aside.

In the bowl of a stand mixer fitted with a paddle, beat the butter on medium until creamy. Add the granulated and confectioners' sugars and beat on medium until light and fluffy, 2 to 3 minutes. Add the olive oil and mix on low until combined. Scrape down the sides of the bowl and add the egg and vanilla, mixing on low until combined. Add the flour mixture and mix on low until combined.

Gather the dough, wrap with plastic wrap, and chill in the refrigerator for at least 2 hours and up to 1 day.

Lightly flour a work surface and roll the dough to 1/4 in [6 mm] thick. Using a 2 inch biscuit or cookie cutter, cut out circles. (Any dough scraps can be rewrapped and chilled while the cookies are baking.) Gently slide a metal spatula underneath each round and transfer it to the prepared baking sheet.

Place 12 cookies on each sheet. Put the first baking sheet in the freezer for 10 minutes. After the dough has chilled, put the first pan of cookies in the oven, and then put the second pan in the freezer. Repeat with the leftover dough.

Bake one sheet at a time, 10 to 12 minutes, until the cookies are just beginning to brown on the edges.

Transfer the baking sheet to a wire rack and let the cookies cool completely on the pan.
For the glaze
In a small bowl, whisk together confectioner's sugar and orange zest. Add the blood orange juice, one tablespoon at a time, until you have a thin glaze. Spread each of the cooled olive oil sugar cookies with glaze and let set before serving.
Notes
* These can made with or without pistachios.
*I have been making this recipe for 6+ years now (during the winter holidays especially), and never had a problem with it rolling out, if anything the dough erred on the side of being a little wet. However, many of you have written me to tell me the dough was really crumbly for you, and I found the same to be true when I made it this holiday season (2020).
It could be just a case of dry flour – flour can dry out, especially in the winter months.
Flour also changes from harvest to harvest, so it's possible that this is a higher-protein season, and that's why many of us are having trouble. If you find that the dough is crumbly after adding the ingredients, you can add a little water (a teaspoon at a time) until it comes together. I did have one reader add an extra egg and said that worked well, too. I'm sorry if you are having trouble! This really has been my go-to dough for so many things and has worked so well up until now. I'll update if I find out anything else to help/answer questions.