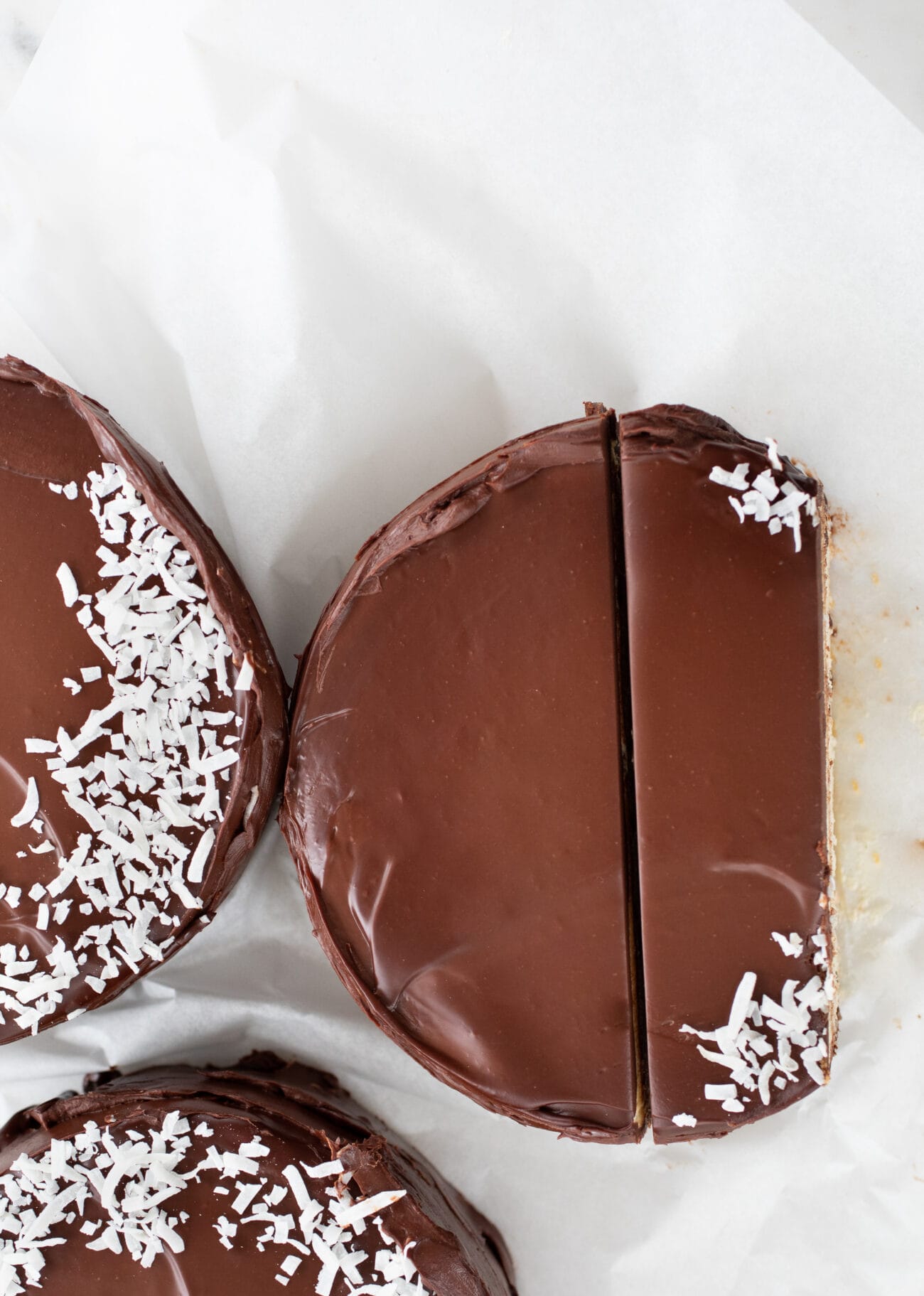 In my cookbook Baking From the Holidays, I shared a recipe for Chocolate Gift Cakes that made 3 small 6-inch cakes that pack and transport well. I now find myself making different variations of gift cakes for special occasions, like these S'more Cakes, and now my latest, a Chocolate Coconut version with a thin layer of pastry cream and chocolate ganache.
I've used my white cake base is from my Coconut Cupcake recipe in Baking for the Holidays, but rather than whole milk, the cake is infused with coconut milk and coconut extract. The reverse creaming method (where butter is introduced to the dry ingredients instead of initially creamed with the sugars) gives the cake a very fine crumb that is even throughout. The top also doesn't dome as much as a regular creamed cake, which I prefer for frosting purposes. Mini chocolate chips are added to the batter, a favorite flavor combination.
The white cake with chips, rich pastry cream and chocolate ganache makes for a decadent, perfect bite of dessert.
If you'd rather make a layer cake, here's my Coconut Almond Chocolate Cake that has similar flavors.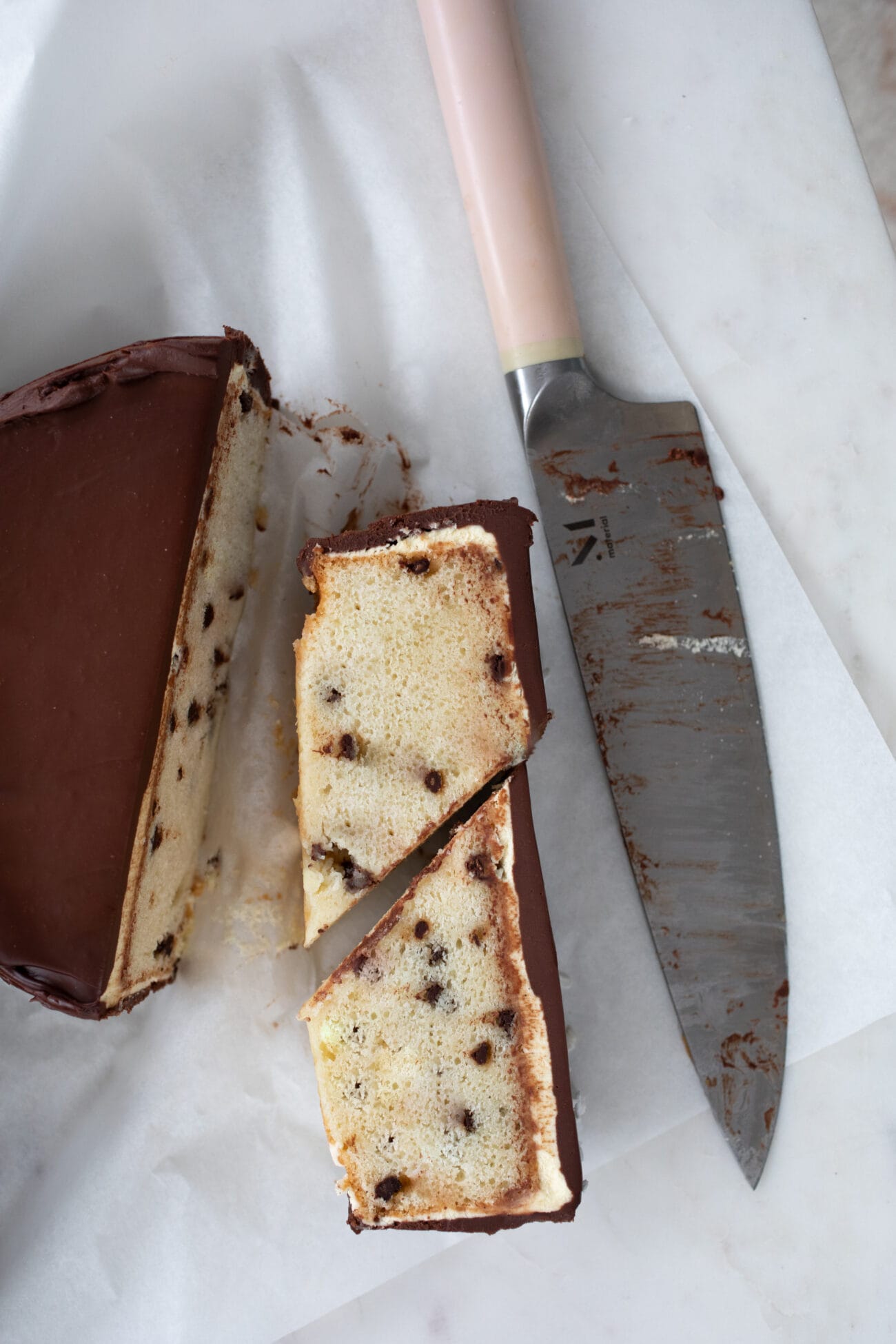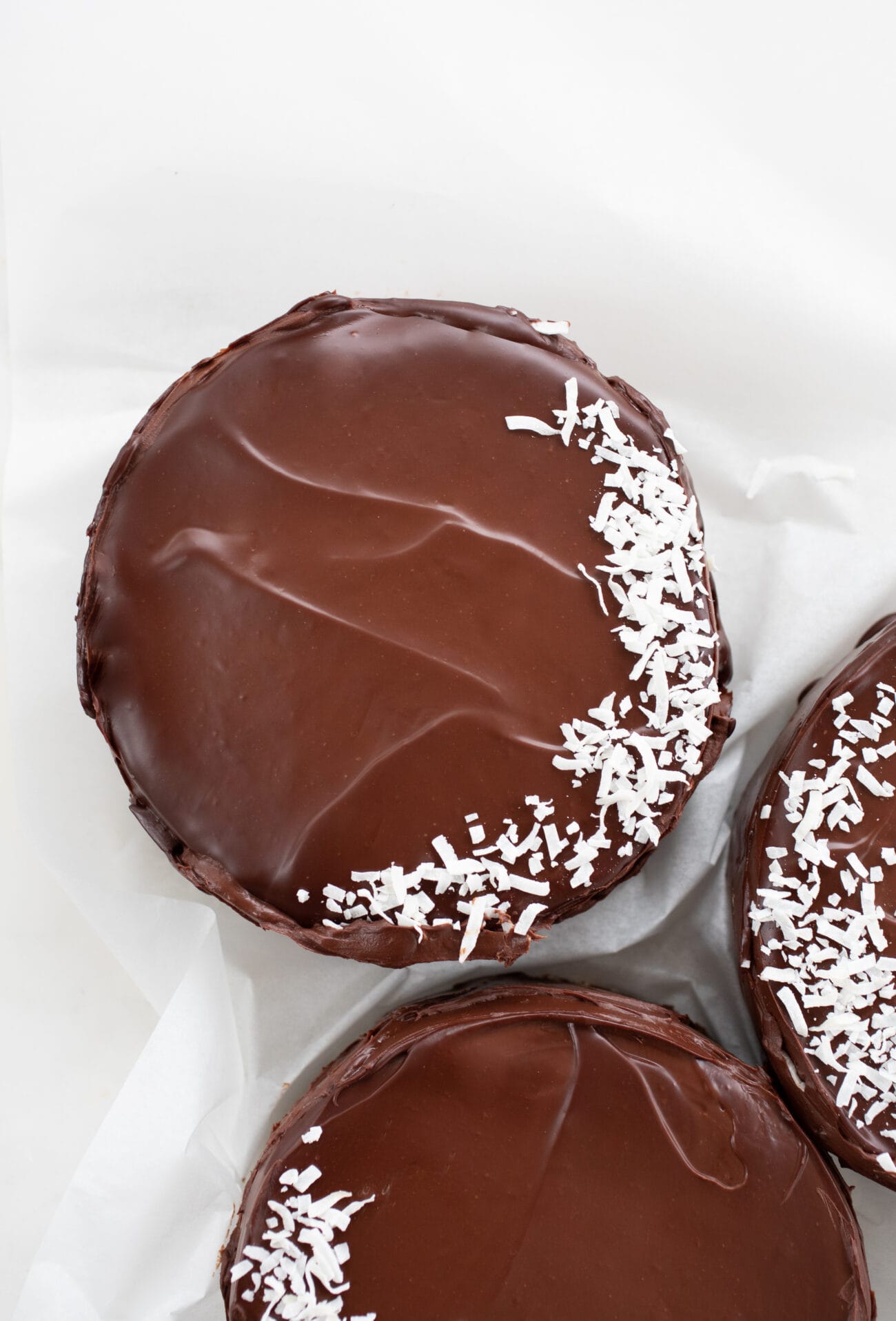 More Cake Recipes: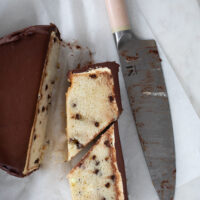 Chocolate Coconut Cake
The coconutty white cake with chocolate chips, rich pastry cream, and chocolate ganache makes for a decadent, perfect bite of dessert. Makes 3 small cakes for sharing.
Print
Pin
Rate
Ingredients
1

scant cup [210 g] large egg whites

from 6 or 7 eggs, at room temperature

1

cup

[240 g] coconut milk

at room temperature

½

cup

[120 g] crème fraiche or sour cream

at room temperature

1

tablespoon

pure vanilla extract

1 to 2

teaspoons

coconut extract (see note)

2 3/4

cups

[390 g] all-purpose flour

2

cups

[400 g] granulated sugar

4

teaspoons

baking powder

1

teaspoon

salt

1

cup

[2 sticks or 227 g] unsalted butter

at room temperature, cut into 1 in [2.5 cm] pieces

¾

cup

[120 g] mini chocolate chips or chopped chocolate
Mousseline
2

cups

[450 g] pastry cream,

room temperature

1

cup

[2 sticks or 227 g] unsalted butter

at room temperature, cut into 1 in [2.5 cm] pieces
Chocolate Ganache
3

cups

[720 g] heavy cream

24

oz

[675 g] bittersweet chocolate

finely chopped
Instructions
For the cake
Adjust an oven rack to the middle position and preheat the oven to 350F [180C]. Grease three 6 by 2 in [15 by 5 cm] cake pans and line the bottoms with parchment paper. Alternatively, you could make this a single sheet cake by greasing a 9×13 cake pan.

In a medium bowl or liquid measuring cup, whisk together the egg whites, coconut milk, crème fraiche, vanilla, and coconut extract.

In the bowl of a stand mixer fitted with a paddle, whisk together the flour, granulated sugar, baking powder, and salt by hand until combined. With the mixer running on low speed, add the butter one piece at a time, beating until the mixture resembles coarse sand. With the mixer still running on low speed, slowly add a little more than half of the wet ingredients. Increase the speed to medium and beat until the ingredients are incorporated, about 30 seconds, With the mixer running on low speed, add the rest of the wet ingredients, mixing until just combined. Increase the speed to medium and beat for 20 seconds (the batter many still look a little bumpy). Scrape down the sides and bottom of the bowl, add the chocolate chips, and use a spatula to mix the batter a few more times.

Divide the batter between the prepared pans. Tap the pans gently on the counter twice to help get rid of any air bubbles. Bake for 25 to 32 minutes (if you are making the sheet cake version, bake for 35 minutes and then check if wooden skewer comes out clean), rotating the pans halfway through, until the cakes are golden brown and a wooden skewer or toothpick inserted into the center comes out with a faint bit of crumbs, or a finger gently pressed into the top leaves a slight indentation.

Transfer the pans to a wire rack and let cool for 20 minutes, then turn the cakes out onto the rack, remove the parchment paper, and let cool completely. Once cool, the cakes can be frosted or wrapped in plastic wrap and refrigerated overnight.
For the mousseline
Put the room temperature pastry cream in the bowl of a stand mixer fitted with a paddle. Add the butter, one piece at a time, beating on low until the butter is incorporated into the pastry cream. Mix on medium-low for two minutes, until smooth and creamy.
To Assemble
Put one cake on a turntable or serving plate and top with 1 cup of the buttercream. Use an offset spatula or knife to smooth it out over the top and sides. Repeat with the two other cakes. Chill the cakes until firm, about 2 hours.

Make the ganache: In a medium saucepan over low heat, warm the cream until just simmering. Turn off the heat and add the chocolate. Swirl the pan to make sure all of the chocolate is submerged in the hot cream. Let sit for 3 minutes and then gently stir until smooth.

Place the cakes on a wire rack set over a baking sheet lined with parchment paper. Starting in the center of the cake, pour the ganache in a steady stream and work your way out to the edge in a spiral, making sure there are no bare spots. Continue pouring over the edges, until the sides are completely covered. The ganache should be smoothing itself out as you pour. If there are any ripples, ever so gently lift and set down whole baking sheet to settle the ganache; only do this right after you finish pouring or you may end up creating more ripples. Let the cake sit until set up enough that you can move it without disrupting the finish on the ganache, 15 to 20 minutes. Sprinkle the tops with unsweetened coconut flakes if desired.
Notes
*Depending on your brand of coconut extract, you may need to add more for the flavor to shine. 
*This recipe calls for quite a bit of ganache; if you don't want to use that much, you can cut the ganache recipe in half and just cover the top of the cake (not the sides). You can also omit the mousseline if desired and just top the cake with ganache. 
*Throughout my recipes posted on this website, 1 cup of flour equals 142g. Please note that 1 cup of flour can range anywhere from 120g to 142g, depending on the baker or website. I found that after weighting many cups of flour and averaging the total, mine always ended up around this number. If I am posting a recipe from another cookbook, I will use whatever gram measure of flour used in that book, which is why you may see a few posts with a different cup measurement. 
Different brands of flour have varying levels of protein, ranging from low to high, which can result in very different outcomes when baking. I've found Gold Medal all-purpose unbleached flour to be the best option for many of my recipes; I use it in all the baked goods that don't use yeast. For yeasted doughs that call for all-purpose flour, I like to use King Arthur Brand. If you are using White Lily flour, please note that it is a low protein flour and doesn't absorb liquid the same as regular all-purpose flours. Check the back of the flour bag for instructions on substituting it for regular all-purpose flours.