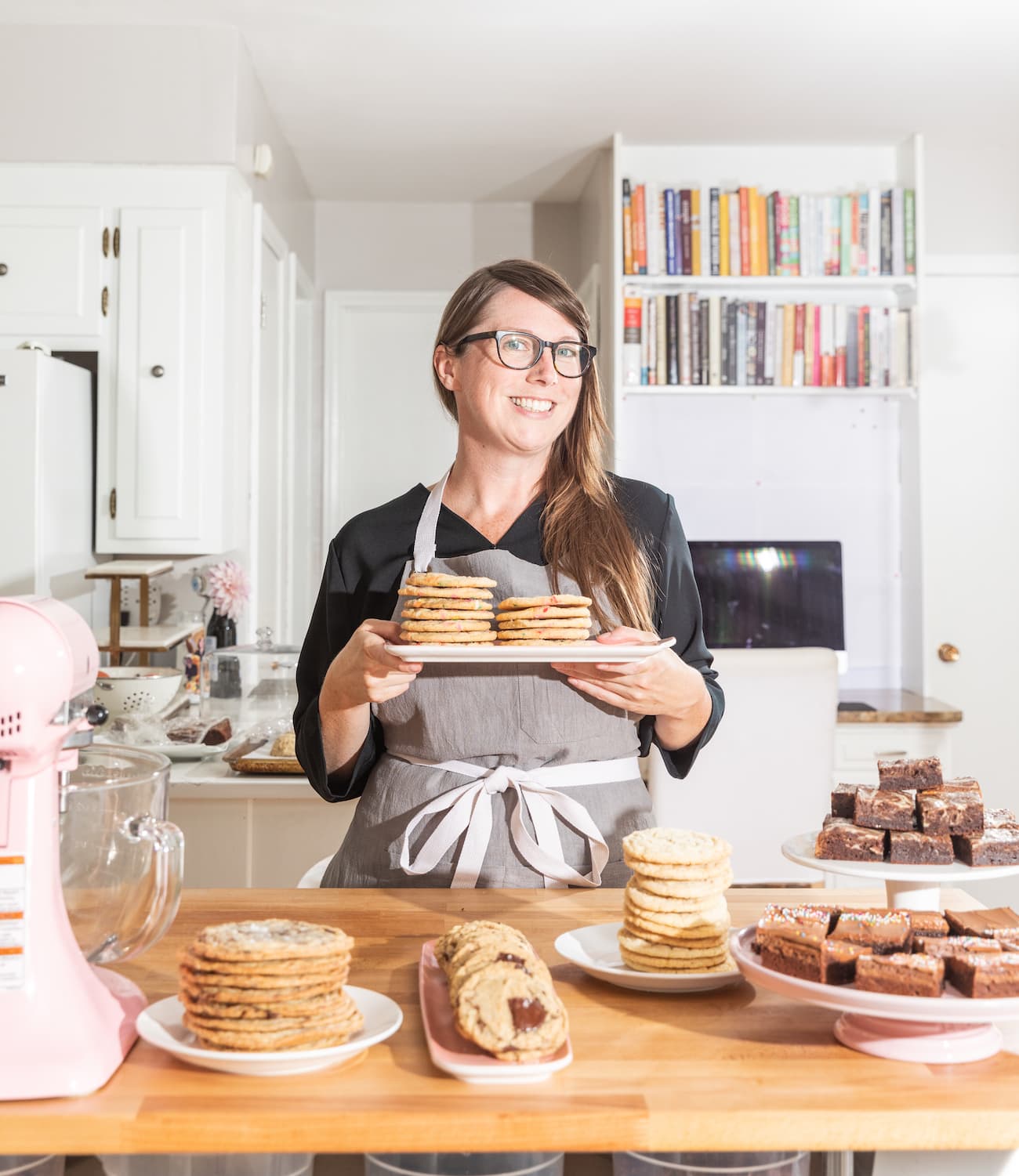 Welcome to the Vanilla Bean Blog.
Here you'll find: baking recipes, photographs and kitchen moments with friends and family, occasional musings and reflections, and some poetry and prose. I have always found comfort in the act of baking, (especially pan-banging a batch of chocolate chocolate chip cookies) and while I enjoy the end result of a kitchen filled with sweet treats, I find there is so much more to it than just sugar and butter, some flour and eggs.
This space started in an attempt to document a food history of sorts for my family; we had none, and I wanted to change that (you can read about that here). While my blog has begun to fulfill its original mission, in the process I discovered so many layers to my time in the kitchen.
There is such value to what we are actually making. The dishes and meals we make for loved ones, and the act of preparing them: to cook and bake and eat them together connects us beyond the physical. It's not about eating or creating just for the sake of doing so.
There is something deeper, something soul-ful that happens when we slice the cake, when we break the bread. There is taste and smell that draws out memories, binding us to those present, those past.
There is purpose in our food: both the physical and the unconscious, the labor of our hands, the labor of our heart.
This, to me, is real communion: the act of sharing, the act of receiving.
MORE ABOUT ME
My name is Sarah Kieffer and I live in Minneapolis, Minnesota, surrounded by lakes and trees and a never-ending winter. I am a self-taught baker, and have worked at various coffeehouse-bakeries here in Minneapolis and also in Winona, MN. After my two children were born I made the decision to be a 'home' baker. I must admit, I have enjoyed this period of cooking and baking the most. After years of figuring things out, experimenting and repeated efforts, I feel comfortable in the kitchen.
It is calming, and brings me so much joy. We bake a lot here.
MY WORK
My work has been featured in The New York Times, SAVEUR, Pure Green Magazine, Food 52, The Today Show, Mashable, The Kitchn, America's Test Kitchen, The Washington Post, and Food + Wine, among others (which can be found here). I also contribute regularly and develop recipes for Artisan Bread in Five Minutes A Day and Handmade Charlotte.
In 2014, this site won Reader's Choice Best Baking & Desserts Blog in the SAVEUR Best Food Blog Awards. I published my first cookbook, The Vanilla Bean Baking Book, with Avery/Penguin Canada in November 2016 and my second cookbook in 2020, 100 Cookies, with Chronicle Books.
WANT TO WORK TOGETHER?
Please send an email to: [email protected]
On Cookbook Reviews/Product Reviews
I have an addiction to cookbooks, and am happy to view new ones. I do quite a few cookbook reviews each year, as long as they fit with the theme of this space.
I do review/highlight products occasionally on this blog. I only pick a few a year, and prefer products that are reflective of baking (ingredients, bakeware, dishware, etc). All opinions on my blog are my honest thoughts.
Working Together on Instagram
I do collaborate on Instagram. Please feel free to reach out to me at the above email.
** Please Note: All images and content on this site are my own work, unless otherwise noted. If you are interested in using a photograph, please do so with correct attribution.
Occasionally I use an Amazon Affiliate link. The little extra money they make me helps pay for random costs of keeping a website.
A FEW OTHER THINGS ABOUT ME
*Some other FAQ are here.
Here are some books I want you to read!