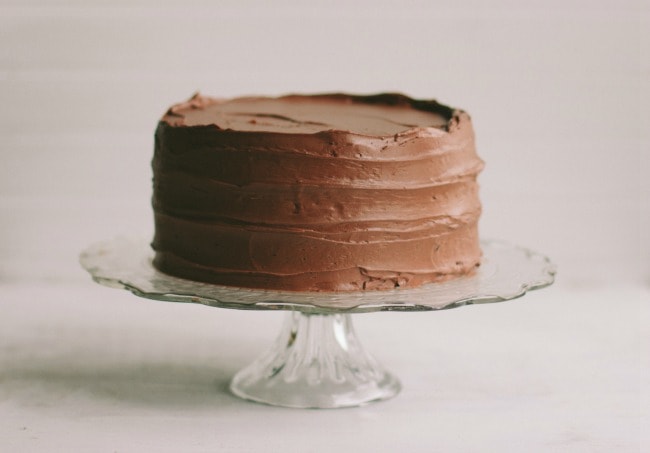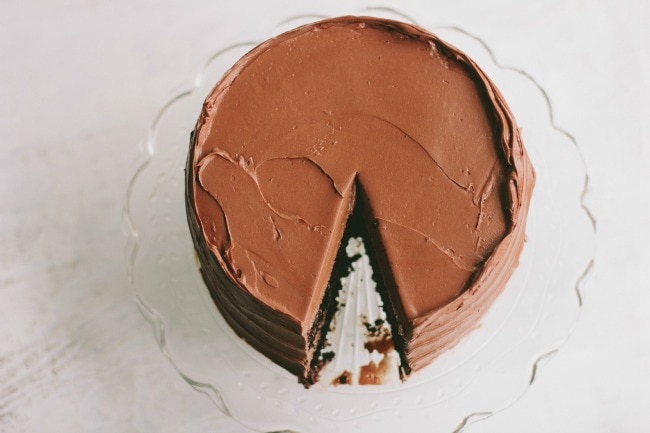 This is it.
This is the chocolate cake I've been searching for:
The chocolate cake that my family asks me to make at birthdays.
The chocolate cake that I sneak a piece of at breakfast.
And lunch.
And in the middle of the night.
It is incredible:
A moist, tender crumb, a rich chocolate flavor, a perfect butter cream frosting.
Really. Sometimes it shows up in my dreams.

The Chocolate Cake
Barefoot Contessa
The batter will be very, very liquidity, so don't let that worry you. Remember that the sugar goes in with the dry ingredients – I have left it out twice now on accident and had to remake the cake. If you are not a coffee fan, you could just use hot water, but I haven't tried that out, so I can't guarantee you if the cake will still be as rich and wonderful. [My husband, who hates coffee, eats this cake with the coffee in it and has never complained].
Chocolate Frosting
This cake is very tender, so if you want to spread the frosting on without crumbs all mixed in it, I suggest a crumb coating. There is also just enough frosting for the cake, so frost carefully. You could make more frosting, but I think any more would make it too rich. If you want to add coffee to the frosting, add a teaspoon or two of coldpress or instant coffee powder dissolved in hot tap water. You can also melt the chocolate in a microwave, just watch it carefully. When I make this I always use eggs from a small, local farm, so I feel safe using the yolk in the frosting. If you are nervous about this, you can substitute a tablespoon of corn syrup, or omit it all together (I've done both of those options in a pinch, and it's turned out fine).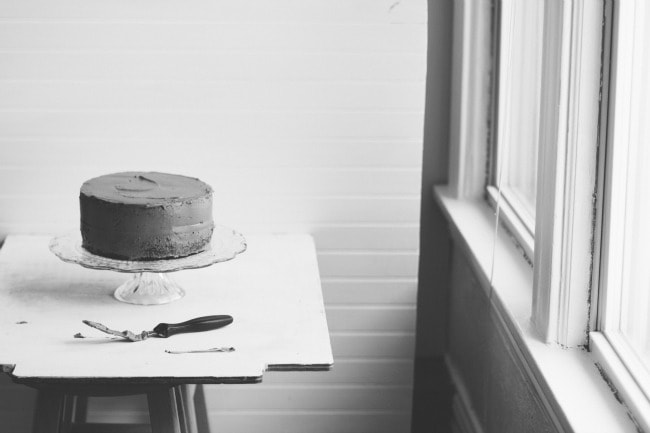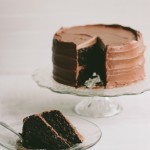 The Chocolate Cake
The very best chocolate cake from Ina Garten, with a moist, tender crumb, rich chocolate flavor, and perfect buttercream frosting.
Print
Pin
Rate
Ingredients
1 3/4

cups

flour

2

cups

sugar

3/4

cup

good cocoa powder

2

teaspoons

baking soda

1

teaspoon

baking powder

1

teaspoon

salt

1

cup

buttermilk,

shaken

1/2

cup

vegetable oil

2

eggs

at room temperature

1

teaspoon

vanilla

1

cup

freshly brewed hot coffee
Chocolate Frosting
6

oz

good semisweet or bittersweet chocolate

1/2

pound

[2 sticks] unsalted butter

at room temperature

1

egg yolk

at room temperature

1

teaspoon

vanilla

1 1/4

cups

sifted powdered sugar
Instructions
Preheat the oven to 350 F. Butter two 8 inch round cake pans (make sure cake pans are at least 2 inches tall). Line with parchment paper, then butter and flour the pans (if you need a visual on this step, here is a You Tube video that is helpful.

Sift the flour, sugar, cocoa, baking soda, baking powder and salt into the bowl of an electric mixer fitted with a paddle attachment and mix on low speed until combined. In another bowl, combine the buttermilk, oil, eggs and vanilla. With the mixer on low speed, slowly add the wet ingredients to the dry. With the mixer still on low, add the coffee and stir just to combine, scraping the bottom of the bowl with a rubber spatula. Pour the batter into the prepared pans and bake for 35-40 minutes, until a cake tester comes out clean. Cool in the pans for 30 minutes, then turn them out onto a cooling rack and cool completely, removing parchment paper.

Place one layer, flat side up, on a plate. With a knife or offset spatula, spread the top with frosting. Place the second layer on top, rounded side up, and spread the frosting evenly on the top and sides of the cake.
For the frosting:
Chop the chocolate and place it in a heat-proof bowl set over a pan of simmering water. Stir until just melted and set aside until cooled to room temperature.

In the bowl of an electric mixer fitted with a paddle attachment, beat the butter on medium-high speed until light yellow and fluffy, about 3 minutes. Add the egg yolk and vanilla and continue beating for 3 minutes. Turn the mixer to low, gradually add the powdered sugar, then beat at medium speed, scraping down the bowl as necessary, until smooth and creamy.

On low speed, add the chocolate to the butter mixture and mix until blended. Don't whip! Spread immediately on the cooled cake.

T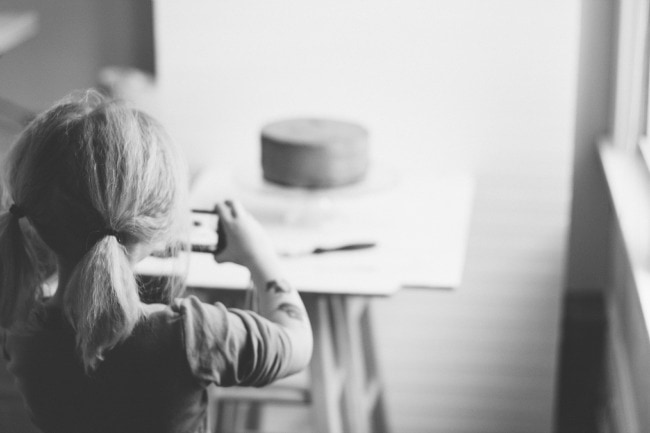 Ms. [W] takes some photos of her own.