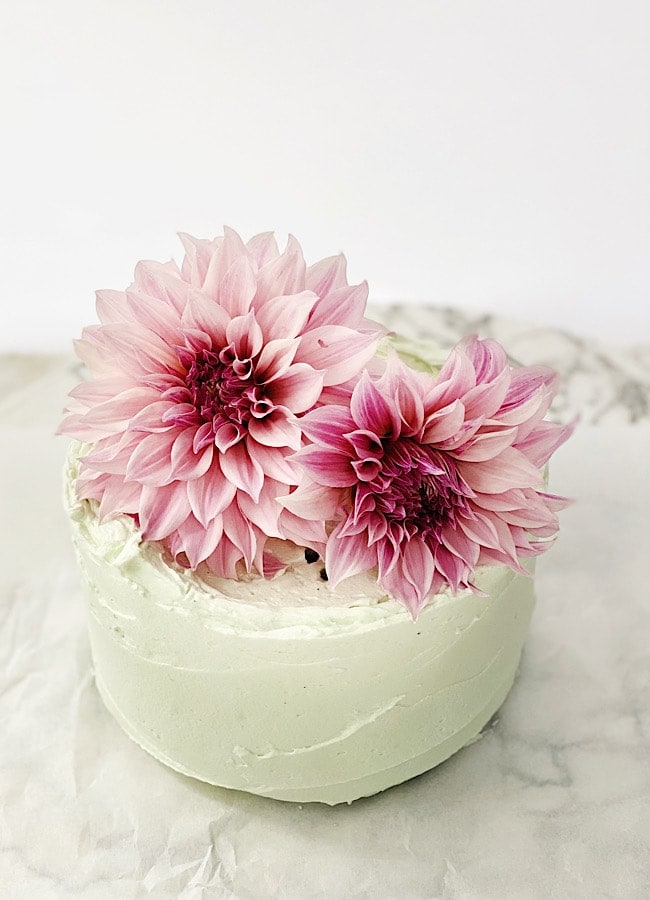 I had my first taste of basil and chocolate almost two decades ago, out with friends at Lucia's restaurant in Minneapolis. Our server recommended the chocolate cake paired with the basil ice cream, and the combination sounded so intriguing we decided to trust him.
The bright blue of my shirt, the buzz of voices at tables surrounding us, the candles speckling the dimly lit room, and chocolate and basil devoured alternately bite by bite is forever etched on my mind.
Over the years I've re-created those flavors in many applications, but this chocolate cake and basil buttercream pairing is by far my favorite.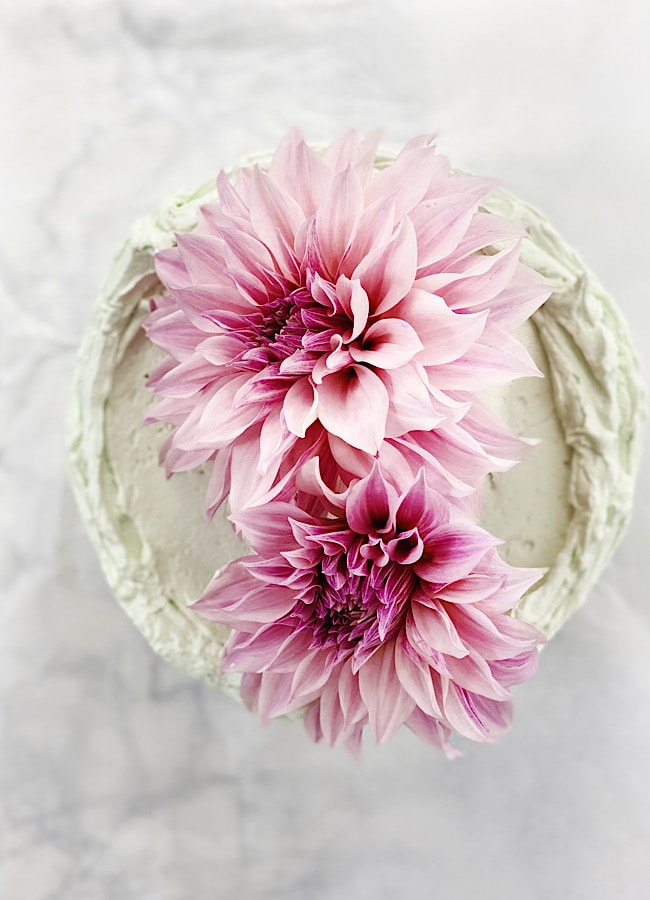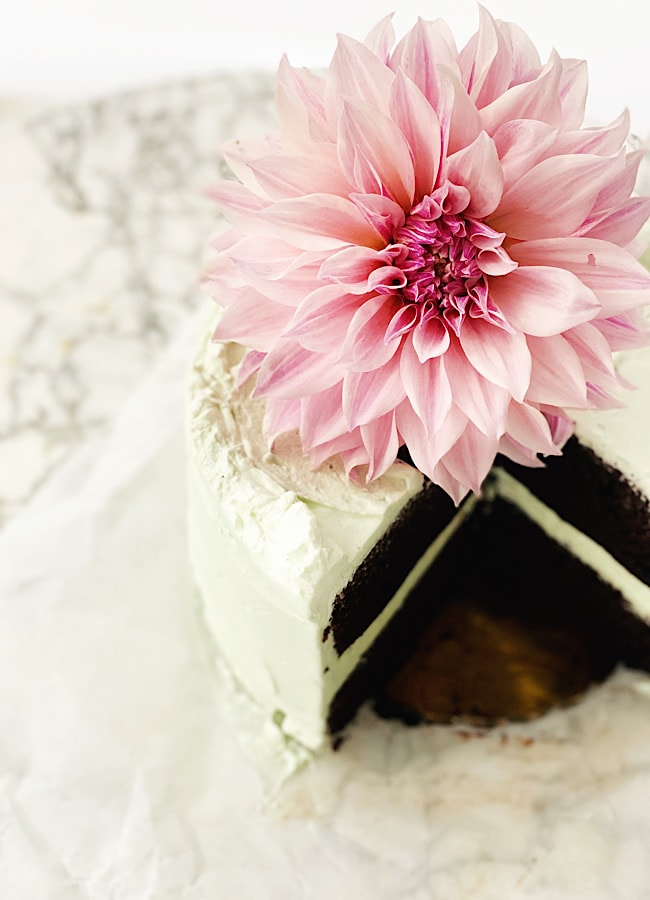 Chocolate Cake with Basil Buttercream
This recipe is from a blog post way back in 2012; I've updated the photos and made the directions a little more user friendly. You can find Chocolate Ganache Cupcakes with Basil Buttercream in my Vanilla Bean Baking Book, and Chocolate Basil Brownies in my 100 Cookies cookbook. 
The first day this frosting is made the basil flavor is present but delicate, and it develops the longer it sits. I loved it on days two and three, but my family thought it was too strong. Also, if basil isn't your thing, this buttercream also works well with fresh mint.
I used my favorite chocolate cake recipe, and baked it in two 8 x 2 in cake round cake pan. 
More Cake Recipes: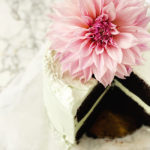 Chocolate Cake with Basil Buttercream
A rich, dark chocolate cake with layers of basil infused buttercream frosting is a wonderful combination. This cake is great for celebrations!
Print
Pin
Rate
Ingredients
1

recipe

chocolate cake,

baked in (2) 8×2 inch round cake pans

1

cup

[240 g] whole milk

1

cup

[240 g] half and half

1

cup

[20 g] fresh basil leaves

1 1/2

cup

[300 g] granulated sugar

1/2

cup

[71 g] all-purpose flour

1/4

teaspoon

salt

2

cups

[4 sticks or 454 g] unsalted butter,

at room temperature

1

teaspoon

pure vanilla extract

Green food coloring

optional
Equipment
(2) 8×2 inch round cake pans
Instructions
Combine the milk, half and half, and basil in a heavy bottomed saucepan. Heat gently over medium heat until just simmering, then remove from the heat. Let cool and refrigerate for at least 2 hours and up to overnight (the longer it sits, the stronger the flavor will be). Remove the basil leaves from cream, and then squeeze the leaves over the cream. Discard the leaves.

In a medium bowl, whisk together the sugar, flour, and salt really well (the sugar will help keep the flour from lumping when it boils, so spend a good minute really whisking it together). Place the mixture in a medium, heavy-bottomed saucepan. Slowly pour the basil cream into the flour, whisking to combine as you pour. Cook over medium heat, stirring constantly with a whisk, until the mixture comes to a gentle boil (periodically run a spatula round the edges of the saucepan to remove any flour lurking there). Reduce the heat slightly, and continue to whisk and occasionally stir until the mixture has thickened considerably, 2 to 3 minutes. Remove from the heat and continue stirring for 30 seconds.

Transfer the mixture to a bowl and cover with plastic wrap, making sure the plastic sits directly on the surface (this will help keep it from forming a skin). Let cool to room temperature.

When the mixture has cooled, place the butter in the bowl of a stand mixer fitted with a paddle, and beat on medium speed until smooth and creamy, scraping down the sides as needed. Start adding the flour mixture a few spoonfuls at a time, mixing on low speed after each addition, until it is all incorporated. Scrape down the sides and mix on medium speed until the buttercream is light and fluffy, 2 to 3 minutes. Add the vanilla and food coloring, if using, and mix on low speed until combined. Use immediately.