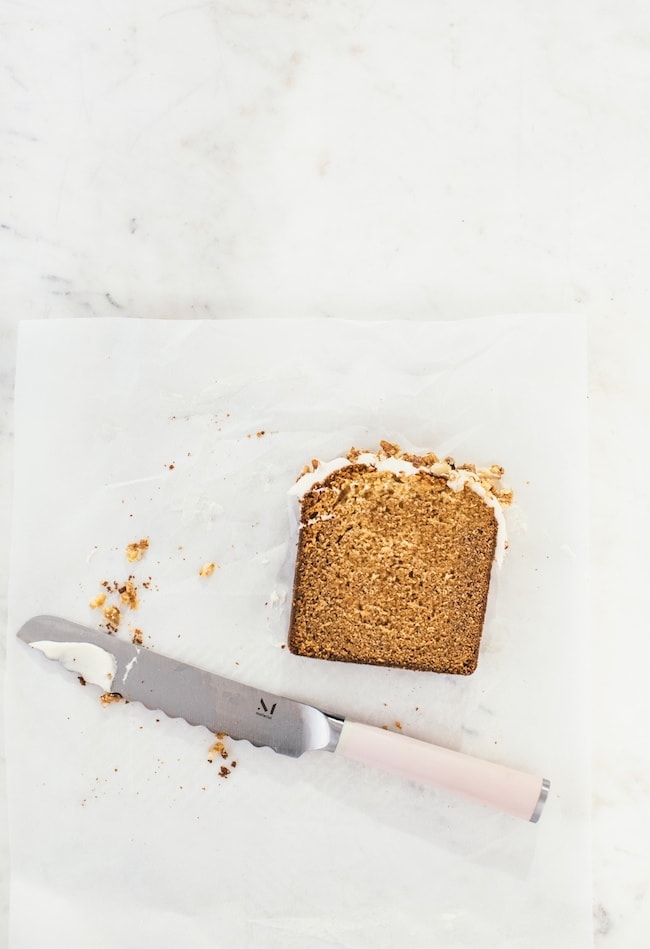 I'm a big fan of quick bread, and most often turn to pumpkin or banana when whipping up a loaf. However, I wanted another variation in my usual rotation, so I came up with this honey walnut bread. It is a delicious change of pace, and perfect for those in-between spring days, when citrus is fleeting and we are anxiously awaiting on berries.
I've teamed up with California Walnuts to bring you some recipes over the past year (such as this walnut snack cake with raspberry buttercream and these raised donuts with chocolate glaze and candied walnuts). Over 99 percent of walnuts grown in the U.S. come from California's walnut orchards, many of which are on family owned and operated farms that have been around for generations. Walnuts are nutritious and heart-healthy*, and offer 4 grams of protein and 2 grams of fiber per ounce. Walnuts are also the only nut with a significant amount of plant based Omega 3 ALA (2.5 grams/ounce). You can check out the CA Walnuts website for more nutrition info, research, tips for cooking with walnuts, recipes. I'm excited to share more recipes with you!
**********************************************************
A few things:
*If you are a Minneapolis reader, I highly recommend checking out this documentary on one of my favorite bands, Luxury. It's the story of their almost rise to fame and then tragic van accident while on tour, which changed the course of their lives. It is playing at the Trylon Cinema on June 12, and you can read more about it here.
*I started an Amazon storefront with all my favorite kitchen essentials and whatnot, but I also have a section for my favorite cookbooks and books I love or am currently reading, if you are interested in that; I am always updating it.
*I am furiously finishing up my manuscript for my next book (which comes out Fall 2020!) so I apologize for the radio silence over here. I have a stack of new cookbooks that I am dying to bake out of (like Aloha Kitchen, and Smoke, Roots, Mountain, Harvest, and Icing on the Cake, to name a few), and I'll have some more recipes here for you soon.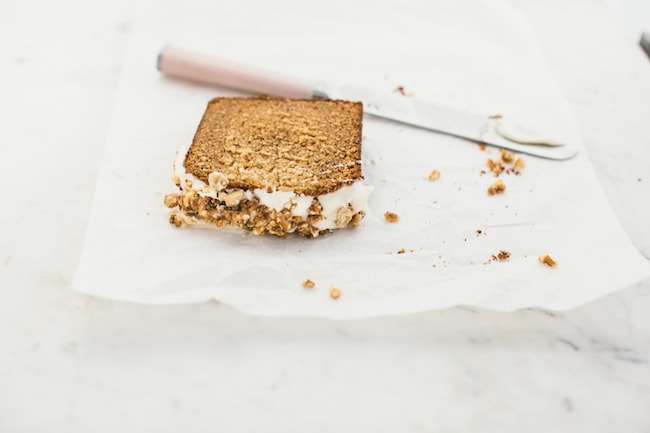 Honey Walnut Bread
Note: I use a Pullman pan here to give the bread nice, tall sides (and this is my preferred pan for making quick breads).
1/4 cup (25g) toasted walnuts
2 cups (284g) all-purpose flour
1 1/4 teaspoon baking soda
1 teaspoon salt
10 tablespoons unsalted butter, room temperature
1 1/4 cup (248g) granulated sugar
1/4 cup (85g) honey
1 teaspoon pure vanilla extract
2 large eggs
1/2 cup sour cream
1/2 cup whole milk
Honey Icing
1 ounce (28g) cream cheese, room temperature
2 tablespoons (29g) unsalted butter, room temperature
2 tablespoons honey
1/2 teaspoon pure vanilla extract
Pinch salt
1 cup (113g) confectioners' sugar
Candied Walnuts
1 cup (100g) walnuts
1/4 cup (50g) granulated sugar
Pinch salt
Adjust an oven rack to the lower middle position. Preheat the oven to 350F. Grease a 9 x 4 x 4-inch Pullman pan (affiliate link) and line with a parchment sling.
In the bowl of a food processor, pulse the walnuts until finely ground.
In a small bowl, whisk the pulsed walnuts, flour, baking soda, and salt together. In a separate bowl, combine the sour cream and milk and mix until combined.
In the bowl of a stand mixer fitted with a paddle, cream the butter and sugar together until fluffy, 2 to 3 minutes. Scrape down the sides of the bowl and add the eggs, mixing on medium until combined. Add the vanilla and mix until combined. Add 1/3 of the flour mixture and mix on low until almost incorporated. Add half the sour cream mixture and mix on low until combined. Add another 1/3 of the flour mixture and mix together. Add the remaining sour cream mixture, followed by the flour, and mix until just combined. Scrape down the sides of the bowl and finish mixing with a spatula until the batter is completely combined. Pour the batter into the prepared pan and bake 45 to 60 minutes, until the top is dark brown and a wooden skewer or toothpick inserted into the center comes out clean.
Transfer the pan to a wire rack and let cool for 20 minutes. Using the parchment sling, lift the loaves out of the pan, peel off the paper, and let the bread finish cooling on the wire rack. Top with the honey icing and candied walnuts.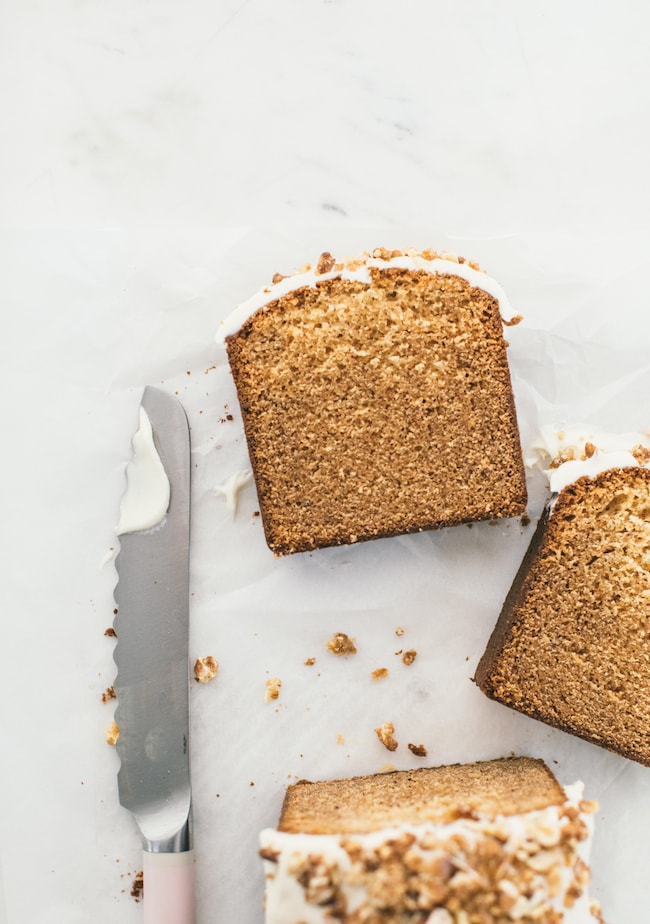 *Supportive but not conclusive research shows that eating 1.5 ounces of walnuts per day, as part of a low saturated fat and low cholesterol diet, and not resulting in increased caloric intake may reduce the risk of coronary heart disease. One ounce of walnuts provides 18g of total fat, 2.5g of monounsaturated fat, 13g of polyunsaturated fat, including 2.5g of alpha-linolenic acid, the plant-based omega-3.