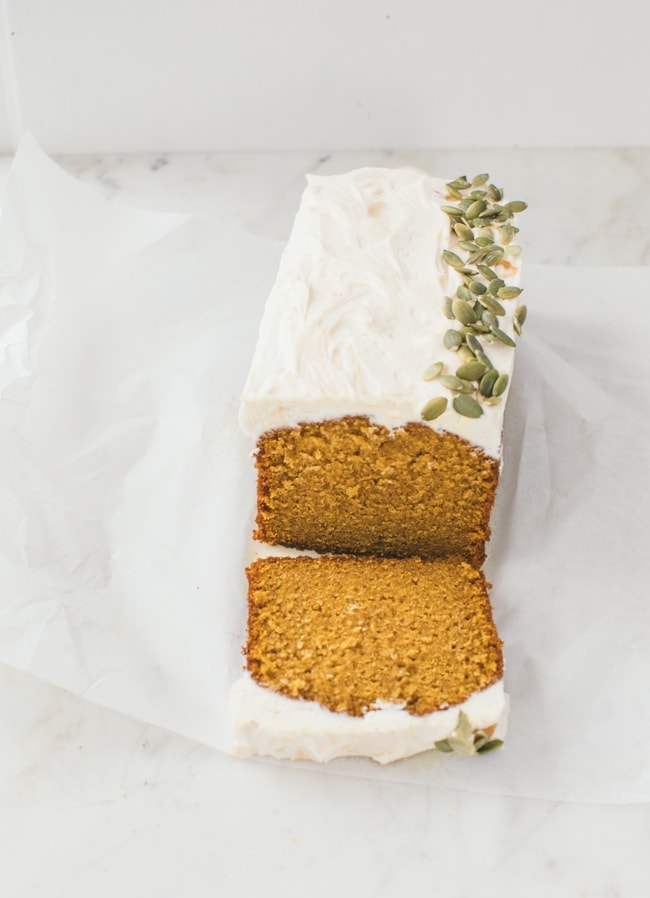 One of my favorite holiday treats is pumpkin spice bread and I make quite a few loaves every year, some for giving, some for keeping. This version comes from Michelle Lopez's new cookbook, Weeknight Baking. It's based on a recipe from the Tartine: A Classic Revisited cookbook, and it is quite delicious. Michelle makes hers with granulated sugar sprinkled on top instead of the cream cheese icing, but I couldn't resist piling it high with frosting.
I highly recommend checking out Michelle's new book; it focuses on recipes that come together quickly, use ingredients found in your baker's pantry, and store well. Some more recipes from the book I can't wait to try: better-than-supernatural fudge brownies, the silkiest pumpkin pie, overnight liege waffles, and cheesecake bars (you can find them laced with pumpkin filling over on Zoe's website).
***********************************
Other recipes you may enjoy: Pumpkin Scones, Pumpkin and Cream Cheese Muffins with Streusel, Vanilla Donuts with Pumpkin Pastry Cream, and Pumpkin Poundcake with Chocolate.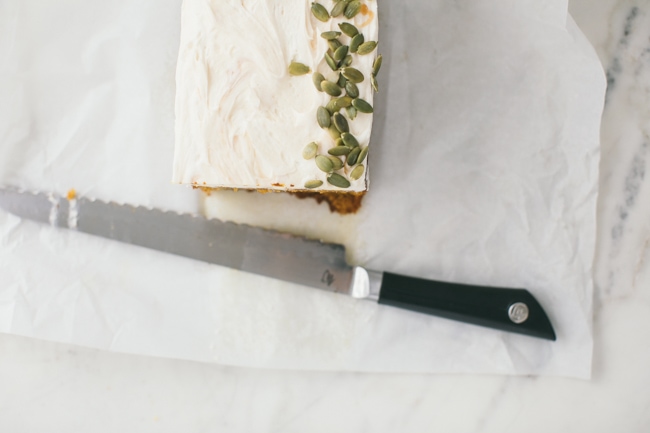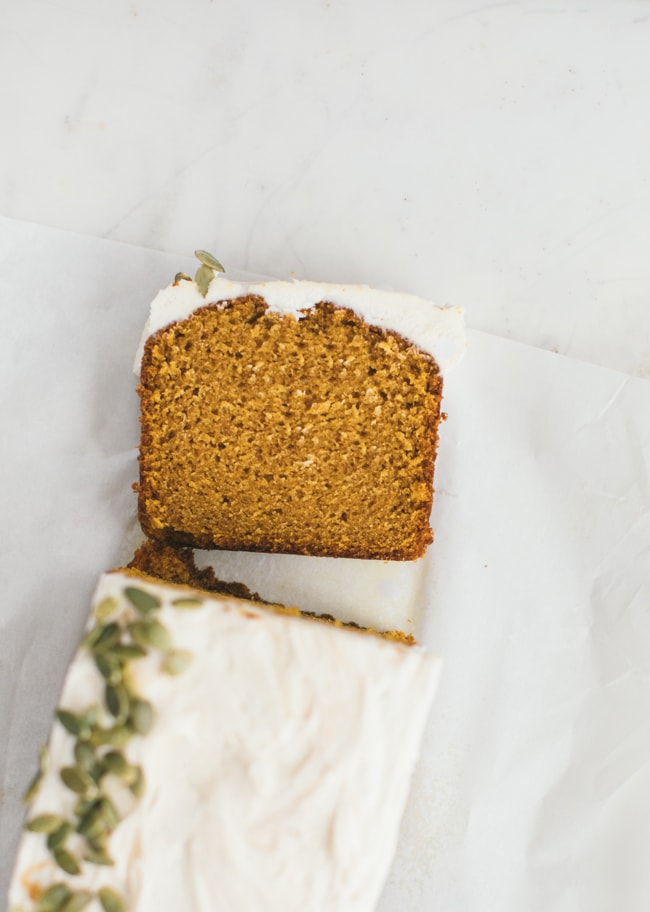 Pumpkin Spice Bread with Cream Cheese Icing
From Weeknight Baking by Michelle Lopez
Notes: I always bake my quick breads in a Pullman pan (affiliate link) without the lid on – I prefer their tall sides for both protection against batter leaking and aesthetics. However, a 9 x 5 pan will also work. If you would rather top the pumpkin spice bread with sugar instead of icing, sprinkle the top of the batter with 2 tablespoons of granulated sugar before placing in the oven.
1 3/4 cup [230g] all-purpose flour
2 teaspoons ground cinnamon
1 teaspoon ground ginger
1/2 teaspoon ground nutmeg
Pinch cloves
1 1/2 teaspoons baking powder
1/2 teaspoon baking soda
1 teaspoon salt
1 cup [255g] unsweetened pumpkin puree
1 cup canola oil
2 teaspoons pure vanilla extract
1 1/3 cup [265g] granulated sugar
3 large eggs
cream cheese icing
4 tablespoons [57g] unsalted butter, room temperature
2 ounces [57g] cream cheese, room temperature
Pinch salt
1 1/2 cups confectioners' sugar [170g], plus more as needed (see below)
1 teaspoon pure vanilla extract
Pepitas, for spinkling, if desired
For the bread
Adjust an oven rack to the middle position and preheat the oven to 350F [180C]. Grease and line a 9 x 4 x 4-inch Pullman Pan (affiliate link) with parchment paper (a 9 x 5 inch pan will also work).
In a medium bowl, whisk together the flour, cinnamon, ginger, nutmeg, cloves, baking powder, baking soda, and salt.
In the bowl of a stand mixer fitted with the whisk attachment, combine the pumpkin puree, oil, vanilla, and granulated sugar. Whisk on medium-low until just combined, about 1 minute, using a rubber spatula to scrape down the bottom and sides of the bowl as necessary. Add the eggs one at a time, adding the next egg only after the previous one has been fully incorporated, scraping down the bottom and sides of the bowl after each addition. With the mixer on low, gradually add the dry ingredients and whisk until just combined. Scrape down the bottom and sides of the bowl once more, and whisk on medium for an additional 15 seconds.
Pour the batter into the prepared pan and use an offset spatula to smooth the top. Set the bread pan on a sheet pan and bake for 50 to 65 minutes, or until a skewer inserted into the center of the cake comes out with a few crumbs attached. Move the pan to a wire rack and let cool for 20 minutes, then use the parchment sling to remove the bread from the pan. Let cool to room temperature before covering the top with the cream cheese icing. The cake can be stored at room temperature, in an airtight container, for 3 days without icing, and refrigerated for 2 days with icing.
For the icing
In the bowl of a stand mixer fitted with a paddle, beat the butter, cream cheese, and salt on medium until smooth and creamy. Add the confectioners' sugar and mix on low until combined. Scrape down the sides of the bowl and mix on medium until the icing is light and fluffy, 3 to 4 minutes (If the frosting is too loose for your liking, add 1 tablespoon confectioners' sugar at a time, beating on low after each addition, until the desired consistency is reached). Add the vanilla and mix on low until combined.