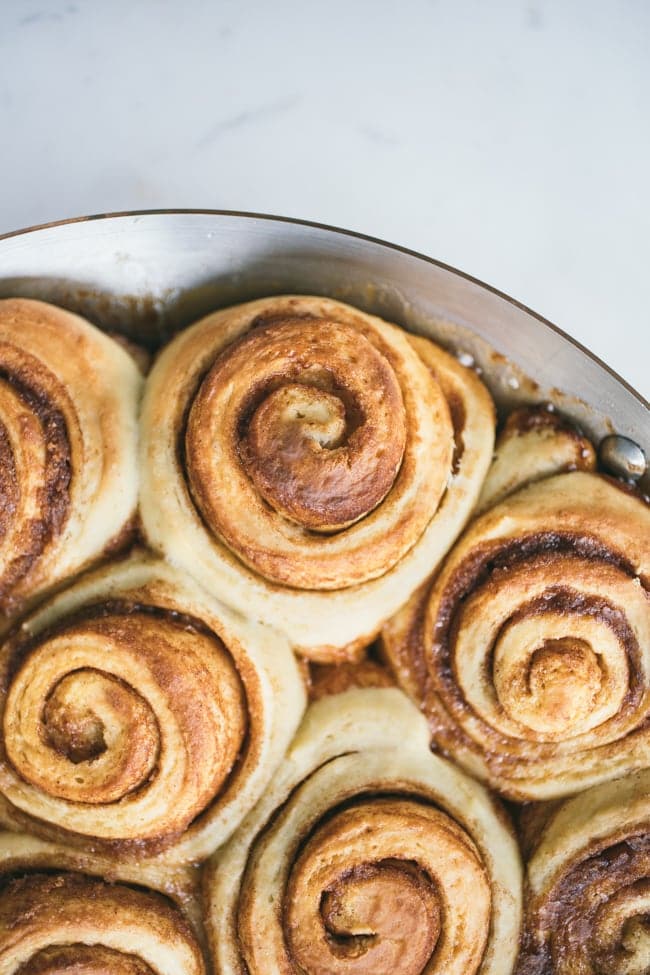 I decided to see what would happen if I played around with my Sweet dough recipe – adding apple cider instead of milk like my Soft and Gooey Cinnamon Rolls call for, made for an Autumn-ish type of breakfast bun.
And it resulted in these delicious Apple Cider Cinnamon Rolls, with the faintest apple flavor, and the softest texture. They're adapted from my first book, The Vanilla Bean Baking Book.
I'm not one for apple chunks in my buns and rolls (I find them distracting), so instead, to draw out the apple flavor, I opted for an apple cider icing; I cooked down the apple cider, added a little cream cheese, butter, and confectioners' sugar, and low and behold! Amazing.
At least, that's what my 11-year old daughter exclaimed when she tried them.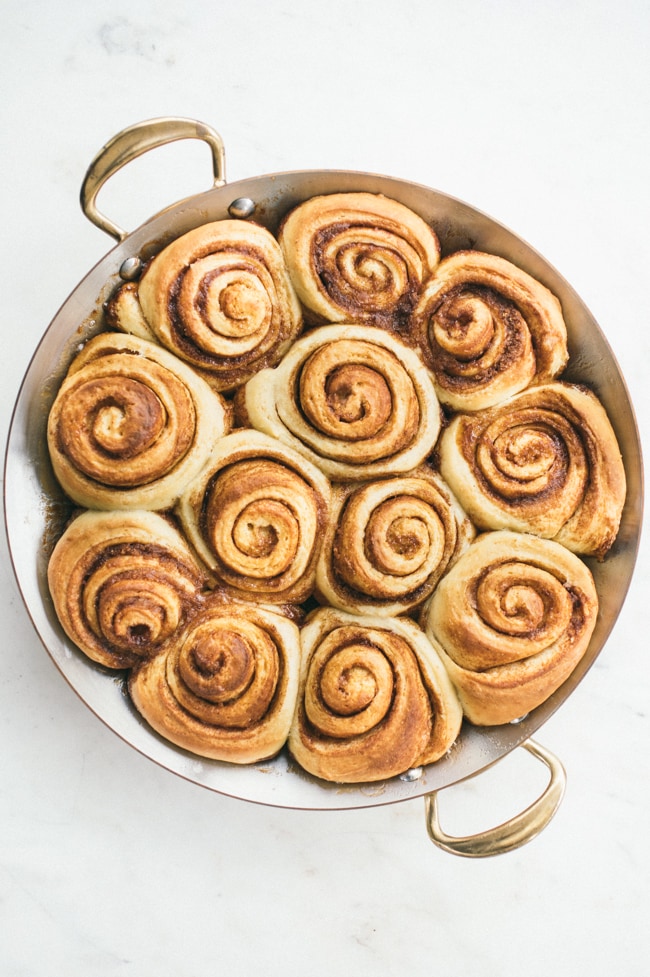 ************************************
Each October, I am compelled to challenge myself to read slightly eerie or spooky literature. I'm not one for scary movies or books, so something with even the slightest trace of fearfulness is enough for me on the regular. I'm not sure what it is about crisp Autumn days, with their crunchy leaves and early nightfalls, but I'm ready to dive in to something unnerving. (It may have to do with my first reading of Lord of the Rings, which took place in September and October. I remember the Ring Wraiths feeling like a possible threat as I walked home from work after dark, passing the deserted church parking lot and the cluster of tall trees on the way to my apartment.)
Last year I read Phantastes (affiliate link) by George MacDonald, which was hauntingly beautiful; Anodos' journey through Fairy Land is both eerie and moving. I am planning on re-reading Macbeth  – I recently read a synopsis to my kids (we have the Usbourne Shakespeare edition which they are really into right now), and it inspired me to turn to it again, especially during this bewitching month: Double, double toil and trouble; | Fire, burn; and, caldron, bubble. (I have a few of my favorite Shakespeare plays in these pocket editions – that way I always have one in my purse I can turn to in times of need) (I mean, you can be waiting for the doctor and just open up and read "Four days will quickly steep themselves in night; | Four nights will quickly dream away the time; | And then the moon, like to a silver bow | New-bent in heaven, shall behold the light" Midnight Summer's Dream). 
I also just finished Faust, which was fascinating and thought-provoking while also being absolutely tedious and wretched. I started it because I had never read it and it is referenced in so many other books (and also, I had a pretty intense Achtung Baby phase in high school and Bono was running around stages mimicking Mephistopheles, so it's possible it might be subconsciously connected to that as well). While the book is about Faust making a pact with the demon Mephistopheles (and that in itself should be criteria enough for my October reading), it does have a pretty epic Walpurgis Night scene that is perfect for near Halloween: Straddle a broomstick, a pitchfork's fine too | Get up on a goat, a plain stick will do. | Who can't make it up tonight, | Forever is done for, and so good night. | And when we've gained the very top, | Light down, swooping, to a stop. | We'll darken the heath entirely | With all our swarming witchery. 
I'll be completely honest,  I downloaded this LitCharts app and read a summary of each scene, and was at times more moved by the commentary then the drama itself. (Maybe I shouldn't admit that out loud. But it's true.) So that's my spooky readings for 2019, unless you have something to suggest? I'd love to hear what you read around this time of year.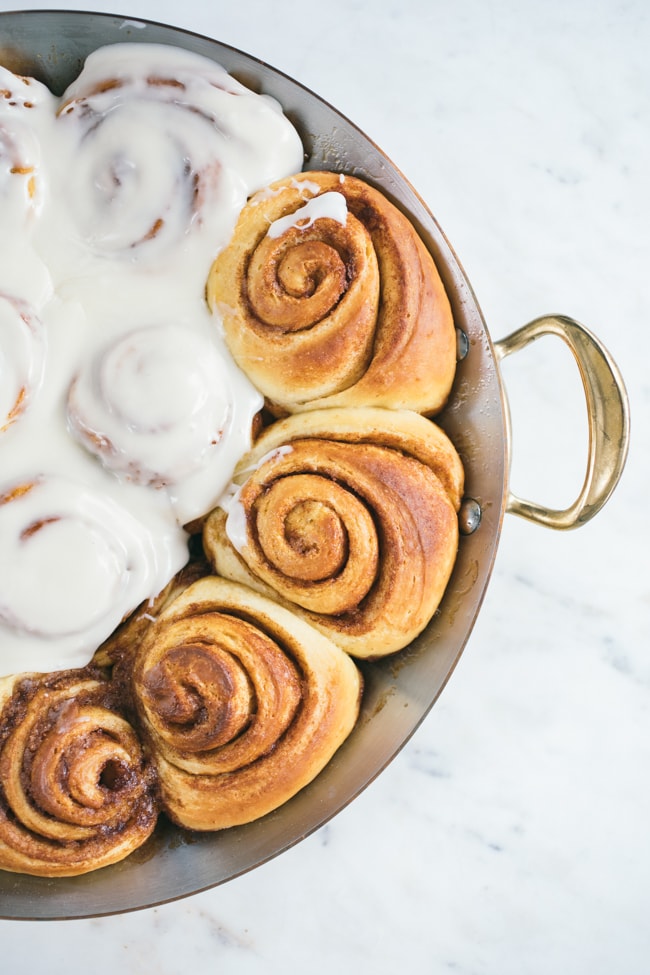 More Cinnamon Roll Recipes: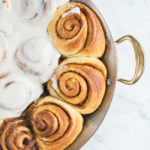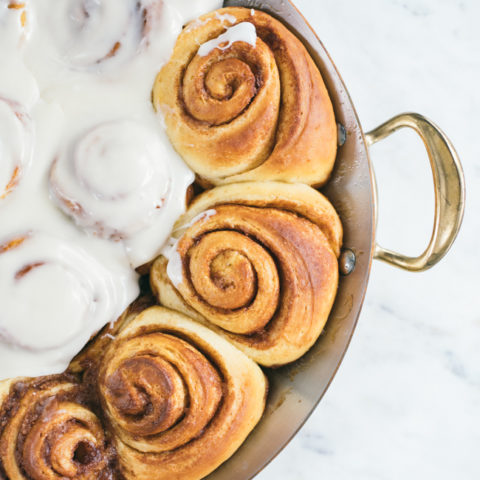 Apple Cider Cinnamon Rolls
Delicious Apple Cider Cinnamon Rolls, with the faintest apple flavor, and softest texture. The icing is infused with apple cider, too. They're the perfect breakfast treat for fall!
Print
Pin
Rate
Ingredients
Dough
4

large eggs,

room temperature

3/4

cup

apple cider,

warm (100-110F)

1/4

cup

honey

4

cups

(568g) all-purpose flour

2 1/4

teaspoon

instant yeast

2

teaspoons

salt

10

tablespoons

1 1/4 sticks, (142g) unsalted butter, room temperature, cut into 1-inch pieces
Filling
3/4

cup

(150g) packed brown sugar

2

teaspoons

ground cinnamon

1/2

teaspoon

grated nutmeg

1/2

teaspoon

ground ginger

Pinch

ground cloves

Pinch

salt

2

tablespoons

(29g) unsalted butter, melted and cooled
Icing
1/2

cup

apple cider

Pinch

salt

2

tablespoons

cream cheese

at room temperature

1

tablespoon

unsalted butter

at room temperature

1

teaspoon

pure vanilla extract

2

cups

(226g) confectioners' sugar
Instructions
For the dough
Grease a large bowl.

In a large liquid measuring cup, combine the eggs, apple cider, and honey.

In the bowl of a stand mixer fitted with a paddle, mix the flour, yeast, and salt and stir on low to combine. Add the egg mixture and mix on low to combine. With the mixer on low, add the butter, one piece at a time. When all the butter has been added, increase the speed to medium and beat the butter into the dough, until all the little butter pieces are incorporated, 1 minute. Transfer the dough to the prepared bowl. The dough will be very sticky and you will need a spatula to scrape the dough into the bowl.

Cover the bowl with plastic wrap and let rise for 30 minutes. Place your fingers or a spatula underneath the dough and gently pull the dough up and fold it back over itself. Turn the bowl and repeat this folding again. Continue 6 to 8 more times, until all the dough has been folded over on itself. Re-cover the bowl with plastic and let rise for 30 minutes. Repeat this series of folding 3 more times, for a rise time of 2 hours and a total of 4 foldings. Tightly cover the bowl with plastic wrap and refrigerate overnight or up to 72 hours.
To Assemble and Bake Apple Cider Cinnamon Rolls
Flour a work surface and knead the Sweet Dough 10 to 12 times. Shape the dough into a ball, cover the top lightly with flour, then cover with a tea towel and let come to room temperature.

Grease a 9×13-inch pan; if desired, line with parchment paper (this makes for easier cleanup).

In a small bowl, mix the brown sugar, cinnamon, spices, and salt.

Roll the dough into a 16 by 12-inch rectangle. Brush the dough with the melted butter and sprinkle the sugar-spice mixture evenly over the top, pressing it lightly into the butter so it adheres. Starting at a long side, roll the dough into a tight cylinder. Pinch the seam gently to seal it and position the dough seam side down. Use scissors or a sharp knife to cut the dough into 12 equal pieces. Transfer the pieces to the prepared pan and place them cut side up. Cover the pan loosely with plastic wrap and let the dough rise until doubled, 1 to 1 1/2 hours.

Adjust an oven rack to the middle position. Preheat the oven to 350 degrees F (180C). Remove the plastic and bake 27 to 32 minutes, rotating the pan halfway through, until the rolls are golden brown. While the rolls are baking, prepare the icing.

Transfer the pan to a wire rack and let cool for 5 minutes. Using an offset spatula or table knife, apply a thin layer of the icing, using about one-third of the mixture. Let the apple cider cinnamon rolls cool for another 15 to 20 minutes. Top with the rest of the icing and serve.
For the Icing
In a medium saucepan, cook the apple cider and salt over medium-high until reduced to 1/4 cup, 3 to 4 minutes. Remove from the heat, and whisk in the cream cheese, butter, and vanilla, and whisk until smooth (there may be a few tiny cream cheese lumps, but they will come out as you whisk in the confectioners' sugar). Slowly add the powdered sugar to the apple cider mixture, whisking constantly, until the mixture is smooth and glossy.