This recipe for homemade cinnamon rolls produces perfect pillowy soft cinnamon buns consistently. This recipe has a rise time of 2 hours and a total of 4 foldings (video guidance below!). Allowing the dough to rest overnight in the fridge yields the best results and makes this recipe convenient for a morning bake! These cinnamon rolls are 100% worth the effort. The cinnamon rolls will emerge from the oven gooey, pillowy soft and perfect.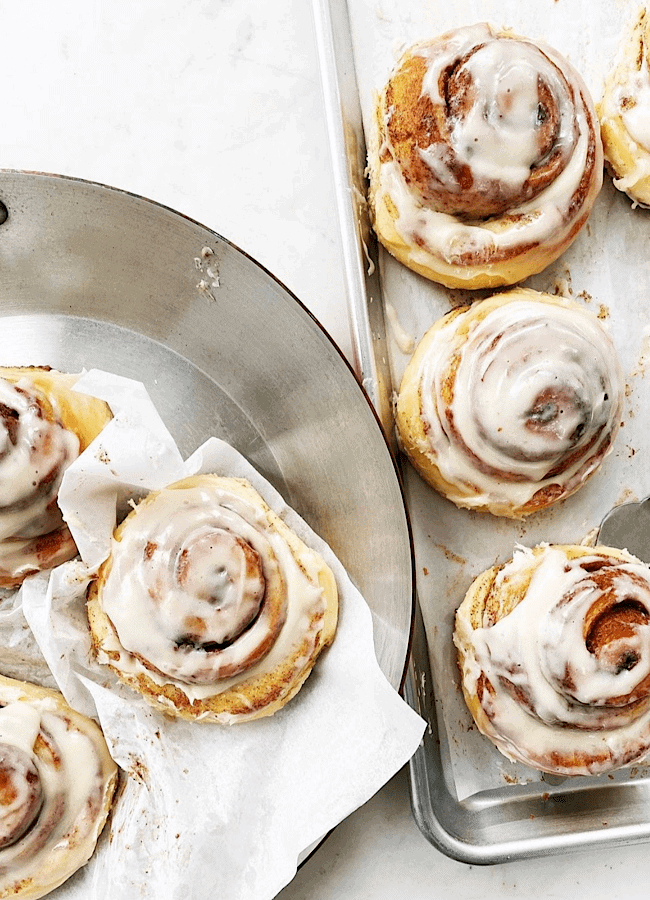 I like my cinnamon rolls super soft and gooey, so I put a thin layer of the icing over them while they are still warm. The icing melts into the just baked rolls, eliminating any hard corners or edges.
If you prefer a little crispy crunch to your cinnamon rolls, you can wait until they have cooled and then top them with all the icing. Or you could make this cinnamon buns recipe that has a cinnamon sugar dusting instead of icing!
And I now have a MINI CINNAMON ROLL recipe that makes 36 perfect little buns, generously finished with cream cheese icing! They are soft and gooey just like these.
Tips for Making the Best Cinnamon Rolls:
1. What if I don't have instant yeast? You can still use active yeast. Active dry yeast is a little different than instant in that it used to be made with larger granules and needed to be dissolved first. However, most yeast made today has similar sized granulates, so you can skip this step.
It should be fine to use the active yeast in the recipe as written. If you are worried about it, you could dissolve the yeast in the warm milk instead of adding it to the flour mixture. Red Star Yeast has a great FAQ page troubleshooting yeast here. You can read more about the difference in yeast here.
2. Is the dough supposed to be this sticky after mixing? YES! It is. The directions call for it to be chilled after mixing, which will help with the rolling out process. If you don't chill the dough, it will be hard to roll out.
3. What if I don't have all-purpose flour? Bread flour is a fine substitution, but the texture will be slightly different, and not as fluffy.
*Caution, whole wheat flour will make the rolls more dense, and you may need to add more liquid to the dough.
4. Can I add more cinnamon flavor? Of course! I sometimes use 3/4 cup brown sugar and 4 teaspoons cinnamon for the filling.
5. Can I shape the buns and let them rise overnight in the fridge? Yes! There are directions below on how to do so (this step still requires that the dough be chilled first before rolling).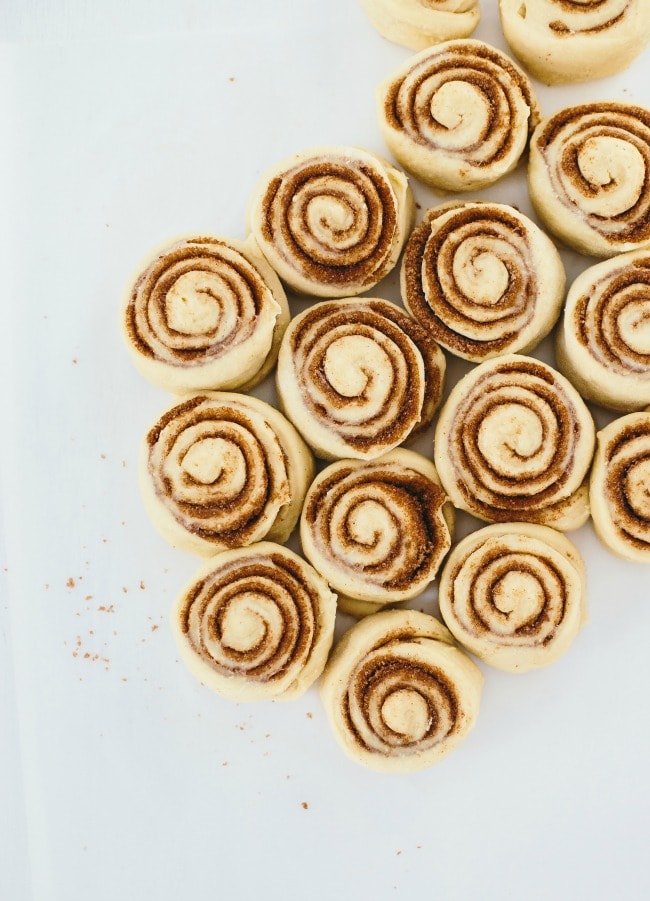 6. Can I freeze the baked buns?
If you want to bake the buns and freeze them, you can. Once cooled, wrap them in plastic, and then place them in a freezer bag for up to 2 weeks.
When ready to eat, thaw, warm, and then coat with icing. They may not be as soft and tender as fresh-baked buns.
7. Can I substitute something else for the honey? I honestly haven't tried it, and the ratios may have to be adjusted somewhat when changing out sugar-y liquids. Or try maple syrup instead. Here's how to substitute other liquids.
8. Can I use other egg sizes beside large? Yes. Check out this egg size conversion chart for replacing egg sizes.
9. Why do I knead the dough straight from the fridge and then let it rest again? Kneading the dough a few times (10 to 12, as indicated in the recipe) helps wake the gluten up.
There is a lot of butter in this dough which can get in the way, so sometimes it needs a little help. Then covering it and letting it rest for 20 minutes before rolling it will help the gluten relax so it is easier to roll.
My Cinnamon Rolls recipe was featured on The Kitchn, and the Pancake Princess declared it the winner of her Cinnamon Roll Bake Off! I created this recipe for my first cookbook, The Vanilla Bean Baking Book. In my 4th cookbook, 100 Morning Treats, I published a new recipe; Soft Buttermilk Cinnamon Rolls with Cream Cheese Icing.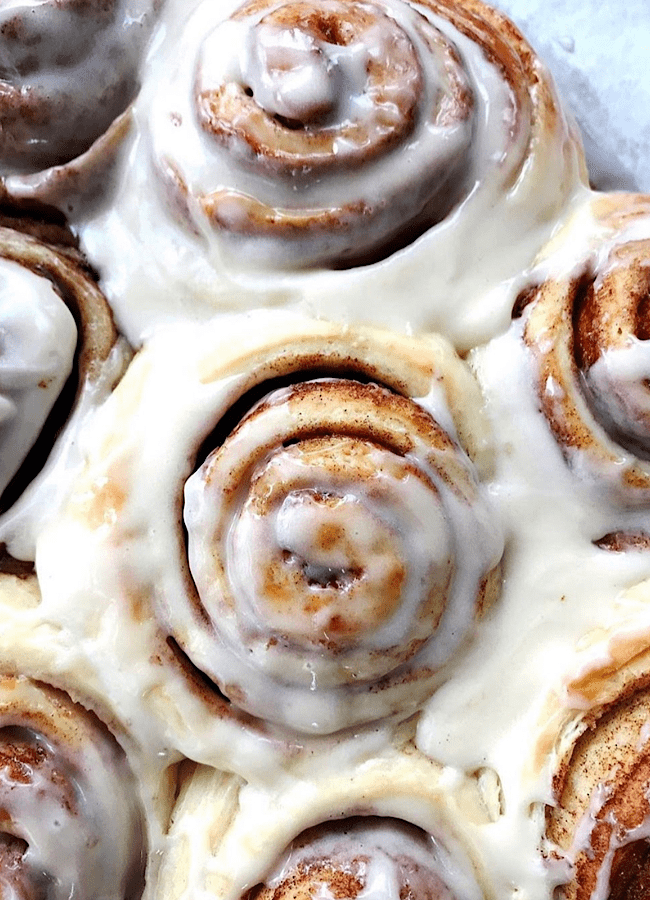 How to Fold Cinnamon Roll Dough
I've included a video below of the folding process, which shows how to do it. This little extra step is the secret to the pillowy soft texture of the rolls!
Why do I fold the dough? Folding the dough helps improve the dough's structure, ensures gluten will form, and makes it easier to handle.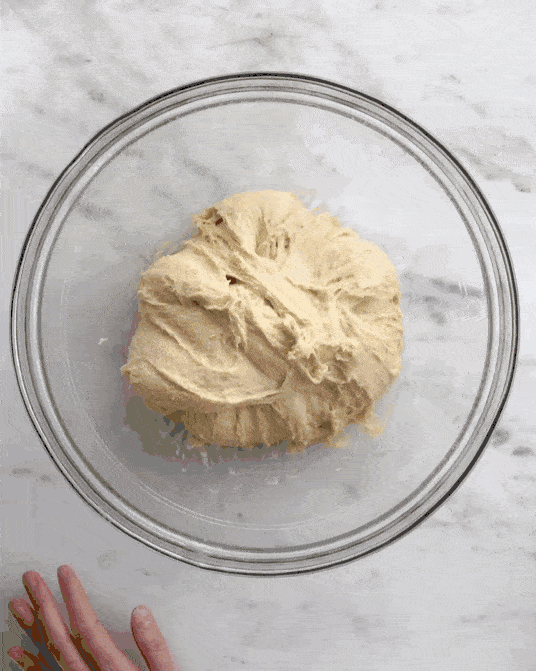 More Cinnamon Roll Recipes: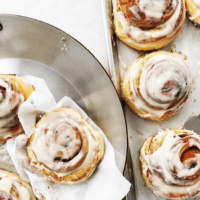 Soft and Gooey Cinnamon Rolls
I like my cinnamon rolls super soft and gooey, so I put a thin layer of the icing over them while they are still warm. The icing melts into the just baked rolls, eliminating any hard corners or edges. If you prefer a little crispy crunch to your cinnamon rolls, you can wait until they have cooled and then top them with all the icing.
Print
Pin
Rate
Ingredients
Dough
4

large eggs, at room temperature

3/4

cup

warm whole milk (100 to 110F [35 to 42C])

1/4

cup

[85 g] honey

4

cups

[568 g] all-purpose flour

2 1/4

teaspoons

instant yeast

2

teaspoons

salt

10

tablespoons

[1 1/4 sticks or 142 g] unsalted butter, at room temperature, cut into 1 in [2.5 cm] pieces
Frosting
8

tablespoons

[1 stick or 113 g] unsalted butter, room temperature

4

ounces

[114 g] cream cheese, room temperature

1

teaspoon

pure vanilla extract

1/4

teaspoon

salt

1

cup

[120 g] confectioners' sugar
Equipment
9 by 13 in [23 by 33 cm] Baking Pan
Instructions
For the dough
In a large liquid measuring cup, combine the eggs, milk, and honey.

In the bowl of a stand mixer fitted with a paddle, mix the flour, yeast, and salt and stir on low to combine. Add the egg mixture and mix on low to combine. With the mixer on low, add the butter, one piece at a time. When all the butter has been added, increase the speed to medium and beat the butter into the dough, until all the little butter pieces are incorporated, 1 minute. Transfer the dough to the prepared bowl. The dough will be very sticky and you will need a spatula to scrape the dough into the bowl.

Cover the bowl with plastic wrap and let rise for 30 minutes. Place your fingers or a spatula underneath the dough and gently pull the dough up and fold it back over itself. Turn the bowl and repeat this folding again. Continue 6 to 8 more times, until all the dough has been folded over on itself. Re-cover the bowl with plastic and let rise for 30 minutes. Repeat this series of folding 3 more times, for a rise time of 2 hours and a total of 4 foldings (see the GIF above on how to do this folding). Tightly cover the bowl with plastic wrap and refrigerate overnight or up to 72 hours.
To Assemble
Flour a work surface and knead the cold Sweet Dough 10 to 12 times (see troubleshooting above for why). Shape the dough into a ball, cover the top lightly with flour, and cover with a tea towel and let come to room temperature. 

Grease a 9 by 13 in [23 by 33 cm] pan; if desired, line with parchment paper (this makes for easier cleanup). 

In a small bowl, mix the brown sugar, cinnamon, and salt.

Roll the dough into a 16 by 12 in [30.5 by 40.5 cm] rectangle. Brush the dough with the melted butter and sprinkle the cinnamon-sugar mixture evenly over the top, pressing it lightly into the butter so it adheres. Starting at a long side, roll the dough into a tight cylinder. Pinch the seam gently to seal it and position the dough seam side down. Use scissors or a sharp knife to cut the dough into 12 equal pieces. Transfer the pieces to the prepared pan and place them cut side up. Cover the pan loosely with plastic wrap and let the dough rise until doubled, 1 to 1 1/2 hours. 

Adjust an oven rack to the middle position. Preheat the oven to 350F [180C]. Remove the plastic and bake 27 to 32 minutes, rotating the pan halfway through, until the rolls are golden brown. While the rolls are baking, prepare the icing. 

Transfer the pan to a wire rack and let cool for 5 minutes. Using an offset spatula or table knife, apply a thin layer of the cream cheese icing, using about one-third of the mixture. Let the rolls cool for another 15 to 20 minutes. Top with the rest of the icing and serve. 
For the icing
In the bowl of a stand mixer fitted with a paddle, beat the butter and cream cheese on medium until smooth and creamy. Add the vanilla and salt and mix on low to combine. Add the confectioners' sugar and mix on low until combined. Scrape down the sides of the bowl and mix on medium until the icing is light and fluffy, 3 to 4 minutes. 
**For overnight cinnamon rolls
Prepare the rolls (roll out dough, fill them, roll them up, cut them, and put them in the prepared pan, but do not let rise for 1 1/2 hours as stated above) then cover them loosely with plastic and refrigerate for up to 18 hours. When ready to bake, preheat the oven, and let the rolls sit at room temperature (still covered in plastic) for 30-45 minutes. Bake as directed (they make take slightly longer to bake). 
Notes
The dough can be cut into 8, 10, or 12 pieces, depending on your preferred size. Add a few minutes to the baking time for larger-size buns.
You don't have to use a 9 x 13-inch baking pan here; you can get creative if you'd like. I often use this round 10-inch pan (affiliate link) for baking the cinnamon rolls or this 5 quart braiser. You could also bake them on a half sheet pan lined with parchment. 
*** Throughout my recipes posted on this website, 1 cup of flour equals 142g. Please note that 1 cup of flour can range anywhere from 120g to 142g, depending on the baker or website. I found that after weighting many cups of flour and averaging the total, mine always ended up around this number. If I am posting a recipe from another cookbook, I will use whatever gram measure of flour used in that book, which is why you may see a few posts with a different cup measurement. 
Different brands of flour have varying levels of protein, ranging from low to high, which can result in very different outcomes when baking. I've found Gold Medal all-purpose unbleached flour to be the best option for many of my recipes; I use it in all the baked goods that don't use yeast. For yeasted doughs that call for all-purpose flour, I like to use King Arthur Brand.