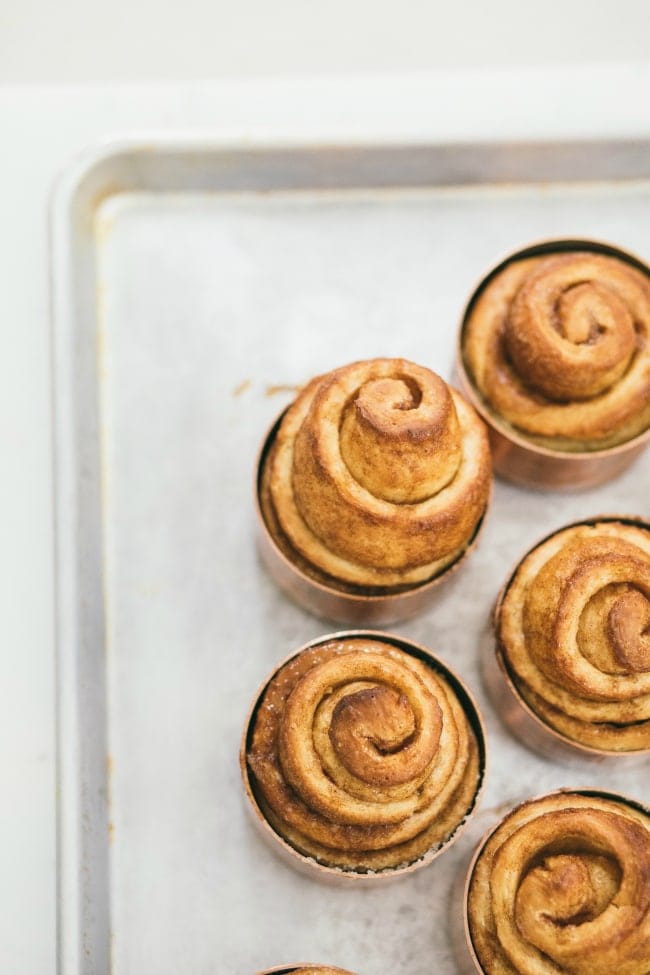 I've had a lot of people asking about these cinnamon buns on Instagram, and so I'm finally delivering with a recipe. This cinnamon buns recipe is adapted from my book (affiliate link) but made a bit different: I've baked them in mini soufflé pans from Mauviel. I am really happy with how they turned out – the pans held the dough's shape nicely, and pushed the buns up to be extra tall. The soufflé pans also help caramelize the sides of the buns while keeping the center tender, and this, in my humble opinion, makes them absolutely perfect. I have a few other recipes coming that involve these pans, and will try to get them up this next week.
**********************************
You have to understand,
that no one puts their children in a boat
unless the water is safer than the land
-Warsan Shire, Home
I read Warsan Shire's poem, Home this week. I think it is an important read. I also just discovered the work of Joya Logue, and love her watercolors. This particular picture strikes a chord with me, and I have seen it paired with Shire's poem quite a few times on Instagram the last day or two. As my children are home for summer break and we have the leisure to spend our days together reading and swimming and baking and being, I find my mind drawn constantly to those families that have been separated from one another. I can't imagine how terrifying it would be to not know where my children were, and not sure if I would ever find them again. People are not statistics. Families Belong Together.
If you are concerned about what is currently happening at our borders, or if you are confused about what exactly is happening and why so many people are highlighting it, I have some links here for you. First of all, knowing exactly what asylum is and why people are seeking it is important. The American Immigration Council has a page detailing everything you need to know, and explains the process people go through once they reach our borders. You can read about that here. If you are curious about how the process has changed in the last few months (it has become harder to seek asylum), American Voice has an overview on the policies that have shifted. You can read about that here. Also, read this NPR piece on where the children go once they are taken from their parents. The New York Times has a great piece on Fact-Checking the Trump Administration's Case For Child Separation at the Border. A google search of "who is speaking out against border policies" will bring up hundreds of hits – CEO's, evangelical pastors, first ladies, the Pope, celebrities… so many people. I don't bring this up to name drop, simply to say many people who often disagree on other issues are speaking up to say this policy is wrong.
My overall advice to you here is to read, fact check, and learn about what is going on.  People are not statistics.
If you'd like to contact your representatives about what is happening, you can find phone numbers and contact here. Resistbot is another great way to contact your local representatives, and you can find their webpage here. Don't be afraid to use your voice, for this issue or any that is important to you! I've found the more I call, the easier it is each time.
If you'd like to give, here is a list of organizations mobilizing to help.
Also, I know that this is a food blog and many of my readers have different political opinions. I think what is currently happening to families at my own country's borders is inhumane, and important enough to bring attention to here. To quote the late Anthony Bourdain, "People are not statistics. There's nothing more political than food…who eats? Who doesn't? Why do people cook what they cook? It is always the end or a part of a long story, often a painful one."
People are not a means to an end, people are the end.
Love your neighbor as yourself.
I choose to raise my voice to help reunite families.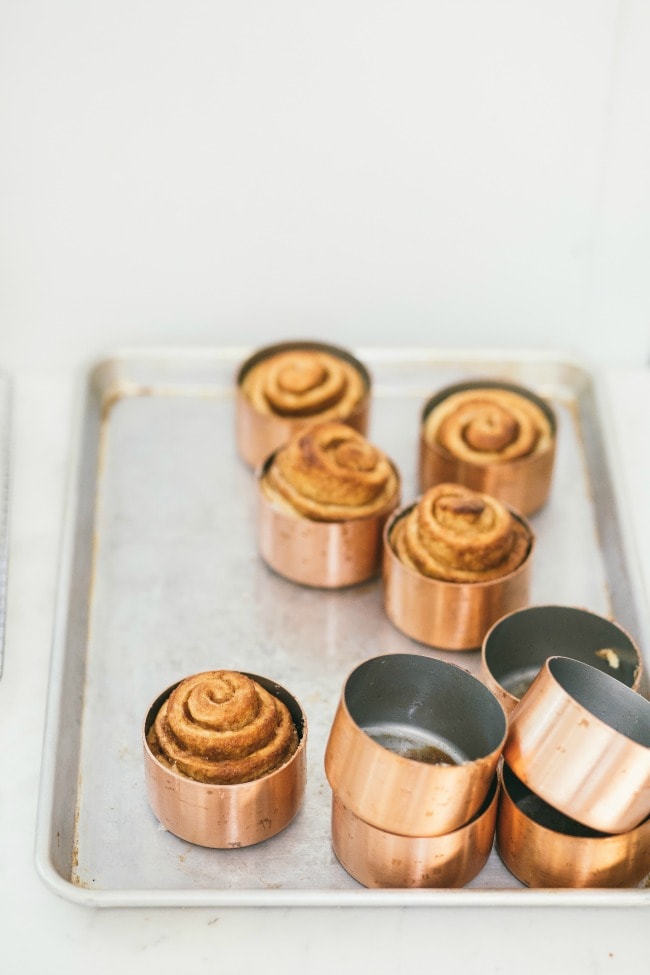 A few other things (that seem trite after the above):
*My site got a little make over! I'm really happy with how it turned out, and I have to give a shout out to Alex from A Couple Cooks for all his help (and if you are looking for someone to help with your site, I highly recommend him!).
*A few months ago my site got hacked and someone signed thousands of people up for my email newsletter. My mailing list now should reflect those who want to be on there, but if you find you are not getting my emails anymore and would like to be, you can sign up on the side bar.
*Last week I spoke about my chocolate chip cookie recipe going viral at the Cherry Bombe Radio event here in Minneapolis. Mpls. St. Paul Magazine reprinted what I had to say on their website, if you want to read it.
*Molly's new show starts this weekend on the Food Network! I can't wait to watch.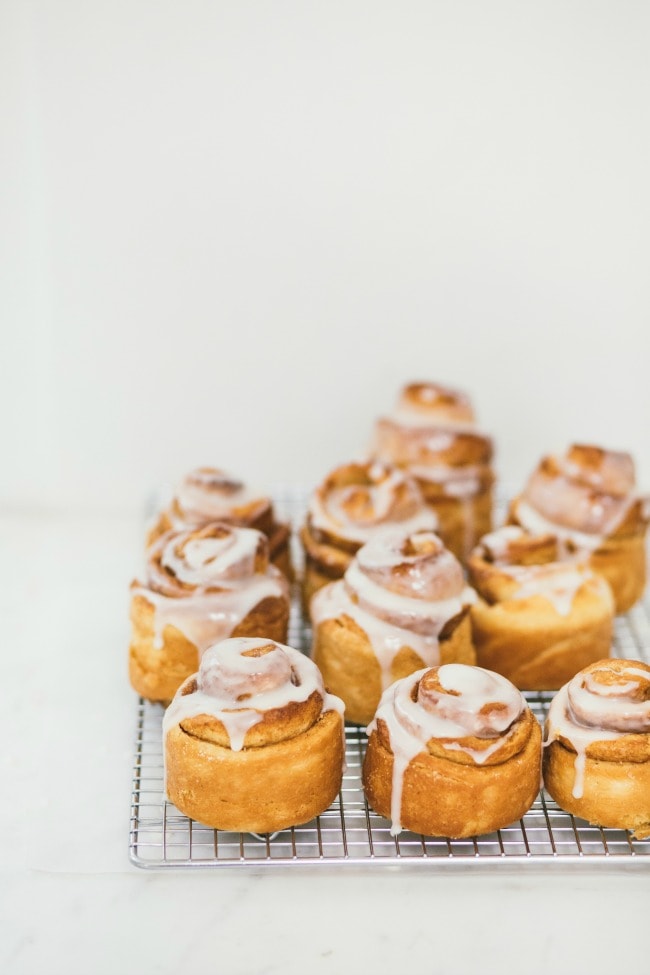 Cinnamon Buns
Recipe adapted from my book, The Vanilla Bean Baking Book (affiliate link).
I also have a recipe for brioche cinnamon buns here if that is more up your alley.
I've made the cinnamon buns in individual soufflé molds, specifically, these 3 x 2-inch copper mini molds from Mauviel. If you do not have soufflé molds, you could use ramekins instead, just make sure they are roughly the same size. The molds I used have straight 2-inch sides, which helps give the rolls their tall shape. The sides of the pans are buttered and then dusted with sugar, which caramelizes the sides of the buns, making for an incredible roll. As much as I like soft, gooey cinnamon buns, this version is currently my favorite way to partake.
The one downside to the copper molds is that they are crazy hot when they come out of the oven, which can make it a little tricky to get them out. I use a kitchen towel and wrap it around the base of the copper mold, then run a knife carefully around each of the cinnamon buns, and flip them onto a wire rack. Make sure to line the bottom of each mold with parchment paper as noted in the instructions, or the buns will stick to the bottom and it will be extra hard to get them out.
Dough
4 large eggs, room temperature
3/4 cup whole milk, warm (100-110F)
1/4 cup honey
4 cups (568g) all-purpose flour
2 1/4 teaspoon instant yeast
2 teaspoons salt
10 tablespoons (1 1/4 sticks | 142g) unsalted butter, room temperature, cut into 1-inch pieces
Filling
3/4 cup (149g) brown sugar
1 tablespoons ground cinnamon
Pinch salt
2 tablespoons unsalted butter, melted and cooled slightly
Icing
2 ounces cream cheese
Pinch salt
1/2 teaspoon pure vanilla extract
2-4 tablespoons water
2 cups (226g) confectioner's sugar
For the dough
Grease a large bowl.
In a large liquid measuring cup, combine the eggs, milk, and honey.
In the bowl of a stand mixer fitted with a paddle, mix the flour, yeast, and salt and stir on low to combine. Add the egg mixture and mix on low to combine. With the mixer on low, add the butter, one piece at a time. When all the butter has been added, increase the speed to medium and beat the butter into the dough, until all the little butter pieces are incorporated, 1 minute. Transfer the dough to the prepared bowl. The dough will be very sticky and you will need a spatula to scrape the dough into the bowl.
Cover the bowl with plastic wrap and let rise for 30 minutes. Place your fingers or a spatula underneath the dough and gently pull the dough up and fold it back over itself. Turn the bowl and repeat this folding again. Continue 6 to 8 more times, until all the dough has been folded over on itself. Re-cover the bowl with plastic and let rise for 30 minutes. Repeat this series of folding 3 more times, for a rise time of 2 hours and a total of 4 foldings. Tightly cover the bowl with plastic wrap and refrigerate overnight or up to 72 hours.
For the filling
In a small bowl, mix the brown sugar, cinnamon, and salt.
To assemble
Butter ten 3 x 2-inch soufflé molds (see note above about soufflé mold specifics). Line the bottom of each mold with parchment paper, and then generously coat with granulated sugar, tapping out any excess. Place the molds on a baking sheet.
Roll the dough into a 16 x 12-inch rectangle. Brush the dough with the melted butter and sprinkle the cinnamon-sugar mixture evenly over the top, pressing it lightly into the butter so it adheres. Starting at the long side, roll the dough into a tight cylinder. Pinch the seam gently to seal it and position the dough seam side down. Use a scissors or a sharp knife to cut the dough into 10 equal pieces. Transfer the pieces to the prepared pans and place them cut side up. Cover the pans loosely with plastic wrap and let the dough rise until doubled, 1 to 1 1/2 hours.
Adjust the oven rack to the middle lower position. Preheat the oven to 350F.
Remove the plastic and bake 22 to 30 minutes, rotating the pan halfway through, until the rolls are golden brown. While the rolls are baking prepare the icing.
Transfer the pan to a wire rack and let the rolls cool for a few minutes. Use a kitchen towel or oven mitts to pick up each soufflé mold, then run a knife carefully around the edges of the pan, and flip the roll onto a wire rack. Carefully put the roll right side up, and repeat with the remaining rolls. Let cool for 5 minutes, then place a piece of parchment paper under the wire rack. Pour the icing over each roll. Serve warm.
For the icing
Place the cream cheese in a small bowl. Add the salt, vanilla, and 2 tablespoons water and mix until smooth. Add the confectioner's sugar and mix until combined, adding more water if needed, until the desired consistency is reached.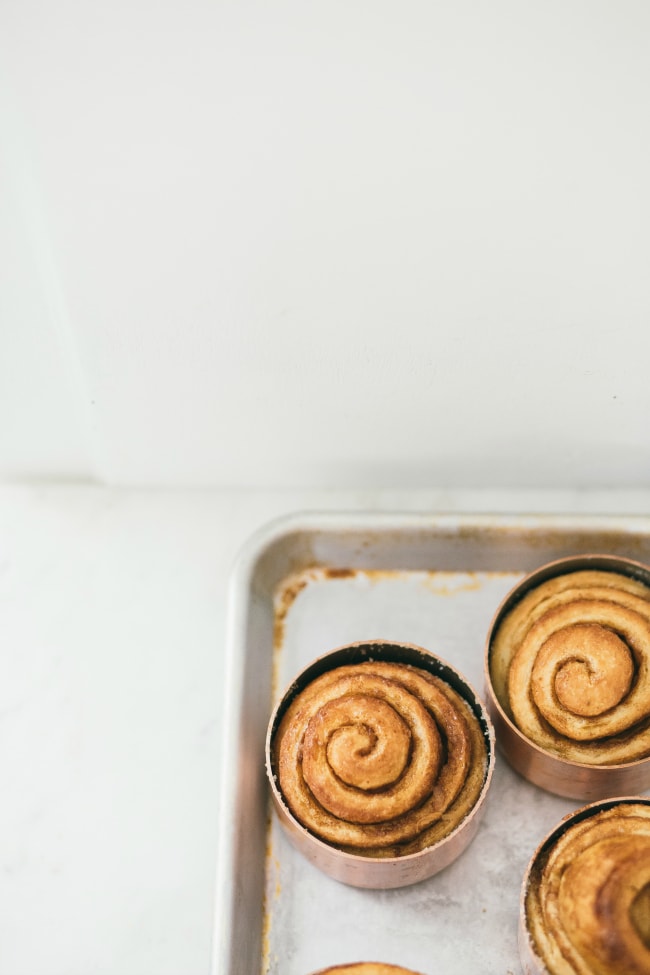 The copper soufflé molds were sent to me by Mauviel, but all opinions about them are my own.
Check out more morning bread recipes here.