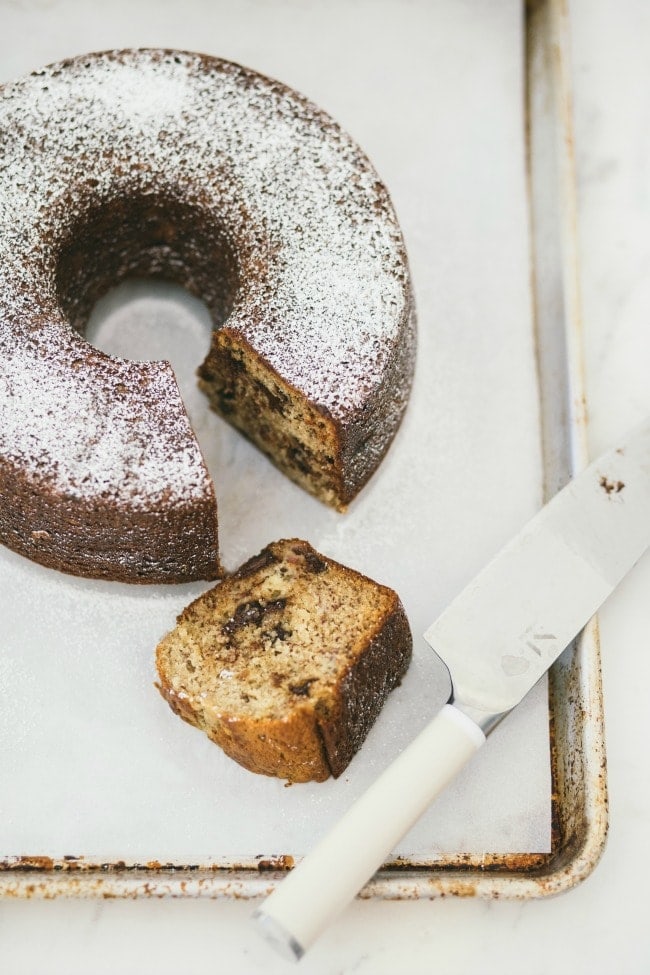 I have another pound cake/Bundt cake recipe for you: Banana Chocolate Bundt Cake. I recently found an old folder I thought I had lost – full of recipes from a coffeehouse I worked at in between my time baking at the Blue Heron Coffeehouse and Bordertown Coffee. This was one of my favorite Bundt cakes to make, although I couldn't help myself and made some changes: I added more banana, swapped dried cherries for chocolate, and added a nice splash of black strap rum. I've made it several times now this week (both for testing and eating) and am happy with how it turned out. And, as much as I love my banana bread recipe, I think this comes in a very close second.
********************************
"The purpose of art is to lay bare the questions that have been hidden by the answers." – James Baldwin 
A friend of mine has a chalkboard hanging in her house where she writes poems/song lyrics/quotes/and other random words that have moved her. They sit there for as long as she needs them, and then are changed when new words inspire her. I recently copied her idea, and have a chalkboard visual to me from my kitchen, where I work all day. I find myself reading over and over the words I have handwritten on it; each re-reading roots the words further into my soul, and I'm able to spend time contemplating what, perhaps, the poets meant for us to hear. He who has ears to hear, let him hear. (Although, "Poets utter great and wise things which they do not themselves understand." – Plato)  This quote from James Baldwin is up this week – it resonated strongly with me and also reminded me of the lines from Rainer Maria Rilke that I turn to often: "I beg you, to have patience with everything unresolved in your heart and to try to love the questions themselves as if they were locked rooms or books written in a very foreign language. Don't search for the answers, which could not be given to you now, because you would not be able to live them. And the point is to live everything. Live the questions now. Perhaps then, someday far in the future, you will gradually, without even noticing it, live your way into the answer."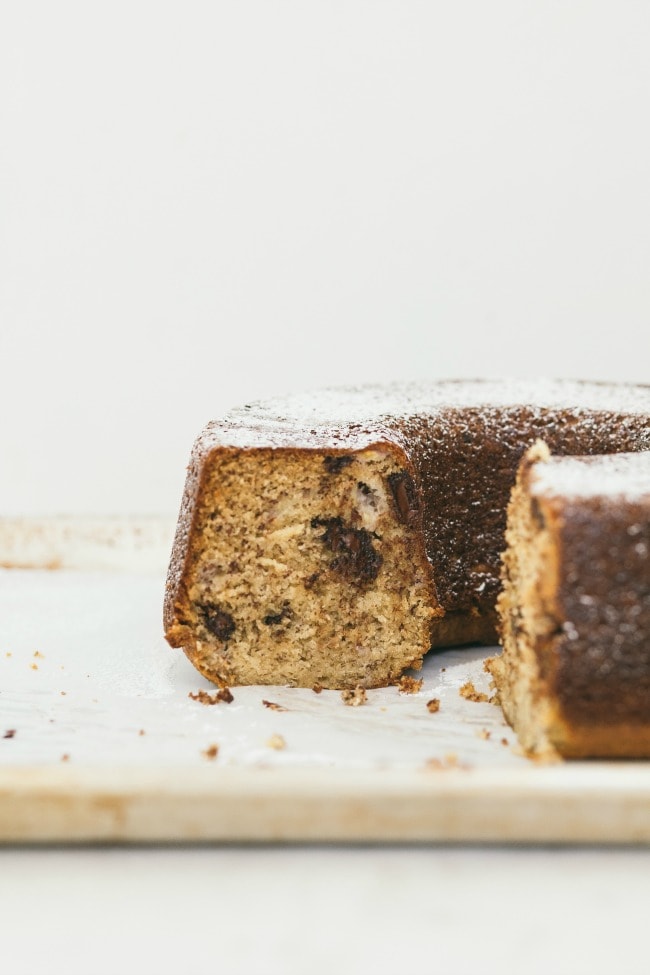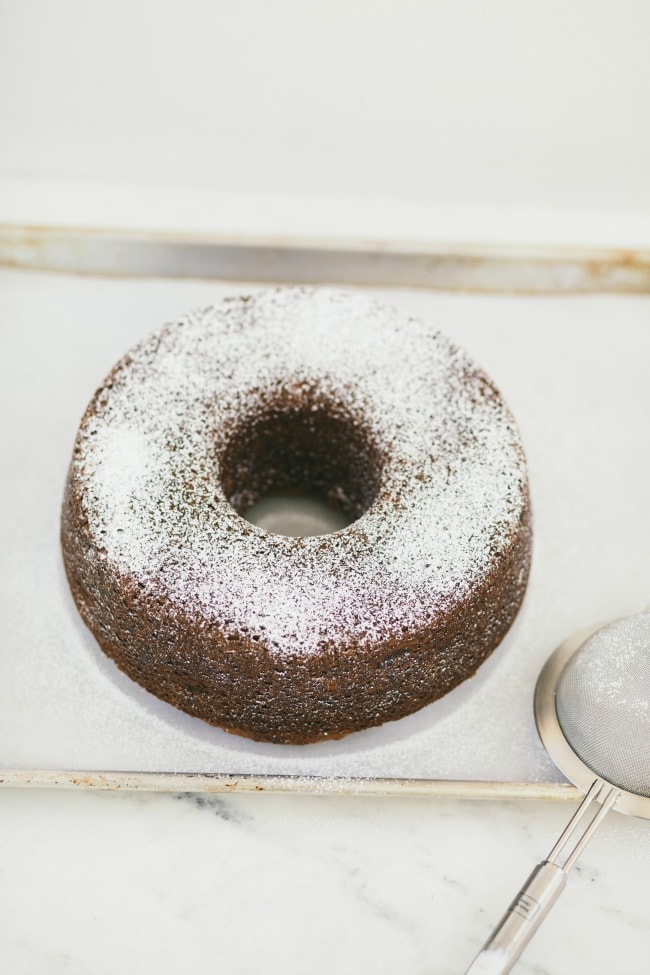 Banana Chocolate Bundt Cake
I tried also making this as banana bread (dividing the batter in two loaf pans) and didn't like how it turned out – I preferred this as a Bundt cake.
Note: The trick to giving your banana cake a great flavor is to use very ripe bananas – the blacker the better. I like to freeze my peeled, ripe bananas in a freezer bag, and then move them from the freezer to the fridge the night before baking. As the bananas thaw, they leak a lot of banana juice. I put all the juice in a saucepan and cook it down to 1/4 cup. After it has cooled, I add it to the batter along with the bananas.
3 cups (420g) all-purpose flour
2 1/2 teaspoons baking powder
1 teaspoon baking soda
3/4 teaspoon salt
2 cups very ripe bananas, mashed (about 5 bananas) (see note)
1/2 cup sour cream
1/2 cup whole milk
12 tablespoons unsalted butter
1 cup (200g) granulated sugar
3/4 cup (175g) brown sugar
3 large eggs
2 teaspoons pure vanilla extract
1 tablespoon black strap rum (optional)
4 ounces (113g) chopped semi or bittersweet chocolate
Preheat the oven to 350F. Grease a 10-cup bundt or tube pan.
In a small bowl, whisk the flour, baking powder, baking soda, and salt together. In a separate bowl, mash the bananas. Add vanilla, sour cream, and milk and mix until combined.
In the bowl of a stand mixer fitted with a paddle, cream the butter and sugars together until fluffy, 2-3 minutes. Add the eggs and mix on medium until combined. Add the flour mixture and mix on low until almost incorporated. Add the banana mixture and mix on low until completely combined. Scrape down the sides of the bowl and finish mixing with a spatula until the batter is completely combined. Add the chopped chocolate and gently stir it into the batter. Pour the batter into the prepared pan and bake 50 to 65 minutes, until the top is dark brown and a wooden skewer or toothpick inserted into the center comes out clean.
Transfer the pan to a wire rack and let cool for 20 minutes, then carefully unmold it onto a rack to cool to room temperature. Dust with powdered sugar if desired.