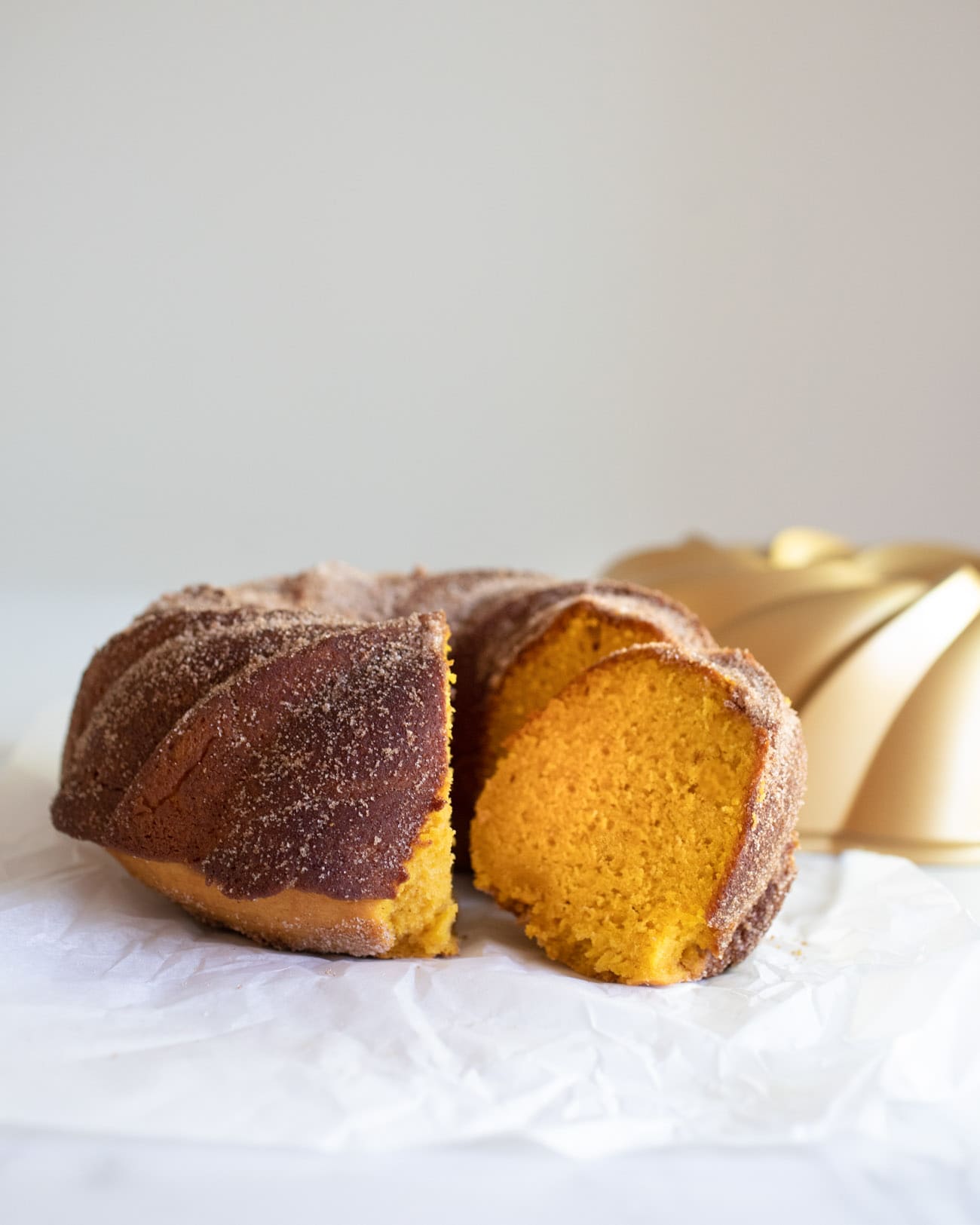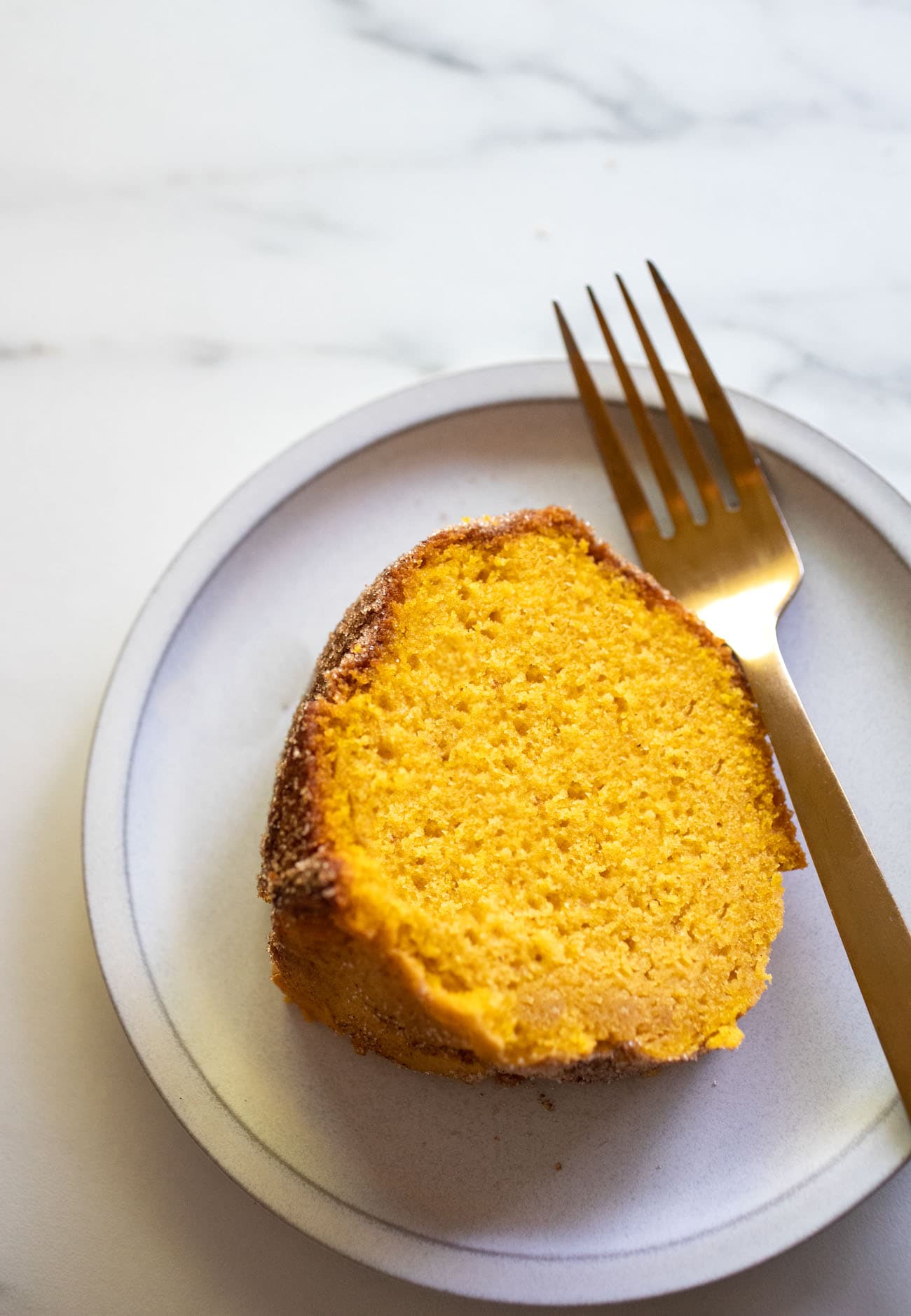 I have been a fan of Bundt cakes for decades, as their elegant shape and endless flavor possibilities have always been intriguing to me. The first Bundt cake I ever made was at The Blue Heron Coffeehouse in Winona, MN; I was working an evening shift and it was painfully slow, so I bopped into the kitchen and decided to get a jump-start on the morning baking.
Bundt cakes had always been a big seller in the morning hours, and the fact that they often tasted better the next day made them a good place to start. Two hours and one flip later, my Bundt cake was out of the oven, and even though part of it stuck to the pan (the fault of an inexperienced Bundt-cake-maker) I was enamored with my beautiful creation. I have been making them ever since.
I often associate Bundt cakes with breakfast, as I have spent many early mornings nibbling on them (they do, of course, also taste delicious in the afternoon and evening hours.) It may be the result of working in coffeehouses for years, but a sweet treat in the morning, paired with coffee in any form, is my preferred breakfast of choice. It's also why I included several Bundt cake recipes in my latest cookbook, 100 Morning Treats.
______________________________________________________________________________
This post is sponsored by Nordic Ware, a valued partner of The Vanilla Bean Blog. We're also hosting a giveaway together on my Instagram channel for this great package: Swirl Bundt Pan, Bundt Finishing Tool Kit, Bundt Cake Keeper, Bundt Measuring Cups, Set of new Bundt Magnets, and a signed copy of my new cookbook, 100 Morning Treats!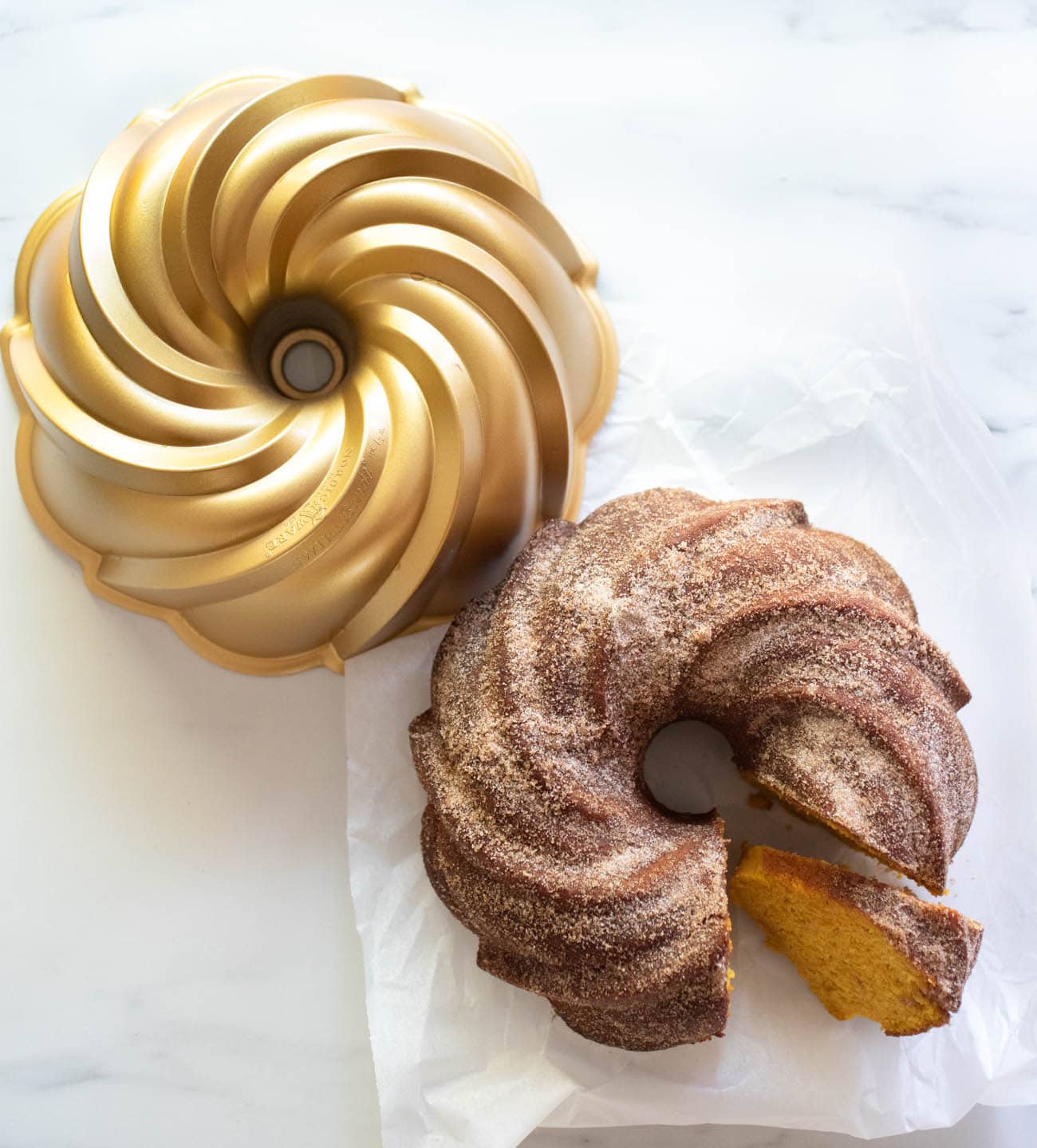 About this Recipe
My Everything Bundt Cake has always been a favorite, along with this Espresso Bundt, but now that Autumn is unfolding, I find myself turning to warmer flavors: cinnamon, ginger, nutmeg, and cloves. That is where this Pumpkin Doughnut Cake comes in. I can't think of a better way to celebrate both the morning hours and the cool fall weather: bundled in blankets by a cozy fire, sipping coffee and eating a slice of this moist cake.
Not only does it contain all those above mentioned spices, but it also has great pumpkin flavor and a heavy dusting of sugar and more cinnamon.
This cake will not taste like an old-fashioned doughnut, freshly fried. However, it will faintly remind you of a very good pumpkin doughnut, especially if eaten slightly warm, with plenty of butter, sugar, and cinnamon soaked into the top.
Choosing a Bundt Cake Pan
There are thousands of Bundt cake shapes and brands to choose from in this day and age. Over the last few decades of making Bundt cakes, and using all kinds of Bundt pans in work and home settings, I've come to rely on Nordic Ware. Made right here in Minneapolis, Minnesota, over a dozen set of hands touch each pan during the production process, which means that each pan is inherently unique. Their Bundt pans are durable and well-made, and they create an even cake-bake.
Nordic Ware Bundt pans are made of heavy cast aluminum, which provides superior baking performance and fine details, both of which are best for baking. The silicone nonstick surface means clean release and easy cleaning. It's one of the many reasons I swear by their pans! And, their pans are beautiful. I have quite a few of them in my collection now, and it is often hard for me to choose which one to use. I used their 10-cup Swirl Bundt Pan for this recipe, and love how elegant my cake turned out with this pan. This is a newer Bundt shape for Nordic Ware, part of their Premier Gold Bakeware Collection.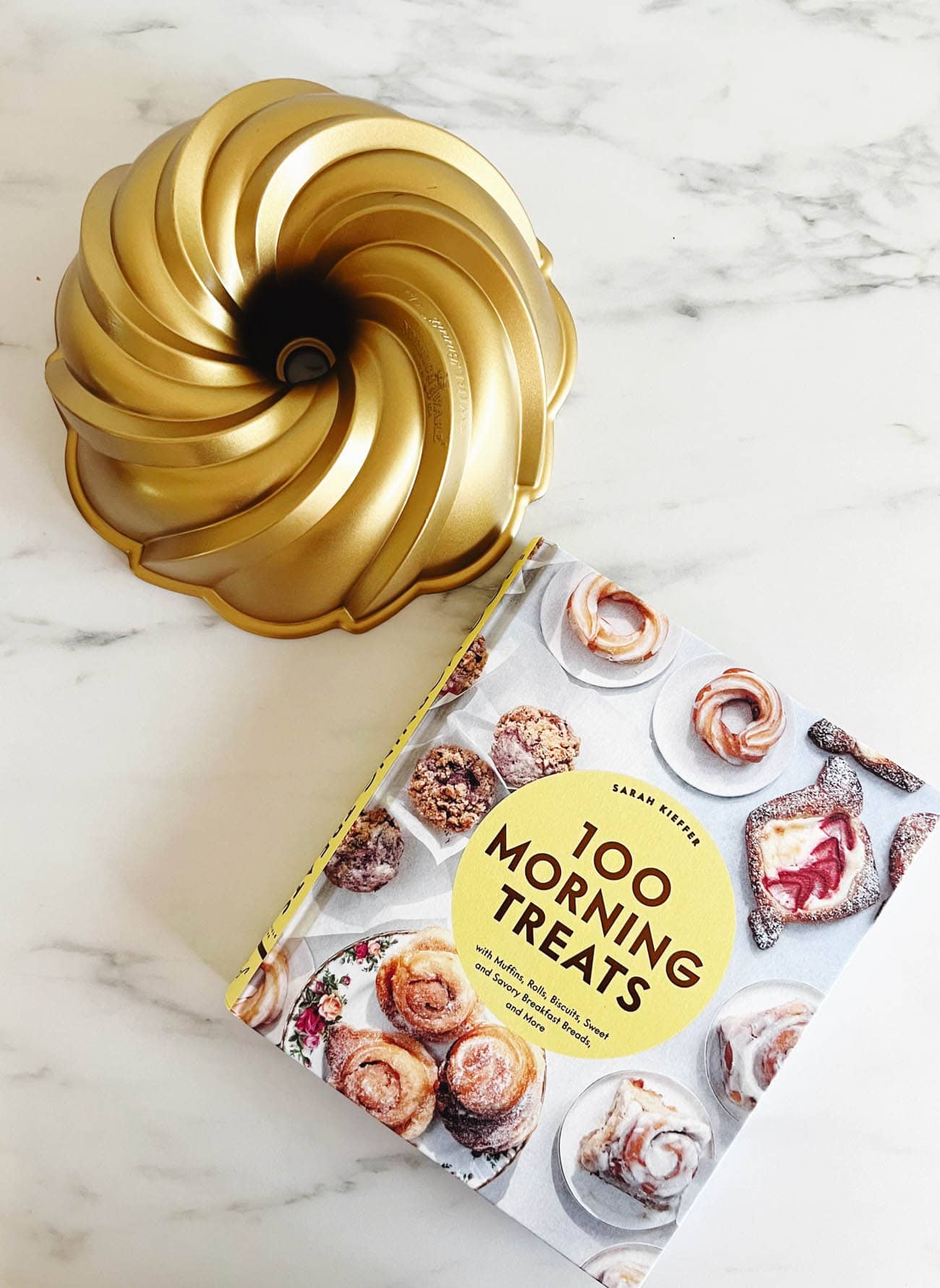 Bundt Baking Tips and Tricks
Make sure ingredients are at room temperature. If ingredients are added cold, they won't emulsify properly; butter can seize up when hit with cold eggs. In addition, if the eggs are cold, your cake may not rise as well.

Make sure your ingredients are completely combined before pouring the batter into a pan. Use a spatula to scrape down the sides and bottom of your stand mixer bowl often!

Knowing when to flip your Bundt cake is important. I find 10 minutes to be a good time frame for resting Bundts. If the Bundt cake cools too long in the pan, the sugars will begin to set and harden, and this can make removing the cake more difficult. But, of course, if you flip it too soon, the cake will be too warm and crumble into pieces.

It is not recommended to run a knife around the sides of the pan, as this can ruin it. But, if your cake is stuck, there might not be any other option. I've found a plastic knife can work well and won't leave marks on the pan. If you do use something metal to release it, make sure it is thin, and go slowly and carefully around the edges.
How to Store Bundt Cakes:
I think this particular Bundt cake is best the day it is made (and just slightly warm), but it can be stored in an airtight container at room temperature for up to 2 days.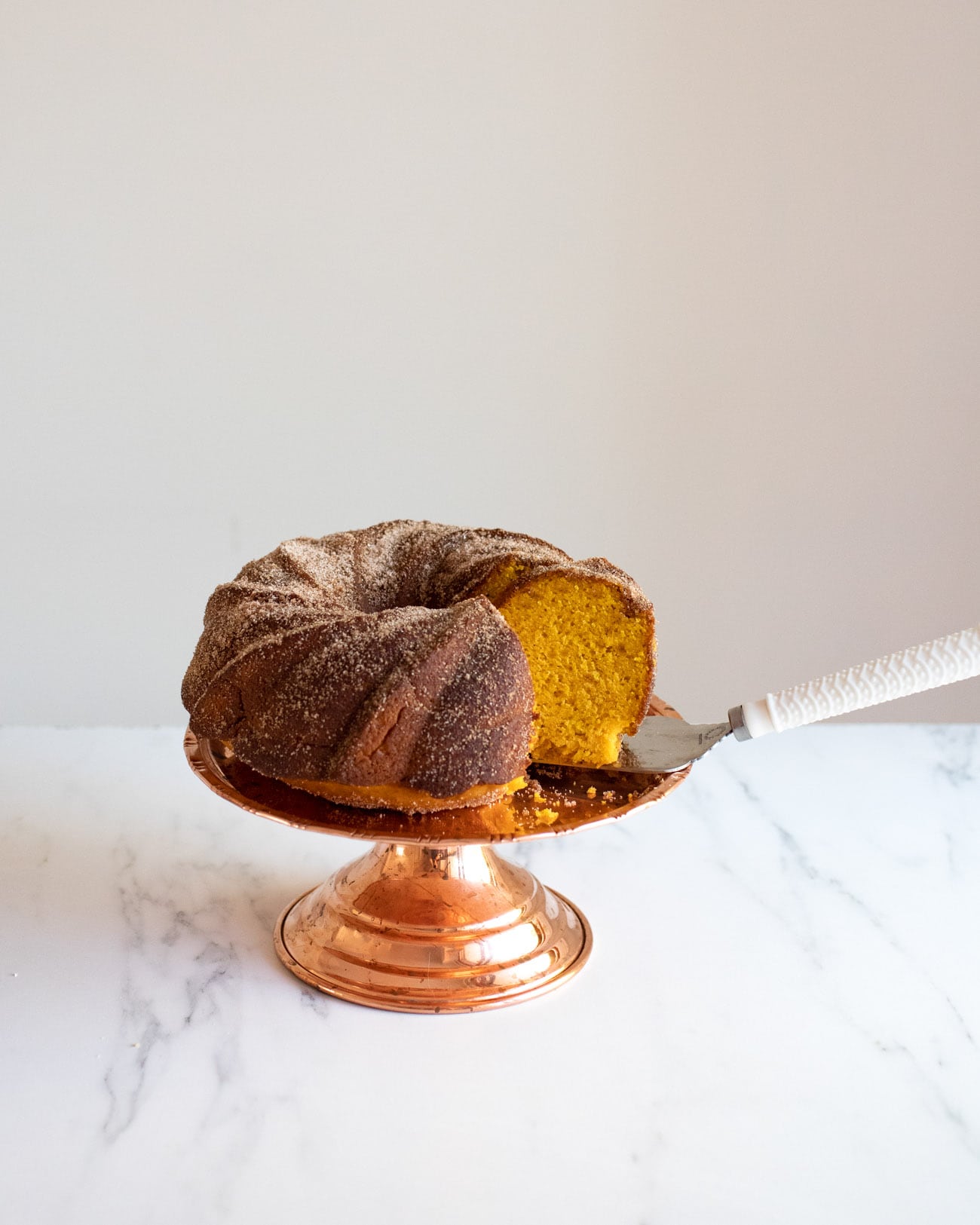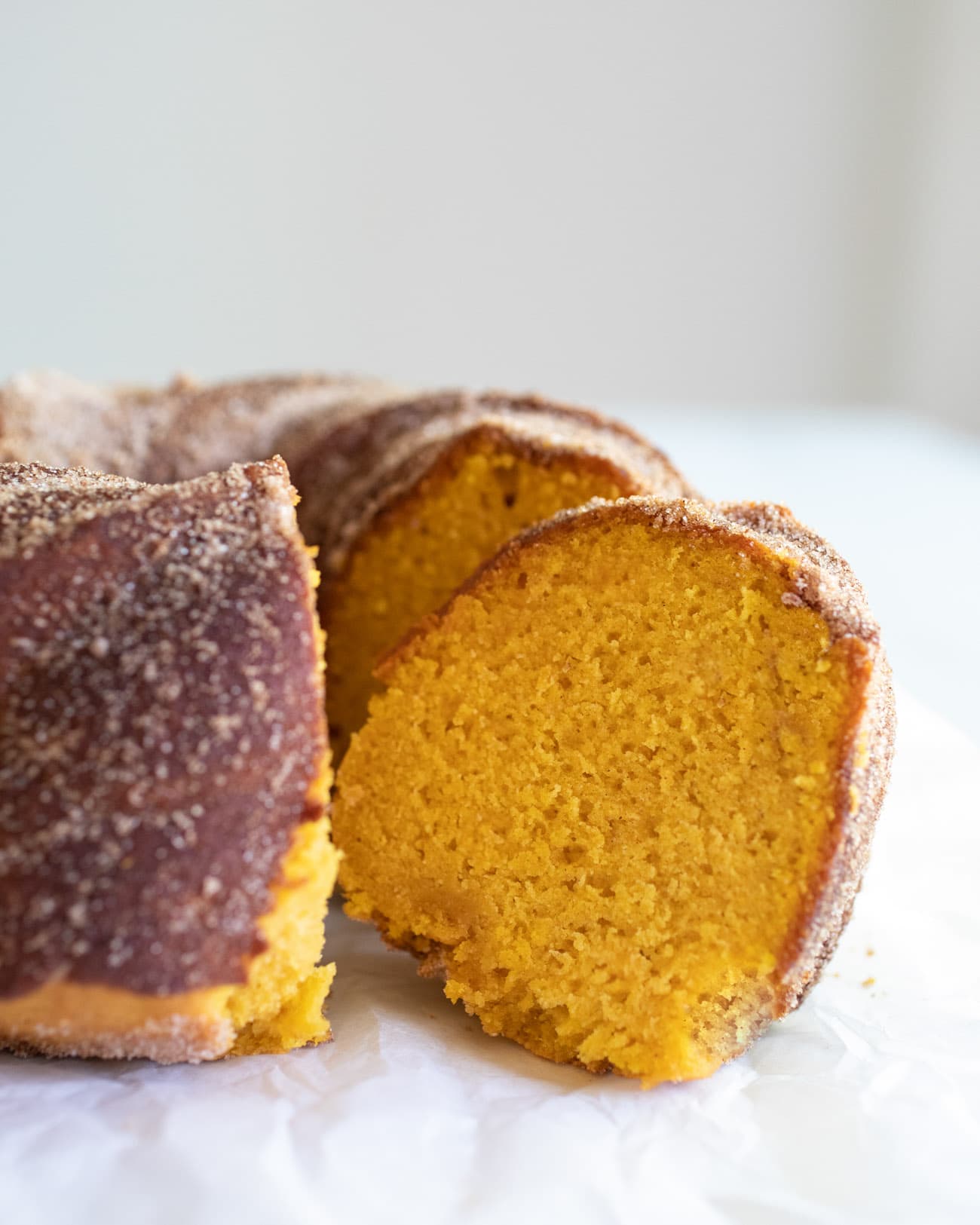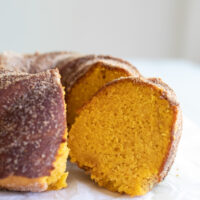 Pumpkin Doughnut Bundt Cake
This delicious bundt cake has great pumpkin flavor and warm spices! It will remind you of a very good pumpkin doughnut rolled in sugar, especially if eaten slightly warm, with plenty of butter, sugar, and cinnamon soaked into the top.
Print
Pin
Rate
Ingredients
3

cups

[426 g] all-purpose flour

2

teaspoons

baking powder

3/4

teaspoon

freshly grated nutmeg

1/2

teaspoon

ground ginger

1/4

teaspoon

baking soda

Pinch

cloves

1

cup

[224 g] unsweetened pumpkin puree

3/4

cup

[180 g] buttermilk, at room temperature

12

tablespoons

[1 1/2 sticks or 170 g] unsalted butter, at room temperature

3/4

cup

[150 g] brown sugar

1/2

cup

[100 g] granulated sugar

1

teaspoon

fine salt

1

teaspoon

pure vanilla extract

3

large eggs, at room temperature
Topping
2/3

cup

[130 g] granulated sugar

1

tablespoon

ground cinnamon

4

tablespoons

[57 g] unsalted butter, melted
Instructions
For the cake
Position an oven rack in the middle of the oven and preheat the oven to 350F [180C]. Grease and flour a 10 cup Bundt pan.

In a medium bowl, whisk together the flour, baking powder, nutmeg, ginger, baking soda, and cloves.

In a liquid measuring cup, mix together the pumpkin puree and buttermilk.

In the bowl of a stand mixer fitted with a paddle, beat the butter on medium speed until creamy, 1 minute. Add the brown and granulated sugars and salt and beat until light and fluffy, 4 to 6 minutes. Beat in the vanilla and then add the eggs, one at a time, mixing after each addition until incorporated and scraping down the bowl as needed.

Add one-third of the flour mixture, mixing on low speed until just combined. Beat in the pumpkin-buttermilk mixture and the remaining flour mixture in halves, alternating between the two and ending with the flour mixture. Mix after each addition until just incorporated. Use a rubber spatula to scrape down the bowl and give the batter a few turns, making sure all ingredients are completely combined.

Pour the batter into the prepared pan and use an offset spatula to smooth the top. Bake the cake until a wooden skewer or toothpick inserted near the center comes out clean, 45 to 60 minutes.

Transfer the pan to a wire rack and let cool for 10 minutes. Invert the cake onto the rack to finish cooling before serving.
For the topping
In a small bowl, mix together the granulated sugar and cinnamon. Brush the tops and the sides of the cake with the melted butter, then sprinkle with the cinnamon sugar, using your hands to gently rub it into the sides.

Let cool to room temperature and serve. This cake is best eaten the same day it's made, but it can be stored in an airtight container at room temperature for up to 2 days.