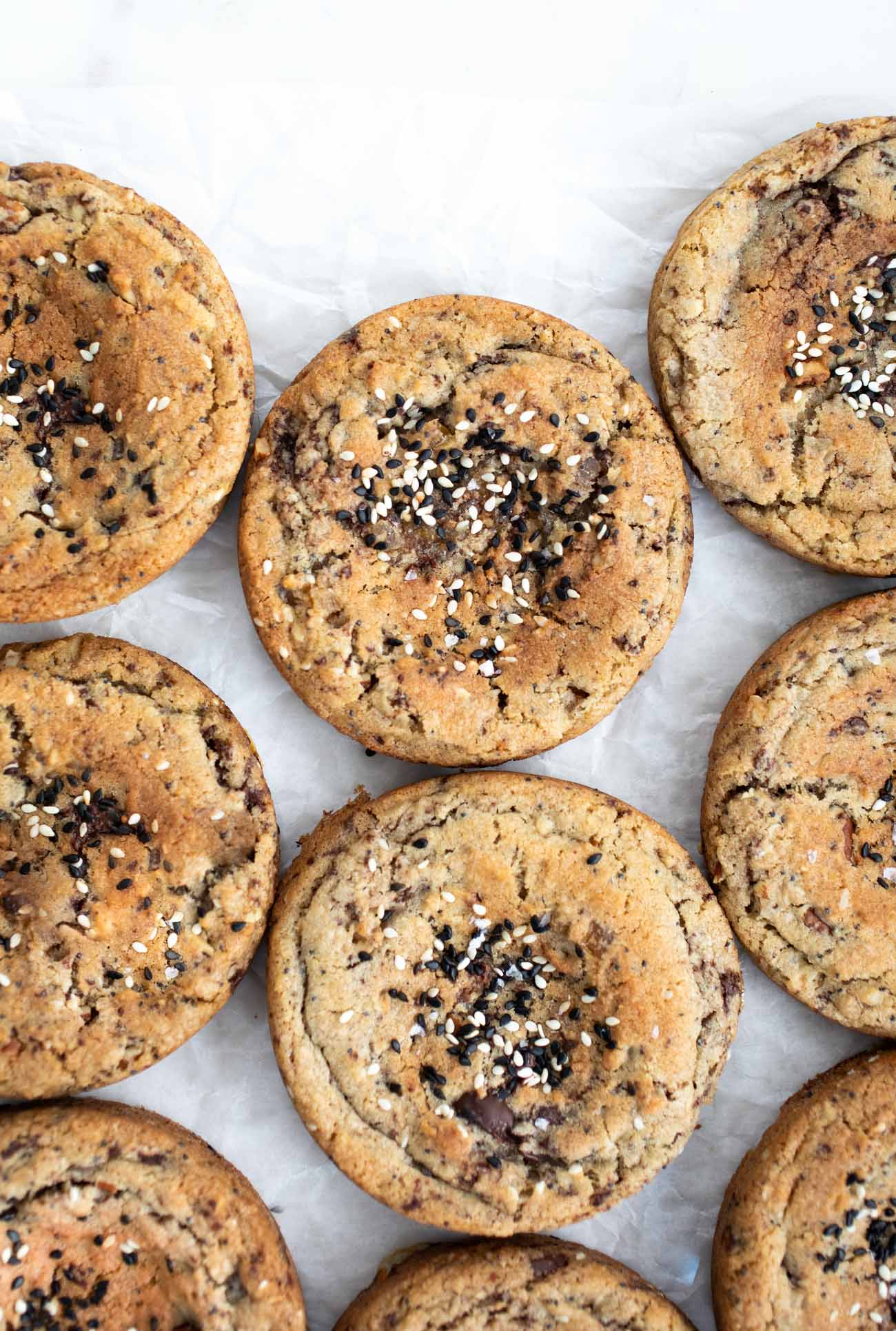 You have my permission to give me any and all side-eye for suggesting cookies for breakfast, but, hear me out: what if sometimes, just occasionally, we had them for that first morning meal? Because while I don't eat cookies every day first thing, I pretty much want to.
And if I was eating cookies for breakfast, these would be the ones I choose. They are included in my cookbook 100 Morning Treats, and are inspired by the the rye-cranberry chocolate chunk cookies in Dorie Greenspan's excellent book Baking with Dorie (which she graciously allowed me to feature on my website). Her cookie recipe is from Moko Hirayama, who serves them in her popular Paris restaurant, Mokonuts (which I have never been to, but hope to one day!)
I am obsessed with the Mokonuts cookie (it is perfect). It's known for its signature indentation on the top, which I've reproduced here, as well as its great flavor. But I couldn't resist putting my own spin on it in the form of a breakfast cookie.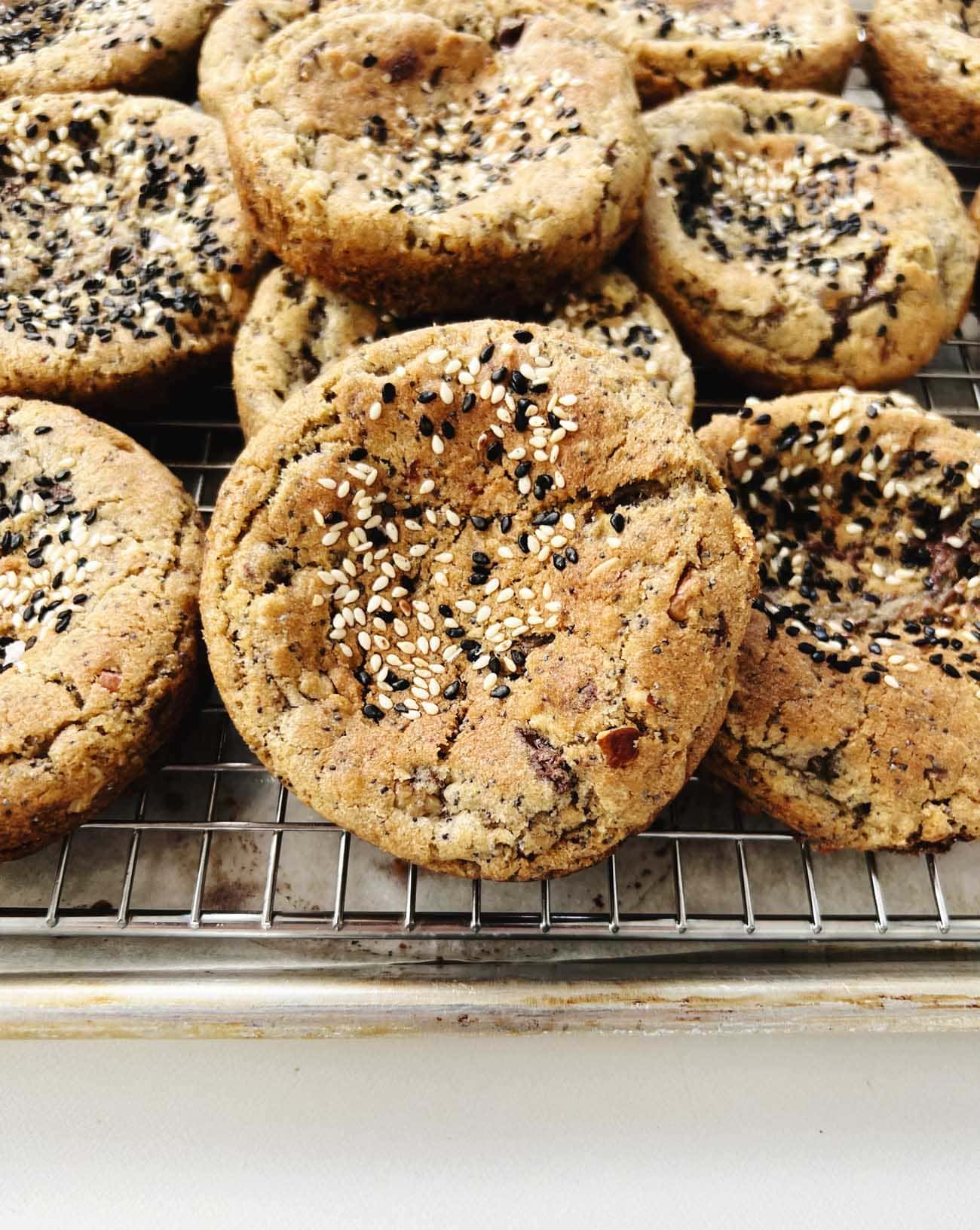 What Makes This a Breakfast Cookie
I use oats and whole-wheat flour in addition to rye flour, cut out some of the butter, and use all my favorite add-ins: sesame seeds, pecans, orange pieces, poppy seeds, and, of course, chocolate.
These cookies will have a crisp top and bottom shell the day they bake, but will soften with time. I find them delicious both ways! I would eat these every single morning if I could.
I use King Arthur Flour's Orange Jammy Bits in these cookies. I love these little jammy bits (they have other flavors, too) and use them in a lot of my baking. However, if you don't want to special order an item for these cookies, you can replace them with dried cranberries or cherries, and the cookies will still be delicious.
Using Several Flours in Cookie Recipes
Normally I use all-purpose flour in my cookie recipes, as it helps make for a tender result that isn't too dense. Here I have added both whole wheat flour and rye flour, for a couple of reasons.
Both those flours add a malty and nutty notes to the cookie, which adds depth of flavor. Rye flour also compliments and balances the chocolate. Rye is also known for being tangy, but the sugar in these cookies helps tame any sharp notes.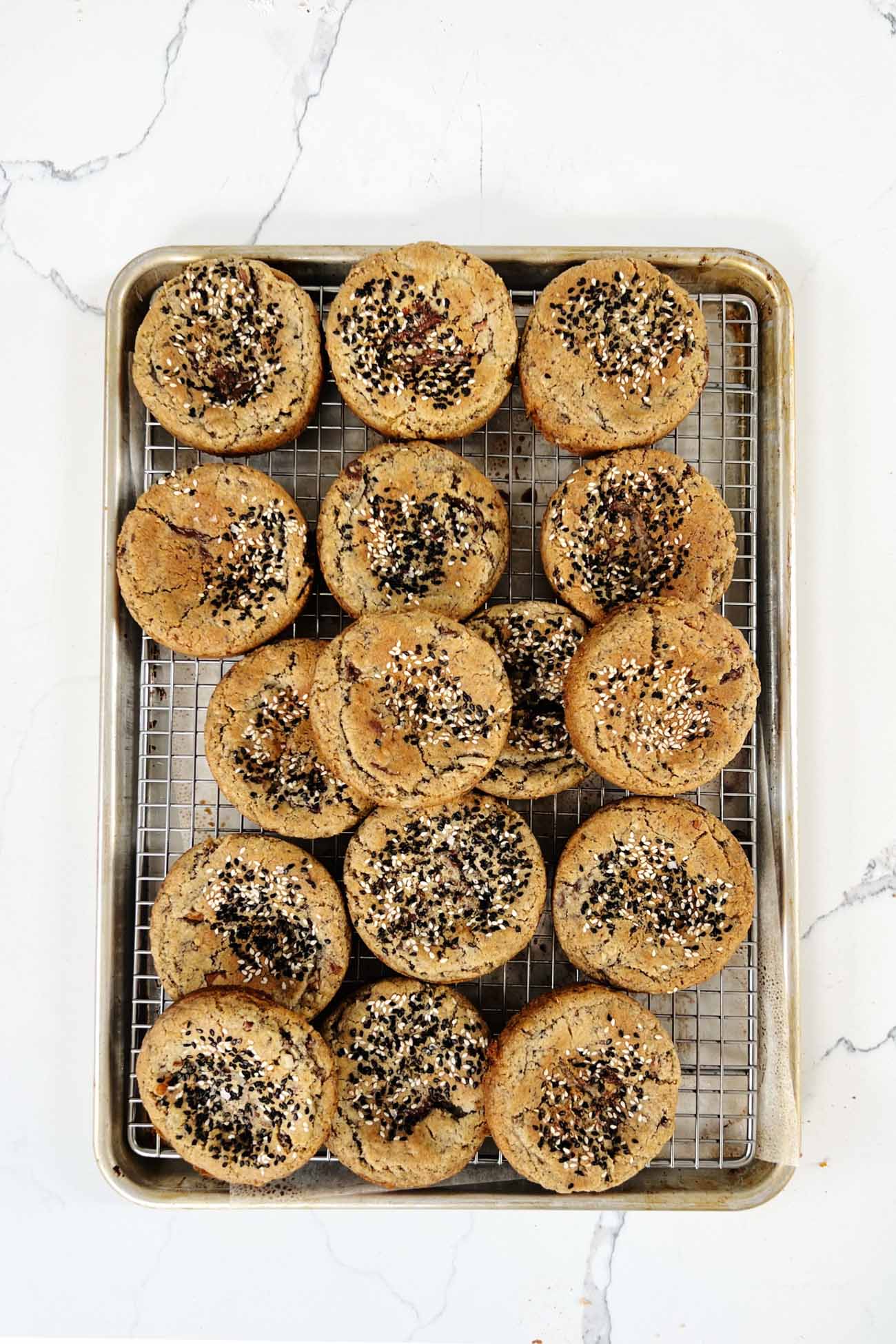 Shaping the Cookies
I knew I wanted a large, filling cookie to serve as a "breakfast" cookie, and I use English muffin rings to shape the cookies (I have a video on Instagram showing how they bake up here). The cookies bake up in perfect circles with the rings, however, if you don't have them, you can bake your cookies free-form instead. They will be ready 1 minute sooner, and will spread a little more.
They also freeze well; place the baked cookies in a ziplock bag and store in the freezer for up to 2 weeks.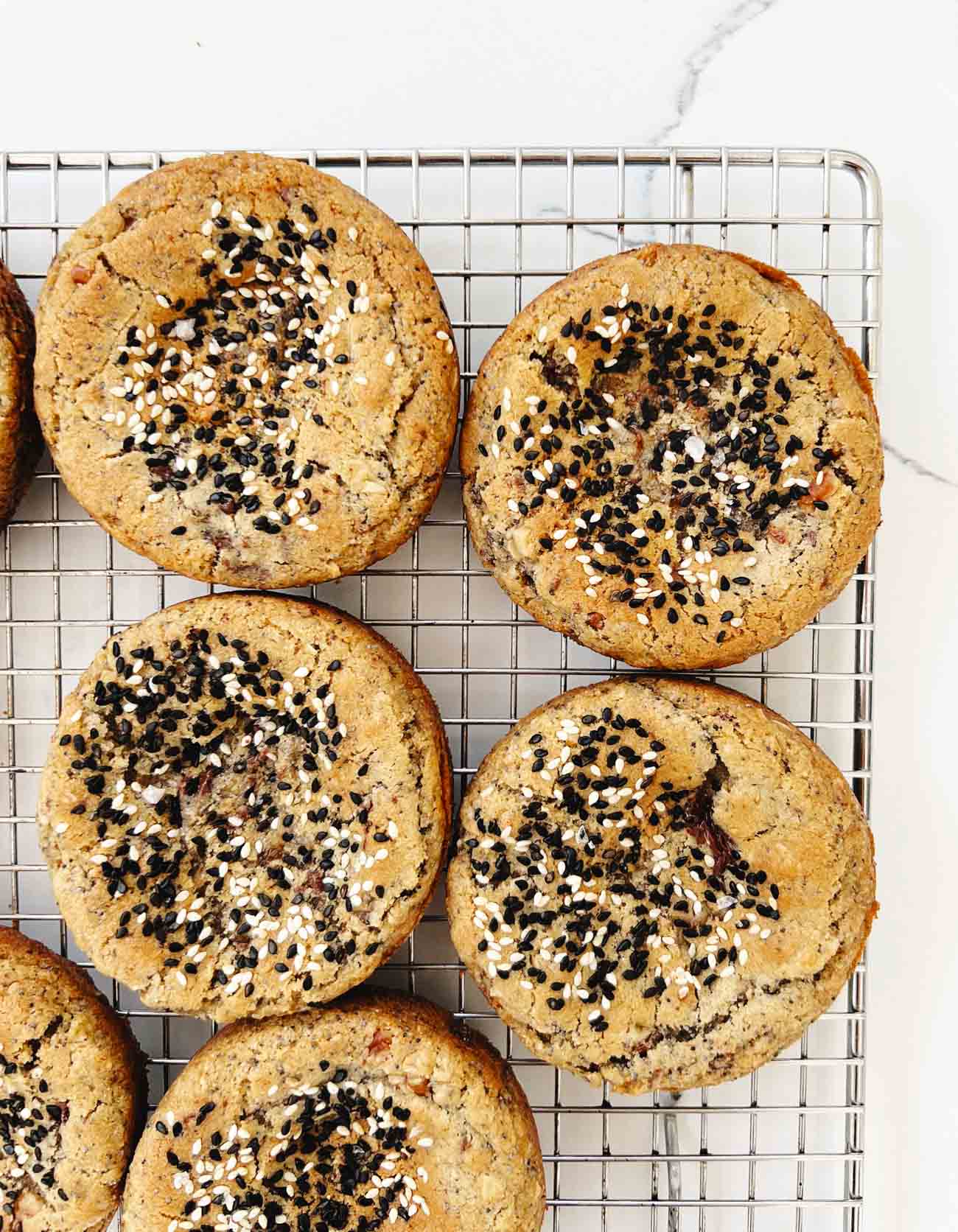 More Cookie Recipes: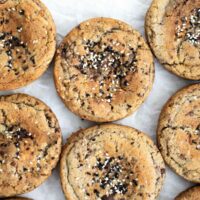 Sesame Chocolate Rye Breakfast Cookies
This breakfast cookie is incredibly delicious with add-ins like seeds, dried fruit, and chocolate! Whole wheat and rye flours add malty and nutty notes to the cookie, which add depth of flavor and nutritious whole grains.
Print
Pin
Rate
Ingredients
1 1/2

cups

[213 g] all-purpose flour

1

cup

[130 g] rye flour

3/4

cup

[68 g] old-fashioned rolled oats

1/4

cup

[36 g] whole-wheat flour

3

tablespoons

white sesame seeds, plus more for sprinkling

2

tablespoons

flaxseed

2

teaspoons

baking powder

1

teaspoon

baking soda

1

cup

[2 sticks or 227 g] unsalted butter, at room temperature

1

cup

[200 g] granulated sugar

1

cup

[200 g] brown sugar

1

teaspoon

fine salt

2

large eggs, at room temperature

1

tablespoon

pure vanilla extract

4

oz

[113 g] semisweet or bittersweet chocolate, coarsely chopped

1/2

cup

[60 g] toasted pecans, chopped into bite-sized pieces

1/3

cup

[45 g] poppy seeds

Flaky sea salt, for sprinkling (optional)
Instructions
Position an oven rack in the middle of the oven and preheat the oven to 425F [220C]. Line two sheet pans with parchment paper. Grease sixteen 3 1/2 by 1 in [9 by 2.5 cm] English muffin rings and place eight on each sheet pan.

In the bowl of a food processor, process the all-purpose flour, rye flour, rolled oats, whole-wheat flour, sesame seeds, flaxseed, baking powder, and baking soda until the rolled oats are broken down, about ten pulses.

In the bowl of a stand mixer fitted with a paddle, beat the butter on medium speed until creamy, about 1 minute. Add the granulated and brown sugars and the salt, and continue beating until light and fluffy, 3 to 5 minutes. Add the eggs and vanilla and beat until incorporated, scraping down the sides of the bowl as needed. Add the flour mixture on low speed, beating until incorporated. Add the chocolate, orange pieces, pecans, and poppy seeds and mix until completely incorporated.

Form the dough into sixteen 3 oz [85 g] balls (about 1/4 cup each), and place the balls in the center of the English muffin rings; there will be a little space between the dough and the rings. Sprinkle with the white and black sesame seeds and flaky sea salt, if using. Bake the cookies until the tops are golden brown and the dough has spread out into an even layer, 10 to 11 minutes. Transfer to a wire cooling rack.

Use an oven mitt or a pair of tongs to remove the English muffin rings from around the cookies. With the back of a spoon, tap the center of each cookie so it deflates and retains a slight indentation. It will look like the center isn't fully baked, but the centers will set as the cookies cool. Let the cookies cool on the sheet pans for 10 minutes, then transfer to a wire rack to finish cooling.

The cookies are best eaten the same day they are made, but they can be stored in an airtight container for up to 3 days. On the first day the cookies will have a crisp top and bottom shell, but they will soften with time. They are delicious both ways.