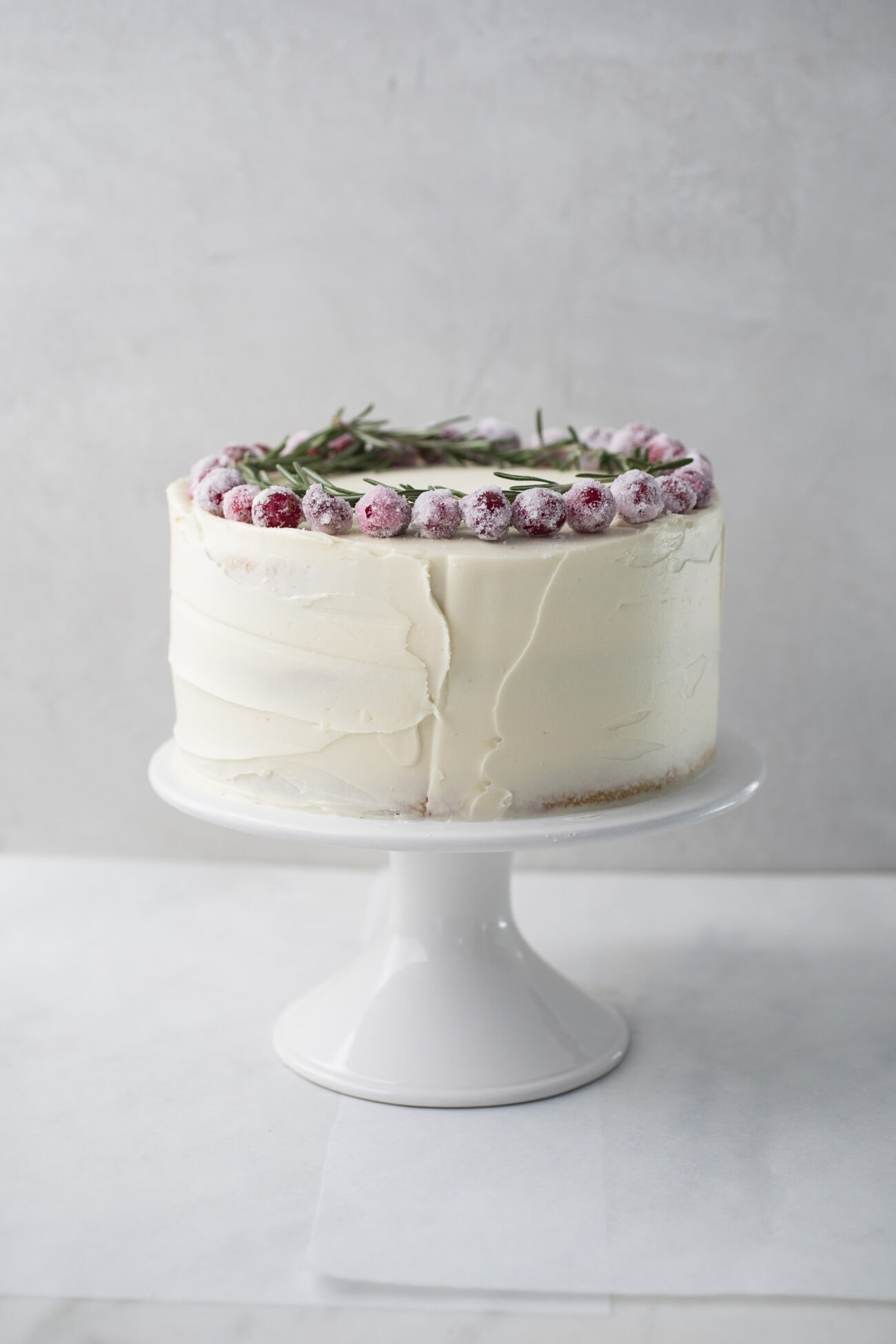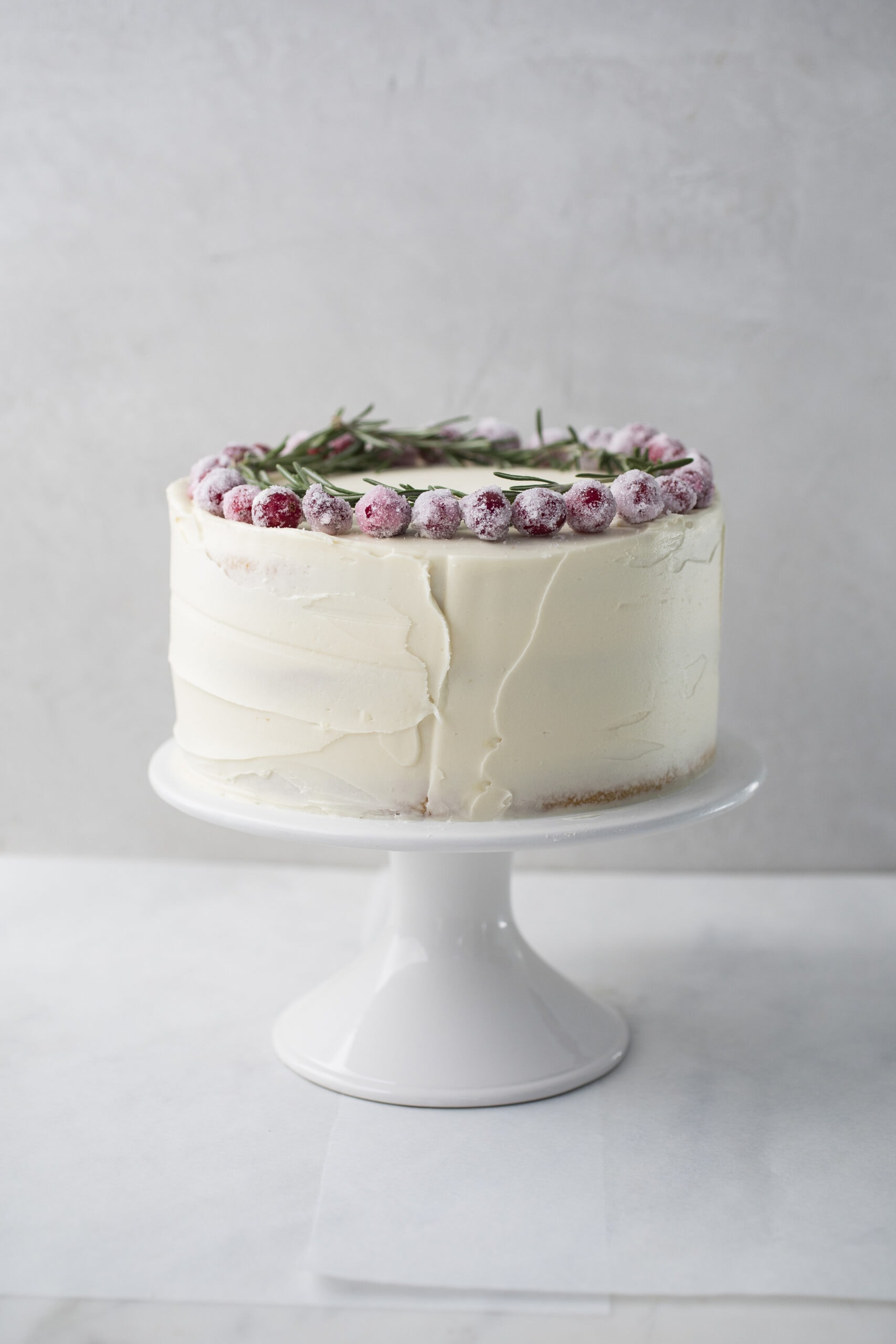 This is my favorite white cake (and also the base in this Streusel Coffee Cake) and while I enjoy eating it perfectly plain, adding cranberry jam, white chocolate buttercream, and sugared cranberries is not a bad idea either. You'll find this recipe in my new cookbook, Baking for the Holidays, and here!
What Makes a Delicious White Cake
This cake uses the reverse creaming method, where butter is introduced to the dry ingredients instead of initially creamed with the sugars. I prefer the texture of this type of cake over butter and sugar creamed cakes; it isn't quite as fluffy, and has a very fine crumb that is even throughout. The top also doesn't dome as much as a regular creamed cake, which I prefer for frosting purposes. I use this method for both yellow and white cakes.
In my book I call for this cake to be made in 3 layers, but if you don't have 3 cake pans, you can also bake this in two cake pans and cut each layer in half, for a four layer cake. You will need to use a little less buttercream in between the layers (and if baking just two you will also need to add some baking time to the cake).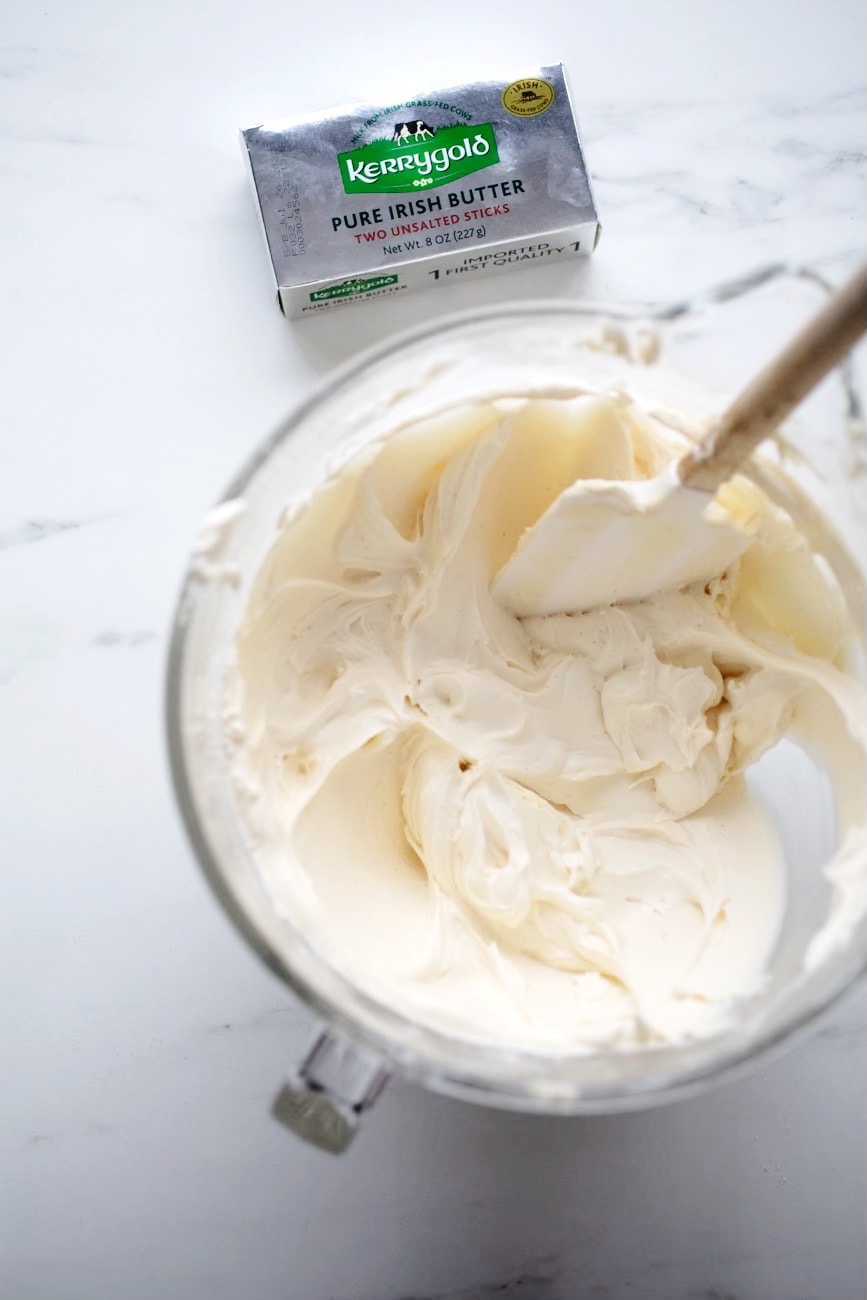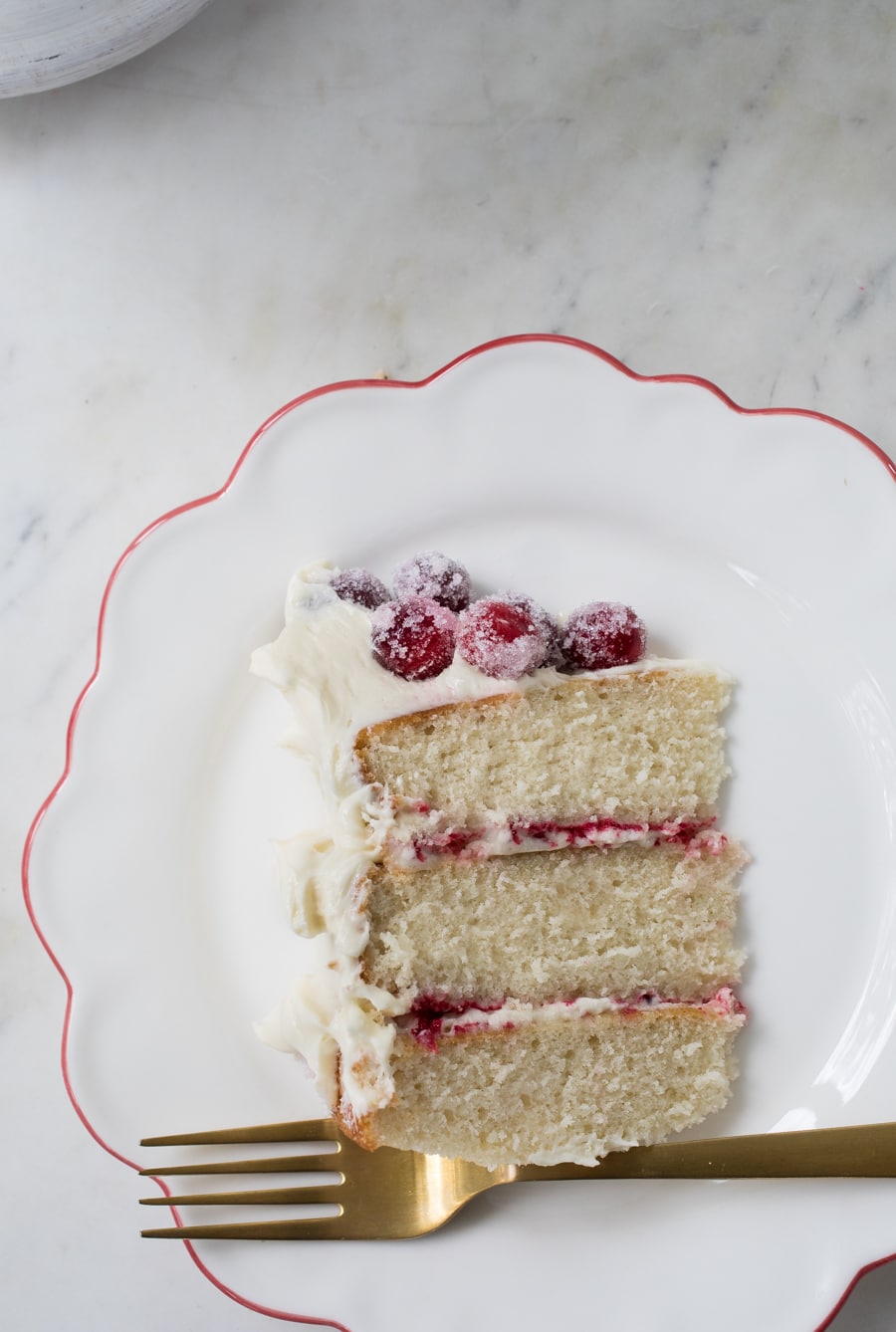 Baking with White Chocolate
White chocolate is made from cocoa butter. You'll want to use white chocolate in bar or feve form; as white chocolate chips do not melt well. It's important to note that not all white chocolate is created equal, so use a brand you trust baking with. I prefer Vahlrona and Guittard.
White chocolate melts faster than dark chocolate, so be sure to stir it more frequently, especially when using the microwave to melt it.
How to Make Sugared Cranberries
Sugared cranberries are fairly simple to make! The cranberries soak in a simple syrup overnight, then are drained and tossed in more sugar. All this sugar helps tame their tart bite, but also makes a beautiful presentation. I like them for cake tops, but also top my cinnamon rolls with them during the holiday season.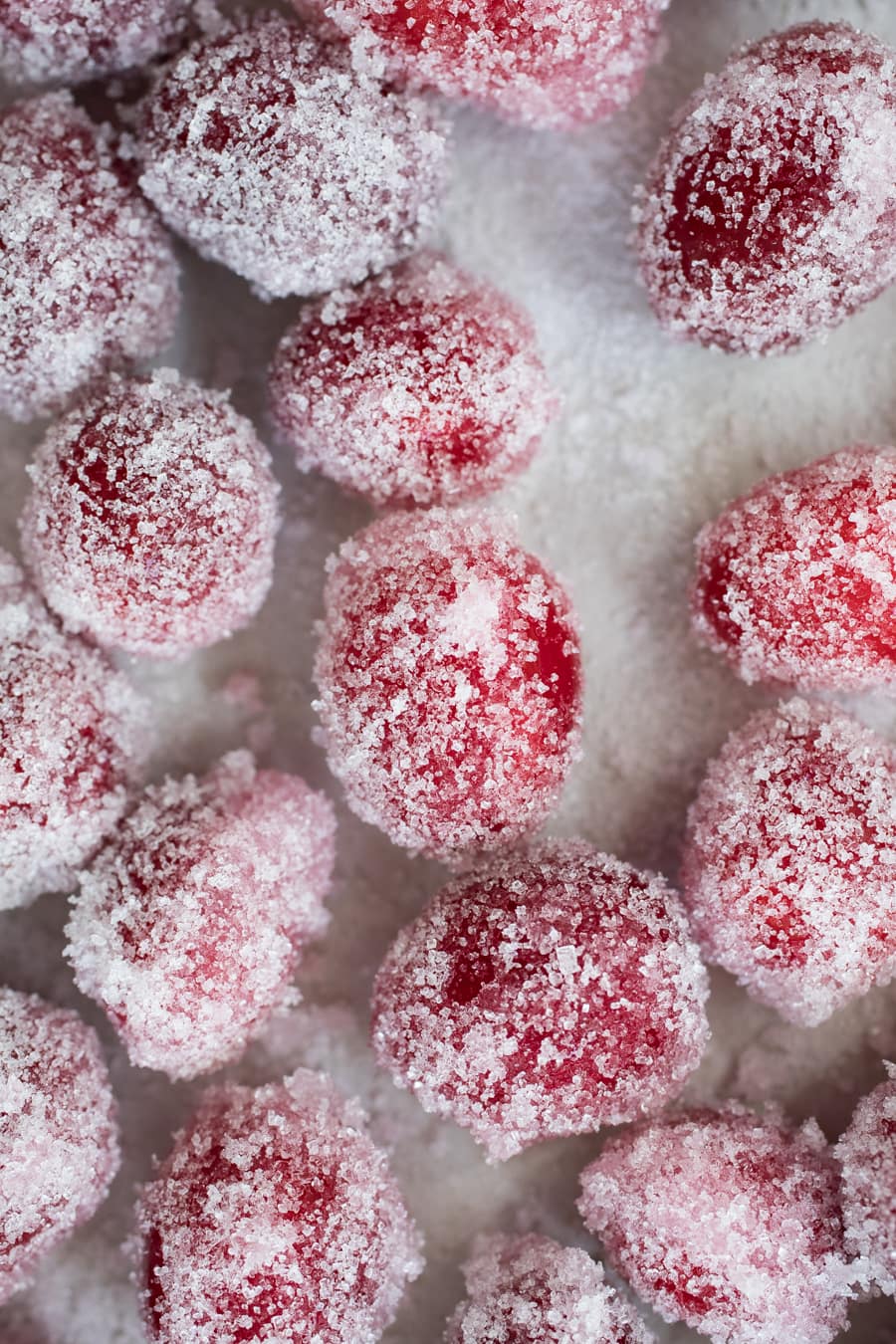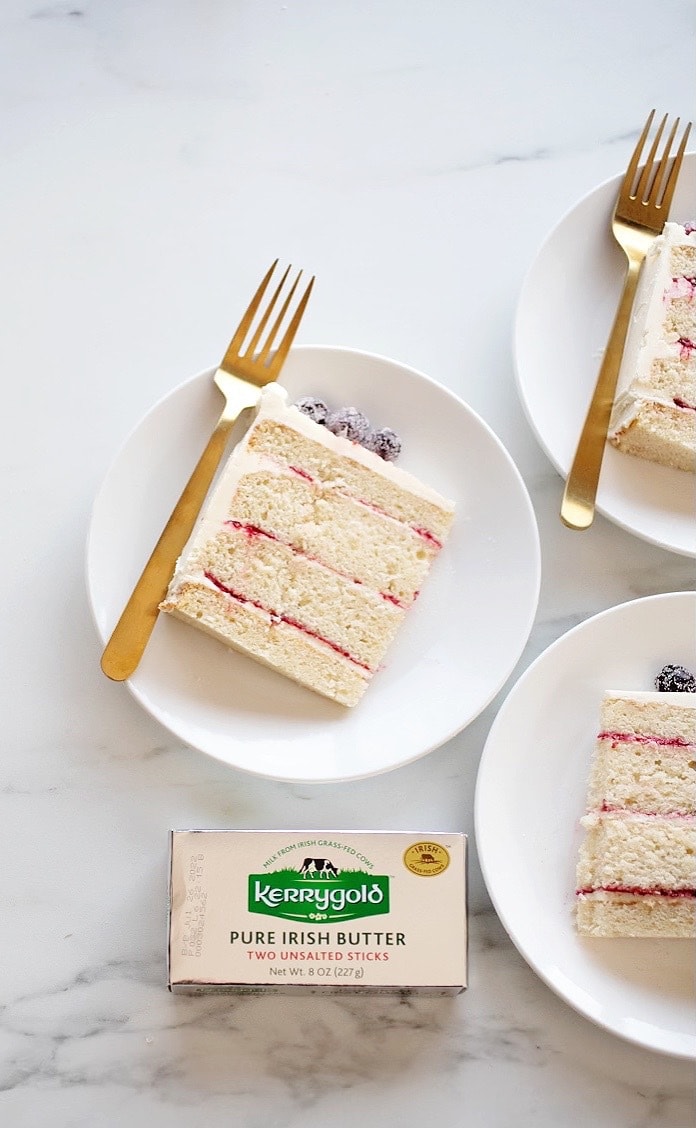 More White Cake Recipes: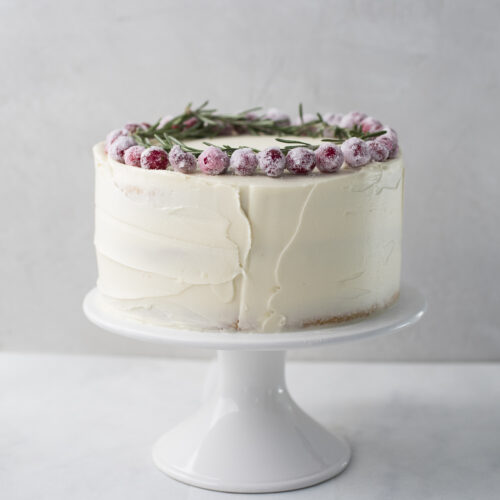 White Cake with Cranberries and White Chocolate Buttercream
A light and fluffy white cake with layers of cranberry jam and white chocolate buttercream. Decorated with sugared cranberries. A beautiful cake for Christmas or any Winter celebration.
Print
Pin
Rate
Ingredients
CRANBERRY JAM
1/2

cup

[100 grams] granulated sugar

1/4

teaspoon

salt

1/2

teaspoon

ground cinnamon (optional)

1/4

cup

[60 grams] water

6

oz

[170 grams] fresh cranberries
CAKE
1

cup

[240 g] whole milk

at room temperature

1

scant cup [210 g] large egg whites

from 6 or 7 large eggs, at room temperature (see note)

½

cup

[120 g] Crème Fraîche or sour cream,

at room temperature

1

tablespoon

pure vanilla extract

2¾

cups

[391 g] all-purpose flour

2

cups

[400 g] granulated sugar

4

teaspoons

baking powder

1

teaspoon

salt

1

cup

[2 sticks or 227 g] Kerrygold unsalted butter

at room temperature, cut into 1 in [2.5 cm] pieces
WHITE CHOCOLATE BUTTERCREAM
8

oz

[226 g] good white chocolate,

chopped

1½

cups

[3 sticks or 339 g] Kerrygold unsalted butter

at room temperature

3

tablespoons

light corn syrup

Pinch

salt

2

cups

[240 g] confectioners' sugar

2

tablespoons

heavy cream

1

tablespoon

pure vanilla extract
SUGARED CRANBERRIES
¾

cup

[180 g] water

1¼

cups

[250 g] granulated sugar

Pinch

salt

1

teaspoon

pure vanilla extract

6

oz

[170 g] fresh cranberries
Instructions
FOR THE JAM
In a medium nonreactive saucepan over medium heat, bring the sugar, salt, cinnamon, if using, and water to a boil, stirring occasionally, until the sugar has dissolved. Stir in the cranberries and let simmer until the cranberries have popped and the jam has thickened, 15 to 20 minutes. Let cool to room temperature before using. The jam can be refrigerated in an airtight container for up to 5 days.
FOR THE CAKE
Adjust an oven rack to the middle position and preheat the oven to 350°F [180°C]. Butter and flour three 8 by 2 in [20 by 5 cm] round cake pans and line the bottoms with parchment paper. In a medium bowl or liquid measuring cup, whisk together the milk, egg whites, crème fraîche, and vanilla.

In the bowl of a stand mixer fitted with a paddle, combine the flour, granulated sugar, baking powder, and salt. With the mixer running on low speed, add the butter one piece at a time, beating until the mixture resembles coarse sand. With the mixer still running on low speed, slowly add a little more than half of the wet ingredients. Increase the speed to medium and beat until the ingredients are incorporated, about 30 seconds. Return the mixer to low speed and add the rest of the wet ingredients, mixing until just combined. Increase the speed to medium and beat for 20 seconds (the batter may still look a little bumpy). Scrape down the sides and bottom of the bowl and use a spatula to mix the batter a few more times.

Divide the batter between the prepared pans and smooth the tops. Tap the pans gently on the counter two times each to help get rid of any bubbles.

Bake for 28 to 35 minutes, rotating the pans halfway through, until the cakes are golden brown and a wooden skewer or toothpick inserted into the centers comes out with a faint bit of crumbs, or a finger gently pressed into the top leaves a slight indentation.

Transfer the pans to a wire rack and let cool for 30 minutes. Turn the cakes out onto the rack, remove the parchment paper, and let cool completely. Once cool, the cakes can be frosted or wrapped in plastic wrap and refrigerated overnight or frozen for up to 1 week.
FOR THE BUTTERCREAM
Pour 1 in [2.5 cm] of water into a medium saucepan and bring it to a gentle boil over medium heat. Melt the white chocolate in a heatproof bowl set over the pan of boiling water, being careful not to let the water touch the bottom of the bowl. Stir constantly until just melted and set aside to cool. In the bowl of a stand mixer fitted with a paddle, beat the butter on medium speed until light yellow and creamy, about 3 minutes. Add the corn syrup and salt and mix on medium speed until combined.

Lower the speed to low and gradually add the confectioners' sugar, then increase the speed to medium and beat until smooth and creamy, stopping to scrape down the sides of the bowl as necessary, 2 to 3 minutes. Add the cooled white chocolate and beat on low speed until completely combined. Add the heavy cream and vanilla and mix again on low speed until combined.
FOR THE SUGARED CRANBERRIES
Combine the water, ¾ cup [150 g] of the granulated sugar, and the salt in a medium saucepan over medium-high heat. Bring to a gentle boil and turn the heat down to medium; let simmer until the mixture is reduced slightly, 5 to 7 minutes. Pour the vanilla into the sugar liquid and stir to combine.

Pour the liquid into a medium-size container. Add the cranberries to the sugar liquid, cover and refrigerate, and let them soak for at least 8 hours and up to 24 hours. After the cranberries have soaked, place the remaining ½ cup [100 g] of granulated sugar in a bowl and line a sheet pan with parchment paper. Use a slotted spoon to remove some of the cranberries from the liquid and roll them in the bowl of sugar to coat. Place the coated cranberries on the sheet pan and let them dry. Repeat with the remaining cranberries. Cranberries can be stored in an airtight container in the refrigerator for up to 2 days.
TO ASSEMBLE
Place one layer of cake on a turntable or serving plate. Use an offset spatula to spread the top evenly with 3 tablespoons of the cranberry jam. Place the second layer on top and frost with another 3 tablespoons of the jam, then place the final layer on top and evenly coat the entire cake with the buttercream. The cake can be stored, covered, in the refrigerator for 24 hours. Let the cake come to room temperature and top with the cranberries just before serving.
Notes
*Because the egg whites aren't being whipped for volume, store-bought egg whites will work  here; just make sure they are 100 percent liquid egg whites.