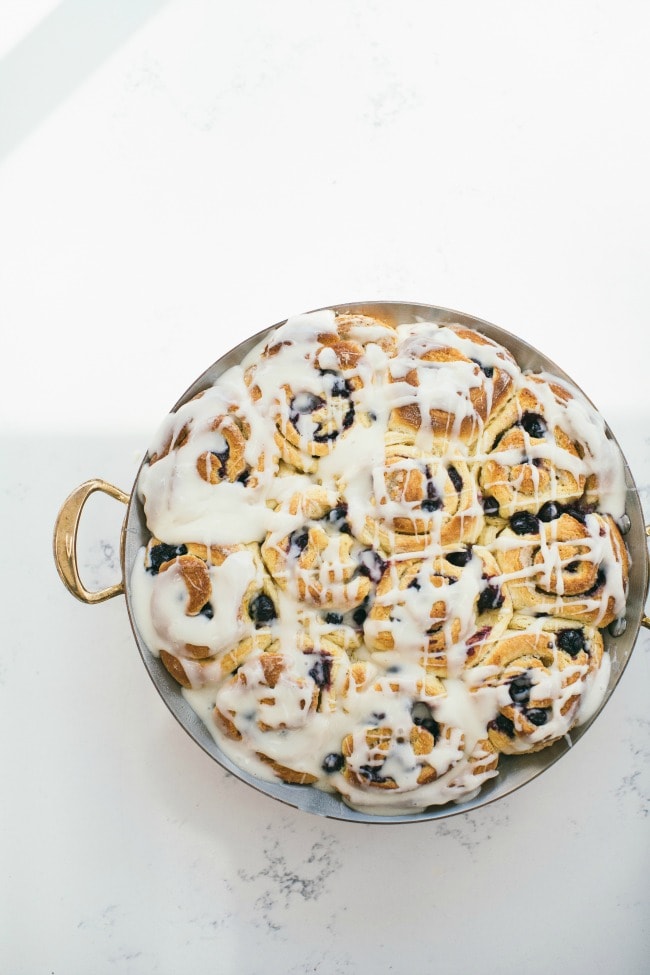 "Pare down to the essence, but don't remove the poetry." – Leonard Koren
I met Melissa Coleman (also known as The Faux Martha) so many years ago when she came to my home one cold winter day, with her husband Kevin and daughter Halle. We had a lovely breakfast together, and went from "blogger friends" to real friends.
A few years after our initial meeting she ended up moving to Minneapolis (into the famous Fauxhouse), and I've enjoyed getting to know her and her family. We've talked work, food, religion and politics, and always find ourselves on the same page.
Her cookbook is a lovely collection of recipes. Her philosophy in the kitchen is efficiency, less is more, and of course, minimalism. "I like to think of minimalism as a practice, because it needs constant refining. Rules that are too rigid will strip away joy. Rules that are too loose will create an overflowing and frustrating kitchen. The magic is in the space between, or as Koren refers to it, the magic is in the poetry. And mastering that kind of magic takes continual practice."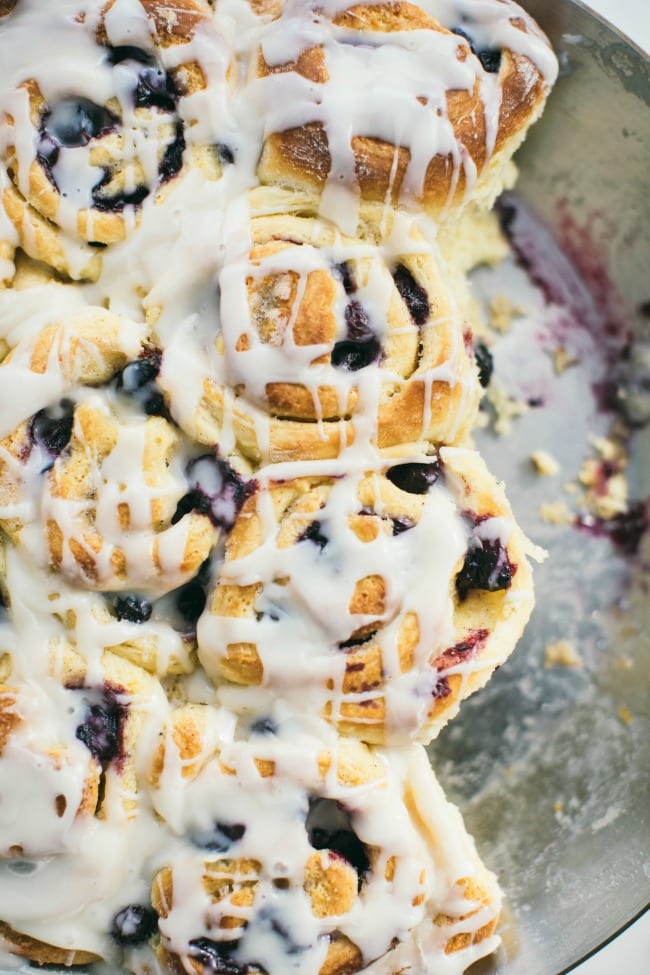 I will be the first to admit that I am not a minimalist; very far from one in fact. I dream of new, shiny marble kitchen counters when the dark brown granite tops I have work perfectly fine. I've replaced rugs and pillows and bedspreads and pictures when my current ones are out of style.
I have too many books, too many kitchen appliances, too many cake stands. My pantry is a disaster. But paging through this book didn't make me feel like a disaster. I appreciate Melissa's commitment to only buying and owning what she needs, and only keeping the tools she needs in her kitchen drawers.
Maybe one day I'll develop a system like she has. But the good news is that even if you aren't a minimalist, this book is worth the purchase. As I said in my book blurb: "With a welcoming tone, The Minimalist Kitchen invites readers to choose quality over quantity and gently guides with efficiency. Melissa's book is gorgeous and thoughtful, with a strong focus on wholesome ingredients and simplicity that is often lacking in American kitchen culture. But, most importantly, her book contains recipes that actually make me excited about cooking dinner again."
Recipes I can't wait to make: Lemon Ginger Scones, Dutch Oven Whole Chicken, Crispy Pizza with Caramelized Onions, Soba Bowls with Peanut Sauce, Beef Tacos with Chimichurri, Open Faced Sweet Potato Tortas, Maple Salty Dog, and Two Bowl Carrot Cupcakes.
About these Blueberry-Orange Breakfast Rolls:
The recipe from Melissa Coleman's The Minimalist Kitchen (affiliate link).
The rolls were incredible, and I am certain I saw a tear in my father-in-law's eye when he bit into the warm, blueberry roll. I *love* the hint of cardamom.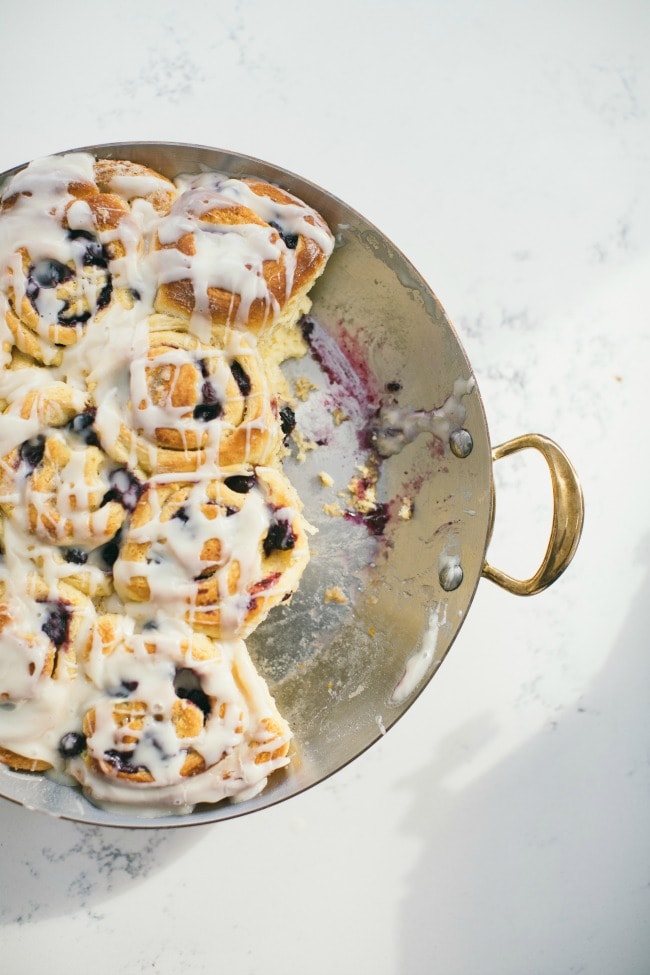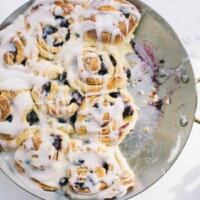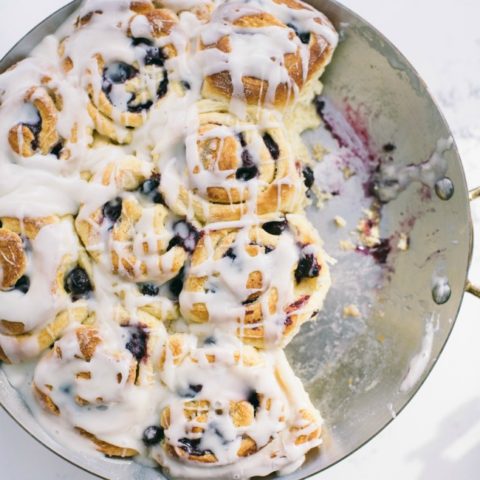 Amazing Blueberry Breakfast Rolls
These incredible morning buns are filled with blueberries and topped with a creamy glaze.
Print
Pin
Rate
Ingredients
Dough
4

tablespoons

unsalted butter

melted and cooled

2

cups

plus 1 tablespoon all-purpose flour

1/2

cup

whole-wheat pastry flour

2 1/2

teaspoons

instant yeast

1 1/2

teaspoons

kosher salt

3/4

cup

whole milk

1/4

cup

granulated sugar

1

large egg

room temperature
Filling
1/3

cup

granulated sugar

1/4

cup

4 tablespoons unsalted butter, room temperature

Zest from 1 orange

about 2 tablespoons

1/2

teaspoon

cardamom

1/8

teaspoon

kosher salt

1

cup

frozen wild blueberries
Glaze
2

ounces

mascarpone

1

tablespoon

orange juice

1/2

cup

confectioner's sugar
Instructions
For the dough:
In a stand mixer fitted with a paddle attachment, add the flours, yeast, and salt. Mix on low to combine.

In a medium bowl or liquid measuring cup, combine the butter, milk, sugar, and egg, stirring to combine evenly. Add the wet ingredients to the dry, and stir on medium-low until combined. Switch to the dough hook attachment, and mix on low speed for 8 minutes, until the dough is soft but not sticky. If the dough is noticeably sticky, add in an additional tablespoon of flour.
For the filling:
Cover the bowl with plastic wrap and let rise at room temperature for 2-3 hours, or until doubled in size.

Place all of the filling ingredients except the blueberries in a small bowl, and mix together until combined.
To assemble the breakfast rolls:
Place the dough on your work space, and roll into a 16 x 10-inch rectangle, using flour only if necessary to keep the dough from sticking. Distribute chunks of the filling evenly around the dough. Using an offset spatula (or the back of a spoon), spread the mixture to the edge of three sides of the dough, leaving a 1-inch border along one long side of the dough.

Sprinkle the blueberries evenly on top of the butter mixture, lightly pressing into the dough. Beginning with the long side that has the mixture spread to the edge, tightly roll the dough. Pinch the seam of the log closed. If the log is thicker in the middle, gently tug it out so the thickness is even throughout, still maintaining a 16-inch length. Cut the log into 8 equal sized rolls. Carefully place the rolls in an 8-inch round pan or a 12 x 10-inch baking dish. Cover with foil wrap and place in the fridge for 8 hours, over overnight.

The morning of, remove the pan from the fridge, leaving the foil in place, and preheat the oven to 350F. Bake for 10 minutes covered tightly with foil. Remove the foil and bake an additional 20-30 minutes. Check between rolls for doneness.
For the glaze:
In a small bowl, whisk the mascarpone and orange juice until smooth. Add the confectioner's sugar, whisking until smooth. Add an additional squeeze of orange juice if necessary to come together. Drizzle over the rolls and serve warm
Notes
*Fresh blueberries will also work here; Melissa suggests chopping them lightly before using (I forgot to do that, but my breakfast rolls were fine.)
I've also made these with my own sweet dough — it made twelve breakfast rolls instead of 8, and I doubled the filling (except for the blueberries; I used about 1 1/2 cup). I didn't use the foil wrap in the oven with my dough.