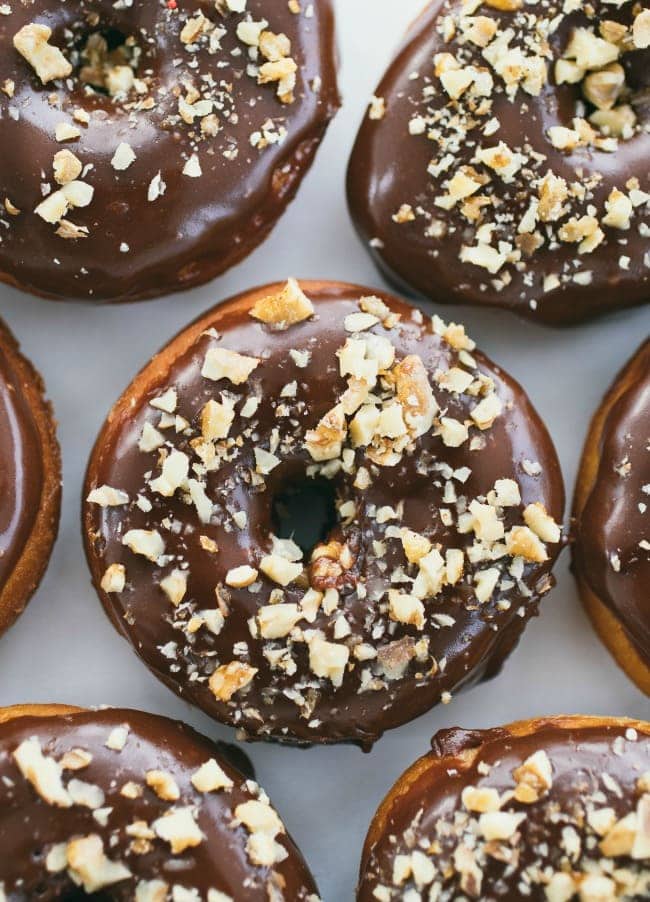 February has roared in like a lion, at least, here in Minnesota it sure feels that way. Piles of snow and subzero temperatures have started out this month of love, and my kids have spent more time home then in school. They have been reveling in the snow days (more than I ever had as a kid!) while I am frantically testing recipes and taking photos for my next book.
I did take a small break from cookies to work on donuts. Making donuts at home can be a challenge; frying oil and waiting for donuts to proof can seem daunting.
But eating a warm, freshly fried donut covered in chocolate and candied walnuts is quite a treat, and worth the time and effort in my opinion.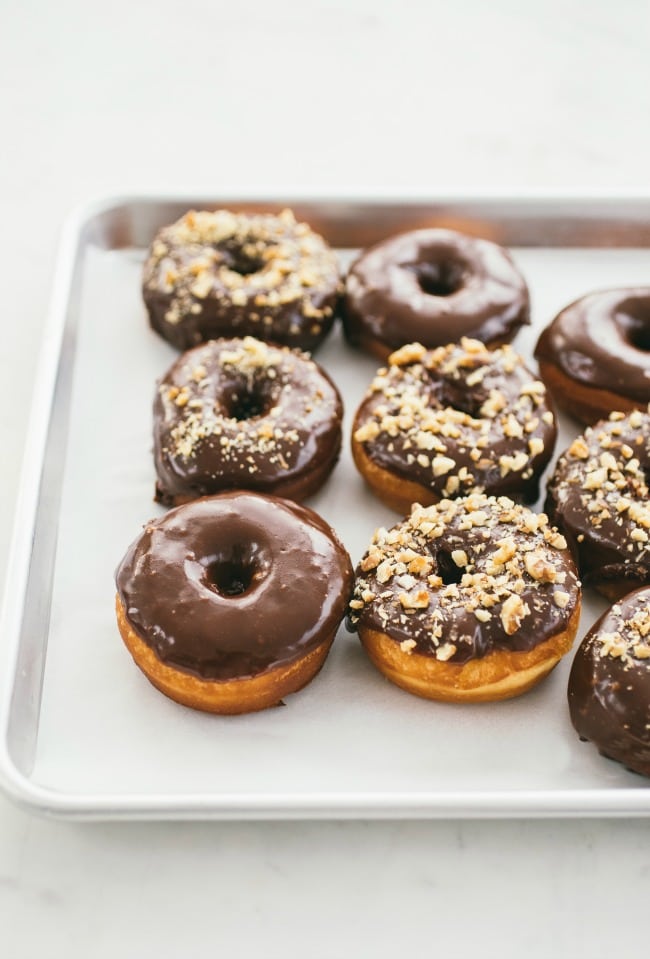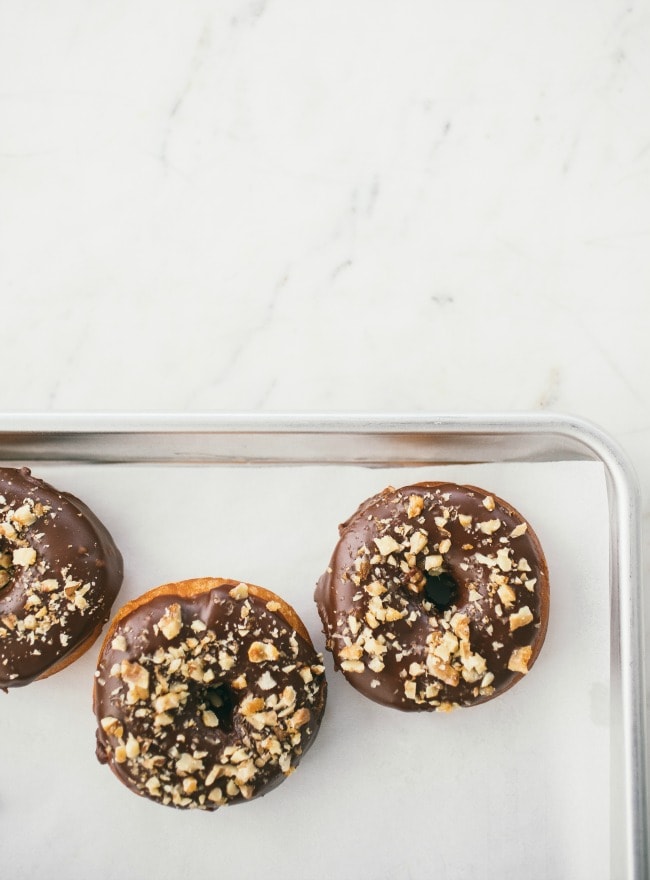 Making Raised Donuts
I spent a lot of time the last two weeks making donuts and reading about donuts while working on getting the recipe right for this post. This article from the Washington Post was very helpful, this thread on The Fresh Loaf, and this post from Joe Pastry taught me a lot. The donuts here are light and delicious, and can be rolled in sugar or covered in glaze.
This recipe does rest the dough over night, so plan accordingly. Dough can be rolled and cut after the first rise, but the flavor really develops after a slow cold rise in the fridge. The dough also rolls out much more evenly when cold.
I do have a deep frier that I found to be very helpful in making the donuts – I didn't have to worry about the constantly changing temperature of the oil and could just focus on the donuts. However, a large Dutch oven and a candy thermometer will work just fine.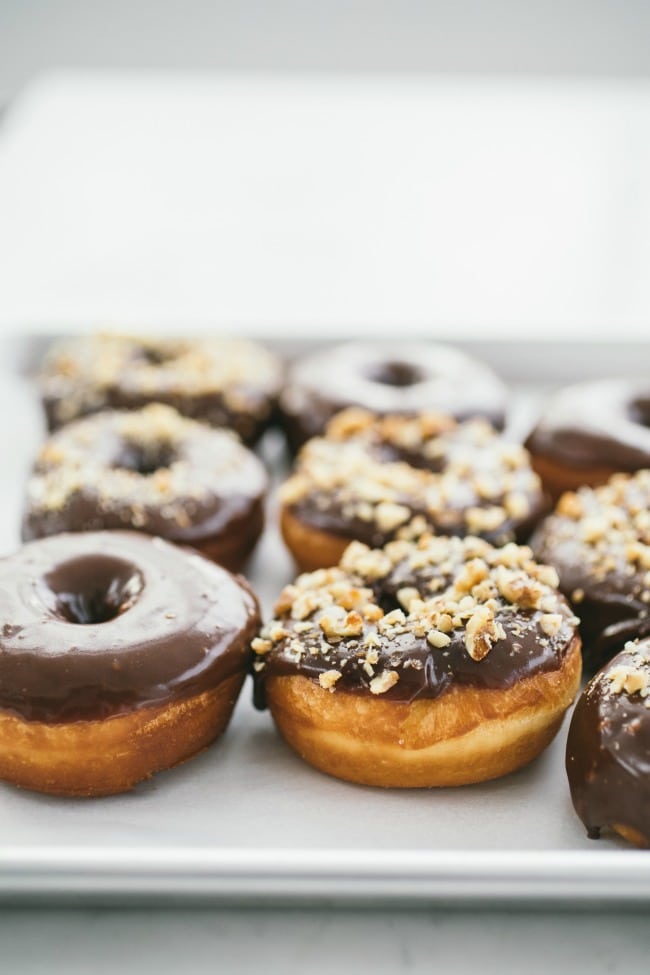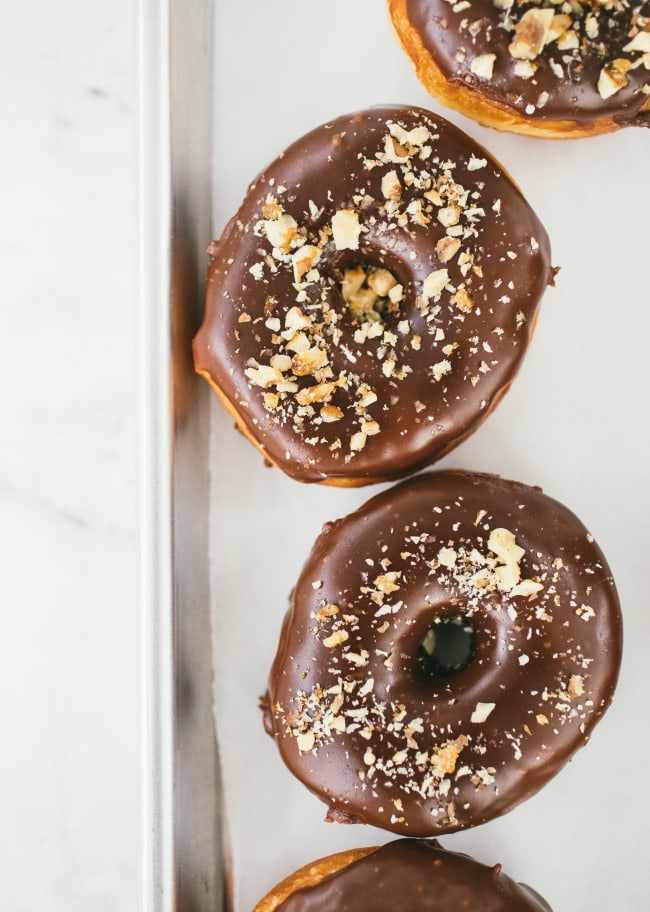 More Donut Recipes: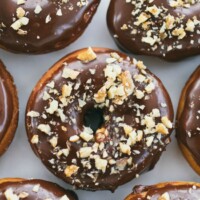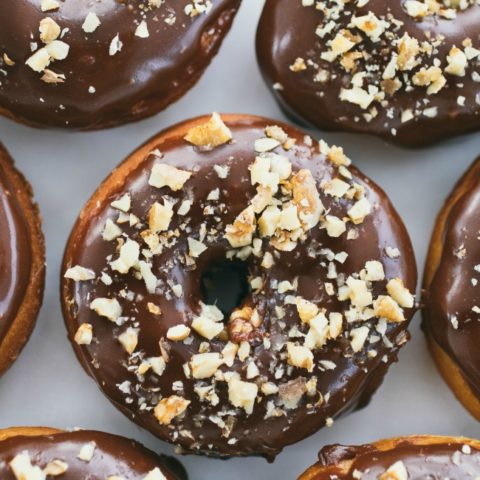 Raised Donuts with Chocolate Glaze and Candied Walnuts
Homemade raised donuts dipped in a chocolate glaze and candied walnuts! They're light and fresh, and the perfect breakfast treat.
Print
Pin
Rate
Ingredients
Donuts
2/3

cup

warm water

100F

2

tablespoons

honey

1

large egg + 2 large yolks

1

tablespoon

pure vanilla extract

3

cups

(420g) all-purpose flour, (plus more if needed, see directions)

3

tablespoons

(30g) non fat dry milk powder

1

tablespoon

(9g) instant dry yeast

1/4

cup

(50g) granulated sugar

1 1/2

teaspoons

salt

8

tablespoons

(113g) unsalted butter, room temperature, and cut into 1-inch pieces

Canola oil for frying

enough to fill 4 inches from the top a medium to large Dutch oven
Chocolate Glaze (adapted from Alton Brown
6

tablespoons

unsalted butter

1/4

cup

whole milk

2

tablespoons

corn syrup

Pinch

salt

1

teaspoon

pure vanilla extract

4

ounces

bittersweet chocolate,

chopped

2

cups

confectioner's sugar
Candied Walnuts
2

cups

(200g) walnuts

1/2

cup

(99g) granulated sugar

1/4

teaspoon

salt
Instructions
In a medium bowl or liquid measuring cup, mix together the water, honey, egg, yolks, and vanilla.

In the bowl of a stand mixer fitted with a dough hook, mix together the flour, milk powder, yeast, 1/4 cup (50g) sugar, and salt. Add the wet mixture to the dry and mix until combined.

Knead the dough on medium speed for 6-8 minutes, scraping down the sides as needed. The dough should pull away from the sides of the bowl and mostly gather around the dough hook, although there will still be some clinging to the bottom of the bowl. Reduce the speed to low and add the butter one piece at at time, mixing on low until completely combined (this will take a few minutes). Increase the speed to medium low and knead for 2-3 more minutes. The dough should form a ball around the dough hook at this point. If it doesn't, add flour, 1 tablespoon at a time, until a soft ball forms (but don't add more than 1/4 cup total).

Using your hands, form the dough into a smooth ball. Place the dough inside a large, greased bowl. Cover with plastic wrap and let rise in a warm, draft-free area until it has puffed up and is almost double in size, about an hour. Cover the dough and refrigerate overnight.

In the morning, move the dough to a lightly floured work surface.

Cut twelve or thirteen 5-inch square pieces of parchment paper, then arrange them on two baking sheets and lightly grease them with cooking spray. (The parchment paper will help the donuts keep their shape when transferring them to the hot oil – the parchment will go into the oil with the donuts.)

Using a lightly floured rolling pin, roll the cold dough out until it is 1/2-inch thick (try to keep the dough as even as possible). Using a small biscuit cutter (mine was 1-inch round), cut the dough into rounds, and then use a smaller cutter (I used the small part of a circle piping tip for this, but the tip of a small funnel will also work) to cut a small hole in the center of each donut. Move the donuts to the prepared baking sheet; put two donuts on each piece of cut parchment paper, with some space in between them for rising (you can also cut smaller, individual pieces of parchment, but I didn't have the patience). Scraps of dough can be re-rolled and used one more time, although those donuts won't turn out quite as pretty.

Cover the donuts with greased plastic wrap and let rise in a draft-free spot; the doughnuts should almost double in height, 1 1/2-2 1/2 hours.

When the donuts are ready to fry, heat the oil in a large Dutch oven, wok, or deep fryer to 365F.

Place a donut (on its paper) in a wire basket skimmer and place in the hot oil. Fry a few donuts at a time, being careful not to crowd them. Use tongs to pluck out the papers. Let the donuts cook about a minute until golden brown on the bottom, then use the skimmer to slip them to the uncooked side. Fry again for about a minute, monitoring the oil temperature and adjusting as needed. Use the skimmer to transfer the doughnuts to a wire rack set over paper towels and let cool for a minute or two. Repeat with the remaining donuts.

Glaze the donuts, placing them on a wire rack set over a rimmed baking sheet lined with a piece of parchment paper. Sprinkle with the chopped candied walnuts while the glaze is still warm. Let the glaze set before eating.
For the glaze
Combine the butter, milk, corn syrup, and salt in medium saucepan, and heat over medium heat until the butter is melted. Lower the heat, add the chocolate, and whisk until melted. Turn off heat, add the vanilla and the powdered sugar, and whisk until smooth. Dip the doughnuts immediately.
For the candied walnuts
In a large skillet, stir together the walnuts, sugar and salt. Cook over medium heat until the sugar begins to melt and the nuts begin to toast, stirring almost constantly. Once the sugar begins to melt, turn the heat down to low and cook until the nuts are lightly caramelized. Pour the nuts onto baking sheet lined with parchment paper. Let them cool completely before chopping into small pieces.