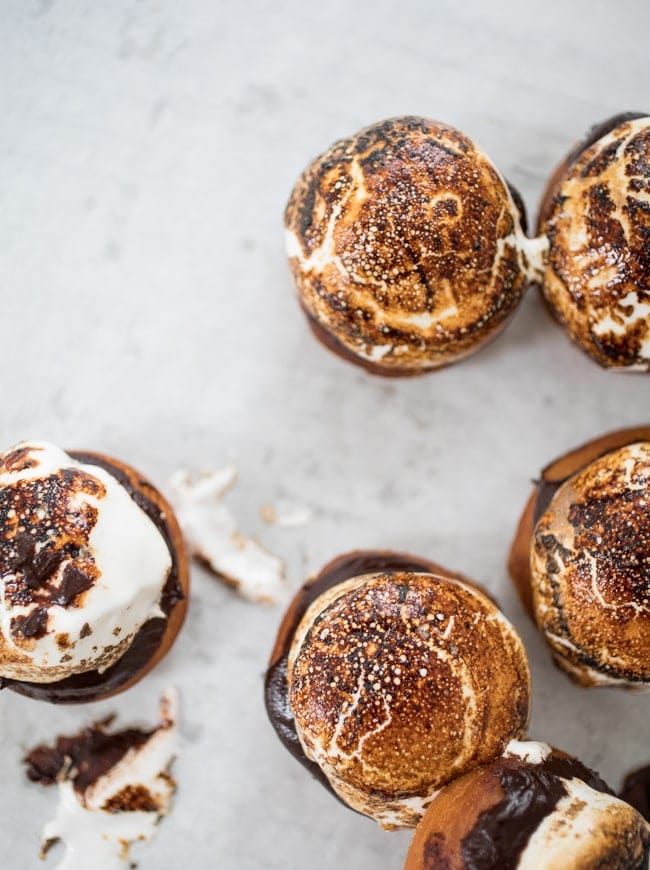 I posted a photo of these S'mores donuts on Instagram today and they got quite a nice reception, so I decided to put the recipe up here on my site. Donuts can be time consuming to make, they are best eaten immediately, and they will cause an entire home to smell like fry oil for a day or two, so I don't always turn to them (especially on hot summer days), but, I mean, they are delicious, and sometimes one just has to go for it. I have been making cookies for 9 months straight, so I thought they would be a nice change of pace. I didn't regret my decision. If you are looking for donuts a little less complicated and not so indulgent, I have Raised Mini Donuts and Raised Donuts with Chocolate Glaze on my site as well.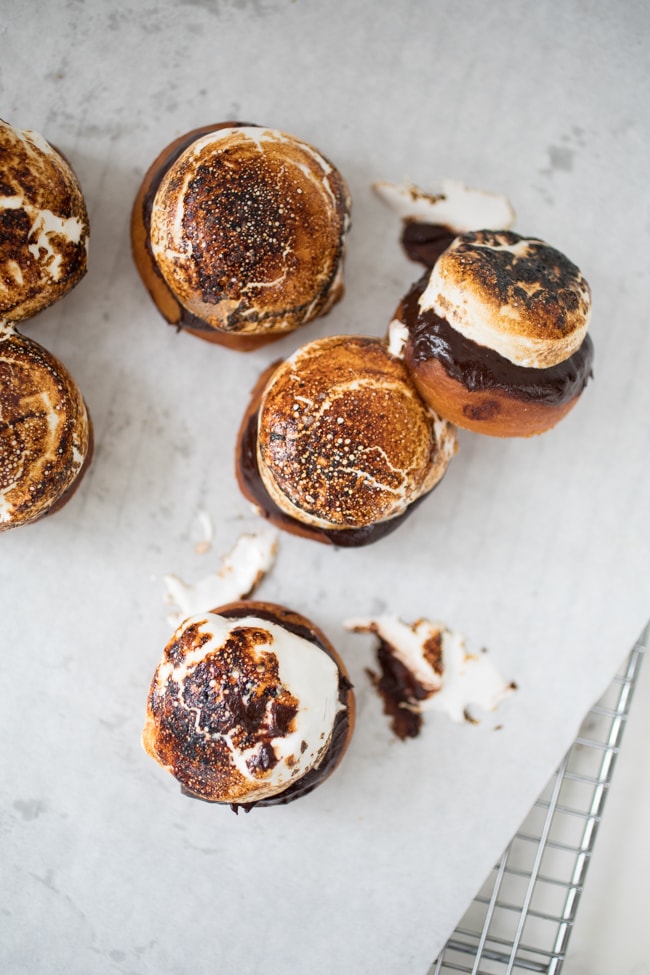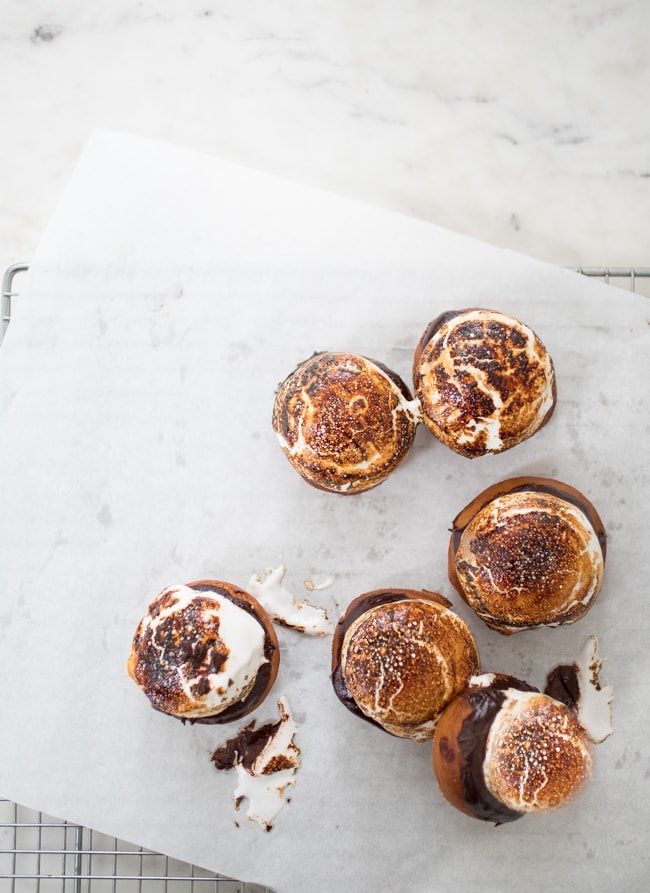 S'mores Donuts
I used the recipe for my Raised Mini Donuts, cut them into 2 in [5cm] pieces, and used the large end of a small plain piping tip to cut out the holes (a smaller biscuit cutter or the small end of a funnel will also work). While the donuts were still warm, I rolled them in toasted graham cracker crumbs. After they cooled, I dipped them in melted chocolate, and then immediately topped them with a homemade marshmallow, which was toasted with a kitchen torch until deep golden brown. If you want to save time, you can use store bought marshmallows, but note that they often don't toast quite as pretty. If you do want to make your own marshmallows, I suggest trying Zoe Francois' recipe here. (I do have a recipe of my own, but it will be published in my next book, so I can't share it quite yet, apologies!) I let the marshmallows set in a 9 x 13 in [22 x 33cm] baking pan, and then used a 2 in [5cm] biscuit cutter to cut out rounds the next day.
This recipe made about 20 donuts. The donuts are best eaten the day they are made.
Graham Cracker Crumbs
1/2 cup [50g] graham cracker crumbs
1 tablespoon [12g] sugar
2 tablespoons [18g] unsalted butter, melted
Adjust an oven rack to the middle position, and preheat the oven to 350F [180C]. Line a baking sheet with parchment paper.
In a small bowl, combine the graham cracker crumbs and the sugar. Pour the melted butter over the top, and mix to combine.
Pour the crumbs on the prepared pan, and bake for 6 to 8 minutes, until they are light golden brown and smell toasty. Move to a wire rack and let cool to room temperature. Move the cooled crumbs to a medium bowl, and then toss the warm donuts in the crumbs. Set them on a wire rack to cool completely.
Chocolate/Marshmallow Layer
4 ounces [113g] milk or semi-sweet chocolate, melted and still warm
Dip the top of the cooled donuts in the chocolate. Immediately place a marshmallow (see note above) on top to adhere. Let the chocolate set, then toast the marshmallow with a kitchen torch if desired, and eat immediately.