I'm back with another bun recipe! This will be my last for awhile, although I do love making them. I used the soufflé molds I keep going on about (I'm crazy about them), but these can easily be made the 'regular' way – on a good old-fashioned baking sheet or in a 9 x 13 pan.
Also, don't forget to enter my **GIVEAWAY** I'm giving away some more Mauviel copper! Contest will end Monday evening, 7/30. One person will win 10 mini Mauviel copper soufflé molds over on Instagram (open to US residents only). These are the molds I've used to also make Cinnamon Rolls, Morning Buns, and Banana Poppyseed Muffins. To enter, head to my Instagram page and follow the instructions under the photo of the Cardamom Sugar Buns.***
A few other things:
*I've been baking a lot this summer, but so many recipes are in limbo – just not quite right. And I've had a shocking number of baking failures the last two weeks, which is normal when I'm testing recipes, but also somewhat irritating. But I will have new recipes for you soon!
*I'm an Aunt! My niece was born this past Wednesday, and she is sweet and lovely and smells of that wonderful baby smell. Seeing her for the first time conjured up so many baby memories with my own two little ones, and I've been feeling all the feelings this week.
*I've also been re-reading the Lord Peter Wimsey Mystery series by Dorothy Sayers. I love what a smart writer Ms. Sayers is, and always enjoy her characters' banter. I highly recommend them if you like mysteries, and chatty British novels.
*You might have already seen Zoe Francois' Instagram famous pavlova, but if you haven't, you should really check it out. It's quite beautiful. Her Peach Pie also got a nice write up in the Huffpost Taste.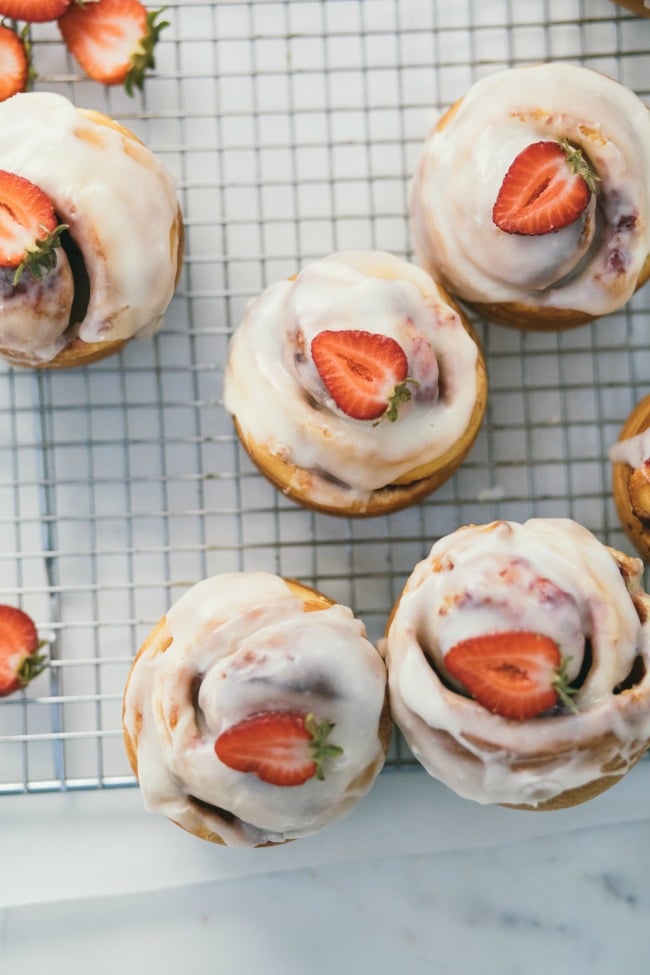 Strawberries + Cream Brioche Buns
I've made the rolls in individual soufflé molds, specifically, these 3 x 2-inch copper mini molds from Mauviel. If you do not have soufflé molds, you could use ramekins instead, just make sure they are roughly the same size (you can also make the buns the traditional way, by just putting them on a baking sheet lined with parchment). The molds I used have straight 2-inch sides, which helps give the rolls their tall shape. The sides of the pans are buttered and then dusted with sugar, which caramelizes the sides of the buns, making for an incredible roll.
The one downside to the copper molds is that they are crazy hot when they come out of the oven, which can make it a little tricky to get them out. I use a kitchen towel and wrap it around the base of the copper mold, then run a knife carefully around each roll, and flip them onto a wire rack. Make sure to line the bottom of each mold with parchment paper as noted in the instructions, or the buns will stick to the bottom and it will be extra hard to get them out.
2 pounds Brioche dough (I used 2 pounds from this no-knead brioche recipe from Artisan Bread in Five Minutes a Day) or you can use my Sweet Dough Recipe
Strawberry jam
1 pound (454g) strawberries, hulled and cut into quarters
1/2 cup (100g) granulated sugar (if your berries are tart, you can add a little more sugar, however the icing will add a lot of sweetness, so it's better to keep the jam slightly on the tart side.)
Pinch salt
1 vanilla bean, split down the middle
Icing
2 ounces (56g) cream cheese, room temperature
2 tablespoons milk
Pinch salt
1/2 teaspoon pure vanilla extract
1 -1/4 cups (113g-142g) powdered sugar
2 tablespoons unsalted butter, melted and cooled
More cut strawberries for decorating, if desired.
For the strawberry jam
Place the strawberries, sugar, salt, and vanilla bean into a medium pan and simmer over medium-low heat for about 30-40 minutes, stirring often, until the strawberries have broken down and the jam has thickened. The jam will cling to a wooden spoon when it is done. Remove from the heat and allow to cool to room temperature. Remove the vanilla bean and discard, then refrigerate the jam until ready to use. (Taste your jam – if it is a little flat, you can add a squeeze or two of lemon juice – about 1/2 teaspoon at a time, until it brightens the flavor.)
To assemble
Butter ten 3 x 2-inch soufflé molds (see note above about soufflé mold specifics). Line the bottom of each mold with parchment paper, and then generously coat with granulated sugar, tapping out any excess. Place the molds on a baking sheet.
Roll the dough into a 16 x 12-inch rectangle. Brush the entire surface with 2 tablespoons melted butter. Start with 1/2 cup of jam, and spread the jam over the dough. If more jam is needed, add more until there is a thin layer over the dough (you don't want too much jam, or the next steps will be extra messy). Starting at the long side, roll the dough into a tight cylinder. Pinch the seam gently to seal it and position the dough seam side down. Use a scissors or a sharp knife to cut the dough into 10 equal pieces. Transfer the pieces to the prepared pans and place them cut side up. Cover the pans loosely with plastic wrap and let the dough rise until doubled, 1 to 1 1/2 hours.
Adjust the oven rack to the middle lower position. Preheat the oven to 350F.
Remove the plastic and bake 22 to 30 minutes, rotating the pan halfway through, until the rolls are golden brown. While the rolls are baking prepare the icing.
Transfer the pan to a wire rack and let the rolls cool for a few minutes. Use a kitchen towel or oven mitts to pick up each soufflé mold, then run a knife carefully around the edges of the pan, and flip the roll onto a wire rack. Carefully put the roll right side up, and repeat with the remaining rolls. Let cool for 5 minutes, then place a piece of parchment paper under the wire rack. Pour the icing over each roll. Serve warm.
For the icing
In a small bowl, mix the cream cheese, milk, salt, and vanilla until smooth. Add 1 cup of the powdered sugar and mix again until smooth. If the mixture is too thin, add more powdered sugar until the desired consistency is reached. Top each bun with a cut strawberry, if desired.