Banana bread has always been a favorite, but banana muffins come in a close second. I have been playing around with my soufflé molds again, as well as my favorite muffin recipe. I came up with Banana Poppyseed Muffins with Hazelnut Streusel, a combination of flavors that work well together, and the muffins bake up tall and elegant in the molds (if you don't have soufflé molds, see below on other ways to make them.)
If you do not have soufflé molds, you could use ramekins instead, just make sure they are roughly the same size. The molds I used have straight 2-inch sides, which helps give the muffins their tall shape. Or you can use a muffin tin! See baking directions for details. I used Bob's Red Mill Hazelnut Flour for the streusel, and found it in my local grocery store in the baking/specialty flour section.
****************************************
"We are imperfect mortal beings, aware of that mortality even as we push it away, failed by our very complication, so wired that when we mourn our losses we also mourn, for better or for worse, ourselves. As we were. As we are no longer. As we will one day not be at all."
-Joan Didion, The Year of Magical Thinking
Twenty-three years ago, my two-year old cousin, Maxwell, died on the 4th of July. Some years the memory of that day is hazy and seems far away from me, others, like this year, the memory is vivid. There are particulars of the day I always recall: the phone call from my dad, my sister unconsolable out on the deck, telling my Aunt everything was going to be okay, and her looking me straight in the eyes with a reply I couldn't yet process. "No, it's not." I remember the funeral, and my seven-year-old brother leaning on my shoulder, his cries echoing through the church. I remember how I missed Maxwell's last birthday party, a month before he died, because I wanted to hang out with a cute boy. I remember his little, chubby arms that would wrap around my neck, and how he'd laugh and laugh when I stuck my tongue out at him. I remember his lovely, blue eyes.
I found myself making banana muffins this week as the memories came back; the grief coming in waves, over days this year. The night before the 4th I felt sheer panic as I tried to fall asleep, details of the death flooding my mind. I got up at midnight to check on my children, to hold their hands for a few minutes while they slept, to watch them breathe. The breath of life is simple, it's in and out, and in again. I got up the next morning and made muffins. It dawned on me later the why; yes, baking is always comforting to me, but baking with bananas even more so. As I stood in my kitchen, scooping the batter into the tins, I thought of how my parent's kitchen always had bananas on the counter, at all different stages of ripeness. My dad would eat them daily, he loved them borderline green. I remember how he taught me to peel them so I wouldn't smush the top of the banana.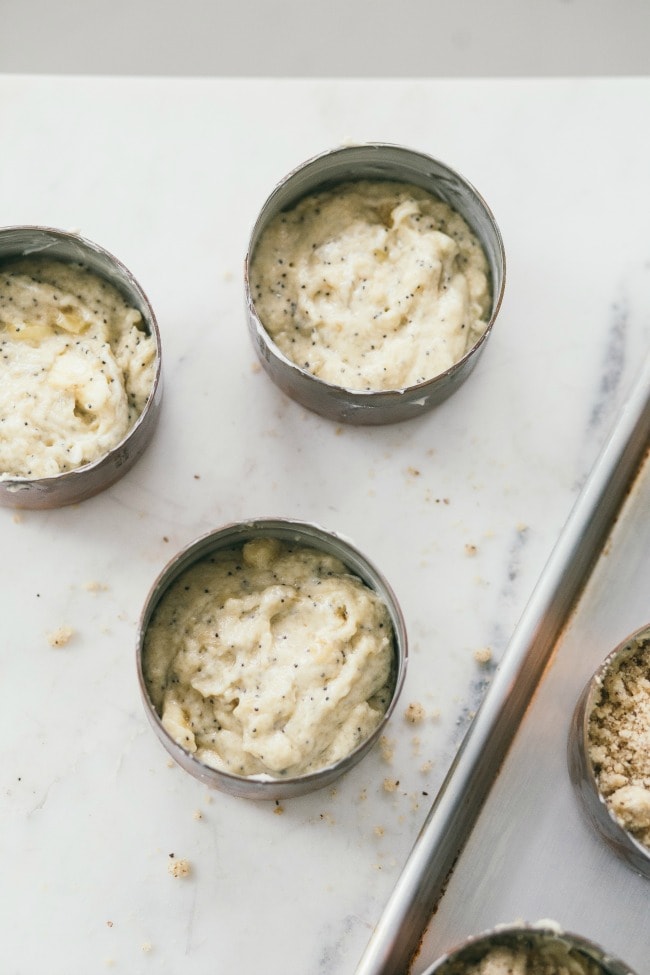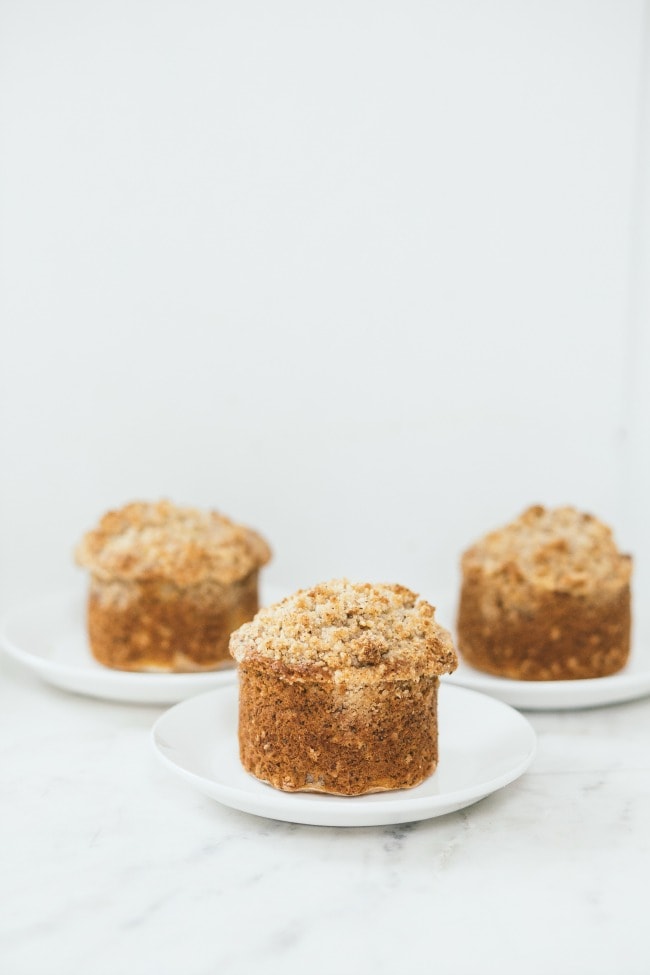 My mother would always take the neglected bananas: the speckled ones, the brown and black ones, and use them to make banana bread. The scent of the bread would fill the house all afternoon as the bread baked and then cooled. She'd slather butter on her warm slice while us kids just dived in and ate it plain.
I thought of all my late nights working and chatting with Larry at the Blue Heron Coffeehouse, he and Colleen were my family away from home during my college years. Larry was always making banana bread in the evenings for the next day (and later I carried on the tradition), always working so hard to make his coffeehouse business work. As he mashed bananas and mixed batter he often took time to talk with me, give me good council whether I wanted it or not. Sometimes he would cut a piece of the warm banana bread and send it home with me, wrapped up in a piece of parchment paper. I would nibble on it as I walked in the dark, the baked banana scent mingling with the fragrance of lilac trees that lined the streets to my apartment.
I thought of the hundreds upon hundreds of loaves of banana bread I've made over the years, the dozens and dozens of banana muffins, and all the pound cakes and banana layer cakes. I thought of the customers who came daily into the shops I baked in, grateful for a bake case sprinkled with different kinds of banana treats. In my own home, as the muffins rose in the oven, their streusel-laced tops peeking out over their molds, I knew the scent would also bring my children comfort. They would sigh with pleasure as the muffins were cooling on the wire racks. I knew for one minute a bite would give me momentary peace. But I also knew it wasn't enough; it would never be enough. Did Maxwell ever even try banana bread? Did he ever associate the smell of  bananas baking in sugar with family and warmth? I didn't know; I'll never know.
***********************************
I offer my kids each a half of a muffin, and they slather their warm pieces with salted butter; I still eat mine plain. We all take a bite, their thoughts drifting only to the lovely. My heart is filled with both present and past, both sadness and joy. We are still and silent, and the feeling is familiar. Suddenly in my mind I see a church; I am at my first communion. I walk in a line to the front with all the other children, feeling nervous as the minister hands me the wine and the bread. There is a strange silence that falls heavy over me, almost like a cloak, as I take a bite, take a sip. We all walk back in a line and sit in the front pews. But now I hear the cries of my brother echoing here, my mind quickly jumps through the years. His head is on my shoulder again, and my grief is beyond tears. But the stillness, the strange silence, still lingers as I put my arm around him and hold him close. It hangs around even as I hear a small voice break through my thoughts. "Another half, please?" my son asks. I feel my feet on the kitchen floor, my hand is on the counter. The moment has passed. I smile at my son, breaking what is left of my muffin in two, and offer him what I have left to give.
I think I am beginning to understand why grief feels like suspense. It comes from the frustration of so many impulses that had become habitual. Thought after thought, feeling after feeling, action after action, had H. for their object. Now their target is gone. I keep on through habit fitting an arrow to the string; then I remember and have to lay the bow down. So many roads lead thought to H. I set out on one of them. But now there's an impassable frontier—post across it. So many roads once; now so many culs de sac. – C.S. Lewis, A Grief Observed ("H" is his wife, Helen Joy)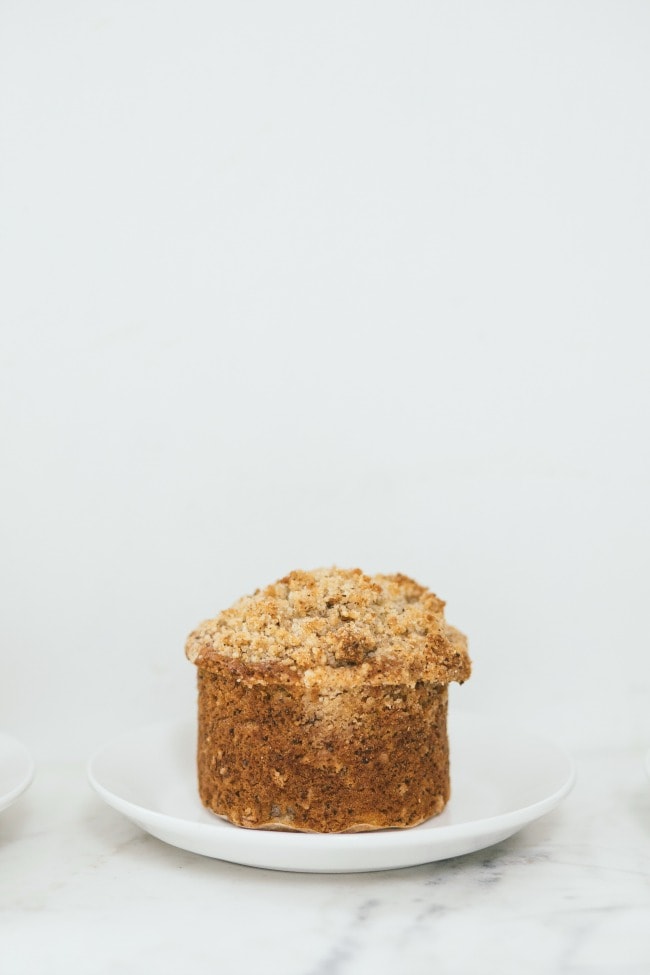 More Banana Recipes: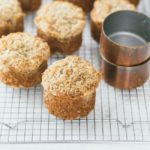 Banana Poppy Seed Muffins with Hazelnut Streusel
Moist banana muffins laced with poppy seeds and topped with hazelnut streusel for a nutty crunch.
Print
Pin
Rate
Ingredients
2 1/2

cups

(355g) all-purpose flour

3/4

cup

(150g) granulated sugar

2

tablespoons

poppyseeds

1

teaspoon

baking powder

1

teaspoon

baking soda

1/2

teaspoon

salt

1

cup

mashed bananas,

about 2 bananas

1/2

cup

sour cream

1/4

cup

whole milk

4

tablespoons

butter,

melted and cooled

1/2

cup

canola oil

1

large egg

2

teaspoons

pure vanilla extract

1

cup

banana

diced into bite-sized pieces (about 1 banana)
Hazelnut Streusel
2/3

cup

(94g) all-purpose flour

1/3

cup

(66g) granulated sugar

1/3

cup

(66g) brown sugar

1/4

teaspoon

salt

1/4

teaspoon

ground cinnamon

6

tablespoons

unsalted butter

room temperature, cut into 6 pieces
Instructions
For the muffins
Adjust an oven rack to the lower middle position. Preheat the oven to 375F. Butter eight 3 x 2-inch soufflé molds (see note above about soufflé mold specifics) and line the bottom of each mold with parchment paper. Place the molds on a baking sheet. (If using regular muffin tins, place liners in two standard 12-cup muffin tins. You want to fill the tins about 3/4 of the way full, and will get about 13-14 muffins. The baking time will be shorter.)

Whisk the flour, sugar, poppyseeds, baking powder, baking soda, and salt together in a large bowl. Make a well in the center.

In a large bowl or liquid measuring cup, whisk the mashed banana, sour cream, milk, butter, oil, egg, and vanilla until completely combined. Pour the wet ingredients into the well in the dry ingredients and mix gently until almost combined. Fold in the diced banana pieces until just incorporated, being careful not to overwork the batter (the batter should not be completely smooth; there should still be some visible lumps and bumps.)

Scoop the batter into the prepared molds. Sprinkle the tops generously with the hazelnut streusel (you may have some left over). Bake 15-20 minutes, until the edges are golden brown and a wooden skewer or toothpick inserted in the center comes out clean (if baking in regular muffin tins, the baking time will be shorter). Move the baking sheet to a wire rack to cool, and when the molds are cool enough to handle, carefully remove the muffins from each one.
For the streusel
In the bowl of a stand mixer, combine the all-purpose flour, sugars, hazelnut flour, salt, and cinnamon on low. With the mixer on low, add the butter, one tablespoon at a time, until the mixture comes together but still is quite crumbly. Streusel can be held in the refrigerator for 24 hours, or frozen for up to one month.