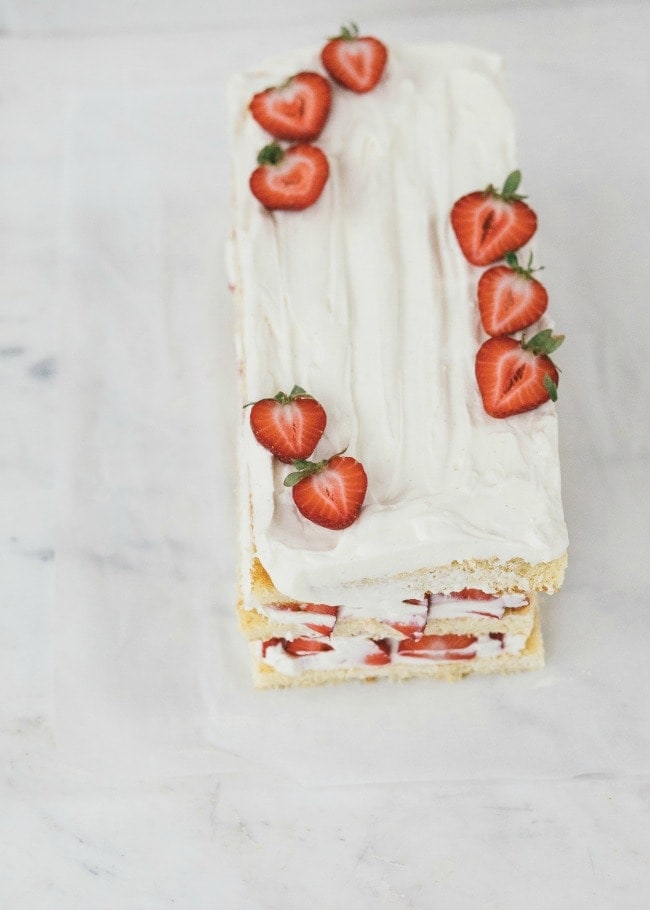 I made a similar cake to this strawberry shortcake cake last week, and then decided to try it again, this time with 3 layers of cake for a slightly 'fancier' presentation. Classic strawberry shortcake is usually composed of subtly sweet biscuits, strawberries, and whipped cream.
This recipe is adapted from my cookbook, The Vanilla Bean Baking Book.
Strawberry Shortcake Cake Recipe
Making strawberry shortcake into a cake was a win – the yellow cake layers are thin (which I prefer on a shortcake), instead of biscuit-like (which I also prefer), and are piled with cream cheese whipped cream and strawberries.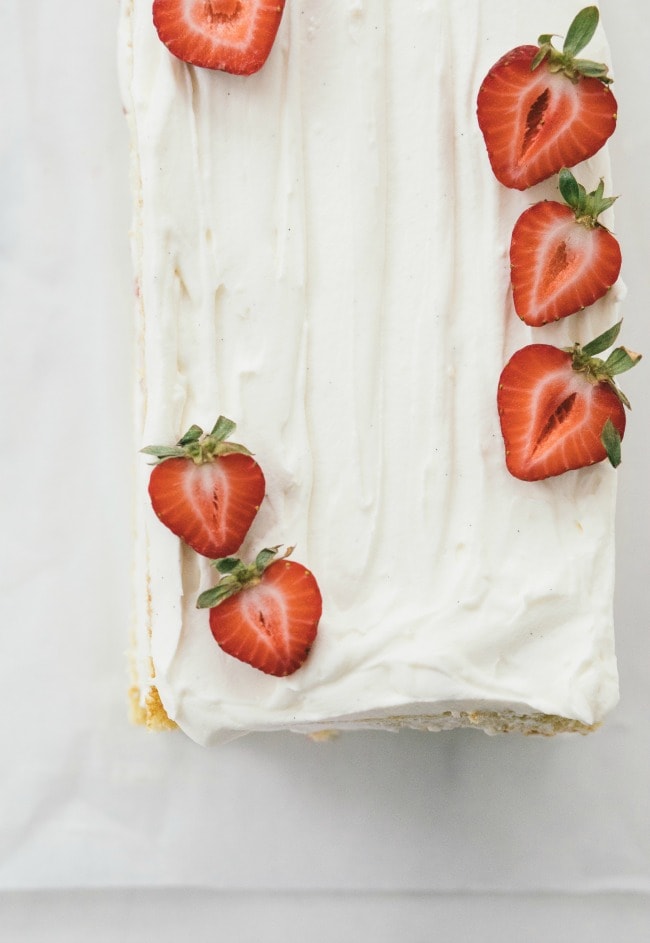 Notes for making this cake:
If you need a visual on cutting the strawberry shortcake cake, I have one here over on Handmade Charlotte. Flipping the cake out of the sheet pan can be a precarious. Just go slow, and use the parchment paper underneath to help you sort of lift it out. If it does crack in the center, the cake can still be cut into three pieces, just hide the broken parts in the middle layer when stacking the cake. I usually make the cake the day before, wrap it in plastic in the pan once it's cooled, and then freeze it overnight. I let it thaw a little before flipping it out.
I don't have super precise measurements for the strawberries – I had two pounds of berries to be safe, and used about 1 1/2 pounds. I put some sliced berries on the sides to try and make it look a little more polished, but if that sounds too tedious you can just fill the laters with chopped berries and not bother with it (as in the directions).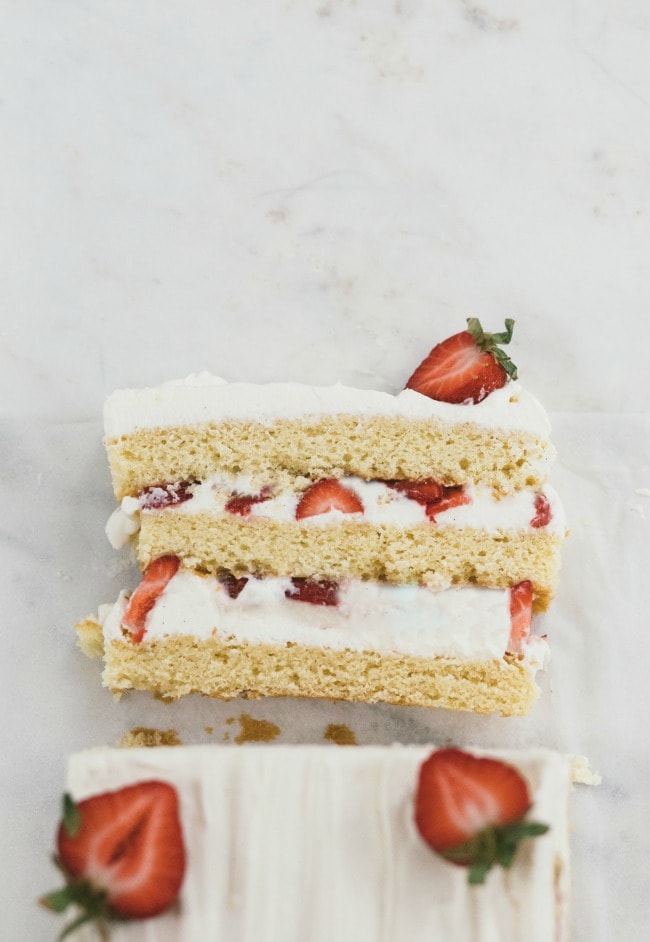 *************************************************
A few years ago I was able to see Jeremy Enigk play here in Minneapolis – it was the 20th anniversary of his album, The Return of the Frog Queen, and he played it through from start to finish. It was a beautiful night of music.
With the full knowledge that this sentence will sound completely cheesy, Mr. Enigk's music has been a huge part of my life's soundtrack for the last 20 years. I first discovered his voice in college. I had a terrible crush on a boy in my dorm who lived exactly two floors beneath me. We met shortly before my freshman year was over, on the day after he broke up with his long-time girlfriend. He was nursing a broken heart; I'd catch him starring at her photograph still hanging up above his desk while we chatted or played chess together (I wasn't really that into chess but knew how to play, and we spent a lot of time together playing the game). He always had music on while we hung out – he was way into 90's emo (which is very different that 2000's emo, the emo your mind probably leapt to upon hearing the word. 90's emo is post-punk and 2000's emo is what I like to call "cry-baby emo". But I digress.) Most of the music he listened to was screamo-emo (exactly what you'd imagine: a singer screaming words that can't be understood over loud, loud rock music that sounds very chaotic) and I was not into it (although I pretended it was fine for the sake of hanging out), but one day he put on an album I hadn't heard and yet and was instantly smitten by the voice singing. It was so melodic and rough, lovely and bitter at the same time. "Who is this?" I asked immediately. "Sunny Day Real Estate," my crush replied, glancing up again at the photograph of his ex-girlfriend. I sighed as I wrote down the name of the band, and then went out later that week and bought the CD.
Sunny Day Real Estate had broken up when I discovered them, but they had two albums, and Jeremy Enigk had one solo album, so I had quite a few songs to listen to. I devoured their music, for the sole reason of listening to Jeremy's voice. He broke my heart, then mended it with each note sang. The songs were with me often: when me and the boy mentioned above starting dating, and then again when we broke up. They were there when my roommate let me borrow her car and I'd drive up and down Highway 61, singing my heart out as I passed the bluffs of Winona. They played late Saturday nights when I closed down the coffeehouse, mopping floors and washing dishes. They kept playing when the boy and I got back together, when we drove hours to see Sunny Day play live – they had gotten back together, too – and when we held hands at the show and I knew he was the one.
So it was magic to see Mr. Enigk perform last night. We stood right in front of the stage at the tiny bar and sang hearts out once again. I stood nestled between the boy I've loved for so long, and dear friends who I have been through so much with, and the beauty of the music, the songs we've sung again and again, washed over us. It was the "joy like swords" Tolkien talks of; our hearts wounded and wrecked with the words and melodies that have been a backdrop to us for so long.
***If you're interested, you can check out Jeremy Enigk's music here.
You can also watch his live performance on radio KEXP here. It's gorgeous. ***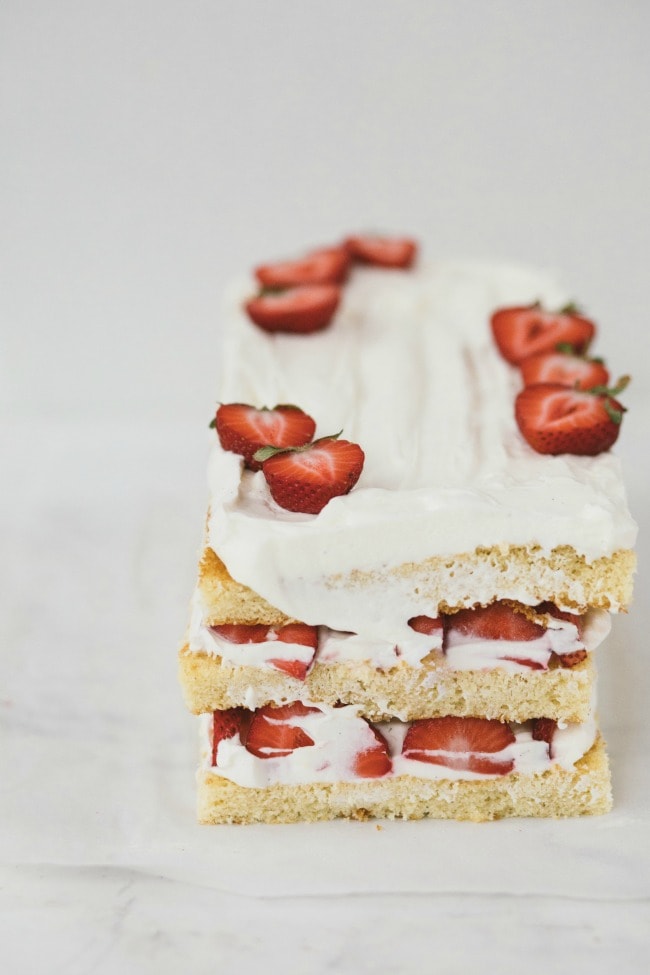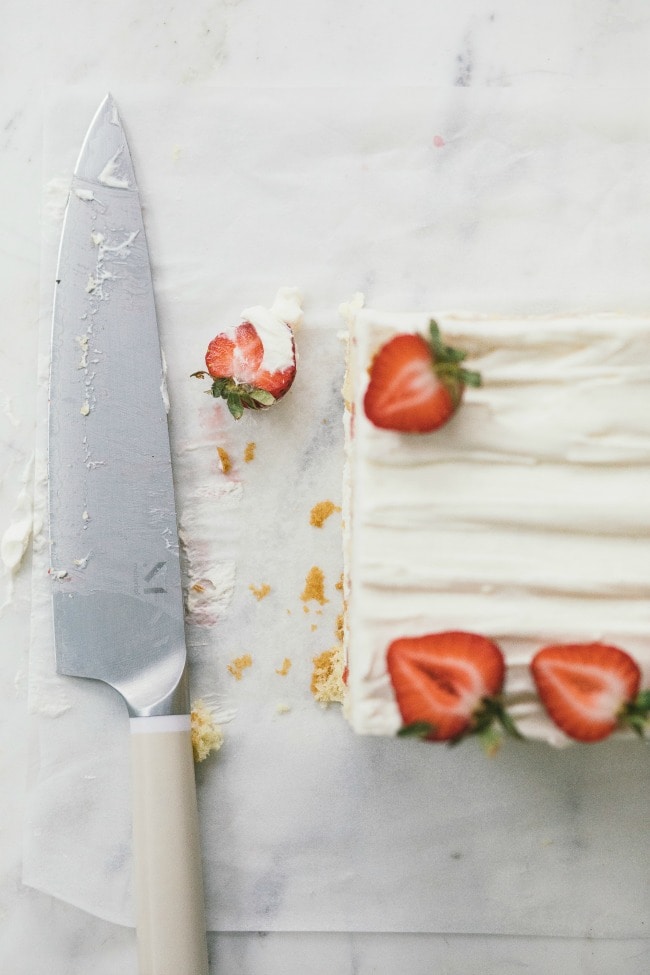 More Strawberry Recipes: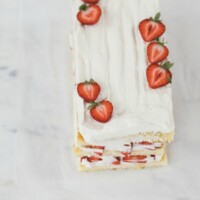 Strawberry Shortcake Cake Recipe
A cake version of the classic strawberry shortcake dessert, with layers of thin yellow cake and whipped cream filling!
Print
Pin
Rate
Ingredients
Cake
3

large eggs

2

eggs yolks

1

tablespoon

pure vanilla extract

1/2

cup

creme fraiche

(sour cream will also work)

1/2

cup

whole milk

2

cups

all-purpose flour

284g

1 1/2

cups

granulated sugar

297g

3/4

teaspoon

baking powder

3/4

teaspoon

baking soda

3/4

teaspoon

salt

1/2

pound

2 sticks unsalted butter, room temperature, cut into 1-inch pieces

227g
Filling
8

ounces

cream cheese, room temperature

226g

1

cup

granulated sugar

200g

1

teaspoon

pure vanilla extract

1

vanilla bean

seeds scraped (optional)

1/4

teaspoon

salt

2

cups

heavy cream

2

pounds

strawberries, give or take, chopped into bite-sized pieces (see directions below)

900g
Instructions
For the cake
Adjust an oven rack to the middle position. Preheat the oven to 350F (180C). Butter and flour a half sheet pan (12 x 16 inches, with a 1-inch rim) and line the bottom with a piece of parchment paper.

In a medium bowl or liquid measuring cup, whisk the eggs, egg yolks, vanilla, creme fraiche, and milk.

In the bowl of a stand mixer fitted with a paddle, mix the flour, sugar, baking powder, baking soda, and salt on low until combined. With the mixer running on low, add the butter one piece at a time, beating until the mixture resembles coarse sand. With the mixer still running on low, slowly add half the wet ingredients. Increase the speed to medium and beat until incorporated, about 30 seconds. With the mixer running on low, add the rest of the wet ingredients, mixing until just combined. Increase the speed to medium and beat for 20 seconds (the batter may still look a little bumpy). Scrape down the sides and bottom of the bowl, and use a spatula to mix the batter a few more times.

Pour the batter into the prepared pan and smooth the top. Tap the pan gently on the counter 2 or 3 times to help get rid of any bubbles. Bake 15-18 minutes, rotating the pan halfway through, until the cake is golden brown and pulls slightly away from the sides and a wooden skewer or toothpick inserted in the centers comes out clean.

Transfer the pan to a wire rack and let cool for 30 minutes. Carefully turn the cake out onto a large piece of parchment paper, remove the other parchment paper from the bottom of the pan, and let cool completely. Cake can be wrapped in plastic and refrigerated overnight, or frozen for up to 1 week.
For the filling
In the bowl of a stand mixer fitted with a paddle, beat the cream cheese on medium until smooth. Add the sugar, vanilla extract, vanilla bean seeds (if using), and salt and beat on medium until smooth and light, about 3 minutes. Scrape down the sides of the bowl and fit the mixer with a whisk. With the mixer running on low, slowly add the heavy cream, whisking until fully combined. Increase the speed to medium-high and beat until soft peaks form, stopping to scrape down the sides of the bowl as necessary, 2-3 minutes.
To assemble the strawberry shortcake cake
Cut the sheet cake into three equal pieces (I trimmed my cake to be 15-inches wide, and then cut each piece into 5-inch wide pieces. If you need a visual, I have a how to here on Handmade Charlotte). Place one piece on a serving plate. With a knife or offset spatula, spread the top with about 1/3 of the filling, then fill the centers with chopped berries so the whipped cream is covered (I just scattered a bunch across the top, but it was about 1 cup berries). Place the second layer of cake on top (if you have any broken cake pieces, fit them in here), and repeat with the filling and berries. Put the third piece of cake on top and spread the last 1/3 of filling evenly on the top of the cake. Decorate with more strawberries if desired. For best results cutting the cake, chill the cake for 2 hours before serving/cutting. If you're okay with it being a little more messy, dive in immediately. **The strawberry shortcake cake can be held in the fridge for 2 hours before serving; the strawberries will start to leak out their juices and make things soggy if held much longer than that.