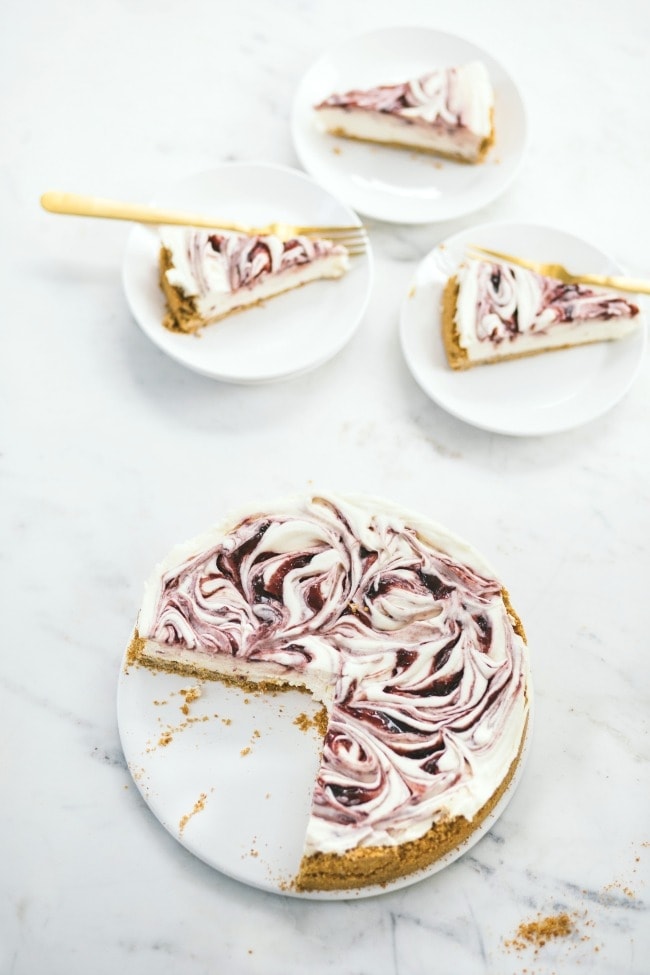 I love cheesecake, and often in the summer I turn to the no-bake variety. On blazing hot days it's nice to keep the oven off, and while the texture of a no-bake cheesecake isn't completely authentic, it's still so dang good.
This white chocolate cheesecake is from Nigella Lawson's latest book, At My Table. I'm happy to report it's delicious. I added a sour cherry swirl and love how the white chocolate and cherry compliment each other here.
**********************************************
There's something in baking that plays into our desire for transformation, because it is much more alchemical, and that's a beautiful thing. I think also, that no one needs a cake. But that's what makes it special and wonderful and a treat. – Nigella Lawson
I first discovered Nigella Lawson at the library. I had just started baking at Bordertown Coffee, and was working solo in the kitchen, 50-60 hours a week. I had some experience under my belt, but was now in charge of it all: opening the kitchen, baking everything we sold for the day, washing all the dishes I used plus anything the counter staff couldn't get to, jumping in on the counter when it got crazy busy, and keeping the bake case interesting so people would return the following day.
At the time I had no extra money for purchasing cookbooks, so I would make weekly trips to the library and check out every single baking book they had, then request dozens more to pick up the following week. I'd make my way home and then fall into bed; my feet throbbing and my legs aching, and read through hundreds of recipes, making mental notes of cookies and cakes and bars and breads I wanted to try, or adapt, at the store.
One of the books I checked out frequently was Lawson's How to Be a Domestic Goddess (affiliate link). I was drawn immediately to the black cover and the cupcake on front, and Lawson's well-written, evocative headnotes and her philosophy on baking and cooking held my interest. I made so many things from those pages: Snickerdoodles, Baklava Muffins, Rhubarb Tart, Chocolate Loaf Cake, Chocolate Cheesecake, Peanut Butter Squares, and Espresso Cupcakes, just to name a few.
The trouble with much modern cooking is not that the food it produces isn't good, but that the mood it induces in the cook is one of the skin-of-the-teeth efficiency, all briskness and little pleasure. Sometimes that's the best we can manage, but at other times we don't want to feel like a postmodern, postfeminist, overstretched woman but, rather, a domestic goddess, trailing nutmeggy fumes of baking pie in our languorous wake.
Years later, now baking from home, I still find Ms. Lawson's books a joy to read. I've started my own little cookbook library, and have a number of her titles on my shelf, frequently in use. How to Be a Domestic Goddess remains a favorite, as well as How to Eat . I was recently sent her latest book, At My Table, and have been enjoying it as well; next up on my list to bake is Chocolate Olive Mousse, Apple Gingerjack, and Passionfruit Ice Cream Cake.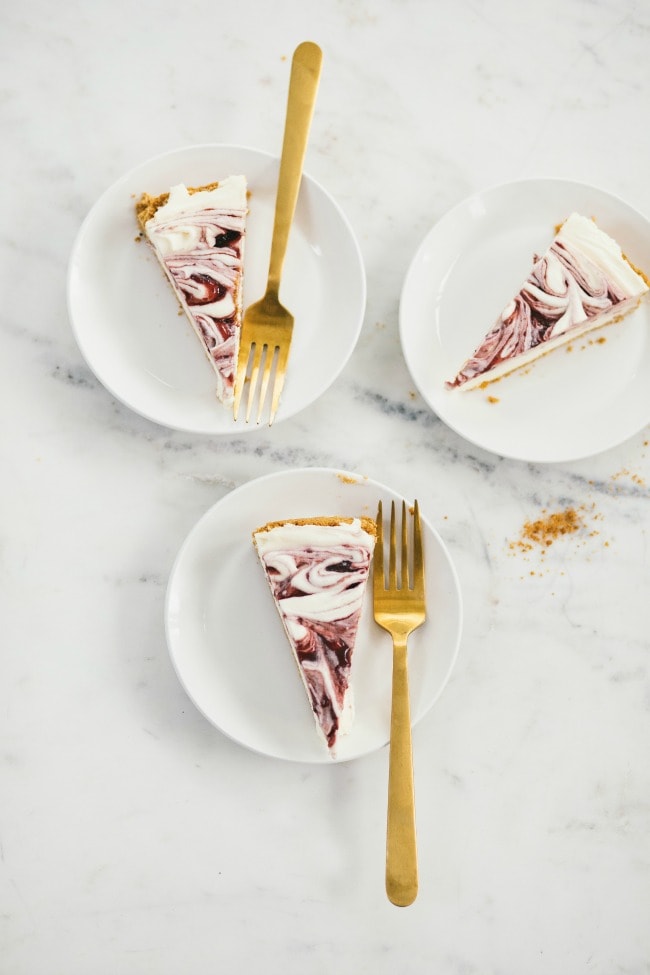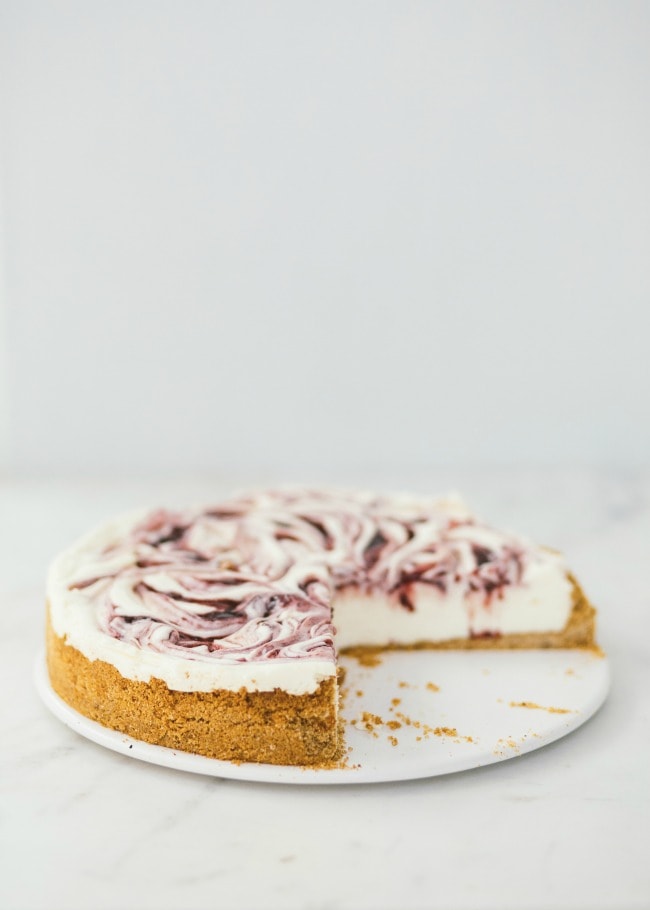 I cook, as you do, to feed myself, my family, my friends. A home cook is not a lesser being than a chef, though a markedly different one. I hate hearing people describe themselves as "just" a home cook. We may not have the technical proficiency of a chef, but why should this matter? We cook to bring pleasure, comfort, and flavor to life, to the table. This is not to say we operate in bumbling chaos, although I have learned over the years that I need a certain amount of this. In a sense, a recipe is a way of finding order in the mess of life. It's a guide, something to hold on to. -Nigella Lawson, At My Table
(Almost) No Bake White Chocolate Cheesecake with Sour Cherry Swirl
Adapted from At My Table by Nigella Lawson
I used store bought sour cherry jam here; you could use any flavor you like. If you don't want to do the jam swirls, the cheesecake will be delicious without it. Nigella notes the cake can also be "partyfied by a sprinkling of chopped pistachios and a jewel-bright scattering of pomegranate seeds."
I strayed from the original recipe a little bit: I used a graham cracker crust instead of a gingersnap crust, added some salt, and a tiny bit of sugar.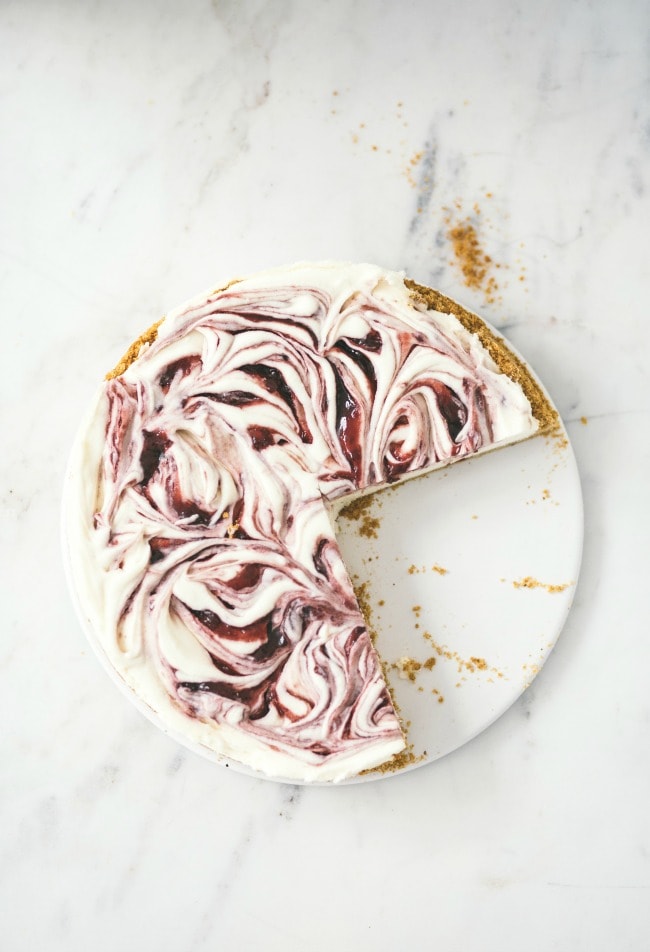 More Cheesecake Recipes: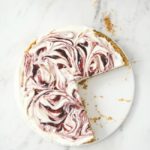 Almost No-Bake White Chocolate Cheesecake with Sour Cherry Swirl
This white chocolate cheesecake is creamy and delicious, with a sour cherry swirl and graham cracker crust. Use store-bought sour cherry jam for ease.
Print
Pin
Rate
Ingredients
2

cups

(200g) graham cracker crumbs

1/4

cup

(50g) sugar

5

tablespoons

(72g) unsalted butter, melted
White Chocolate Cheesecake
12

ounces

(340 grams) cream cheese, room temperature

1

tablespoon

sugar

1/4

teaspoon

salt

1

teaspoon

vanilla extract

1 1/4

cups

heavy cream

1

cup

sour cherry jam
Instructions
For the crust
Adjust an oven rack to the middle position. Preheat the oven to 325F.

Put the graham cracker crumbs and sugar in a medium bowl and whisk. Pour the melted butter over the top and stir with a spatula until combined. Press the mixture into a 9-inch springform pan and bake 10-12 minutes, or until the crust is golden. Remove from the oven and set aside to cool.
For the cheesecake
Melt the white chocolate in a heatproof bowl set over a pan of boiling water, being careful not to let the water touch the bottom of the bowl, and stir constantly until just melted. Let the chocolate cool until the chocolate remains liquid but is cooled to room temperature, about 10 minutes.

In a stand mixer fitted with a paddle, beat the cream cheese on high until smooth and creamy, about 3 minutes. Add the sugar, salt, and vanilla and beat on medium until light and smooth, about 3 minutes. Add the white chocolate and mix on low until just combined. Use a spatula to finish stirring the white chocolate into the cream cheese, making sure it is totally combined. Transfer the cream cheese mixture to a large bowl and set aside. Clean the mixing bowl if you have only one.

In a stand mixer fitted with a whisk, beat the cream (in the clean bowl) on low for 30-45 seconds. Increase the speed to medium and continue beating 30-45 seconds. Increase the speed to high and continue beating until stiff peaks form, 30-60 seconds.

With a rubber spatula, stir about one-third of the whipped cream into the cream cheese mixture and fold until completely combined. Add the remaining whipped cream and fold until combined and no streaks remain.

Scrape the filling over the cooled crust and smooth the top with an offset spatula. Decorated the top with jam swirls (see below). Refrigerate the cheesecake until firm, about 4 hours or up to 1 day.
For the jam swirls
Combine the jam and 1 tablespoon water in a small saucepan. Warm over low heat until the jam is loose. Let the mixture cool a bit. Drop the jam in circles over the top of the cheesecake and use a skewer or knife to drag it through the top of the cheesecake, making swirls.
Notes
Adapted from At My Table by Nigella Lawson
I used sour cherry jam here; you could use any flavor you like. If you don't want to do the jam swirls, the cheesecake will be delicious without it. Nigella notes the cake can also be "partyfied by a sprinkling of chopped pistachios and a jewel-bright scattering of pomegranate seeds."