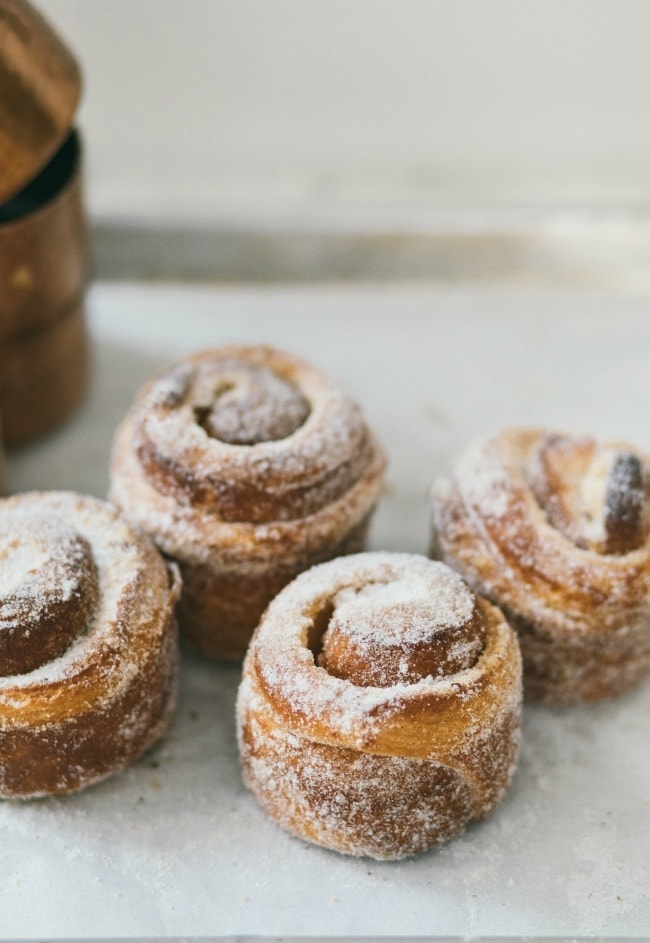 I'm back with more morning buns. This is a recipe (and post) I put up on my site years ago, and I thought I'd bring it back to life by baking the buns (yet again) in my favorite soufflé molds (if you don't have these molds, never fear! You can also bake the buns in ramekins or muffin tins; directions below). The recipe is adapted from Tara O'Brady's Sugar Buns – she adds orange, cinnamon, nutmeg, and ginger along with the cardamom, but I went with just straight cardamom and love the results. I've used my Easy Danish Dough here, which give the buns flaky layers while keeping the center soft. (Also, if you're a fan of Tara's work, you can find her columns in the Globe and Mail here.)
I've made the rolls in individual soufflé molds, specifically, these 3 x 2-inch copper mini molds from Mauviel. If you do not have soufflé molds, you could use ramekins instead, just make sure they are roughly the same size. The molds I used have straight 2-inch sides, which helps give the rolls their tall shape. The sides of the pans are buttered and then dusted with sugar, which caramelizes the sides of the buns, making for an incredible roll. These buns can also be made in a muffin tin. Cut into 12 pieces instead of 10, and butter and sugar the tins as instructed below.
The one downside to the copper molds is that they are crazy hot when they come out of the oven, which can make it a little tricky to get them out. I use a kitchen towel and wrap it around the base of the copper mold, then run a knife carefully around each roll, and flip them onto a wire rack. Make sure to line the bottom of each mold with parchment paper as noted in the instructions, or the buns will stick to the bottom and it will be extra hard to get them out.
****************************************************
I know that food isn't a cure all, even though in bleak moments it may feel that way. There are days when everything is just out of reach, when turning on the news or reading headlines sends my head spinning; knowing of so many people struggling everywhere. And here I am, obsessing about the little things: is my cardamom fresh enough? is my kitchen big enough? is anyone reading this? I spend the morning with my daughter rolling out puff pastry, while war and rumors of war whisper out of every media outlet in the background. I tune it out. My world is centered in our little home, and my heart belongs to three beautiful people. But there are days, like this one, where it seems we are just gathering for ourselves here, even though there are so many sugar buns to spare. As we measure out a rectangle I am questioning our movements, asking myself, is there really time for making cakes? and baking bread?
We continue with the buns. My daughter has questions about all the layers of butter, which she helped me fold and turn the day before. We sprinkle the sugar together, smelling the cardamom on our hands. She shifts her face, hiding so I can't see her licking the sweet and the spice off her fingers, but she spins back quickly; her face and lips lit up with tiny white sparkles. Words from earlier this week sweep through me: "Participate joyfully in the sorrows of the world. We cannot cure the world of sorrows, but we can choose to live in joy".* I am quietly shaken, but interrupted. My daughter asks me if we can give them away, if we can share our sugar buns when they are baked. I meet her eyes, comforted by her sincere delight, her small hands outstretched in giving. Yes, I tell her, we can.
(*Quote from Joseph Campbell.)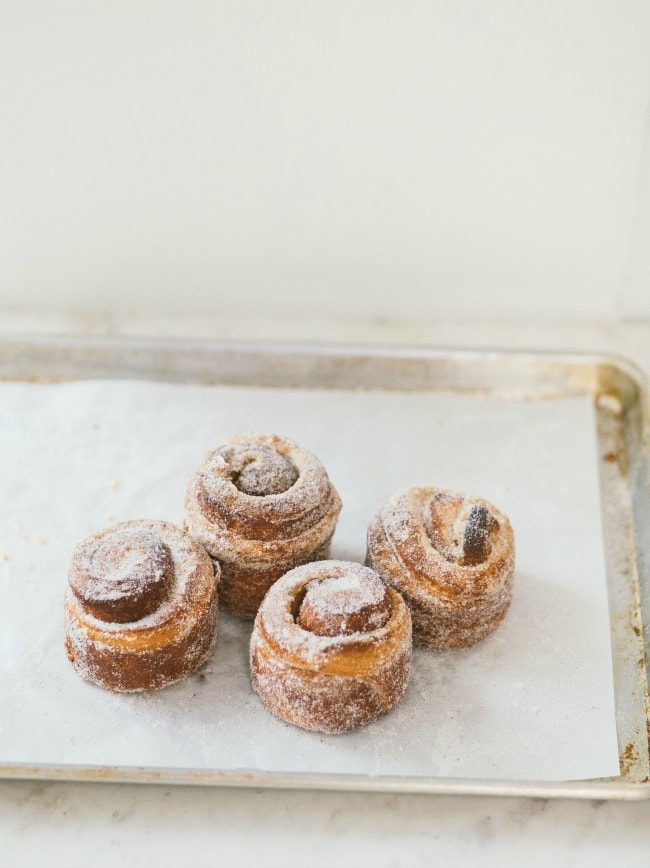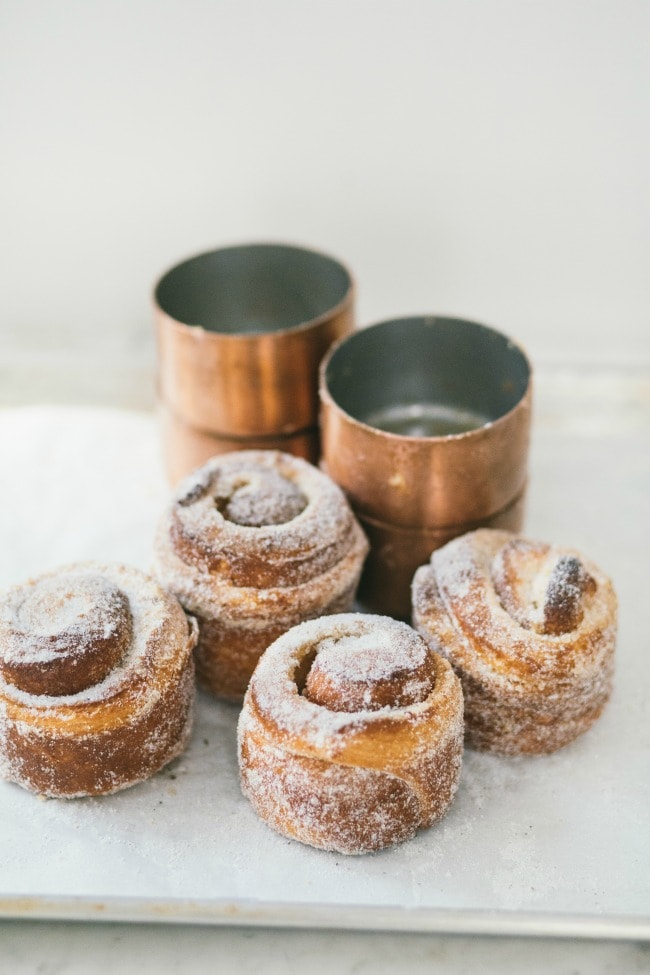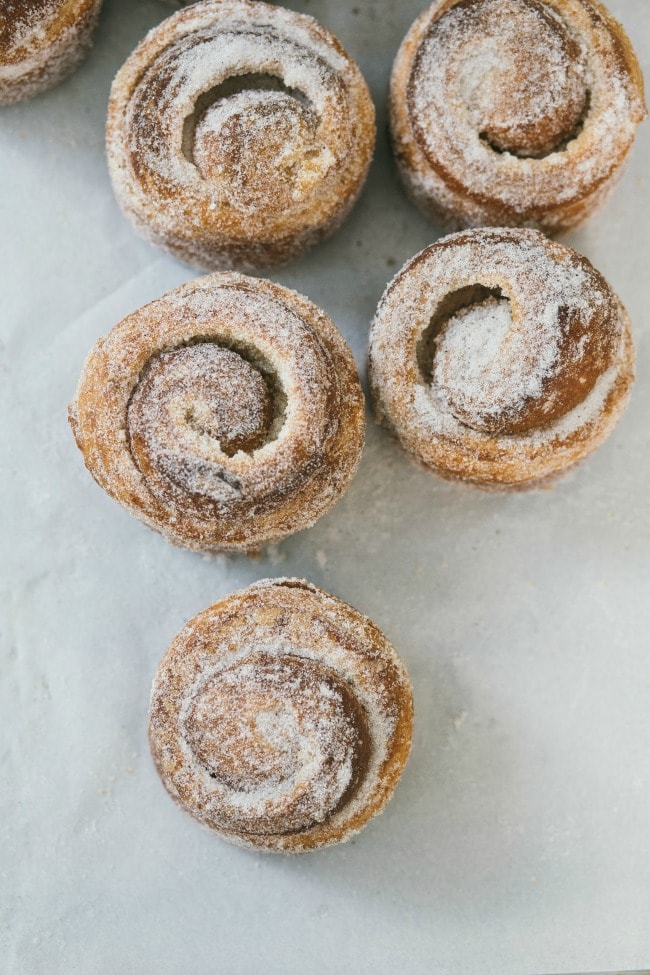 More Morning Bun Recipes: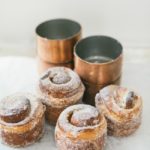 Cardamom Sugar Buns
Using easy danish dough, these cardamom sugar buns are lightly and flaky, with a fragrant filling. The cardamom adds warmth and delicious flavor.
Print
Pin
Rate
Ingredients
Dough
Filling
1/3

cup

brown sugar

1/3

cup

granulated sugar

Pinch

salt

1

teaspoon

ground cardamom

2

tablespoons

unsalted butter

melted
Coating
1

cup

(198g) granulated sugar

1

teaspoon

ground cardamom
Instructions
Butter ten 3 x 2-inch soufflé molds (see note above about soufflé mold specifics). You could also use ramekins or muffin tin. Line the bottom of each mold with parchment paper, and then generously coat with granulated sugar, tapping out any excess. Place the molds on a baking sheet.
For the filling
In a small bowl, mix together the sugars, cardamom, and salt
To assemble
Roll the dough into a 16 x 12-inch rectangle. Brush the dough with the melted butter and sprinkle the cinnamon-sugar mixture evenly over the top, pressing it lightly into the butter so it adheres. Starting at the long side, roll the dough into a tight cylinder. Pinch the seam gently to seal it and position the dough seam side down. Use a scissors or a sharp knife to cut the dough into 10 equal pieces. If using a muffin tin, cut into 12 pieces instead of 10 .Transfer the pieces to the prepared pans and place them cut side up. Cover the pans loosely with plastic wrap and let the dough rise until doubled, 1 to 1 1/2 hours.

Adjust the oven rack to the middle lower position. Preheat the oven to 375F.

Remove the plastic and bake 22 to 30 minutes, rotating the pan halfway through, until the rolls are golden brown. While the rolls are baking prepare the sugar coating by mixing the granulated sugar and cardamom together.

Transfer the pan to a wire rack and let the rolls cool for a few minutes. Use a kitchen towel or oven mitts to pick up each soufflé mold, then run a knife carefully around the edges of the pan, and flip the roll onto a wire rack. Carefully put the roll right side up, and repeat with the remaining rolls. Toss the buns in the sugar cardamom coating, and let cool slightly before serving.