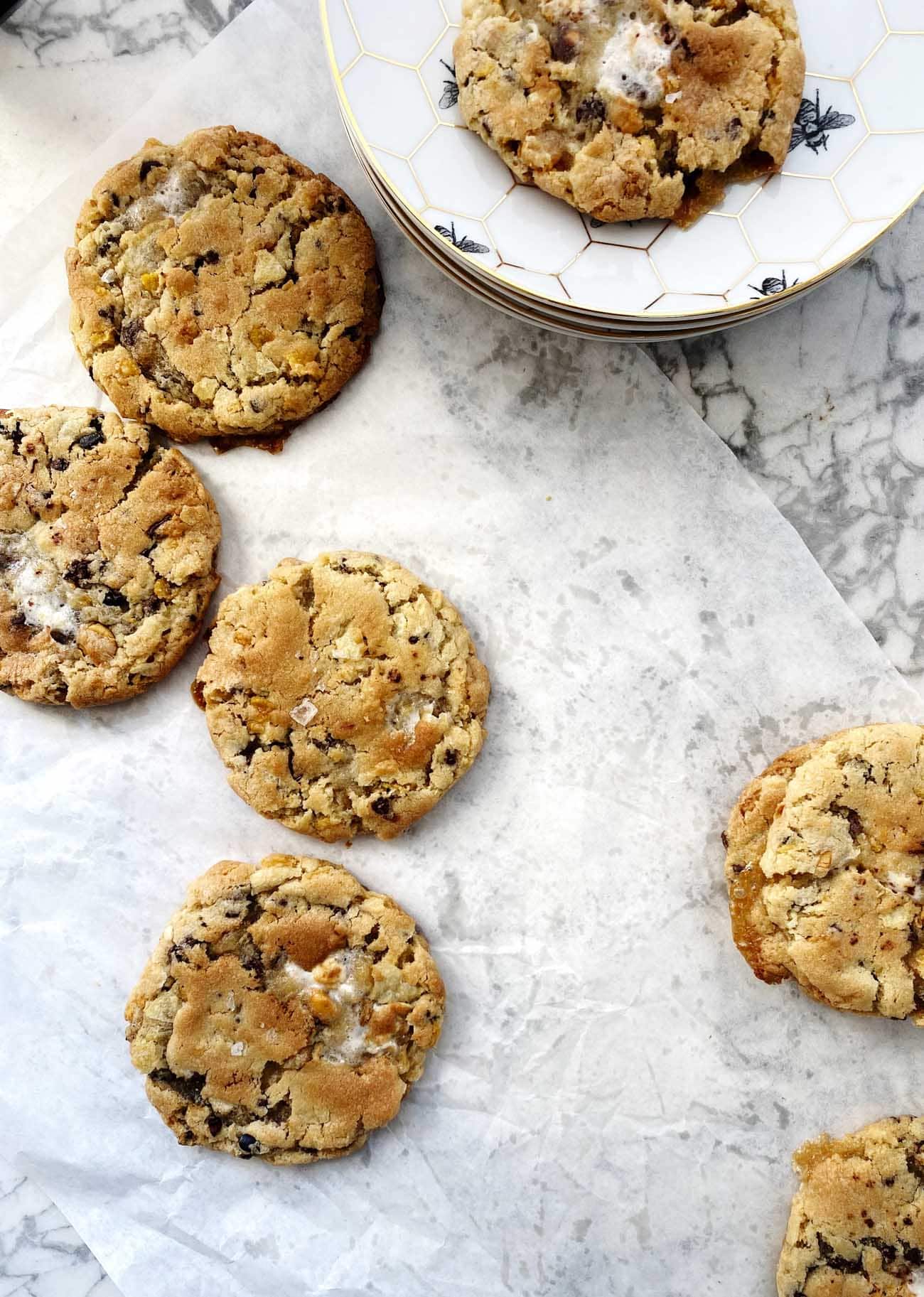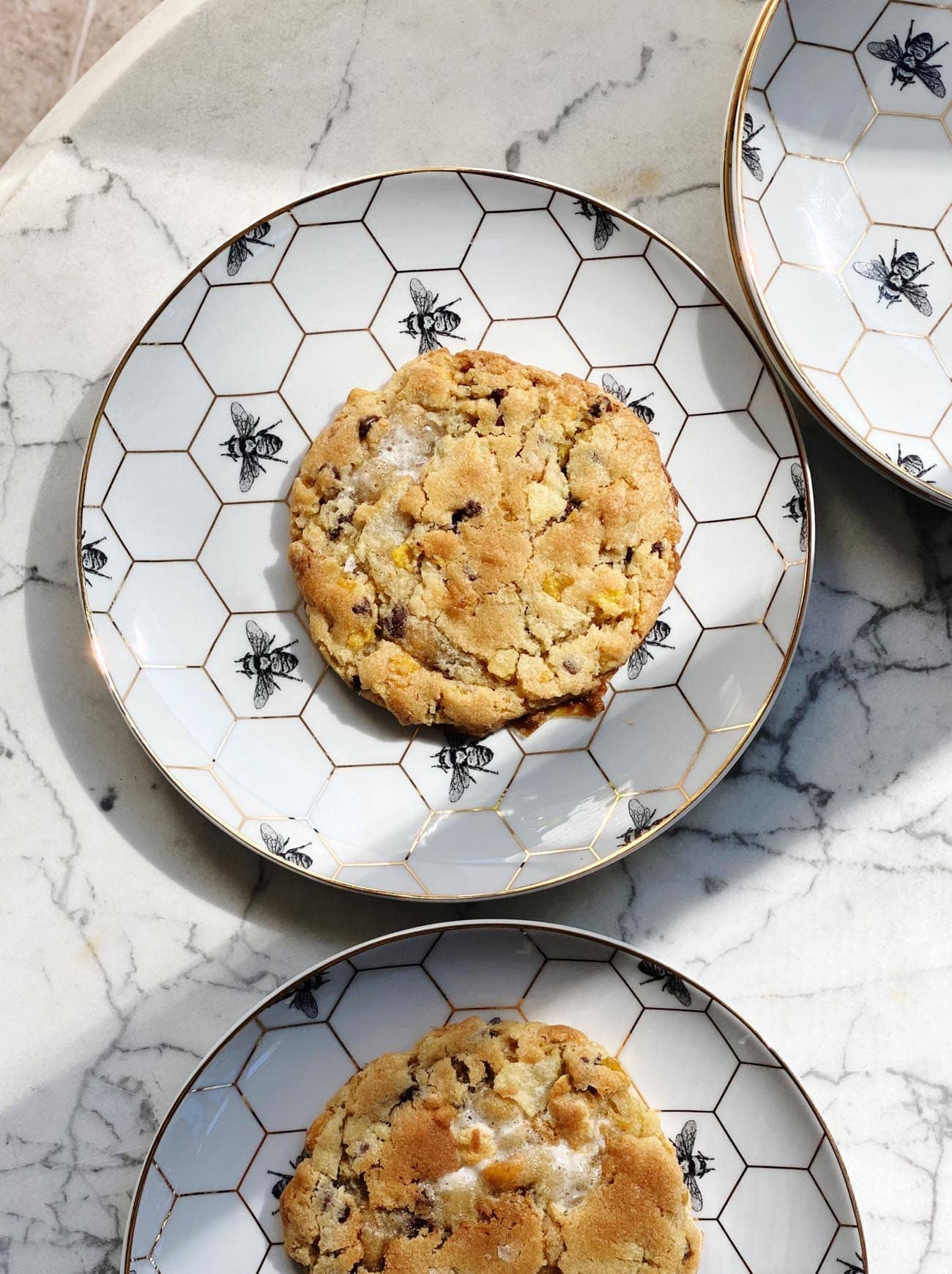 I've been adapting my Chocolate Chip Cookies 2.0 recipe into all sorts of fun flavors whenever I have friends stopping by, or just need a cookie fix. I have a great love for Seven Layer bars, and decided to morph the two recipes together, sort of. There is no sweetened condensed milk or graham crackers like Seven Layer Bars traditionally include, but still seven layers of goodness: chocolate, butterscotch, potato chips, corn flakes, dulcey pearls, cacao nibs, and marshmallows.
These cookies are simple to make and hit all the high notes. Gooey, crunchy, buttery, and delicious all at once. They're versatile, too. I made this version with all of my favorite add-ins; I love the salty crunch of potato chips, the slight bitterness of the cacao nibs, and the nostalgia of butterscotch. But feel free to make them your own favorite version: swap out the butterscotch for white chocolate, or shredded coconut for the potato chips. M&Ms will work here, and toasted nuts, too.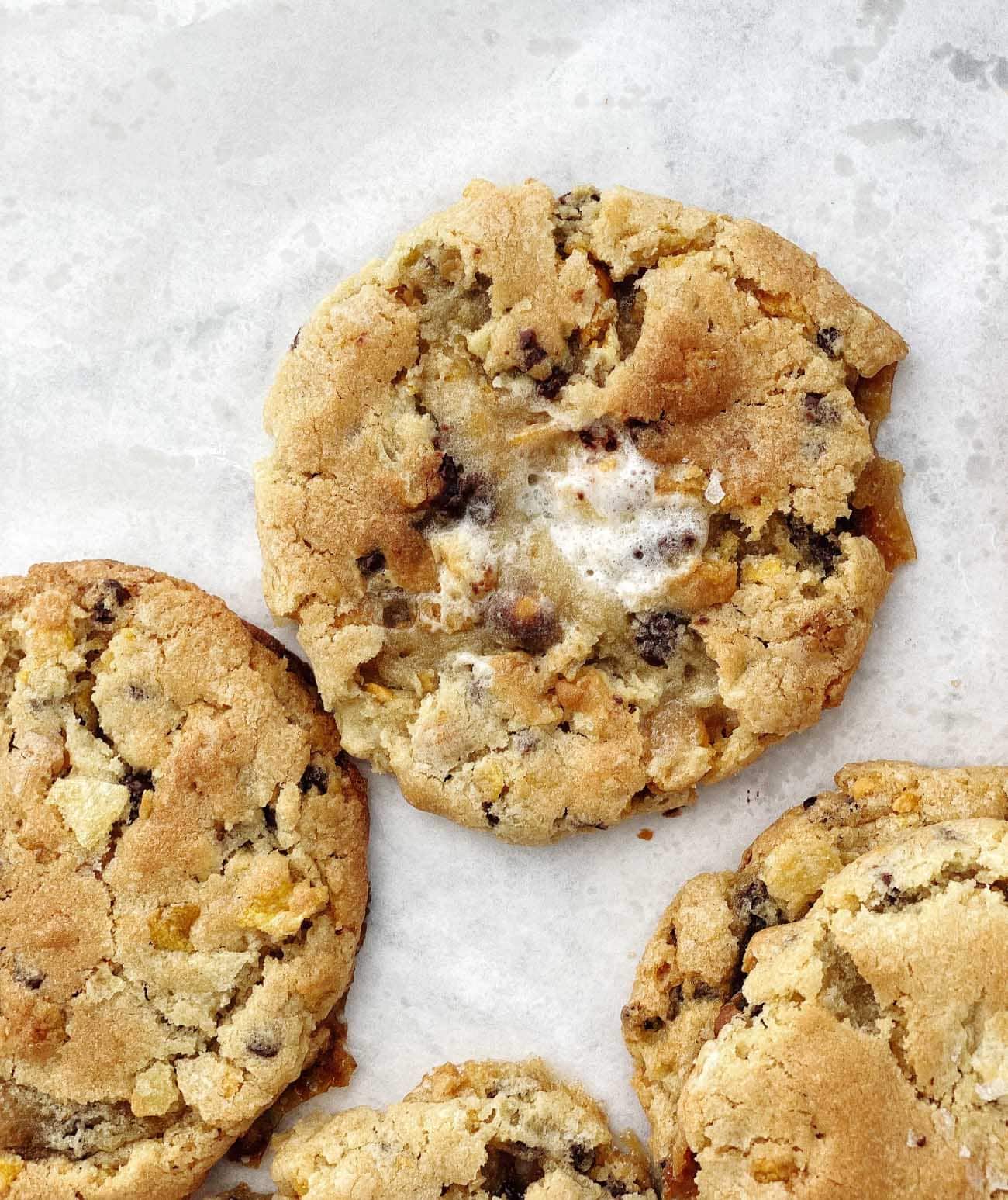 Ingredient Notes for Seven Layer Bar Cookies:
All-purpose flour: Make sure your all-purpose flour is not too high or low in protein; I like to use Gold Medal unbleached all-purpose for cookie baking. At 10.5 percent protein it is a good, moderate choice to keep baked goods tender.
Unsalted butter: I use unsalted butter in my recipes so I can control the salt content. This recipe uses both salt in the dough and sprinkled on top before baking, so unsalted works well here in order to keep the cookies from getting too salty.
Mix-in's: I used corn flakes and potato chips for crunch. Pretzels could be swapped in, but I find they get soft much faster, which can be disappointing. The Dulcey crunchy pearls are delicious and add more crunch, but if you can't track them down, they can be replaced with toasted nuts or omitted. If you omit some layers, note that the cookies will spread a little more as they bake. If the marshmallows are on the edges of the cookie when scooped, they can melt a little wonky. I like to try to tuck them into the dough for better baking.
Pure vanilla extract: I prefer the flavor of pure vanilla extract over artificial, and recommend it here since this recipe includes a tablespoon of vanilla. However, if you love a brand of artificial and use it regularly, it will work fine.
To Freeze Cookie Dough:
Cookie dough can also be formed into balls and frozen for up to 2 weeks. Freeze them on a sheet pan without them touching, then move into a freezer bag. When you're ready to bake, let the cookies sit out at room temperature until the oven preheats. The cookies will need an extra minute if baked frozen.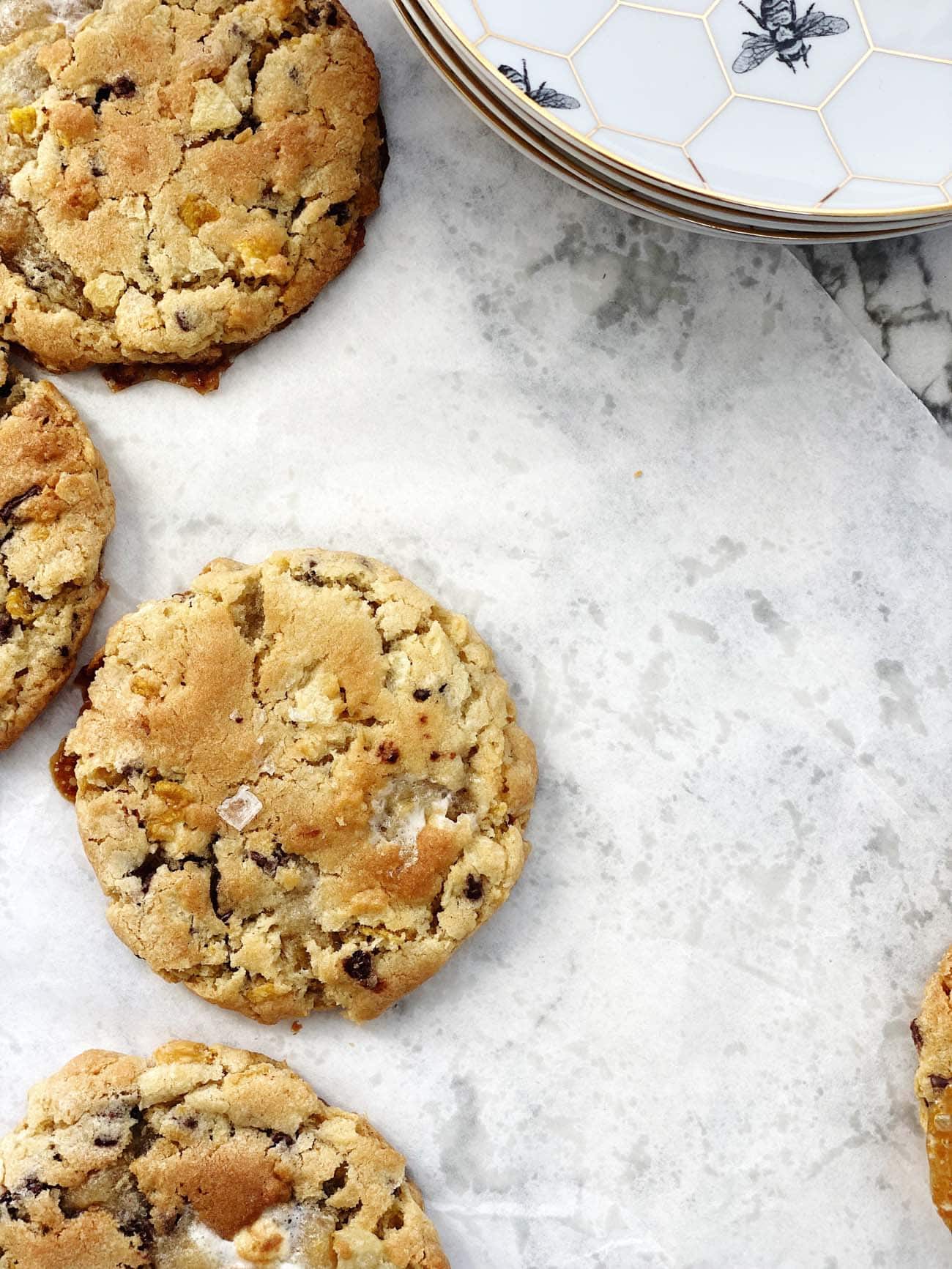 More Cookie Recipes: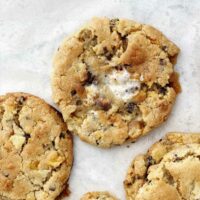 Seven Layer Cookies
With seven different mix-in's, these cookies are gooey, crunchy, buttery, and delicious all at once. Made with mix-in's like chocolate, butterscotch, marshmallows, corn flakes, and potato chips, they're the perfect blend of sweet and salty.
Print
Pin
Rate
Ingredients
2

cups

[284 g] all-purpose flour

1

teaspoon

baking powder

½

teaspoon

baking soda

9

tablespoons

[126 g] unsalted butter

at room temperature

¾

cup

[150 g] granulated sugar

¾

cup

[150 g] brown sugar

¾

teaspoon

salt

1

large egg

1

large egg yolk

1

tablespoon

pure vanilla extract

1

cup

[35 g] kettle potato chips

1

cup

[35 g] corn flakes cereal

1

cup

[50 g] mini marshmallows

½

cup

[71 g] butterscotch chips

2

tablespoons

cacao nibs

chopped

Flaky salt

if desired
Instructions
Adjust an oven rack to the middle of the oven. Preheat the oven to 400F [200C]. Line two sheet pans with parchment paper. 

In a medium bowl, whisk together the flour, baking powder, and baking soda. 

In the bowl of a stand mixer fitted with a paddle, beat the butter on medium speed until creamy, about 1 minute. Add the granulated and brown sugars and salt and beat on medium speed until light and fluffy, 2 to 3 minutes. Scrape down the sides of the bowl, add the egg, yolk, and vanilla, and mix until smooth. Add the flour mixture and beat on low speed until just combined. Add all potato chips, corn flakes, mini marshmallows, butterscotch chips,  mini chocolate chips, white chocolate pearls, and cacao nibs and mix into the batter on low speed. Use a rubber spatula to give the dough a final mix and make sure it is completely combined. 

Form the dough into balls, about 2 tablespoons each [50 g], and place 8 cookies on each sheet pan. Sprinkle each cookie with a little flaky salt, if desired.

Bake one pan at a time, rotating halfway through baking. Bake the cookies until the tops are golden brown and the cookies are slightly puffed and starting to crinkle, 10 to 11 minutes. Remove the baking sheet from the oven and use the back of a spatula to gently press the top of each cookie to flatten it. Let the cookies rest on the sheet pan for 5 minutes, then transfer them to a wire rack to finish cooling. Cookies are best slightly warm but can be stored in an airtight container at room temperature for up to three days. Cookies will soften the longer they sit.
Notes
Cookie dough can be formed and refrigerated overnight, then baked the next day; the cookies may need an extra minute if chilled. Cookie dough can also be formed into balls and frozen for up to 2 weeks; let the cookies sit out at room temperature until the oven preheats. The cookies will need an extra minute if baked frozen.

Most people who have made this cookie haven't had trouble with the bottoms browning too much, but a few have. If your bottoms are really dark/burnt after the 10 minute bake time, double check your oven temperature with an oven thermometer to make sure that your oven isn't running too hot. You could also try baking the cookies with two pans stacked to help. 
*The flattening with a spatula is inspired by both the Mokonuts' Rye-Cranberry Chocolate Chunk Cookies by Dorie Greenspan and the Perfectly Chewy Peanut Butter Cookies by Jessie Sheenan; both these recipes require the cookies to be baked in balls and then flattened slightly to give them a gooey center and a crackly top. 
Throughout my recipes posted on this website, 1 cup of flour equals 142g. Please note that 1 cup of flour can range anywhere from 120g to 142g, depending on the baker or website. I found that after weighting many cups of flour and averaging the total, mine always ended up around this number. If I am posting a recipe from another cookbook, I will use whatever gram measure of flour used in that book, which is why you may see a few posts with a different cup measurement. 
Different brands of flour have varying levels of protein, ranging from low to high, which can result in very different outcomes when baking. I've found Gold Medal all-purpose unbleached flour to be the best option for many of my recipes; I use it in all the baked goods that don't use yeast. For yeasted doughs that call for all-purpose flour, I like to use King Arthur Brand. If you are using White Lily flour, please note that it is a low protein flour and doesn't absorb liquid the same as regular all-purpose flours. Check the back of the flour bag for instructions on substituting it for regular all-purpose flours.