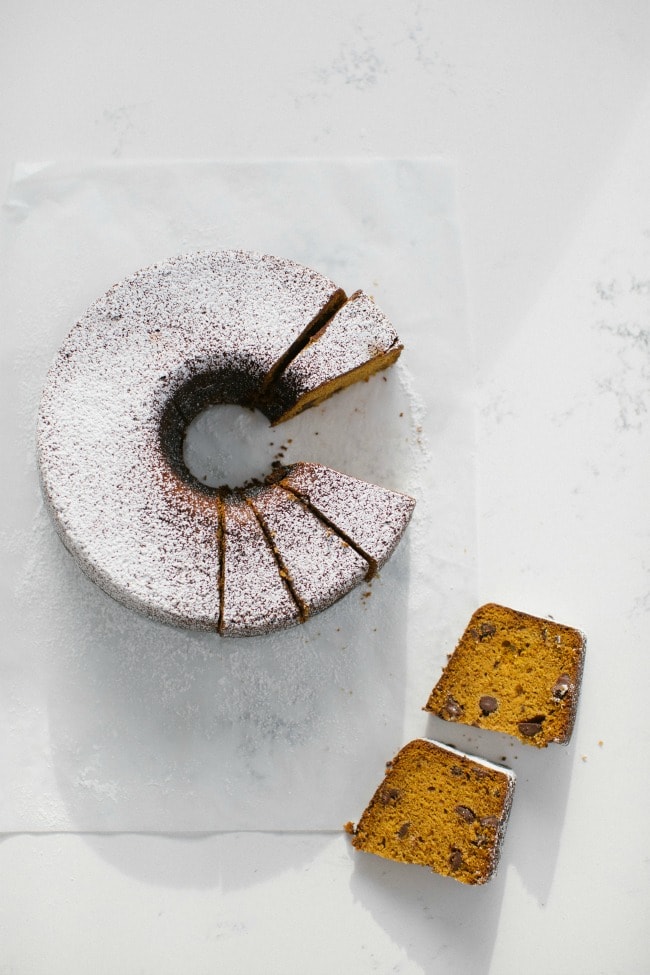 I have a few recipes tucked way back in my site archives that deserve the light of day again. Here is one of them – pumpkin pound cake with chocolate. This recipe also made it into my cookbook (affiliate link), but since it originally debuted here, I thought I'd make it shine with some new photos and feature it again for the holiday season.
This cake been faithful to me for over 20 years. It always turns out tender and moist, with so much flavor; perfect for snowy morning get-togethers, afternoon coffee breaks, and late night nibbles. And for those of you new to baking or wanting to feel more confident in the kitchen, this is a great recipe to start with. The cake is easy to put together, doesn't have any hard-to-find ingredients, and doesn't need a lot of babysitting in the oven. Plus, it lasts for several days, so you can make it ahead of time.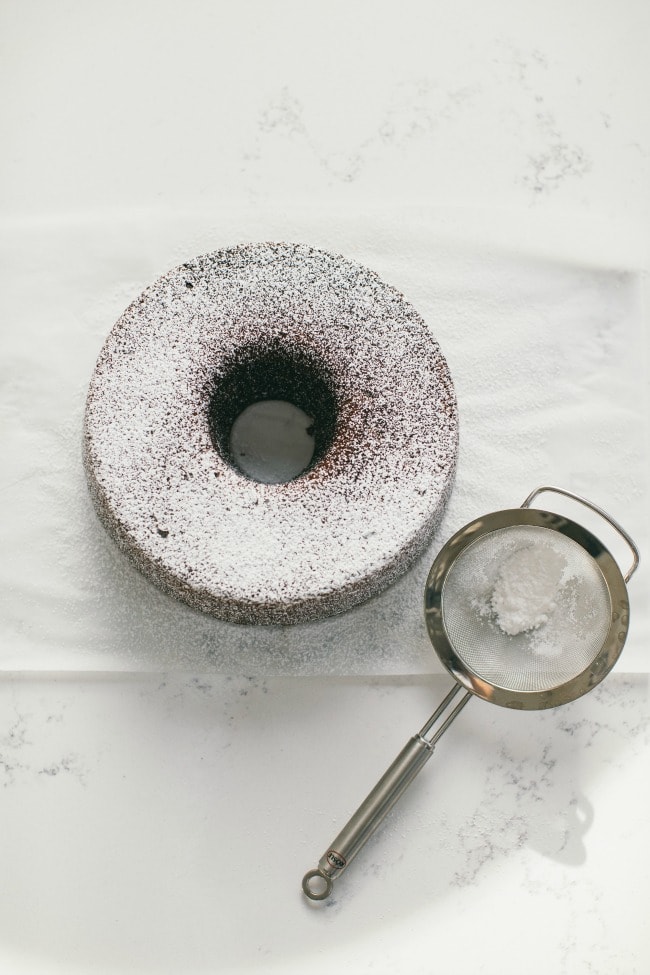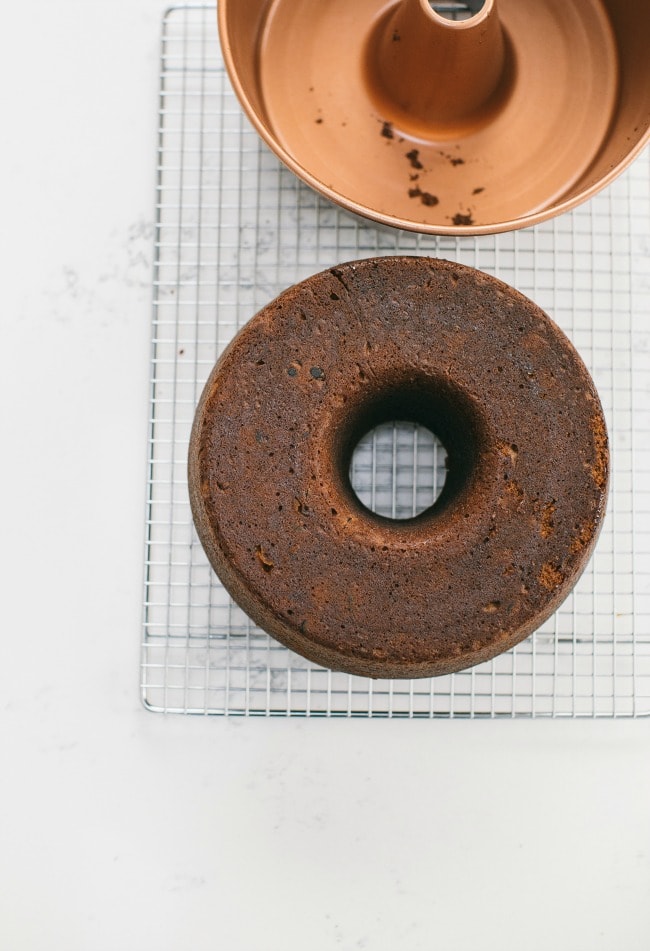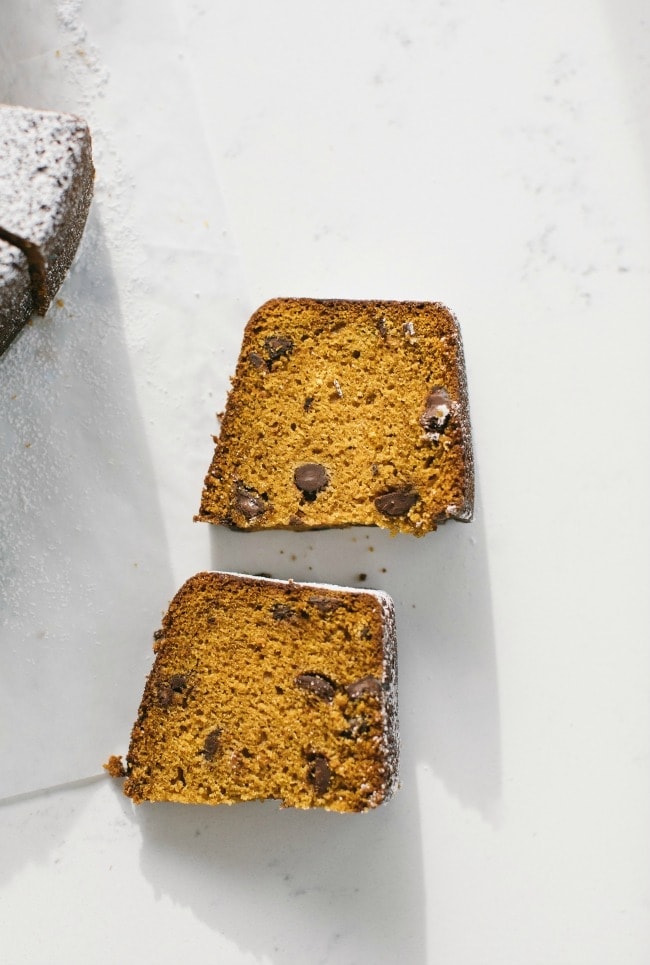 Products Featured
Copper Pound Cake Pan from Nordic Ware
Strainer/Powder Sugar Duster from Rosle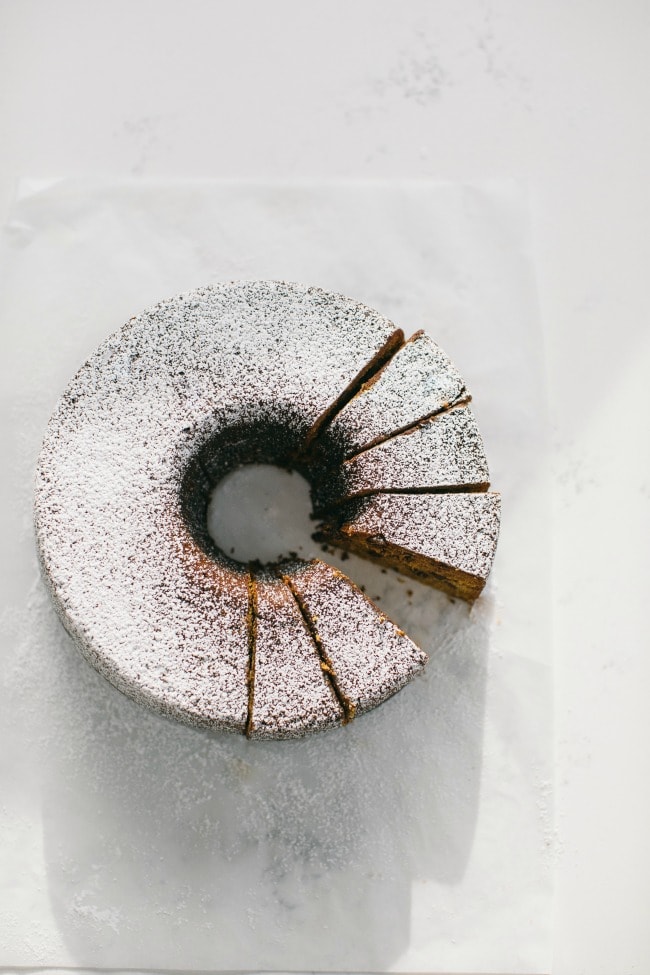 Pumpkin Pound Cake with Chocolate
From The Vanilla Bean Baking Book (affiliate link) by Sarah Kieffer
This is another recipe that has been with me through several baking gigs. Originally it appeared in a cafe I worked at in Minneapolis and was a customer favorite each and every time it found its way into the bake case. I took the recipe with me to Bordertown Coffee, and it was lauded as a beloved breakfast there. The recipe most likely came out of a church cookbook of some sort. I love the combination of pumpkin and chocolate here, but the chocolate could be replaced with pecans or dried cherries. I think this cake tastes better on the second and third day, yay! You can make it ahead of time. serves 8 to 12

3 cups (426g) all-purpose flour
2 teaspoons baking soda
1 teaspoon salt
1 1/2 teaspoons ground cinnamon
3/4 teaspoon ground ginger
1/2 teaspoon grated nutmeg
4 large eggs
1 1/2 cups (297g) granulated sugar
1 1/2 cups (297g) packed brown sugar
3/4 cup canola oil
One 15-ounce can (425g) unsweetened pumpkin puree
2 teaspoons pure vanilla extract
8 ounces (226g) bittersweet chocolate, chopped, or chocolate chips
Confectioners' sugar for dusting
Adjust an oven rack to the lower middle position. Preheat the oven to 350F. Grease and flour a 10-inch tube or Bundt pan.
In a large bowl, whisk together flour, baking soda, salt, cinnamon, ginger, and nutmeg.
In a stand mixer fitted with a paddle, beat the eggs on medium until pale yellow and doubled in volume, 4-5 minutes. Add the granulated and brown sugars and mix on medium until well combined. Add the oil, pumpkin, and vanilla and mix on medium again until completely combined. Add the flour mixture and mix on medium until smooth. Stir in the chocolate with a spatula.
Pour the batter into the prepared pan and bake 45-60 minutes, until a wooden skewer or toothpick inserted in the center comes out clean.
Transfer the pan to a wire rack and let cool for 20 minutes. Invert the cake onto the rack to finish cooling. Dust with confectioners' sugar before slicing.