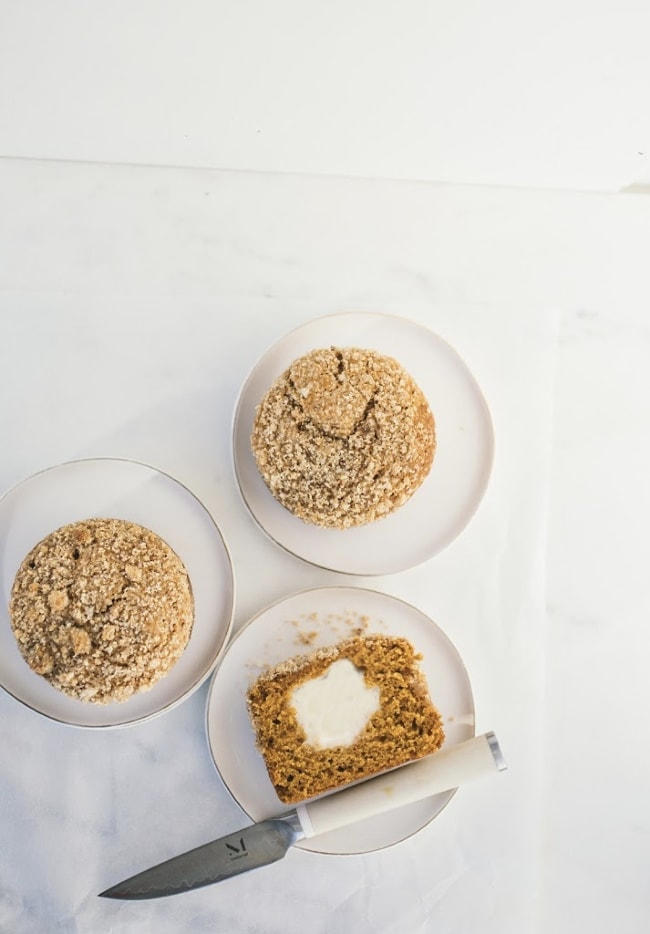 I'm posting again (two days in a row!) because I received a lovely new cookbook (affiliate link) from Fanny Lam of Oh Sweet Day, and these pumpkin and cream cheese muffins spoke to me immediately from amongst the pages. Then after making them and inhaling most of them (and sharing with my neighbors who also devoured them) I decided you might just want this recipe as well for your upcoming holiday weekend and month. They are crazy good; the pumpkin and spices are balanced perfectly and the cream cheese center tangy and sweet. I made them in soufflé molds (my new favorite way to make muffins) but if you don't have any, I have instructions for making them in a regular muffin tin as well.
Other recipes you may enjoy: Banana Poppyseed Muffins with Hazelnut Streusel, Pumpkin Poundcake with Chocolate, Cardamom Pound Cake, Banana Chocolate Bundt Cake.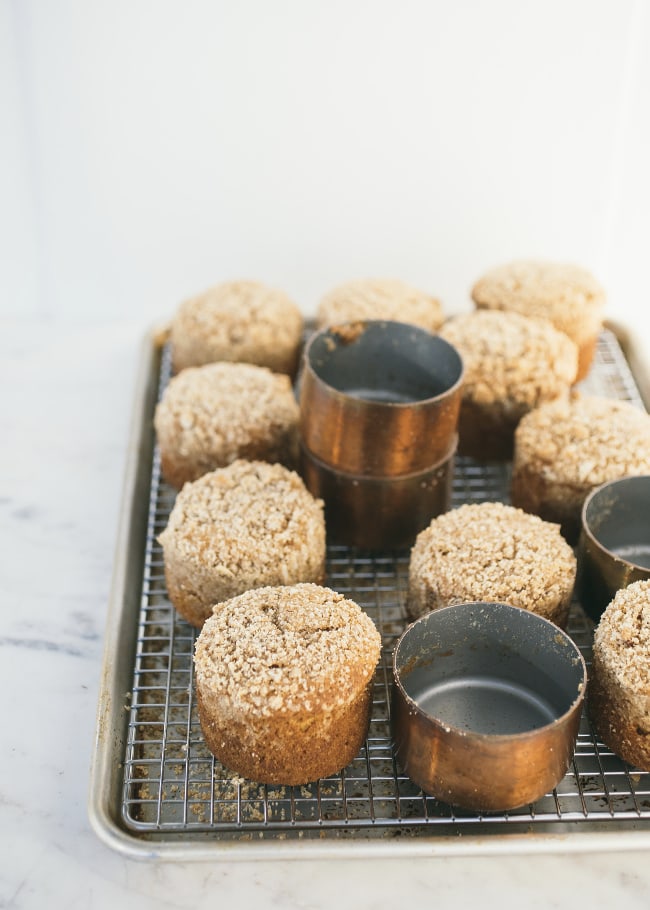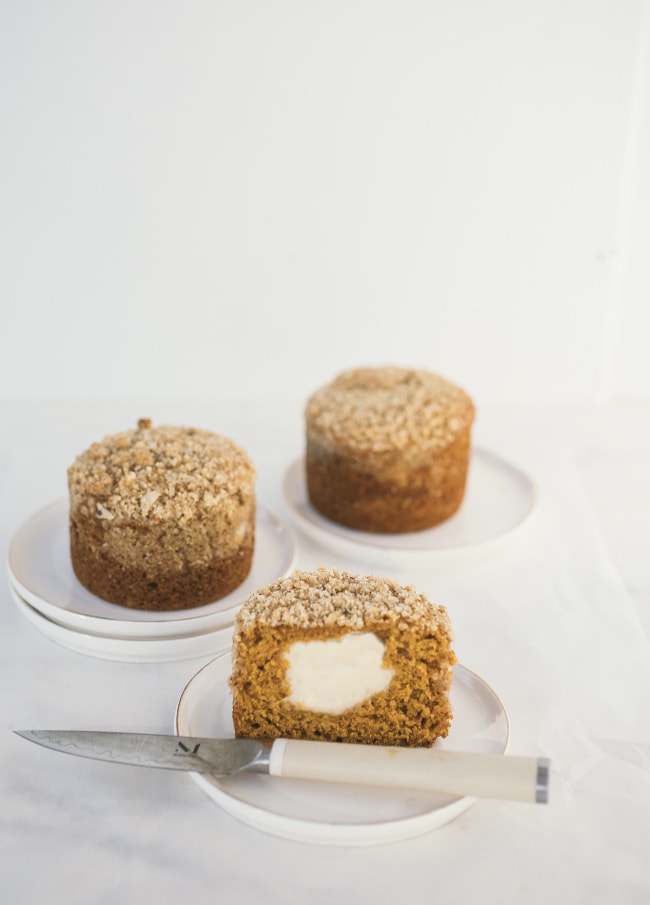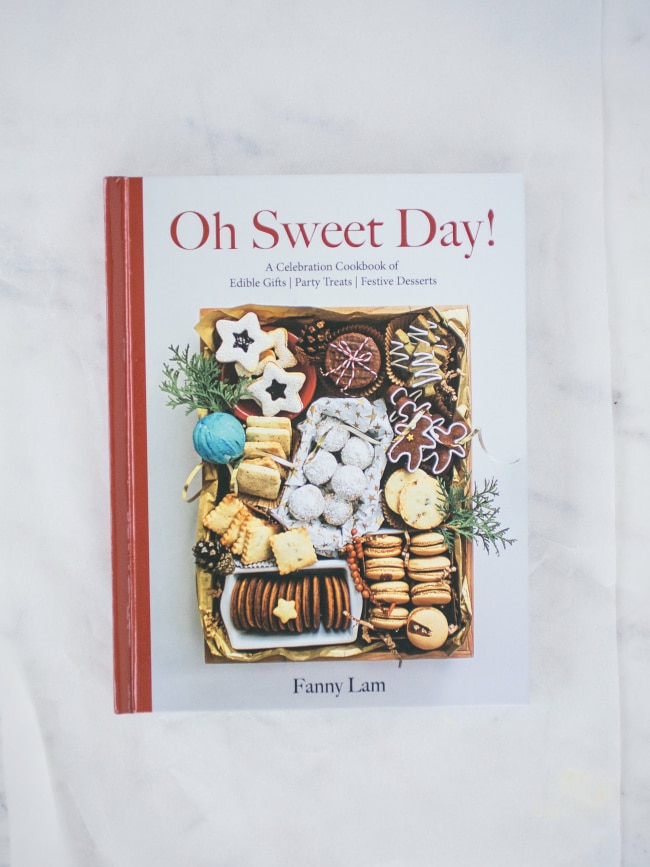 Pumpkin and Cream Cheese Muffins with Streusel
Adapted slightly from Oh Sweet Day! (affiliate link) by Fanny Lam
I've made the rolls in individual soufflé molds, specifically, these 3 x 2-inch copper mini molds from Mauviel. If you do not have soufflé molds, you could use ramekins instead, just make sure they are roughly the same size. The molds I used have straight 2-inch sides, which helps give the muffins their tall shape. If using muffin tins, see baking directions for details. If using regular muffin tins, you will only need half the amount of cream cheese filling. I had leftover streusel in my freezer (from this recipe) and used that, but I've included Fanny's recipe for walnut streusel below.
Cream cheese filling
8 ounces (226g) cream cheese, room temperature
1/2 cup (99g) granulated sugar
1 teaspoon pure vanilla extract
Streusel
1/3 cup (66g) granulated sugar
1/2 cup (71g) all-purpose flour
Pinch salt
1/4 cup walnuts, chopped into bite-sized pieces
3 tablespoons unsalted butter, melted
Pumpkin Muffins
2 cups (284g) all-purpose flour
1 1/2 cup (297g) granulated sugar
1 teaspoon baking powder
1 teaspoon baking soda
1/2 teaspoon salt
1 teaspoon ground cinnamon
1 teaspoon ground ginger
Pinch cloves
1 1/4 cup pumkin puree
3 large eggs, room temperature
1/3 cup vegetable or canola oil
1 teaspoon pure vanilla extract
For the filling
In a small bowl, mix together the cream cheese, sugar, and vanilla until smooth. Refrigerate until ready to use.
For the streusel
In a small bowl, whisk together the sugar, flour, salt, and walnuts. Pour the melted butter over the top and mix until the mixture resembles coarse sand.
For the muffins
Adjust an oven rack to the middle position and preheat the oven to 350F. Butter eight 3 x 2-inch soufflé molds (see note above about soufflé mold specifics) and line the bottom of each mold with parchment paper. Place the molds on a baking sheet. (If using regular muffin tins, place liners in one standard 12-cup muffin tin.)
In a large bowl, whisk together the flour, sugar, baking powder, baking soda, salt, cinnamon, ginger, and nutmeg. Make a well in the center.
In a large bowl or liquid measuring cup, whisk the pumpkin puree, eggs, oil, and vanilla until combined. Pour the wet ingredients into the well in the dry ingredients and mix gently until just combined, making sure there are no dry pockets in the batter.
Evenly divide half the batter among the prepared muffin cups. Place 1 heaping tablespoon of the cream cheese filling in the center of each cup if using soufflé molds (if using regular muffin tins, place 2 teaspoons of the filling in the center). Fill each cup with the remaining pumpkin batter, covering the cream cheese evenly.
Sprinkle the streusel evenly over the tops of the muffins. Bake for 25-30 minutes if using souffle molds (if using regular muffin molds bake 20-25 minutes) until the tops are golden brown and a wooden skewer or toothpick inserted into the center comes out clean (it should be clean of pumpkin – there might be some cream cheese filling on the skewer, which is normal).
Move the baking sheet to a wire rack to cool, and when the molds are cool enough to handle, carefully remove the muffins from each one. Let the muffins cool completely on a wire rack. (Although, if you cut into one when it's still warm, I completely understand.)