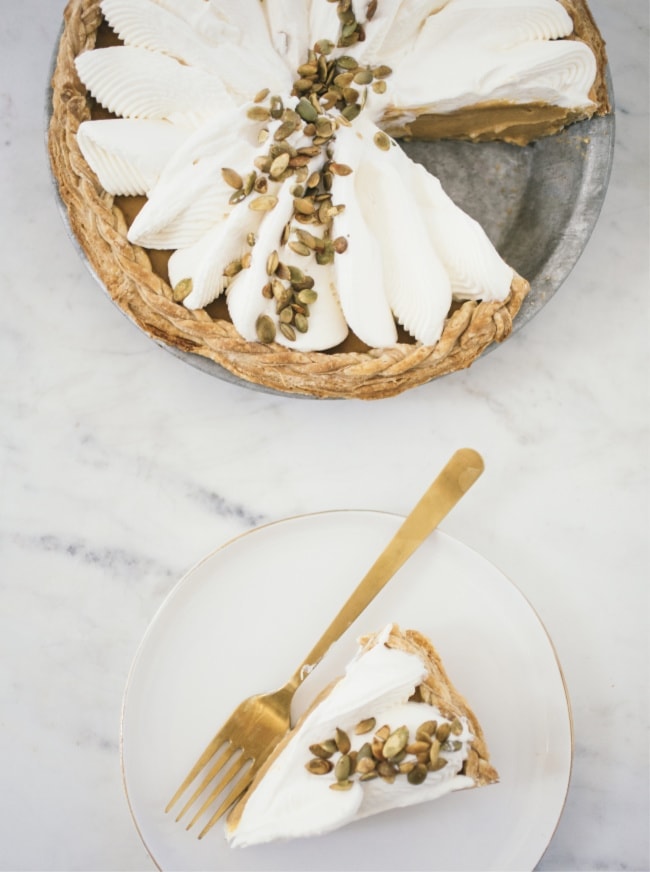 Several people asked for this recipe after I posted a photo of the pie on Instagram, so here it is. This is the pumpkin pie I've made at the last couple Thanksgivings, and it's gone over quite well my family gathering. It is dreamy-creamy, and boasting of pumpkin flavor.
This one is adapted from several favorite pumpkin pie recipes, but the main two it is borrowed from is Yossy's Winter Luxury Pie from her beautiful book Sweeter Off The Vine, and Cook's Illustrated's Pumpkin Pie from Baking Book.
If you don't want to use crème fraîche (it will add a subtle tang of flavor), you replace it with whole milk instead (so one cup whole milk total). I decorated the cake with whipped cream and roasted pepitas. I personally love the crunch they give.
*********************************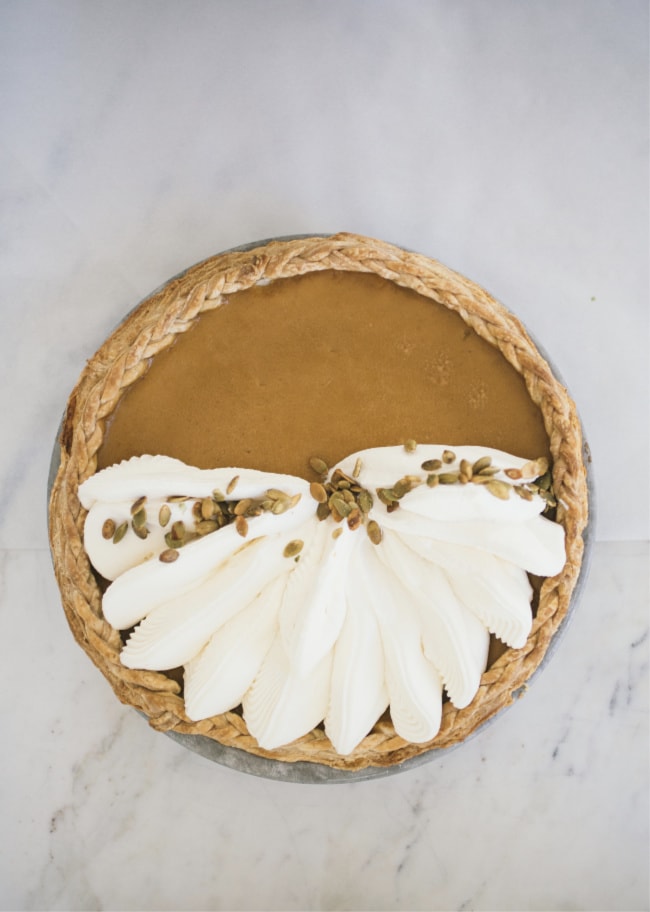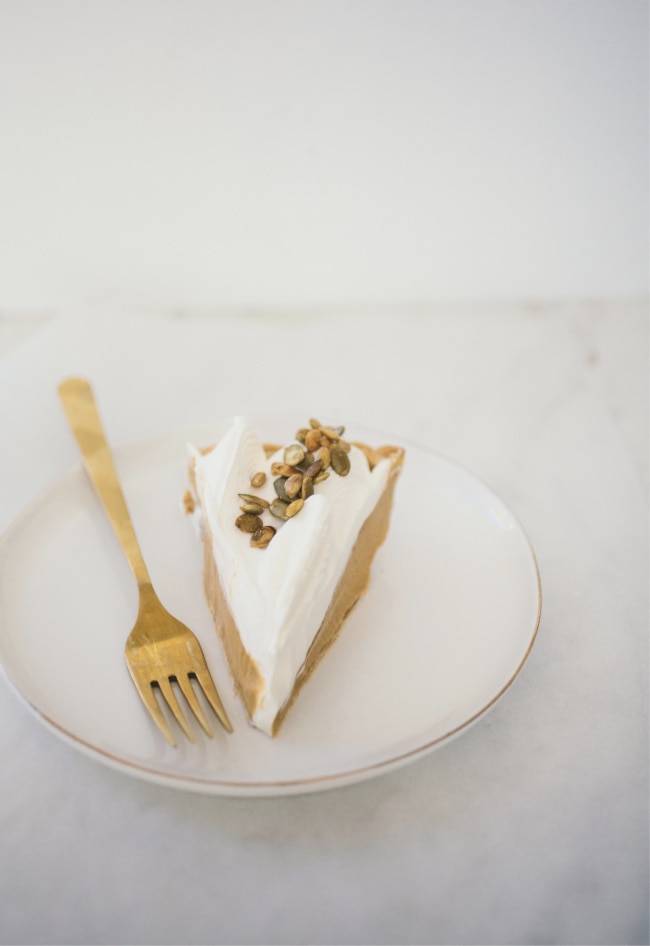 I am going to admit publicly that I am one of the many that start playing Christmas music in November. However, I am well aware that not everyone shares my enthusiasm for holiday tunes (for instance, if I look over and my husband has crazy eyes, I know it's probably time to put on something else, ha).
I've created two playlists in Apple music that have a nice mix of both holiday and 'regular' music, and if you subscribe to Apple music you can listen, too! (Also, this isn't sponsored by Apple music, I just use it a lot.) The first one is called Ease Into Christmas, and you can listen here. The second is called Ease Into Christmas: Jazz + Classics Edition, and you can listen to that here. I add to both playlists frequently, so you might not always get the same thing twice; you've been warned.
I also have a playlist started that is just straight Christmas music (if you are ready to take the plunge) and that one is called Christmas Fun. (If you don't have Apple music, I do have some playlists over on Spotify as well: Holiday Mix 2016, Quiet Holiday, and Classic Christmas.)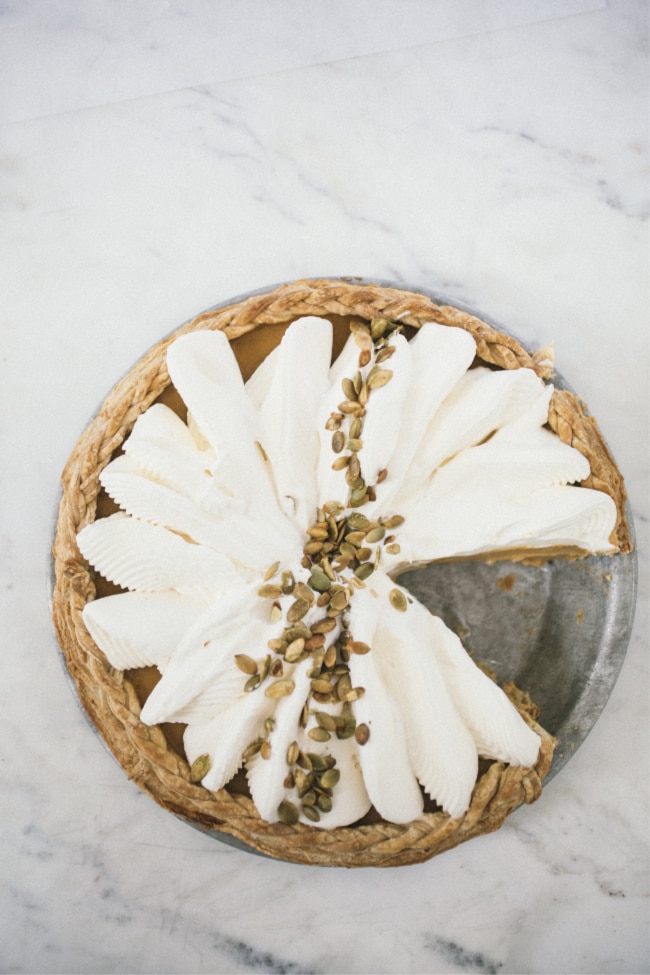 More Pie Recipes: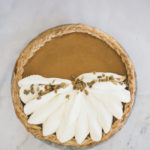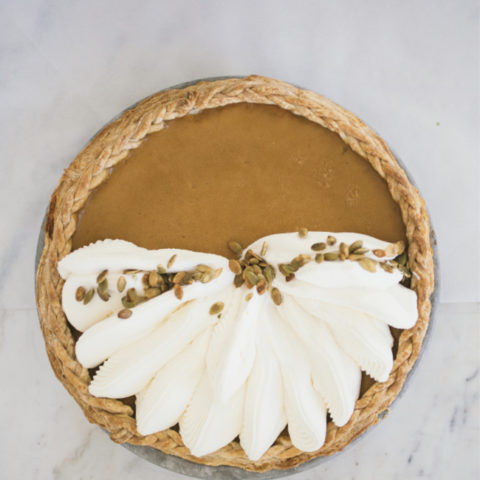 Homemade Pumpkin Pie with Whipped Cream
With a combination of heavy cream and creme fraiche, this pumpkin pie has the creamiest filling, with warm spices and lovely flavor. It's baked in a flaky, buttery single crust.
Print
Pin
Rate
Ingredients
Single Pie Crust
9

tablespoons

128 grams unsalted butter, cold

ice water

1 ¼

cups

180 grams all-purpose flour

1

tablespoons

sugar

½

teaspoon

salt
For the Pie Filling:
1

cup

heavy cream

½

cup

crème fraîche

see note; can be replaced with whole milk

½

cup

whole milk

3

large eggs plus 2 large yolks

1

teaspoon

vanilla extract

1

15-ounce can pumpkin puree

½

cup

brown sugar

¼

cup

granulated sugar

¼

cup

maple syrup

¾

teaspoon

ground cinnamon

½

teaspoon

ground ginger

¼

teaspoon

nutmeg

¾

teaspoon

salt

1

tablespoon

black strap rum

optional
Instructions
For the Pie Crust:
Cut the butter into slices (8-10 slices per stick). Put the butter in a bowl and place in the freezer. Fill a medium-sized measuring cup up with water, and add plenty of ice. Let both the butter and the ice sit for 5-10 minutes.

In the bowl of a standing mixer fitted with a paddle attachment, combine the flour, sugar, and salt. Add half of the chilled butter and mix on low, until the butter is just starting to break down, about a minute. Add the rest of the butter and continue mixing, until the butter is broken down and in various sizes (some butter will be incorporated into the dough, some will still be a bit large, but most should be about the size of small peas). Stop the mixer and use your hands to check for any large pieces of butter that didn't get mixed or any dry patches of dough on the bottom of the bowl; break up the butter and incorporate the dry pieces as best you can. Slowly add the water, a few tablespoons at a time, and mix until the dough starts to come together but still is quite shaggy (if the dough is not coming together, add more water 1 tablespoon at a time until it does).

Dump the dough out on your work surface and flatten it slightly into a square. Gather any loose/dry pieces that won't stick into the square and place them on top. Gently fold the dough over onto itself and flatten again. Repeat this process 3 or 4 more times, until all the loose pieces are worked into the dough. Be very gentle with your movements, being careful not to overwork the dough. Flatten the dough one last time into a circle, and wrap in plastic wrap. Refrigerate for 30 minutes (and up to 2 days) before using.

Adjust oven rack to lowest position, place rimmed baking sheet on rack, and heat oven to 400°F. Remove dough from refrigerator and roll out on generously floured (up to 1/4 cup) work surface to 12-inch circle about 1/8 inch thick. Roll dough loosely around rolling pin and unroll into pie plate, leaving at least 1-inch overhang on each side. Working around circumference, ease dough into plate by gently lifting edge of dough with one hand while pressing into plate bottom with other hand.

Trim overhang to 1/2 inch beyond lip of 9-inch pie plate. Fold overhang under itself; folded edge should be flush with edge of pie plate. Using thumb and forefinger, flute edge of dough. Freeze dough for 20 minutes while the oven preheats. Remove pie pan from the freezer, line crust with foil, and fill with pie weights or pennies. Bake on rimmed baking sheet 15 minutes. Remove foil and weights, rotate plate, and bake 5 to 10 additional minutes until crust is golden brown and crisp. Remove pie plate and baking sheet from oven. Let cool only slightly before filling with pumpkin pie filling.
For the Pie:
Preheat oven to 400F. While the pie shell is baking (see recipe below), whisk cream, milk, crème fraîche, eggs, yolks, and vanilla together in medium bowl. Combine pumpkin puree, sugars, maple syrup, cinnamon, ginger, nutmeg, and salt in large heavy-bottomed saucepan; bring to sputtering simmer over medium heat, 5 to 7 minutes. Continue to simmer pumpkin mixture, stirring constantly until thick and shiny, 10 to 15 minutes.

Remove pan from heat and stir in the black strap rum if using. Whisk in cream mixture until fully incorporated. Strain the mixture through fine-mesh strainer set over a medium bowl, using a spatula to press the solids through the strainer. Re-whisk the mixture and transfer to warm pre-baked pie shell. Return the pie plate with baking sheet to the oven and bake pie for 10 minutes. Reduce the heat to 300°F and continue baking until the edges of the pie are set and slightly puffed, and the center jiggles only slightly, 27 to 35 minutes longer (see notes below). Transfer the pie to wire rack and cool to room temperature, 2 to 3 hours (it can also be refrigerated for several hours before serving). Cut into wedges and serve with whipped cream.
Notes
If you use a deep 9-inch pie pan, the filling fits perfectly; if you use a shallower pan, you may have to omit 1/2 cup of the filling (Yossy has a note in her book that you can bake any extra filling alongside the pie in a buttered ramekin until it puffs slightly in the center. I haven't tried this tip, but – genius.)
Don't be afraid to add more baking time to the pie if needed; you don't want to pull the pie out of the oven if the center is very loose. You can use an instant thermometer to check the internal temperature of the pie – people argue that somewhere between 170 and 180F is the perfect temperature, depending on how firm you want the center. I do the jiggle test (and look for the slightest jiggle). 
If the pie does need more oven time, you can cover the edges with aluminum foil to protect them from over-browning. A pie shield is another great alternative; I have this one here and use it all the time.