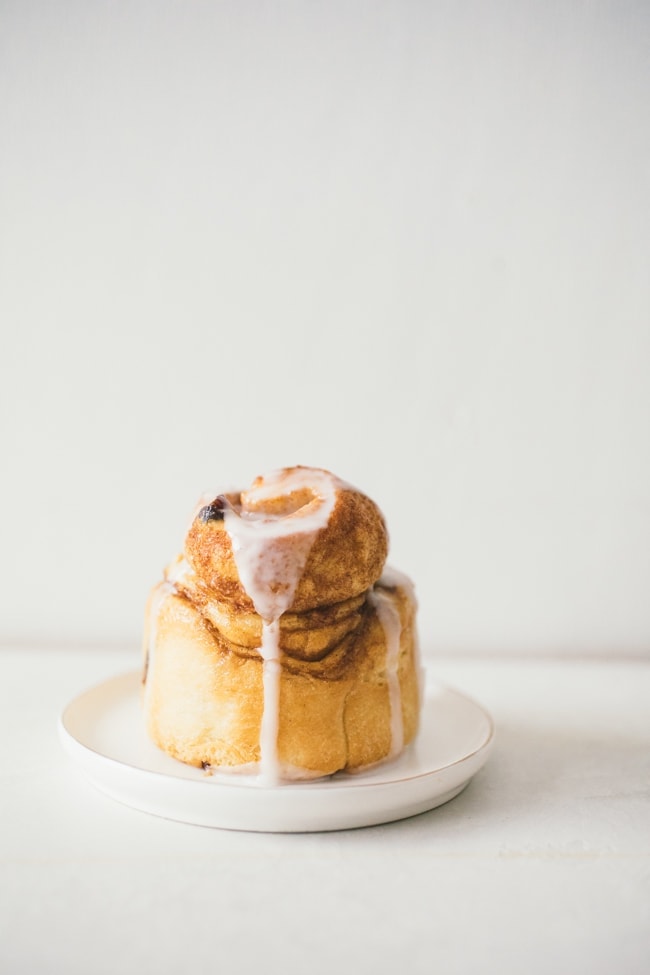 I've mentioned quite a bit on this site that I contribute over at Artisan Bread in Five Minutes a Day – I've been working with Jeff Hertzberg and Zoë François for about six years. While I write some blog posts for them and spend a good deal of time over on their Instagram account, one of the highlights of my job is helping them work on cookbooks. About this time a year ago Zoë was baking piles of bread and I was photographing them for the new book, Holiday and Celebration Breads in Five Minutes a Day (affiliate link). We spent a lot of time together talking and not talking, laughing hysterically, singing, and ranting about the state of the world. It was a lot of hard work, but I enjoyed every moment of it.
I was a fan of the Bread in Five series before I met Jeff and Zoë, and now after spending time with the two of them, I can't rave about them, and their books, enough. I've made boules, baguettes, bagels, doughnuts, beignets, coffee cake, sandwich bread, dinner rolls, bostok, and cinnamon rolls with their dough. This new book is one of my favorites in their collection – filled with breads of the world, for just about every occasion. From Tahini Swirled Challah, to Christmas breads from all over Europe (and beyond), pitas for Ramadan and other celebrations, monkey bread for after school, Honey-Glazed Doughnuts, and of course, plenty of sticky bun and cinnamon roll recipes.
My post today features the Panettone dough from their Holday book. I've swirled Panettone with sugar and cinnamon, and then baked the buns in soufflé molds. One of the things absolutely love about Zoë's doughs is that they are so versatile; you can use them in so many applications and they turn out great. This is another example of that.
If you haven't tried out any Bread in 5 recipes yet, I highly encourage you to! If you're new to bread baking, their recipes are a great place to start, and if you've been baking bread for awhile, there is so much room for experimentation. It's an easy and delicious way to make bread a part of your daily life.
*******************
Some other recipes you may enjoy: Cinnamon Buns, Pumpkin Spice Bread, and Pumpkin Scones.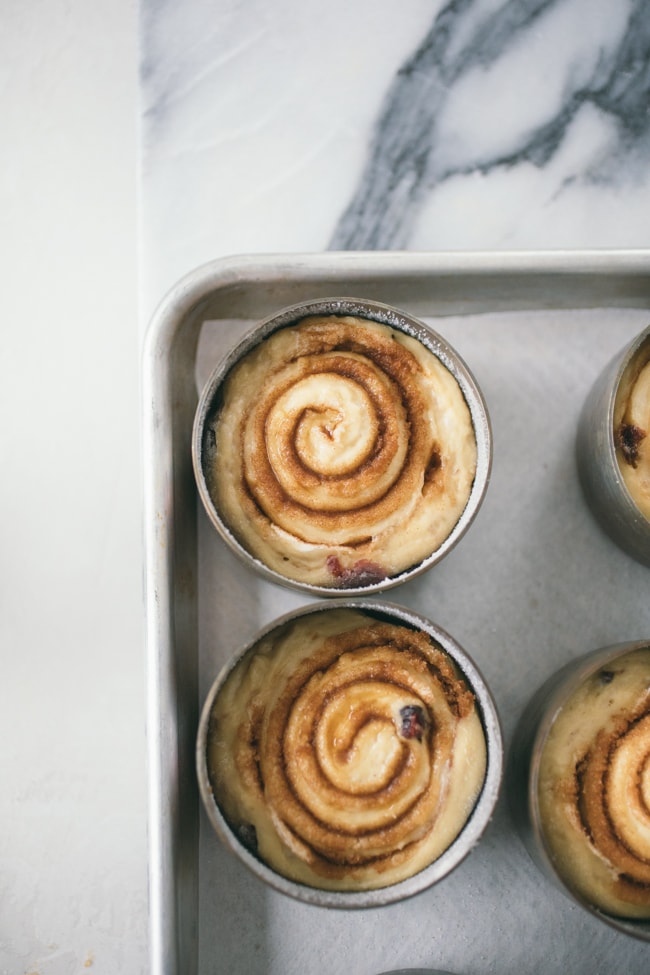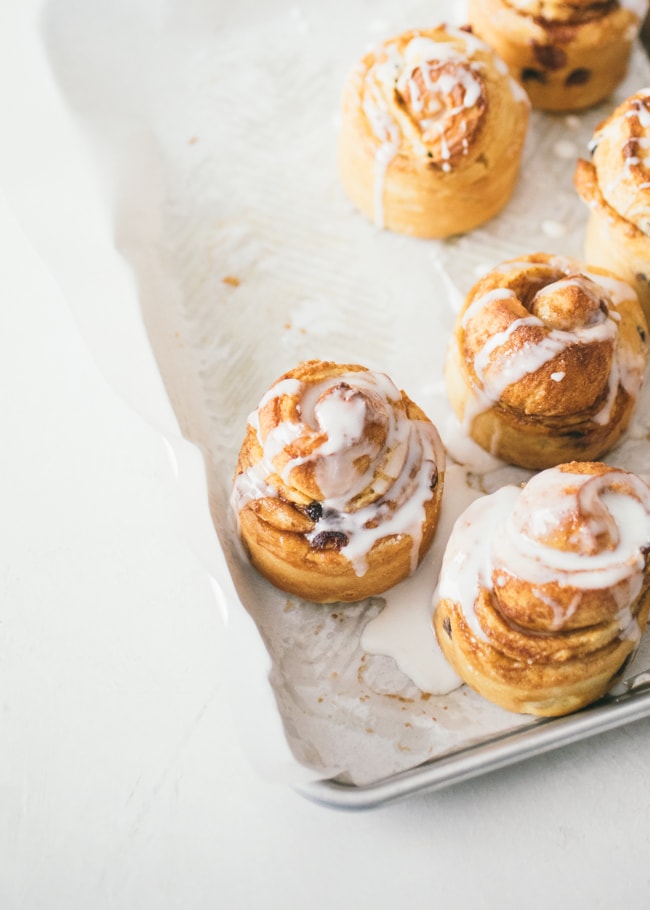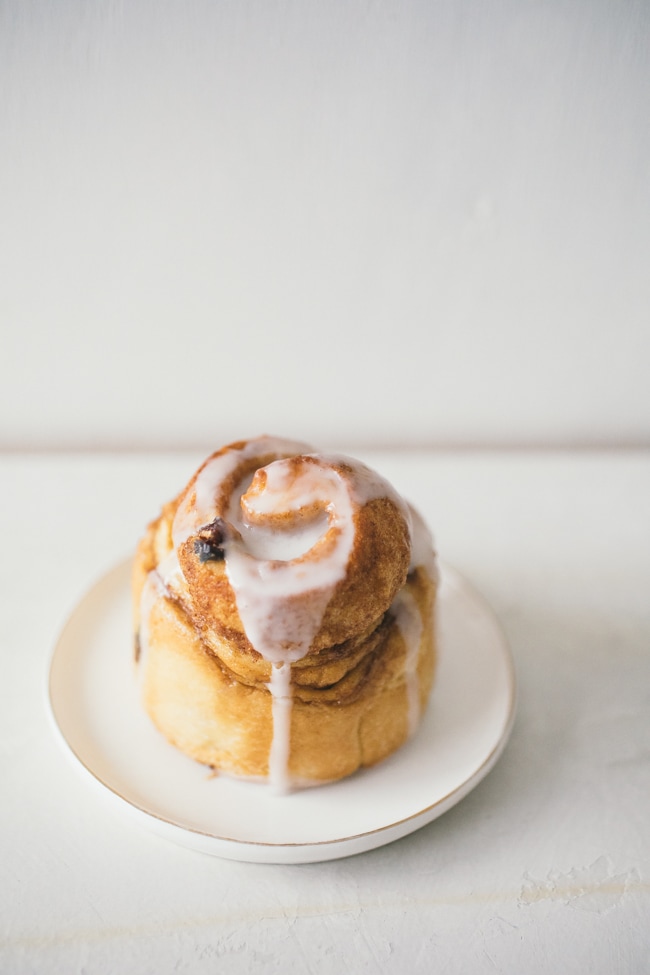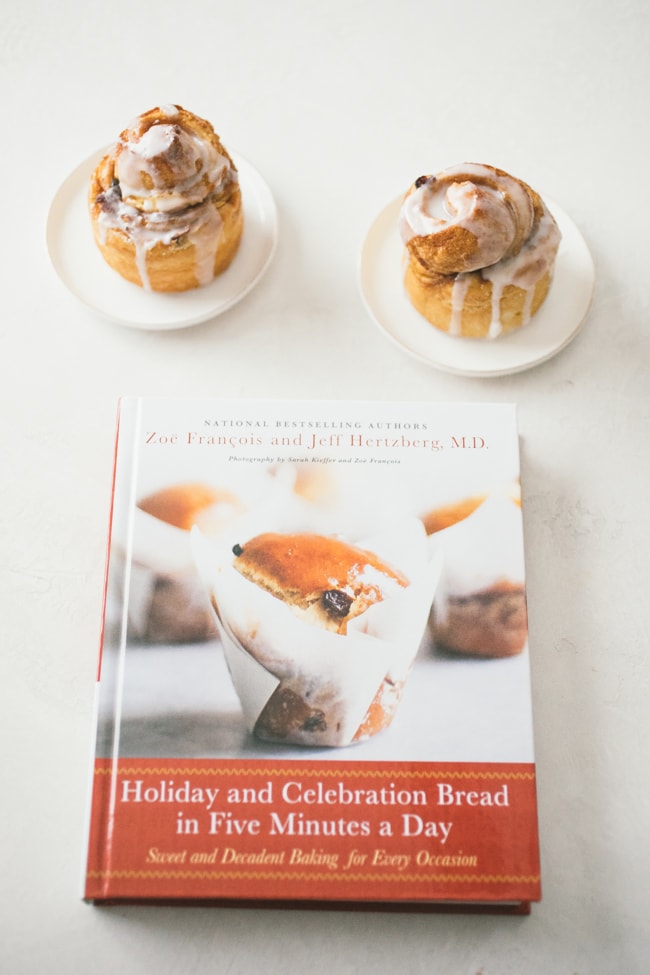 Panettone Swirl Buns
Adapted from Holiday and Celebration Bread in Five Minutes a Day (affiliate link), by Zoë Francois and Jeff Hertzberg
The panettone dough recipe will make more dough than you need for the buns. The leftover dough can be held in the refrigerator for up to 5 days, or frozen for up to 3 weeks. To freeze the dough: divide it into loaf-sized portions (1-2 pound portions), and wrap it very well or seal it in airtight containers. Defrost in the refrigerator when ready to use, then shape, rest, and bake as usual. The recipe can be halved if desired. Artisan Bread in Five has instructions for regular Panettone here.
I've made the rolls in individual soufflé molds, specifically, these 3 x 2-inch copper mini molds from Mauviel. If you do not have soufflé molds, you could use ramekins instead, just make sure they are roughly the same size (you can also bake these buns in a 9×13-inch baking pan if you do not own any molds). The molds I used have straight 2-inch sides, which helps give the rolls their tall shape. The sides of the pans are buttered and then dusted with sugar, which caramelizes the sides of the buns, making for an incredible roll.
The one downside to the copper molds is that they are crazy hot when they come out of the oven, which can make it a little tricky to get them out. I use a kitchen towel and wrap it around the base of the copper mold, then run a knife carefully around each roll, and flip them onto a wire rack. Make sure to line the bottom of each mold with parchment paper as noted in the instructions, or the buns will stick to the bottom and it will be extra hard to get them out. Dough recipe makes about 4 1/2 pounds of dough
1 1/2 cups (340g) lukewarm water (100F or below)
1 tablespoon (10g) granulated yeast
1 tablespoon (17g) kosher salt
1/2 cup (170g) honey
8 large eggs, room temperature
1 cup (2 sticks | 225g) unsalted butter, melted and slightly cooled
1 teaspoon lemon extract
2 teaspoons pure vanilla extract
2 teaspoons lemon zest, grated
2 cups (340g) mixed dried and/or candied fruit (I used a mixture of dried cranberries and candied orange peel, but golden raisins, dried pineapple, dried apricots, and dried cherries are all good options.)
7 1/2 cups (1065g) all-purpose flour
Filling
3/4 cup (149g) brown sugar
1 tablespoon ground cinnamon
Pinch salt
2 tablespoons butter, melted
Icing
2 ounces cream cheese
Pinch salt
1/2 teaspoon pure vanilla extract
2-4 tablespoons water
2 cups (226g) confectioners' sugar
For the Panettone dough
Mix the water, yeast, salt, honey, eggs, melted butter, extracts, and lemon zest in the bowl of a stand mixer fitted with a paddle, a 6-quart bowl, or a lidded (not airtight) food container (affiliate link).
Mix in the dried fruit and flour without kneading, using the paddle attachment (if using a stand mixer), a Danish dough whisk (affiliate link), or a spoon. If you're not using a stand mixer, you many need to use wet hands to incorporate the last bit of flour. The dough will be very loose, but will firm up when chilled (don't try to use it without chilling).
Cover (not airtight) and allow to rest at room temperature until the dough rises for 2 hours.
Chill the dough for at least 2 hours, and up to 5 days.
On baking day: Butter ten 3 x 2-inch soufflé molds (see note above about soufflé mold specifics, or for other baking options). Line the bottom of each mold with parchment paper, and then generously coat with granulated sugar, tapping out any excess. Place the molds on a baking sheet.
Make the filling: In a small bowl, mix together the brown sugar, cinnamon, and salt.
Remove 2 pounds of dough from your dough bucket, and place it on a generously floured surface. Knead the dough a few times, and shape into a ball. Cover with a tea towel and let rest on the counter for 15-20 minutes.
Roll the dough into a 16 x 12-inch rectangle. Brush the dough with the 2 tablespoons melted butter and sprinkle the cinnamon-sugar mixture evenly over the top, pressing it lightly into the butter so it adheres. Starting at the long side, roll the dough into a tight cylinder. Pinch the seam gently to seal it and position the dough seam side down. Use a scissors or a sharp knife to cut the dough into 10 equal pieces. Transfer the pieces to the prepared pans and place them cut side up. Cover the pans loosely with plastic wrap and let the dough rise until doubled, 1 to 1 1/2 hours.
Adjust the oven rack to the middle lower position. Preheat the oven to 350F.
Remove the plastic and bake 22 to 30 minutes, rotating the pan halfway through, until the rolls are golden brown. While the rolls are baking prepare the icing.
Transfer the pan to a wire rack and let the rolls cool for a few minutes. Use a kitchen towel or oven mitts to pick up each soufflé mold, then run a knife carefully around the edges of the pan, and flip the roll onto a wire rack. Carefully put the roll right side up, and repeat with the remaining rolls. Let cool for 5 minutes, then place a piece of parchment paper under the wire rack. Pour the icing over each Panettone roll. Serve warm.
For the icing
Place the cream cheese in a small bowl. Add the salt, vanilla, and 2 tablespoons water and mix until smooth. Add the confectioners' sugar and mix until combined, adding more water if needed, until the desired consistency is reached.