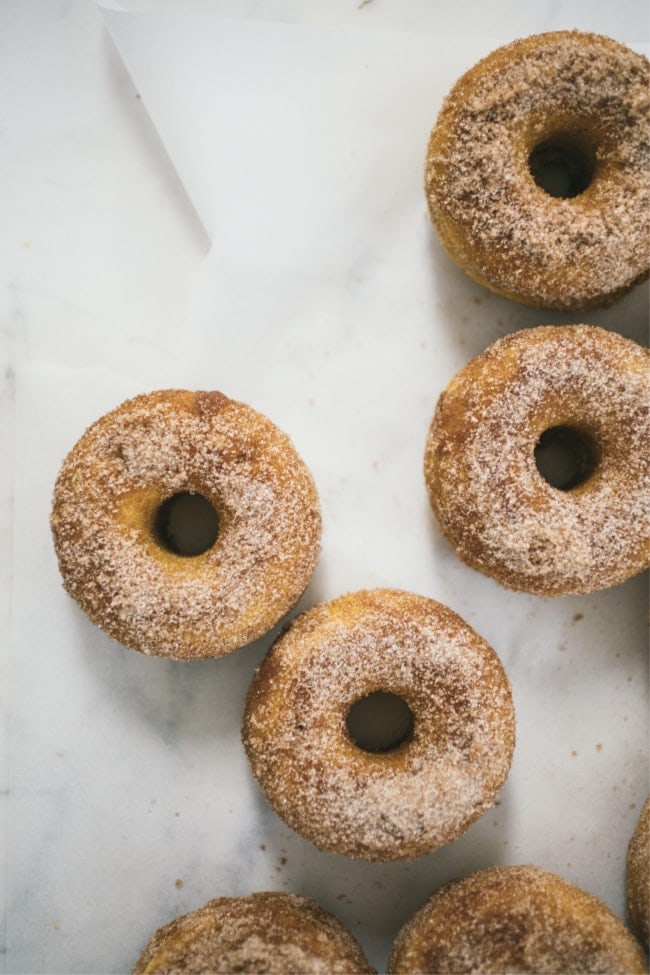 I normally prefer fried donuts if have a choice, but they can be a lot of work and the kitchen aftermath is not always worth the effort. I make these baked pumpkin donuts every fall and never hear any complaints – they are muffin-y in taste, but delicious none-the-less. This recipe was actually originally for muffins, but I prefer them in donut shape – they bake up quite nice, and aren't as dense with the smaller height and the hole in the middle.
Other similar recipes you may enjoy: Vanilla Donuts with Pumpkin Pastry Cream, Brioche Donuts with Chocolate Bourbon Glaze, Pumpkin Poundcake with Chocolate, and Pumpkin Scones.
*****************************************
A few things:
Baked From Scratch Magazine has their Holiday Cookie issue out. I contributed a few recipes to it, and you can find it here.
The Holiday and Celebration Bread in Five Minutes a Day book (affiliate link) is available for pre-order! I've worked on the last four Artisan Bread in 5 Minutes a Day books, and helped photograph this new book. It's a wonderful collection, and I'll be sharing from it later this week.
It's a *little* early for Christmas music, but this Ingrid Michaelson Songs For the Season (affiliate link) album came out this week, and it's pretty gosh darn lovely.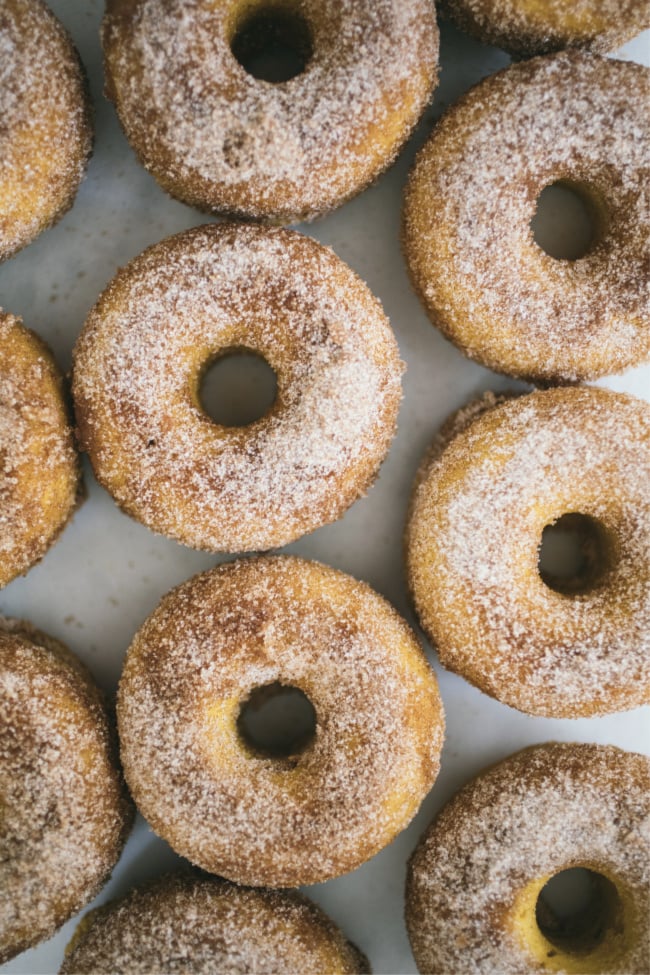 Baked Pumpkin Donuts
Adapted from Everyday Food Magazine
Not all donut pans are made the same. I used this one here (affiliate link), which makes a slightly smaller, thicker donut than a standard donut pan. If you do use a pan like this, you will have to bake the donuts a few minutes longer.
You can also make these donuts into muffins: scoop 1/3 cup batter into each muffin cup and bake 20-30 minutes, until a toothpick comes out clean. Follow directions for brushing with melted butter and coating in sugar.
3 cups (420g) all-purpose flour
2 1/2 teaspoons baking powder
1/4 teaspoon baking soda
1 teaspoon coarse salt
1/2 teaspoon nutmeg
1/8 teaspoon cloves
1/3 cup buttermilk
1 1/4 cups unsweetened pumpkin puree
1/2 teaspoon pure vanilla extract
10 tablespoons (142g) unsalted butter, room temperature
3/4 cup (149g) brown sugar
2 large eggs
Sugar coating
3/4 cup (149g) granulated sugar
2 1/2 teaspoons cinnamon
4 tablespoons (57g) unsalted butter, melted
Adjust an oven rack to the middle position and preheat the oven to 350F. Lightly grease the donut pan.
In a medium bowl, whisk together the flour, baking powder, baking soda, salt, nutmeg and cloves.
In a liquid measuring cup, whisk together the buttermilk and pumpkin puree.
In the bowl of a stand mixer fitted with a paddle, beat the butter for a minute until creamy. Add the brown sugar and beat on medium until light and fluffy, 2-3 minutes. Beat in the vanilla and then the eggs, one at a time, scraping down the bowl as needed. With the mixer on low, add the flour mixture in three additions, alternating with two additions of the pumpkin mixture, and beat to combine.
Scoop or pipe the batter into a donut pan (affiliate link), filling almost to the top (using a piping bag or a ziploc bag with the corner snipped off to pipe the donuts will make for a more even donut, but a spoon will work, too). Smooth the top if needed. Bake for 8-10 minutes (or longer if your pan is deeper, see note), until a toothpick comes out clean.
In a medium bowl, mix together the sugar and cinnamon for the sugar coating.
Flip the donuts from the pan onto a wire rack. Working with one at a time, brush the donuts all over with butter, and then coat both sides in the sugar mixture. Let cool on the wire rack. The donuts are best eaten the same day they are made.