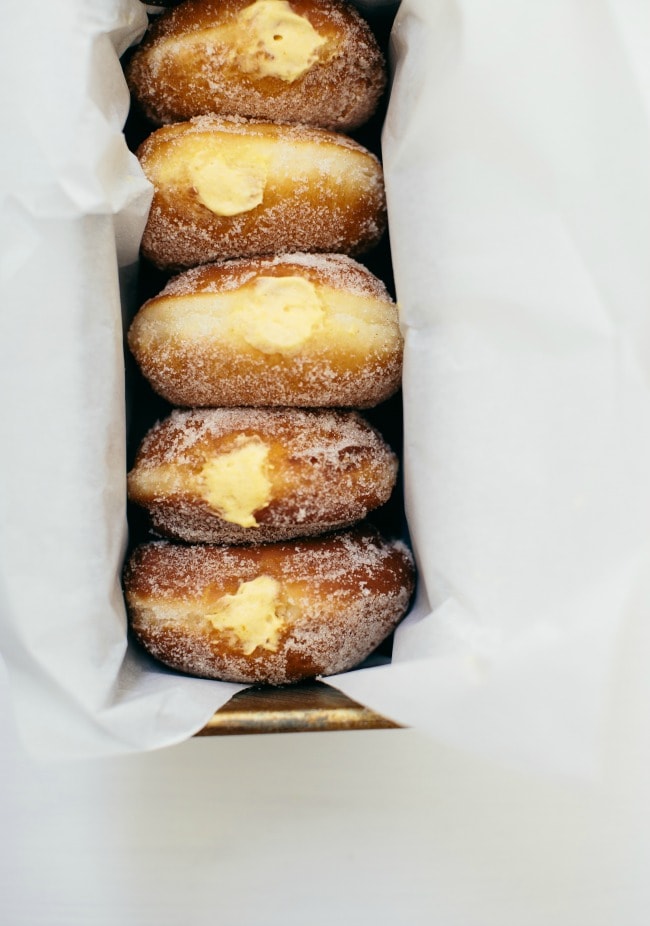 I mentioned before that I may go slightly overload with some pumpkin recipes this season, and here's another one for you, this chilly October morning. Pumpkin pastry cream is quite tasty, and I honestly can't stop making it. It's smooth and rich like any good pastry cream should be, with just enough pumpkin flavor.
This recipe is adapted from the pastry cream in my book; I start things in a stand mixer and then move to the stove. I stumbled across this method online a few years ago, and found it to work better for me. The stand mixer is more hands off, and I feel a little more in control of the pastry cream (something I struggled with in methods that required so many bowls and so much whisking).
One important tip when making: make sure to cook the cornstarch out! Cooking the pastry cream a few extra minutes will insure that it isn't grainy, and that it won't separate (an important life lesson I learned from Ms. Zoe Francois).
Other pumpkin recipes you may enjoy: Baked Pumpkin Doughnuts, Pumpkin Poundcake with Chocolate, Pumpkin Pie, Pumpkin Scones, and Ginger Cake with Pumpkin Creme Mousseline.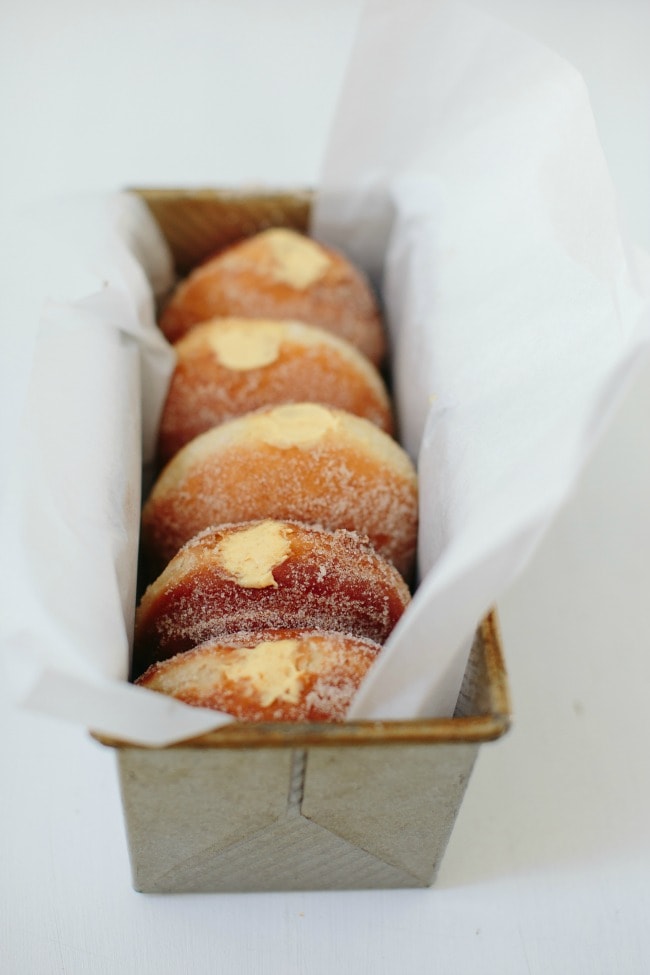 Vanilla Doughnuts with Pumpkin Pastry Cream
If you have a favorite doughnut recipe, you can use it here. I used Joanne Chang's doughnut recipe from her book, Flour. You can find the recipe here. Cooking the pumpkin on the stove top first is may seem tedious, but important. The moisture is cooked out, and the concentrated pumpkin has much better flavor.
Pumpkin Pastry Cream
1 cup pure pumpkin puree
1/4 cup (50g) brown sugar
6 egg yolks
1 cup (198g) granulated sugar
¼ teaspoon salt
¼ cup (28g) corn starch
1 cup whole milk
1 cup heavy cream
2 teaspoons pure vanilla extract
1 tablespoon unsalted butter, cold
1 tablespoon black strap rum (optional)
1/2 cup heavy cream (to lighten the pastry cream after it's cooled)
Combine the pumpkin puree and brown sugar in a small saucepan and heat over low heat, stirring continuously until the sugar has dissolved. Turn up the heat to medium and continue to heat the pumpkin, stirring constantly, until it comes to a boil (the mixture is quite thick, so you need to look for slow bubbles). Once the puree is bubbling, turn the heat down to medium-low and cook for about 5 minutes, still stirring. Remove the puree from the heat.
In a small saucepan over medium-low heat, heat the milk and heavy cream until just scalded. Remove from the heat and pour into a medium measuring cup with a pourable spout.
In the bowl of a standing mixer fitted with a paddle attachment, beat the egg yolks, granulated sugar, and salt on medium-high until very thick and pale yellow (about 5 minutes). Scrape down the sides and add the cornstarch. Turn the mixer to low and mix until combined.
With the mixer running on low, very slowly add the hot milk mixture. Mix until combined. Scrape down the sides, and add the pumpkin. Mix again on low until completely combined.
Transfer the mixture to a medium heavy-bottomed sauce pan. Cook over medium heat, stirring constantly with a wooden spoon, until the pastry cream becomes very thick and begins to boil, about 5-7 minutes. Switch to a whisk and whisk the mixture for another 3-4 minutes, until the pastry cream becomes thicker, almost like a pudding. (This is where you want to make sure to cook out the corn starch. Whisk constantly, until the pastry cream is smooth and glossy.) Remove from the heat, and strain the pastry cream into another medium-sized bowl. Stir in the vanilla, butter, and rum (if using). Cover the pastry cream with plastic wrap, making sure the wrap sits directly on top of the cream (this will help keep it from forming a skin). Place in the freezer for 15 minutes, then move to the refrigerator and keep it there until well chilled.
To assemble
In the bowl of a stand mixer fitted with a whisk, whip the heavy cream until it holds stiff peaks. Using a rubber spatula, fold it into the chilled pastry cream.
When doughnuts are completely cooled, poke a hole in the side of each doughnut, spacing it equidistant between the top and bottom. Fit a pastry bag with a small round tip and fill the bag with the filling. Squirt about 1/3 cup filling into each doughnut. Serve immediately.