I'm not ashamed to admit I drink way too much coffee. I recently got an espresso machine, which has changed my life for the better. There is nothing like a freshly brewed, steaming hot Americano with a splash of cream to start a chilly morning off right.
And because the machine is conveniently located in my kitchen, I'm also finding myself adding espresso to many of my baked goods like these pan-banging molasses espresso cookies, much to my families dismay (my husband has never been a coffee drinker, alas).
So espresso buttercream happened, of course! I've been putting coffee in buttercream for years, but espresso has a stronger and bolder flavor, which I appreciate. Pairing the espresso with chocolate is my favorite way to cake (I used my snack cake base), but white cake would work here as well.
Making this Chocolate Cake with Espresso Buttercream
The buttercream here calls for espresso, but you can substitute strong coffee. I've been using organic espresso beans from Alakef Coffee Roasters, which is located in Duluth Minnesota (I ordered the chocolate covered espresso beans from them as well). Alakef also owns City Girl Coffee, which is a sustainable and responsible coffee company who is working to bring awareness and equality to the women of the coffee industry. They are a great company. The Blue Heron Coffeehouse (where I used to work) has been ordering their beans for 20+ years.
I made this in two square pans, which makes a slightly bigger cake (8 or 9-inch circular pans will work fine, too.) You will have enough buttercream to cover the cake, but not enough left over to do any serious decorating or piping.
I found the crushed chocolate espresso beans to be enough decoration. You could also skip cutting the layers in half to have a little extra buttercream.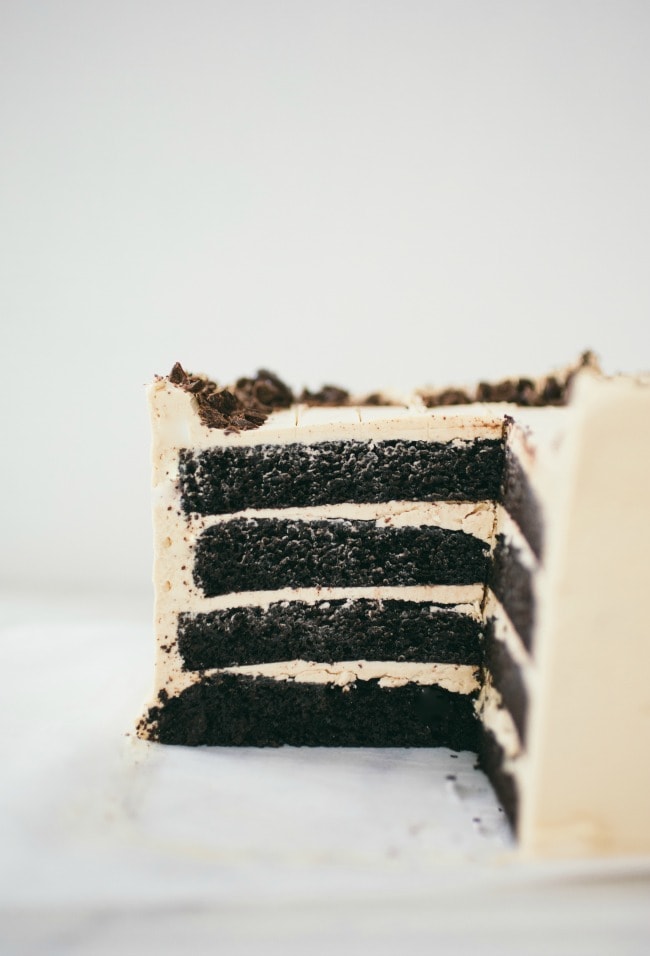 ******************************************************
"[W]hen you get a thing dead right and know it's dead right, there's no excitement like it. It's marvellous. It makes you feel like God on the Seventh Day – for a bit, anyhow."
"Well, that's what I mean. You expend the trouble and you don't make any mistake – and then you experience the ecstasy. But if there's any subject in which you're content with the second-rate, then it isn't really your subject."
"You're dead right," said Harriet, after a pause. "If one's genuinely interested one knows to be patient, and let time pass, as Queen Elizabeth said. Perhaps that's the meaning of the phrase about genius being eternal patience, which I always thought rather absurd. If you truly want a thing, you don't snatch; if you snatch, you don't really want it. Do you suppose that, if you find yourself taking pains about a thing, it's proof of its importance to you?"
"I think it is, to a large extent. But the big proof is that the things comes right, without those fundamental errors. One always makes surface errors, of course. But a fundamental error is a sure sign of not caring. I wish one could teach people nowadays that the doctrine of snatching what one thinks one wants is unsound."
"I saw six plays this winter in London," said Harriet, "all preaching the doctrine of snatch. I agree that they left me with the feeling that none of the characters knew what they wanted."
"No," said Miss de Vine. "If you are once sure what you do want, you find that everything else goes down before it like grass under a roller."
-Dorothy Sayers, Gaudy Night
I spent the summer re-reading Lord Peter Wimsey mysteries, and finally finished them up this September. I've been thinking over the above lines the last few weeks, and the doctrine of snatch vs what I really want and care about. It's been a good way to usher in the changing season – our summer ended abruptly (80 degrees one day, then 40 the next), and I've been trying to find my groove during the last few weeks of never-ending rain and gloom. While I spend my days baking and writing, I've found myself constantly pondering what I really want to invest my time and energy in, for myself, my family, and my community.
A few other things:
Register to Vote! It's important; make your voice heard.
I've started a few more books. My husband gave me Good and Mad by Rebecca Traister, which is really well written. I'm also reading The Inquisitor's Tale by Adam Gidwitz, which is YA fiction told in the style of Canterbury Tales. I love it so far.
Some cookbooks to check out: Nik Sharma's book Season is absolutely beautiful. For dinners, I've been loving Julia Turshen's Now & Again and SkinnyTaste One and Done by Gina Homolka. I also just got Melissa's Clarks latest Comfort in an Instant, and am excited to try some dinners from that one as well. Let's Stay In by Ashley Rodriguez also looks great.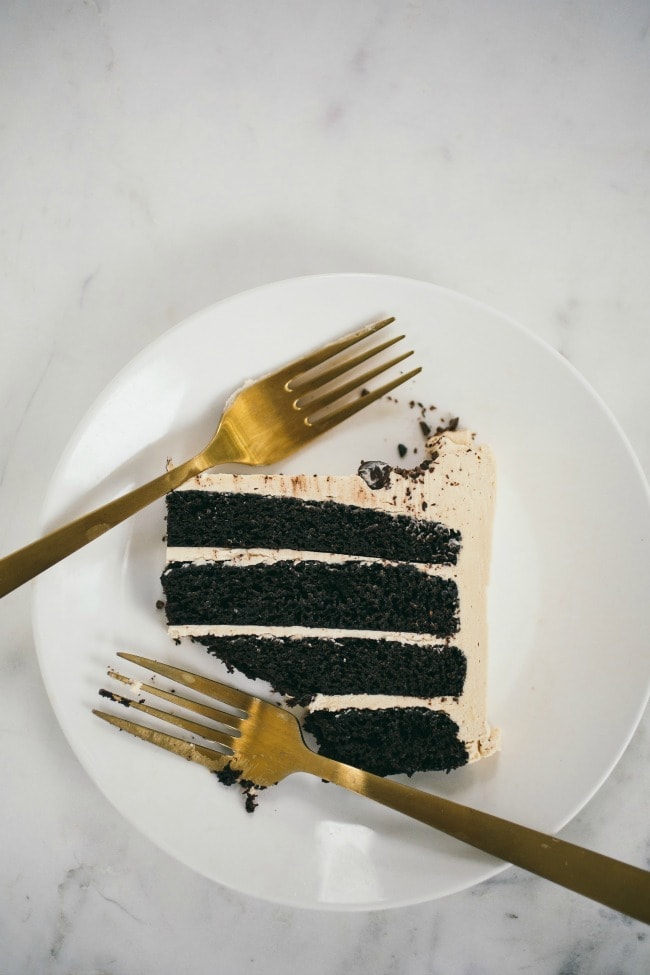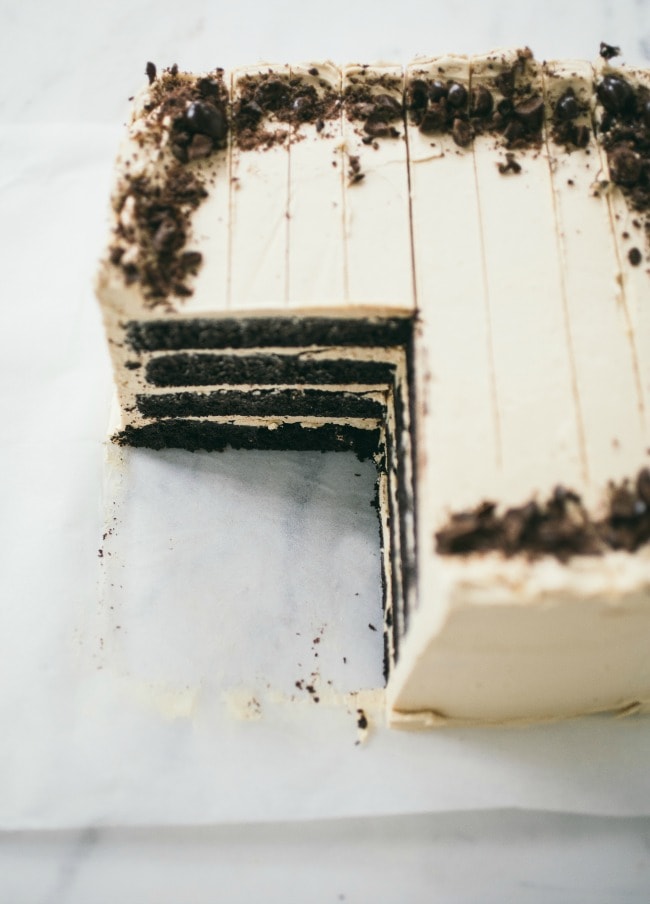 More Chocolate Cake Recipes: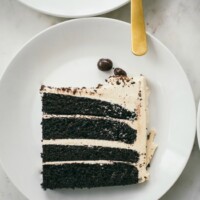 Rich Chocolate Cake with Espresso Buttercream
Bold espresso plays a key role in the buttercream frosting that pairs with a rich chocolate cake.
Print
Pin
Rate
Ingredients
Cake
3

ounces

bittersweet chocolate

(85g)

1

cup

hot coffee

(hot water works, too)

1/2

cup

sour cream

1/2

cup

whole milk

1/2

cup

canola oil

3

large eggs,

room temperature

1

teaspoon

pure vanilla extract

2

cups

all-purpose flour

(284g)

2

cups

granulated sugar

(396g)

3/4

cup

Dutch process cocoa powder

(75g)

2

teaspoons

baking soda

1

teaspoon

baking powder

1

teaspoon

salt
Espresso Buttercream
5

sticks

(565g) unsalted butter, room temperature

2

teaspoons

pure vanilla extract

1/4

teaspoon

salt

1/4

cup

espresso,

two shots will equal about 1/4 cup. You can also substitute strong coffee, room temperature

4

cups

confectioner's sugar

(452g)

Chocolate covered espresso bean,

crushed, for decorating
Instructions
For the cake
Adjust an oven rack to the middle position. Preheat the oven to 350F. Butter and flour two 8 by 2-inch square cake pans (8 or 9-inch circular pans can also be used) and line the bottoms with parchment paper.

Put the bittersweet chocolate in a small bowl. Pour the hot water over it and cover with a piece of plastic wrap. In a medium bowl or liquid measuring cup, whisk the sour cream, milk, canola oil, eggs, and vanilla.

In the bowl of a stand mixer fitted with a paddle, mix the flour, sugar, cocoa powder, baking soda, baking powder, and salt on low until combined. With the mixer running on low, slowly add the sour cream mixture. Increase the speed to medium and beat until combined, 20-30 seconds.

Whisk the chocolate and hot water together until completely smooth. With the mixer running on low, slowly pour the chocolate mixture into the batter and mix until just combined. Using a spatula, give the batter a couple of turns to make sure it is fully mixed.

Pour the batter evenly into the prepared pans. Bake 25-35 minutes, until a wooden skewer or toothpick comes out with the tiniest bit of crumb.

Transfer the cakes to a wire rack and let cool for 30 minutes. Turn the cakes out onto a half sheet pan lined with parchment paper, remove the parchment paper from the bottom of the cakes, and let the cakes cool completely upside-down (this will help deflate any doming). Once cool, the cakes can be wrapped in plastic and refrigerated overnight or frosted (cakes can also be frozen unfrosted for up to one month).
For the espresso buttercream
In the bowl of a stand mixer fitted with a paddle, beat the butter on medium until smooth and creamy. Scrape down the sides of the bowl and add the vanilla, salt, and espresso. Mix on low until combined; increase the speed to medium and beat 1 minute. Turn the mixer back to low and slowly add the confectioners' sugar, mixing until combined. Increase the speed to medium-high and beat until light and fluffy, stopping to scrape down the sides as necessary, 6-8 minutes.
To assemble the cake
Cut each layer of cake in half horizontally, to make a total of four layers. Put one layer, cut side up, on a serving platter, and top with 1/2 cup of the espresso buttercream. Use an offset spatula to spread it evenly over the layer. Repeat with two more layers and then top the cake with the remaining layer, cut side down. Frost the cake, and decorate with crushed chocolate covered espresso beans.