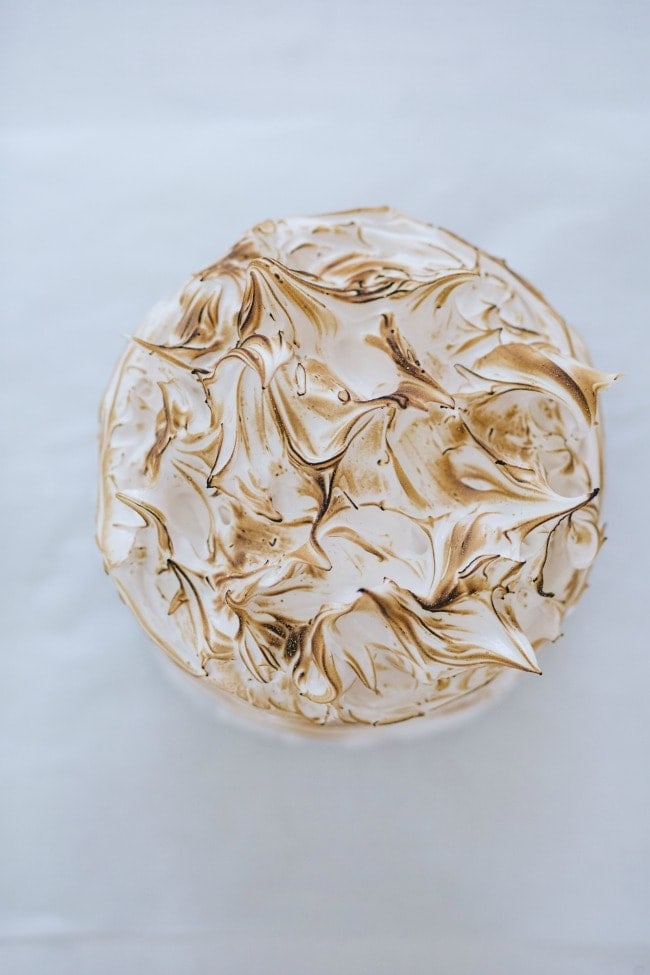 We shall not cease from exploration
And the end of all our exploring
Will be to arrive where we started
And know the place for the first time.
Through the unknown, remembered gate
When the last of earth left to discover
Is that which was the beginning;
At the source of the longest river
The voice of the hidden waterfall
And the children in the apple-tree
Not known, because not looked for
But heard, half heard, in the stillness
Between the two waves of the sea.
Quick now, here, now, always–
A condition of complete simplicity
(Costing not less than everything)
And all shall be well and
All manner of things shall be well
When the tongues of flame are in-folded
Into the crowned knot of fire
And the fire and the rose are one.
Little Gidding V,
Four Quartets.
— T.S. Eliot (1943)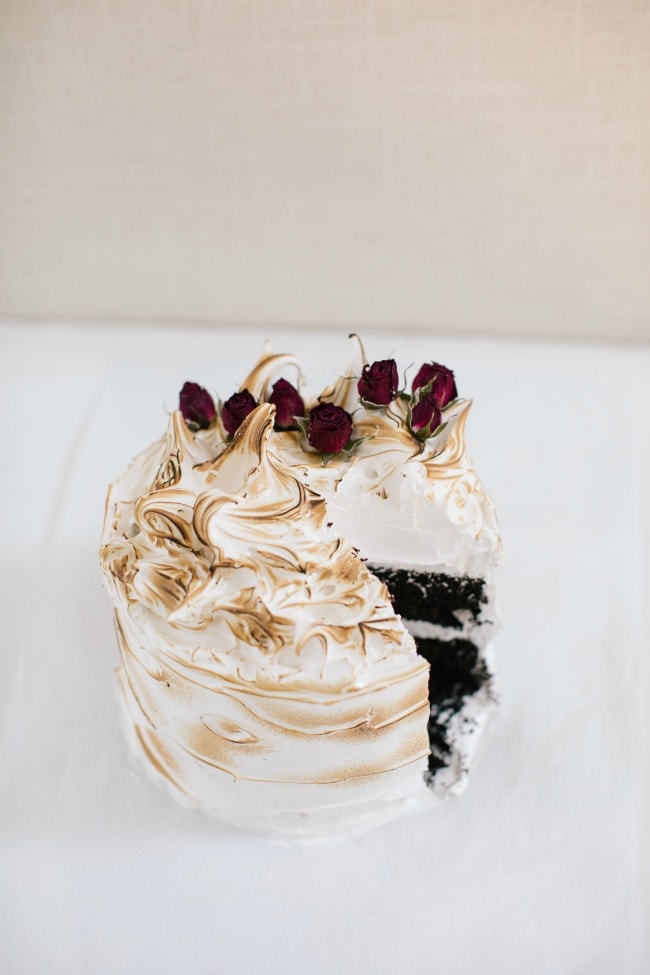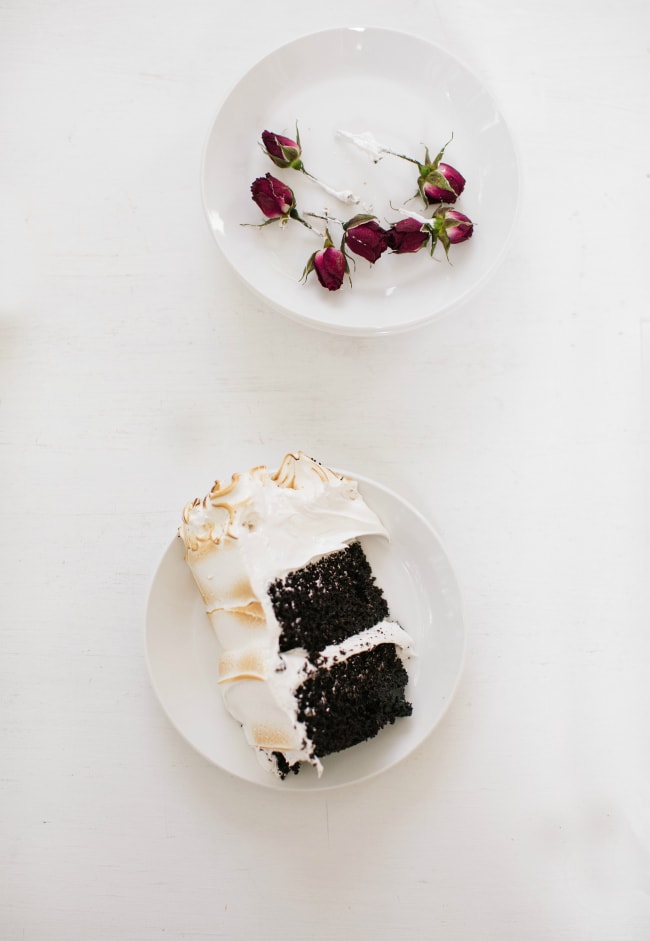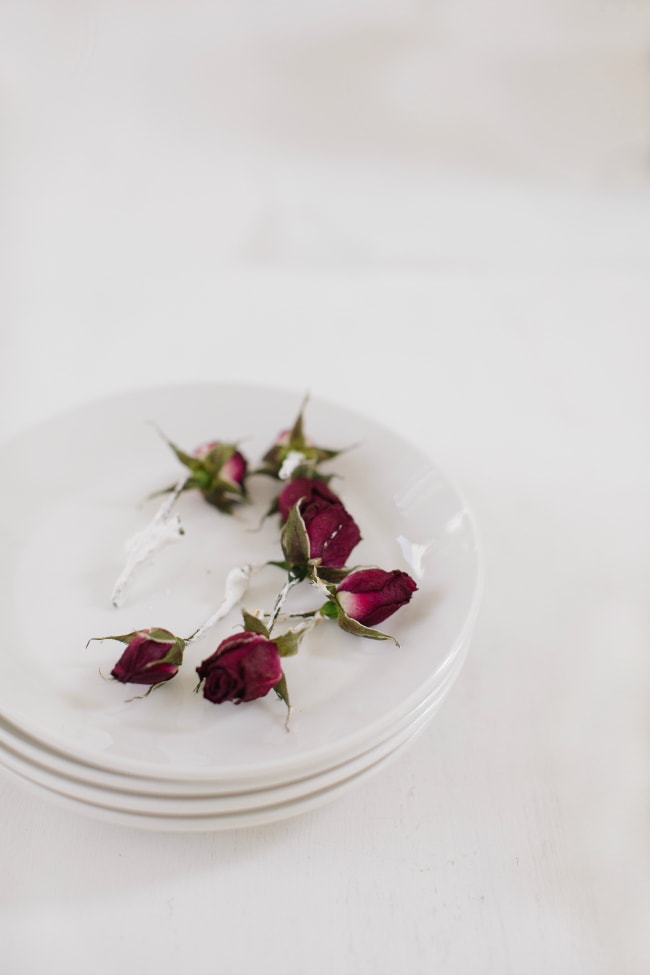 Somehow I am turning 40 this week. I've gotten over the freaking-out part of things (that happened at 39) and I've moved into some 'next phase of life' business. I've found I like myself better the older I get (although I will give a nod to my therapist here – her help is part of why aging has been going so well!), and almost-forty has given me confidence I didn't know I possessed. Often when I am afraid to do something, or stand up for myself, a simple reminder that 'you're forty years old. You can totally do this,' has been very helpful. I guess I'm officially an adult or something now.
My husband turns forty right around this time as well, and we also celebrate our 15-year wedding anniversary, so it's sort of an epic end of summer for us. I try not to remember the signs hanging up at my parents' 'over-the-hill' parties: halfway to heaven isn't something I want to focus on quite yet. Although I'll admit there are moments each month, as the year quickly passes yet again, that the unknown, whatever is after all of this, is a more present, lurking thought. Sometimes it's joyful, and hopeful, other times I quickly shove it away, not ready to deal with my fear. Either way, it's a reminder to not waste time, to speak up for what is right, and to enjoy all the days I have this side of the hill. Love doesn't just sit there, like a stone, it has to be made, like bread; remade all the time, made new. -Ursula K. Le Guin

I made a small birthday cake for myself this year. The chocolate cake is a scaled down version of the chocolate cake from my cookbook (affiliate link), with sour cream instead of buttermilk, and butter added in place of some of the canola oil. I really liked how it turned out. I've teamed up with Land O'Lakes for a few posts over the rest of the year. I've been a big fan of their butter for years; I love how my baked goods turn out with it, and as they are a Minnesota-based company, it seemed like a natural fit. I use their unsalted butter in my baking, and find the flavor to be heads and shoulders above other grocery store brands.
The seven minute frosting is a nod to my Grandma Ethel, who used to make a version of  this quite frequently (though she never toasted the top of hers), and as a child I thought it was the worst thing ever – I didn't understand how anyone could ruin a perfectly good cake with it. My opinion has changed drastically over the years (another positive of aging, I guess), and I thought it would be a good accompaniment to the chocolate cake. I did share some with my family, and they liked it, too.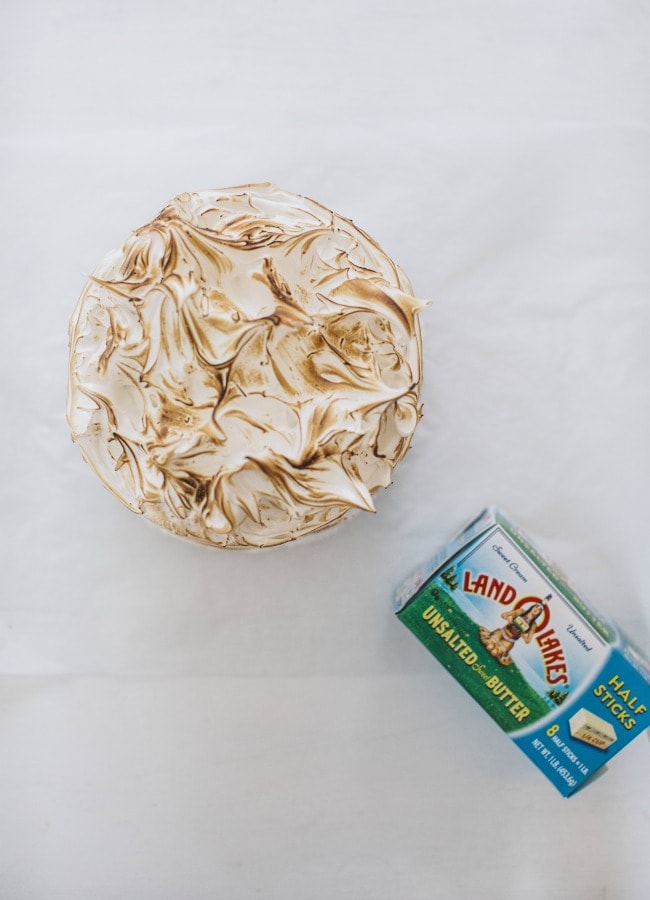 This post is sponsored by Land O Lakes. As always, all opinions are my own.
Chocolate Cake with Seven Minute Frosting
The Seven Minute Frosting is adapted slightly from the Brave Tart's Swiss Meringue Buttercream. I used her sugar and egg white ratio, and then added corn syrup, salt, and vanilla. I did use her toasted sugar suggestion (you can read about that here), but granulated, un-toasted sugar will work just as well.
1 ounce (29g) bittersweet chocolate
1/3 cup coffee
1/3 cup sour cream
1/4 cup canola oil
2 large eggs
1 teaspoon pure vanilla extract
2/3 cup (96g) all-purpose flour
2/3 cup (132g) granulated sugar
1/4 cup (25g) cocoa powder
3/4 teaspoon baking soda
1/2 teaspoon baking powder
1/2 teaspoon salt
4 tablespoons (57g) Land O Lakes ® Unsalted Butter in Half Sticks, room temperature, and cut into 4 pieces
Seven Minute Frosting
170 grams egg whites (from 5-6 large eggs)
1 2/3 cups (310g) granulated sugar
2 tablespoons corn syrup
1/4 teaspoon salt
1 teaspoon pure vanilla extract
For the Cake
Preheat the oven to 350F. Butter two 6-inch round cake pans (make sure cake pans are at least 2 inches tall). Line with parchment paper, then butter and flour the pans (if you need a visual on this step, here is a You Tube video that is helpful.
Put the bittersweet chocolate in a small bowl. Pour the coffee over it and cover with a piece of plastic wrap. In a medium bowl or liquid measuring cup, combine the sour cream, oil, eggs, and vanilla. Set aside.
In the bowl of a stand mixer fitted with a paddle, mix the flour, sugar, cocoa, baking soda, baking powder, and salt on low until combined.  With the mixer running on low, add the butter one piece at a time, beating until the mixture resembles coarse sand. With the mixer still running on low, slowly add the wet ingredients to the dry. With the mixer still on low, add the coffee and stir just to combine, scraping the bottom of the bowl with a rubber spatula. Divide the batter between the prepared pans. Bake 15-20 minutes, until a wooden skewer or toothpick comes out clean. Cool in the pans for 30 minutes, then turn them out onto a cooling rack and cool completely, removing parchment paper. Once cool, the cakes can be wrapped in plastic and refrigerated overnight or frosted.
For the Seven Minute Frosting
Put about an inch of water in a medium saucepan and bring it to a gentle boil.
In the bowl of a stand mixer, stir the egg whites, sugar, corn syrup, and salt until combined. Put the bowl over the saucepan, being careful not to let the water touch the bottom of the bowl. Stir with a rubber spatula until the sugar is completely melted, and the mixture reaches a temperature of 165F, about 5 to 7 minutes. While you are stirring, be sure to scrape down the sides of the bowl with the spatula—this will ensure no sugar grains are lurking on the sides and will help prevent the egg whites from cooking.
Remove the bowl from the heat and place it in the stand mixer fitted with a whisk. Whisk the mixture on medium-high until stiff, glossy peaks form, 8 to 10 minutes. Add the vanilla, and beat to combine. Use immediately.
To Assemble
Put one cake layer, chocolate side up, on a turntable or serving plate and top with 1 cup of the frosting. Top with the remaining layer. Frost the cake with the rest of the frosting if desired (it will be a lot of frosting). Use a spatula to spread the meringue evenly over the  cake and, if desired, use a spoon to create curls. Hold a kitchen blowtorch 1 or 2 inches away from the cake and touch the flame down in between the curls. The curls will toast and brown (if the curls set on fire, you can blow them out).