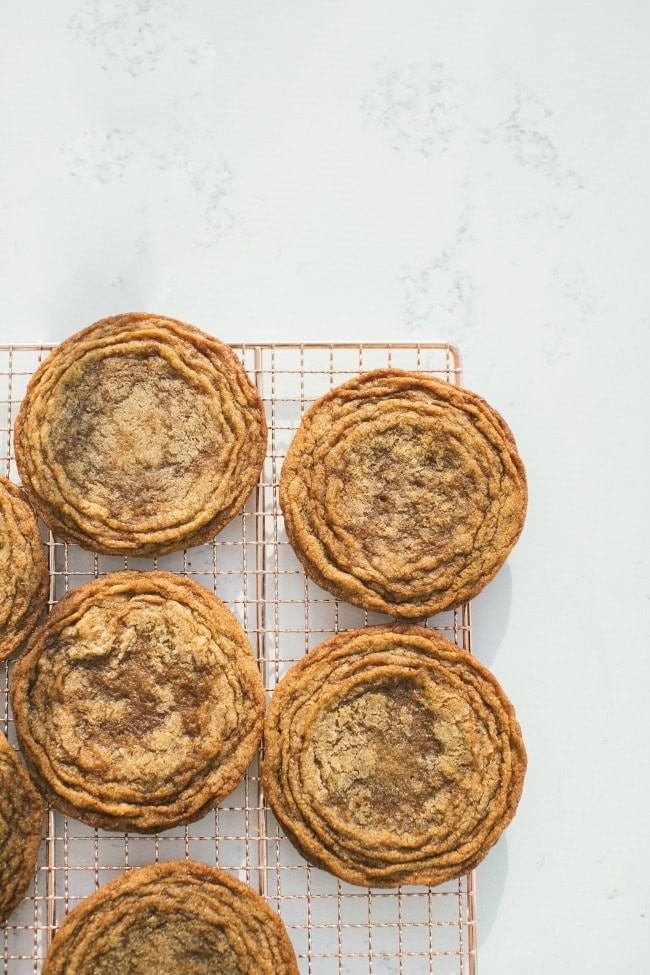 If you follow along on Instagram, you know I've been working on a ginger-molasses version of my pan-banging cookies. I finally have the ginger molasses cookies recipe for you, although I'm going to be completely honest – I'm so nervous to share it! I've been obsessively making them trying to get everything just right.
I also know that most everyone has a strong opinion on how they want their molasses cookies to be (soft! hard! chewy! dense! coated in sugar! no sugar! fresh ginger! just ground spices!). I did make my dear friend Zoë test them out and she gave them her approval, so I'm going to go ahead and put the recipe out into the world.
Cookie Making Tips:
This particular recipe doesn't need to be refrigerated. The molasses and butter in this cookie helps them to spread just fine without the added chill. I also make these a little bit smaller – 2 ounces, instead of 3 ounces. A few things to note: these taste best when the centers are under baked, just like the chocolate chip cookies.
Because they are smaller, I bang the pan only 3-4 times instead of 5-6. If you do cook the centers, the outside will be slightly tough when they cool, and they don't taste as good on the second day.
If you get things just right, the outside will be crispy, the centers soft and slightly chewy, and they will still taste great the next day. If you try them, let me know how they turn out for you!
Pan-Banging Ginger Molasses Cookies Notes:
These cookies are a little different than the chocolate chip cookies – you don't have to chill them, and they require a little less banging. You really don't want to overcook the centers here – the cookie edges will get a little too tough.
Just like the pan-banging chocolate chip cookies, the center needs to be under baked (if you look at the photo, there is quite a bit of un-banged surface area).
The cookies will still cook on the pan after you take them out of the oven, so the centers won't be raw, but if you are looking for a completely crispy cookie, this isn't it.
The edges will be crispy, and the centers a little chewy and very soft.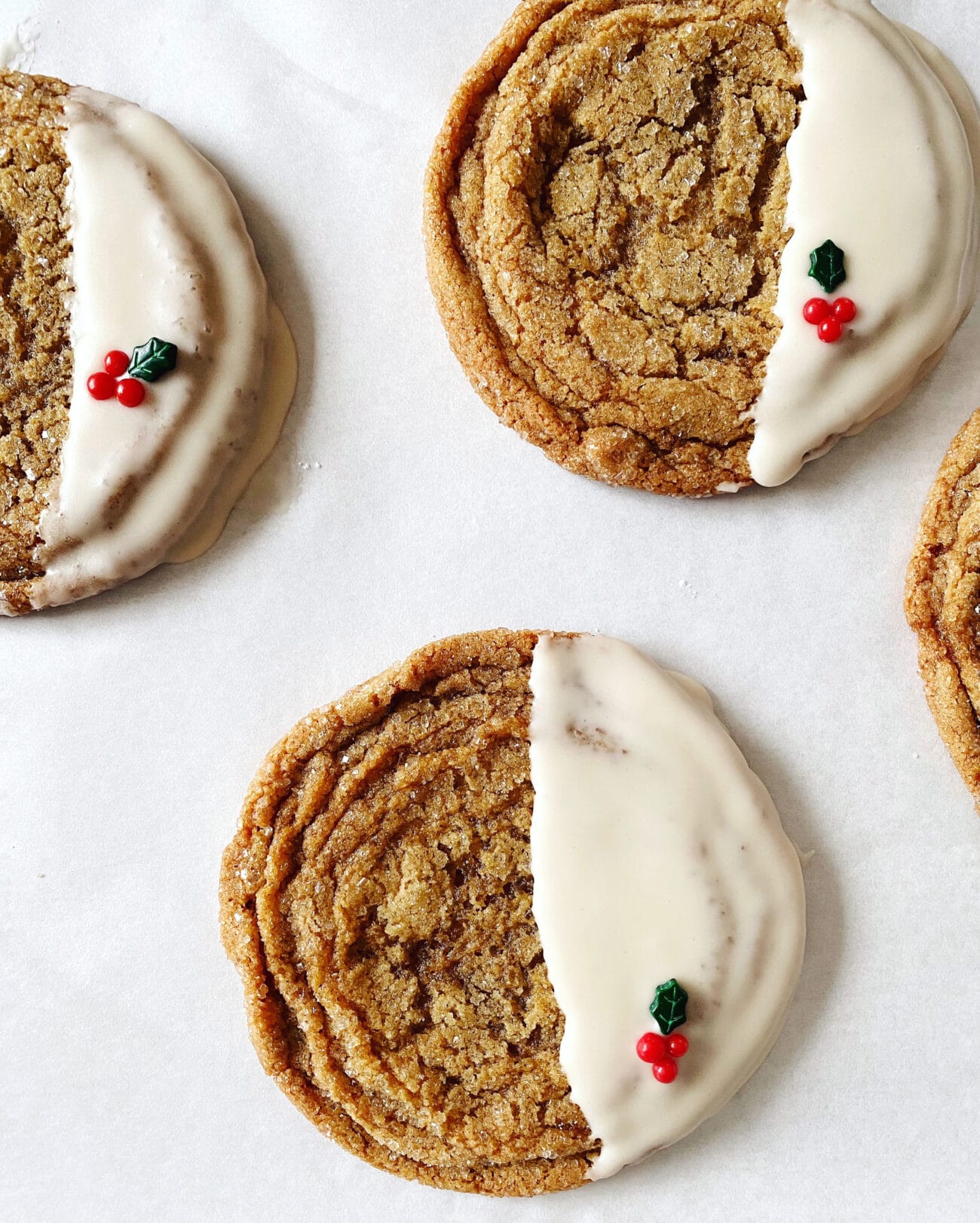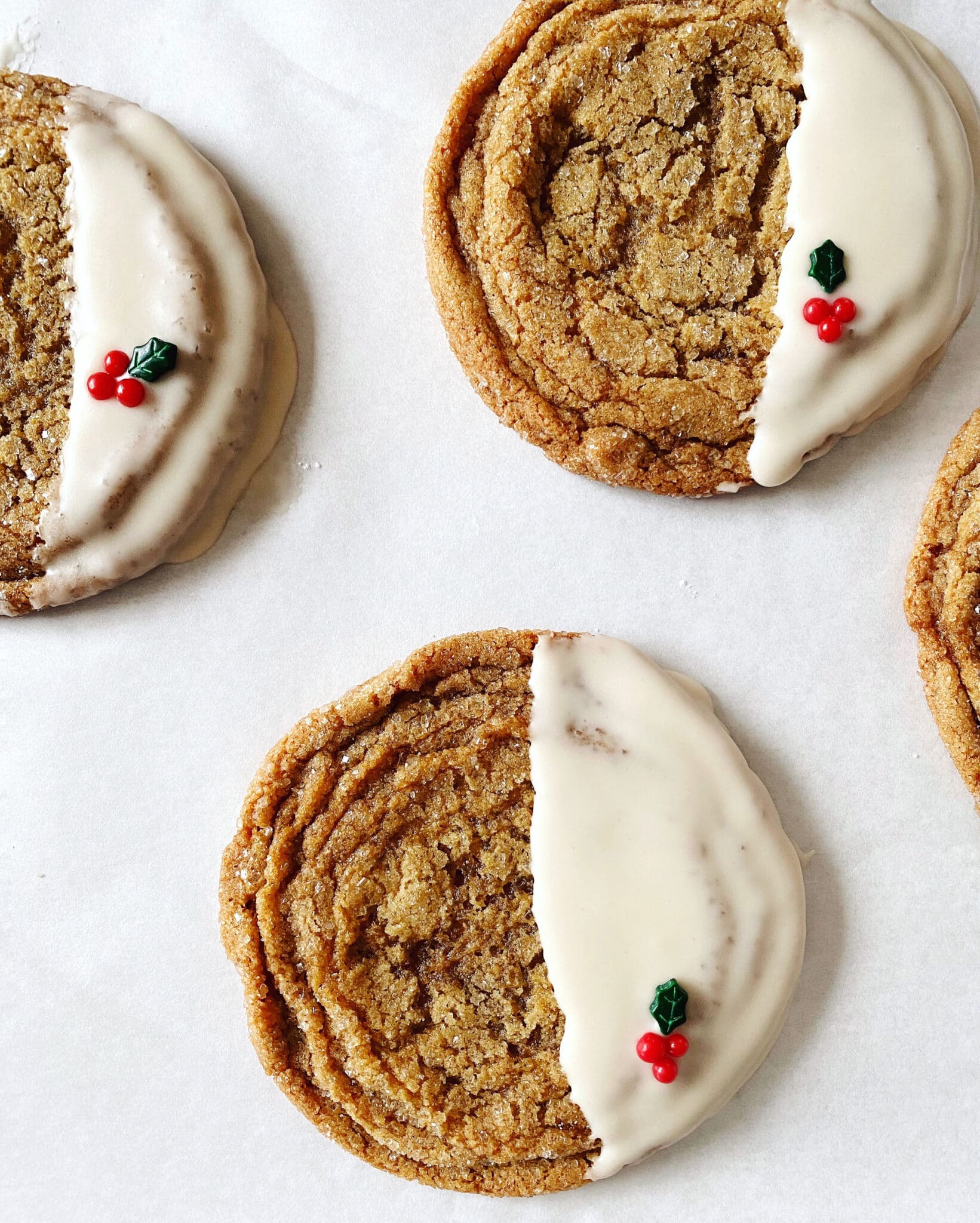 Holiday Variation with Rum-Butter Glaze:
I've had so many questions about the glazed version of these cookies I posted on Instagram, so I've updated the recipe card below with the glaze option in the notes. The partially dipped cookie with holly sprinkles was inspired by Pinch of Yum's Soft Gingerbread Cookies with Maple Glaze. The Rum-Butter Glaze was inspired by Yotom Ottolenghi & Helen Goh's beautiful cookbook Sweet, and these are the holly sprinkles I used from Wilton.
More Pan-Banging Cookie Recipes: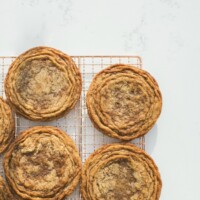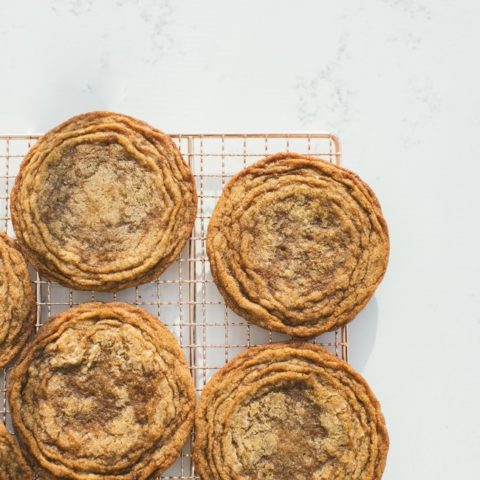 Pan-banging Ginger Molasses Cookies
Servings:
10
large cookies
Perfectly spiced, ginger molasses cookies with rippled edges and a chewy center. Uses the pan-banging cookie technique to get their famous look!
Print
Pin
Rate
Ingredients
1 3/4

cup

(249g) all-purpose flour

1/2

teaspoon

baking soda

1/2

teaspoon

+ 1/8 teaspoon salt

2

teaspoons

ground ginger

3/4

teaspoon

ground cinnamon

Pinch

cloves

12

tablespoons

(170 grams) unsalted butter,

room temperature

1 1/2

cup

(297g) granulated sugar, plus more for rolling

2

tablespoons

mild molasses

1

egg

1

teaspoon

pure vanilla extract

Rum-Butter Glaze for optional holiday variation, recipe in notes
Instructions
Adjust an oven rack to the middle position. Preheat the oven to 350°F. Line 3 baking sheets with parchment paper.

In a small bowl, whisk the flour, baking soda, salt, ginger, cinnamon, and cloves.

In the bowl of a stand mixer fitted with a paddle, beat the butter on medium until creamy. Add the granulated sugar and beat on medium until light and fluffy, 2 to 3 minutes. Add the molasses, egg, and vanilla, and mix on low to combine. Add the flour mixture and mix on low until combined. Remove the bowl from the stand mixer, and using a spatula, make sure the molasses is completely combined into the dough and that the dough is a uniform color.

Form the dough into 2-ounce balls (

I use this cookie scoop

). Roll the balls in granulated sugar to coat. Place 4 balls an equal distance apart on a prepared pan.

Place the baking sheet in the oven and bake 8 minutes, until the cookies are puffed slightly in the center. Lift the side of the baking sheet up about 4 inches and gently let it drop down against the oven rack, so the edges of the cookies set and the inside falls back down (this will feel wrong, but trust me). After the cookies puff up again in about 2 minutes, repeat lifting and dropping the pan. Repeat 3-4 more times to create ridges around the edge of the cookie. Bake 13 to 16 minutes total, until the cookies have spread out and the edges are golden brown but the centers are much lighter and not fully cooked.

Transfer the baking sheet to a wire rack; let cool completely before removing the cookies from the pan.
Notes
*Make sure your cookie batter is completely combined – molasses likes to hang out on the sides of the bowl and streak in the dough, so use a spatula at the end and make sure the batter is uniform.
*You don't have to roll them in sugar, but I prefer them that way.
*You can play around with the spices if you want. I only like the teensiest bit of cloves, but you could add a bit more if you like.
*These cookies are rather large, but to get the edges to spread out and crinkle, they need to be on the big side. If you want to make the cookies smaller, you won't get as many ridges on the outer layer, and your center won't be quite as gooey. They will still be delicious, but not quite what I intended for you.
*There is a minimal amount of molasses in these cookies, but adding more makes them really chewy and a little tough.
*

Throughout my recipes posted on this website, 1 cup of flour equals 142g. Please note that 1 cup of flour can range anywhere from 120g to 142g, depending on the baker or website. I found that after weighting many cups of flour and averaging the total, mine always ended up around this number. If I am posting a recipe from another cookbook, I will use whatever gram measure of flour used in that book, which is why you may see a few posts with a different cup measurement. 

Different brands of flour have varying levels of protein, ranging from low to high, which can result in very different outcomes when baking. I've found Gold Medal all-purpose unbleached flour to be the best option for many of my recipes; I use it in all the baked goods that don't use yeast. For yeasted doughs that call for all-purpose flour, I like to use King Arthur Brand. If you are using White Lily flour, please note that it is a low protein flour and doesn't absorb liquid the same as regular all-purpose flours. Check the back of the flour bag for instructions on substituting it for regular all-purpose flours. 
*I think they keep best in the fridge, but I like to eat them at room temperature.
Rum-Butter Glaze Recipe, inspired by the recipe and used with permission from the cookbook, Sweet,:
1 tablespoon unsalted butter

Pinch of salt

1 to 2 tablespoons black strap rum or dark rum (see note)

1/8 teaspoon ground cinnamon (optional)

1 ½ cup [180 g] confectioners' sugar

Water, as needed
Melt the butter in a medium bowl. Add the salt, rum, and cinnamon (if using), and whisk to combine. Add the confectioners' sugar and mix with a spatula until combined, adding water as needed until the desire consistency is reached. Once combined, use a whisk to whisk out any lumps. 
TIP:
Making glaze is often a balancing act of getting the water/sugar ratio just right, and that can differ depending on how thin or thick you want the glaze. If you want the glaze thicker, add a tablespoon of confectioners' sugar at a time (whisking after each addition) until you like the result. If you want it thinner, add a teaspoon or two of water (or rum) at a time. 
I like 2 tablespoons of rum here, but if that sounds like too much, you can just do one and use water for the other tablespoon. 
You don't have to add the salt, but I find it helps balance the sweetness of the confectioners' sugar.