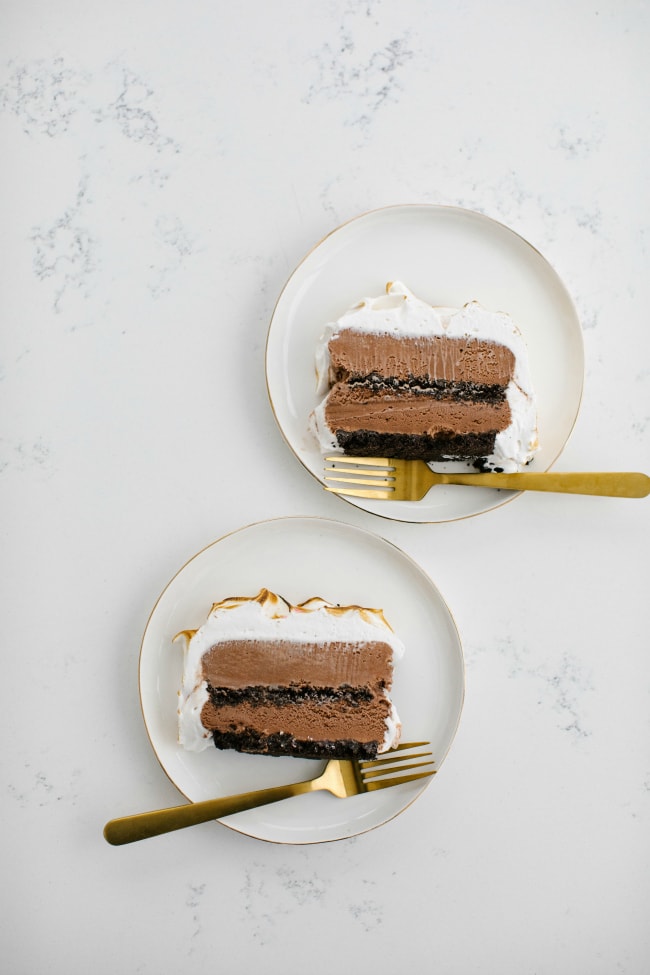 Chocolate Ice Cream Cake with Mint Meringue
For a slightly taller cake, use a Pullman pan (affiliate link) and double the chocolate ice cream. This recipe gives you directions for making the no-churn ice cream ahead of time and then assembling the cake. You can just pour the fresh made ice cream over the cookie crumb crust and then freeze, but you won't be able to do the double layer of cookie crumbs because the ice cream will be too soft and the crumbs in the middle will just mix into the ice cream.
___________________________________________________________
Somehow we are already on the front steps of 2018. The door is open, and another January welcomes us in with a glorious smile, reassuring those waiting out in the cold that right inside, just through that open door, things will be better. The new year will bring hope, and change. So we resolve to evolve, and put our faith in the dropping of a ball, a countdown from ten, and then number one. Two weeks in, however, we realize it's still all the same, January is December, minus the Christmas tree. The list of resolutions gets shoved in a drawer, we turn on the news and are still groaning, trying to find our voice. There was no wizardry to wash away the sins of the previous year. We remember about the importance of time, and hard work, and continuing to keep at something even though no one is watching.
But although the New Year doesn't contain magic, it's a good idea to make a cake at the end of it all anyway. We can still celebrate the previous twelve months: observe how far we've come, make plans for the coming days, or just share time, enjoying ice cream, with those we spend our days. And while I walk into this next month knowing everything is not new and fresh, I will still look around for hope, and change, and progress, and help propel those things forward as best I can.
***************************************************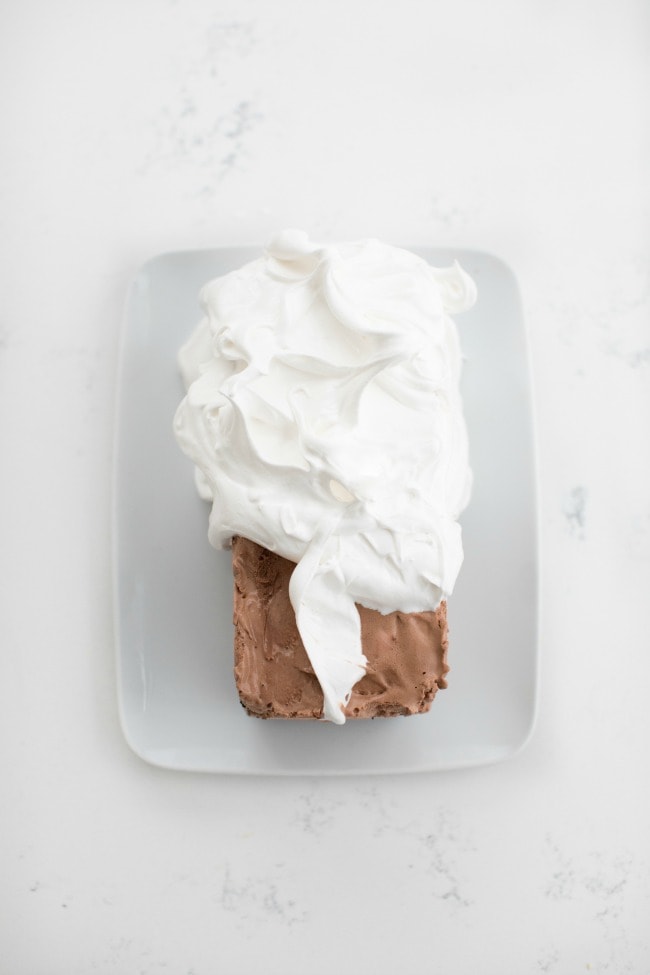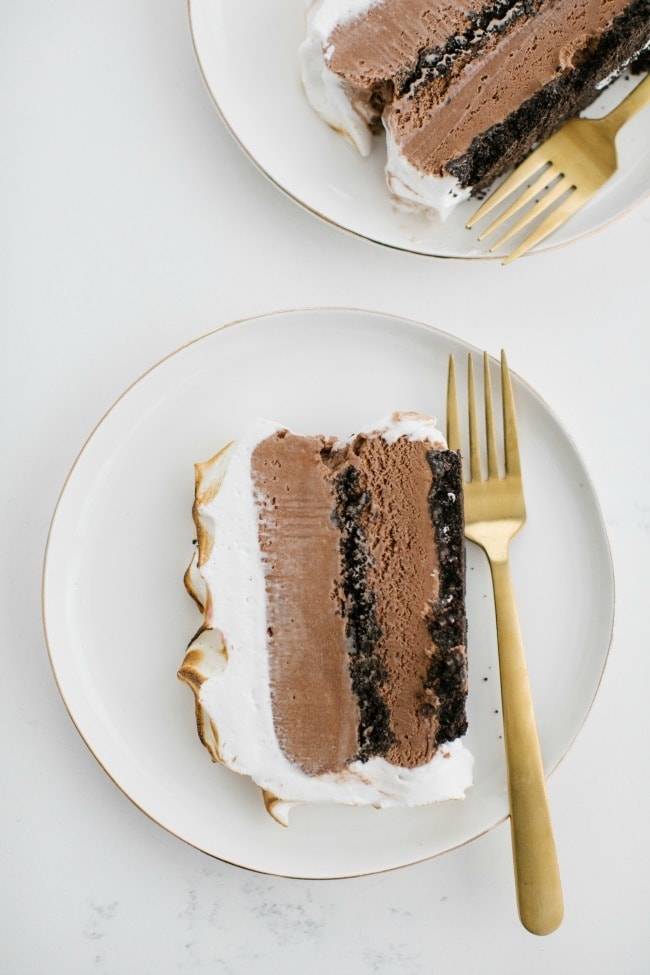 I hope that in this year to come, you make mistakes.
Because if you are making mistakes, then you are making new things, trying new things, learning, living, pushing yourself, changing yourself, changing your world. You're doing things you've never done before, and more importantly, you're Doing Something.
So that's my wish for you, and all of us, and my wish for myself. Make New Mistakes. Make glorious, amazing mistakes. Make mistakes nobody's ever made before. Don't freeze, don't stop, don't worry that it isn't good enough, or it isn't perfect, whatever it is: art, or love, or work or family or life.
Whatever it is you're scared of doing, Do it.
Make your mistakes, next year and forever.
-Neil Gaiman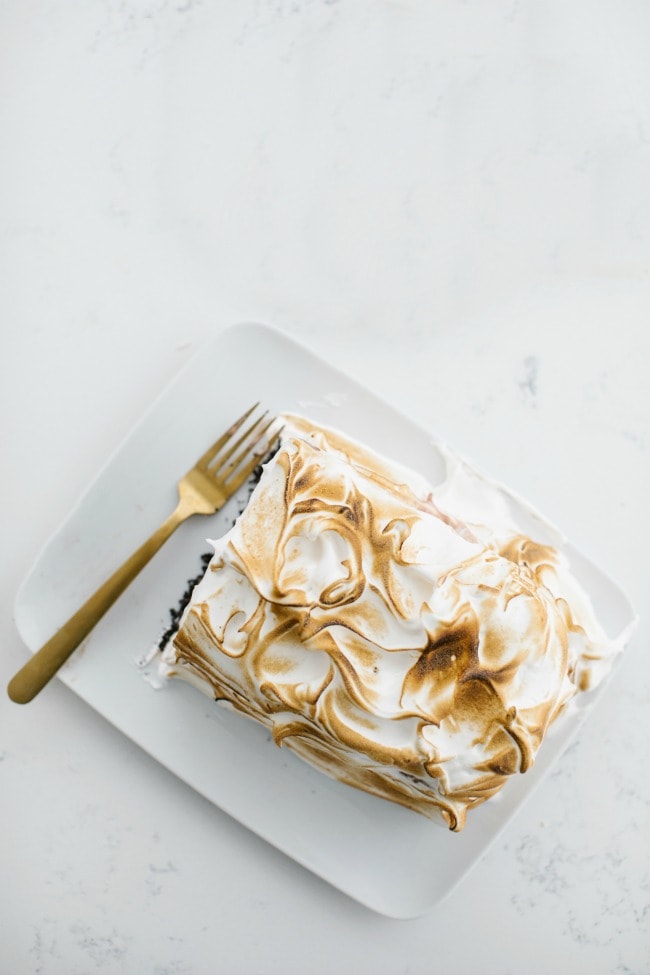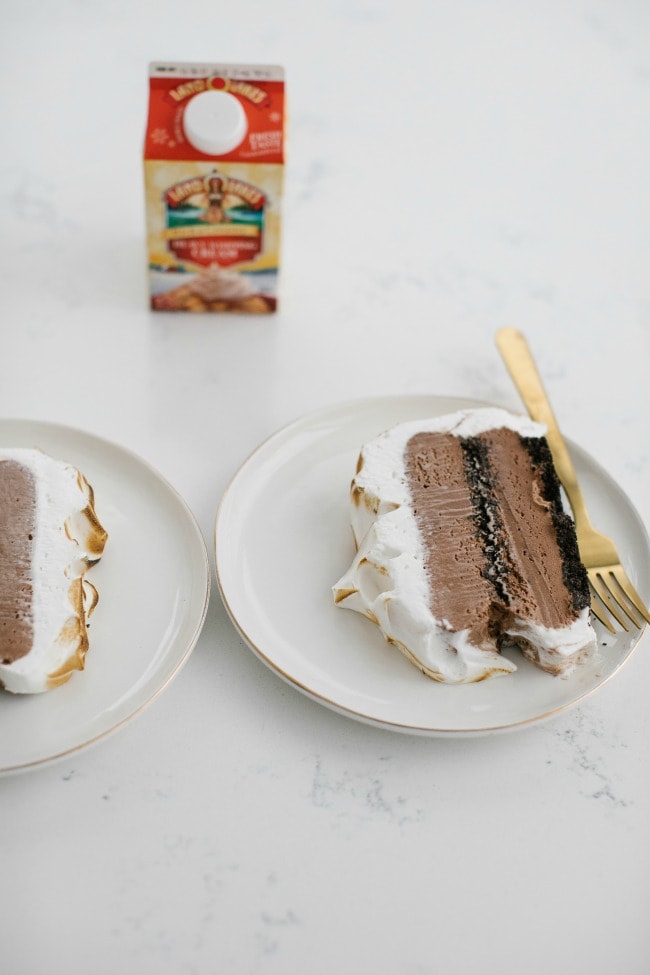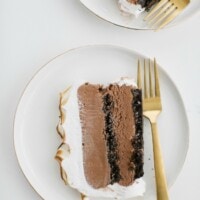 Chocolate Ice Cream Cake with Mint Meringue
A rich, smooth chocolate ice cream cake topped with a chocolate cookie filling and fluffy mint meringue frosting. A cool and creamy dessert!
Print
Pin
Rate
Ingredients
Chocolate No-Churn Ice Cream
3

ounces

(85g) bittersweet chocolate

One 14-ounce can

(396g) sweetened condensed milk

1

teaspoon

pure vanilla extract

1/4

teaspoon

salt

2

ounces

(57g) cream cheese, room temperature

2

cups

Heavy Whipping Cream
Cookie crust
25

chocolate sandwich cookies,

not double stuffed

4

tablespoons

Unsalted Butter,

melted
Mint Meringue
5

large egg whites

1

cup

(198 g) granulated sugar

¼

teaspoon

salt

1/2

teaspoon

vanilla

1/2

teaspoon

mint extract,

more if desired

1

tablespoon

crème de menthe
Instructions
For the chocolate ice cream
Melt the chocolate in a heatproof bowl set over a pan of boiling water, being careful not to let the water touch the bottom of the bowl, and stir constantly until just melted. Cool to room temperature.

In a large bowl, whisk the sweetened condensed milk, the cooled chocolate, vanilla, and salt until completely combined.

In the bowl of a stand mixer fitted with a whisk, beat the cream cheese on medium until smooth. Turn the mixer to low and add the heavy cream in a slow steady stream, mixing until combined. Increase the speed to medium-high and whisk until stiff peaks form, 3-4 minutes.

Add half the whipped cream mixture to the sweetened condensed milk mixture and whisk until completely combined. With a rubber spatula, gently fold the remaining whipped cream mixture until no streaks remain. Pour into a 9-inch loaf pan or Pullman pan and freeze until firm, 6 hours or, covered, up to 1 week.
For the crust
Place 25 chocolate sandwich cookies in a food processor, and process until they are broken down into crumbs.

In a medium bowl stir together the cookie crumbs and melted butter until evenly coated.

Line a 9-inch loaf pan with plastic wrap, letting the wrap hang over the sides (this will help easily remove the ice cream cake).

Use a measuring cup or spoon to press 1 cup (100 g) cookie crumbs evenly on bottom of the prepared Pullman pan or loaf pan. Top with half the chocolate ice cream, pressing it into an even layer. Sprinkle the remaining crumbs evenly over the ice cream and top with the remaining chocolate ice cream. Place the chocolate ice cream cake in the freezer and freeze for at least 6 hours or overnight before topping with meringue. Let ice cream sit out at room temperature about 20 minutes before assembling the cake.
For the meringue topping
Put about an inch of water in a medium saucepan and bring it to a gentle boil.

In the bowl of a stand mixer, stir the egg whites, sugar, and salt to combine. Place the bowl over the saucepan, being careful not to let the water touch the bottom of the bowl. Stir with a rubber spatula until the sugar is completely melted and reaches a temperature of 160°F, 4 to 5 minutes. While you are stirring, be sure to scrape down the sides of the bowl with the spatula—this will ensure no sugar grains are lurking on the sides and also help prevent the egg whites from cooking.

Remove the bowl from the heat and place it in the stand mixer fitted with a whisk. Whisk on medium-high until stiff, glossy peaks form, 8 to 10 minutes. The bowl should have cooled down to room temperature at this point. Add the vanilla and mint extracts, and crème de menthe, and beat until combined.

Use the plastic wrap to gently remove the cake from the loaf pan. Working quickly, remove the plastic and set the loaf cake on a serving platter.

Use a spatula to spread the meringue evenly over the top of the chocolate ice cream cake and, if desired, use a spoon to create curls. Hold a kitchen blowtorch 1 or 2 inches away from the cake and touch the flame down in between the curls. The curls will toast and brown (if the curls set on fire, you can blow them out). Slice the cake and serve immediately. (Because this is ice cream, an oven broiler won't work here to toast the meringue – you will just have a melted puddle. If you don't have a blow torch, you can serve the cake without toasting it – it will still taste delicious.)