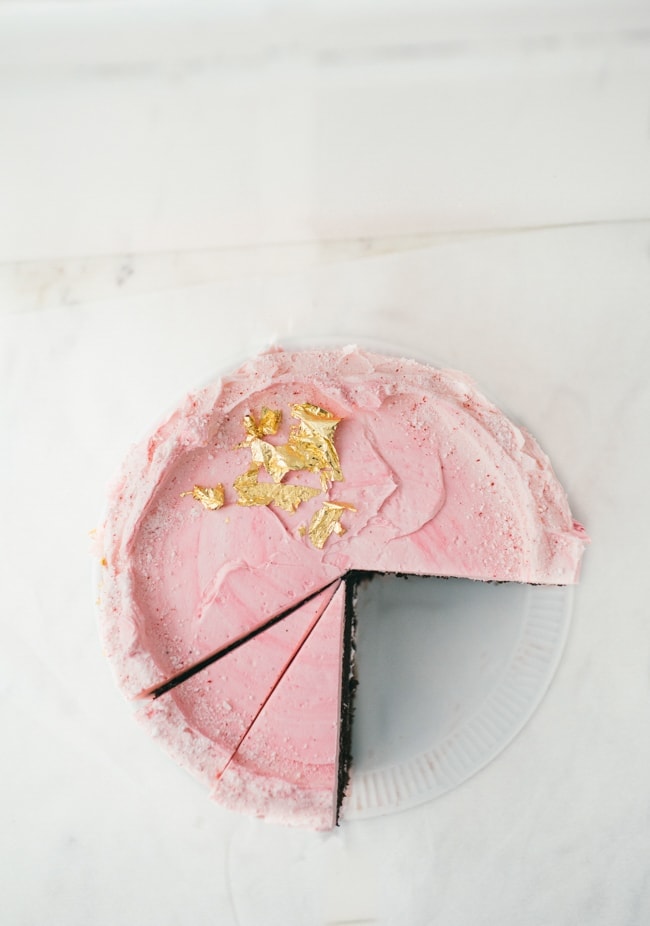 This is an older post, originally posted in 2011, that I'm highlighting this December. My daughter and I were looking through old blog posts, trying to decide on a birthday dessert for her upcoming day, and she died laughing at how terrible the photos were for this post (they were pretty bad). So I remade the candy cane cake this week updating not only the photos, but the recipe as well. I've used peppermint candies here instead of candy canes (ground into sparkly dust in the food processor), and the chocolate cake from my cookbook. I also added some gold leaf just because, but it isn't necessary.
Original post: This past week we celebrated my daughter's birthday. The last two years I've let her 'design' her own cake, meaning she gets to pick colors and flavors and a basic theme, and I try to make something not quite as elaborate. Last year was a very vibrant purple cake , and I had assumed this year it would be something similar (or something worse – she had been eying those Barbie cakes at the grocery store). So I was slightly shocked, when after asking her, she yelled 'A PINK CANDY CANE CAKE!' But it all makes sense: pink is her favorite color, and she did get slightly teary-eyed when she discovered no one gave out candy canes at Halloween (for real. It was precious). So here it is in all it's glory: a sparkly pink candy cane cake. She chose well – we were all in enamored with the chocolate and the mint, the creamy but not-too-sweet frosting, and those little tiny flecks of red.
Some other recipes you may enjoy: Triple Chocolate Peppermint Bark, Chocolate Ice Cream Cake with Chocolate Mint Meringue, Creme Fraiche Cheesecake with Mint Meringue, and Dark Chocolate Olive Oil Cake.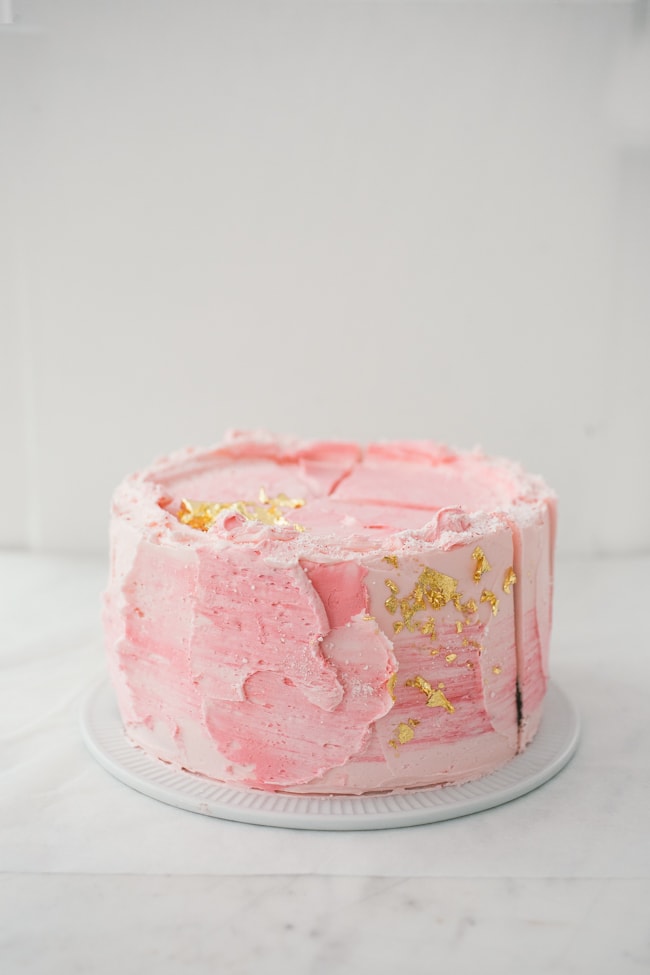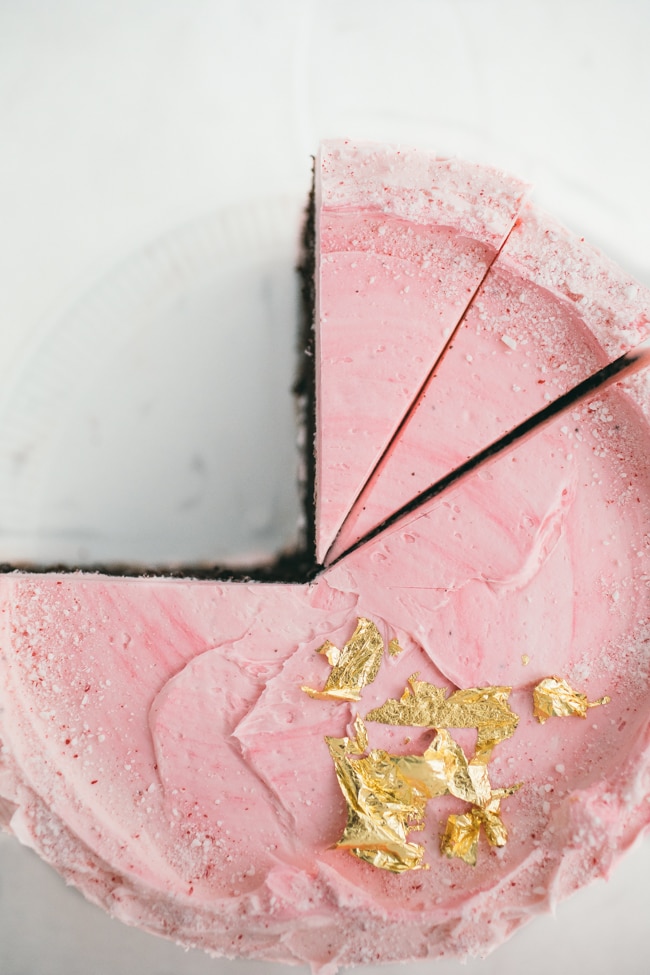 Chocolate Mint Cake (otherwise known as Candy Cane Cake)
Notes: Hot water can be substituted for the hot coffee. I like to crush my peppermint candies into sparkly dust – I hate biting to large pieces of hard candy on my cake, and this gives it a little crunch without breaking any teeth. However, if you prefer larger pieces, you can certainly use them. I use a mini food processor to crush them, but you could also put the candies in a ziplock bag and take a hammer to them (this does get messy, but it works!) I prefer mint extract over peppermint, but you can use either here. This makes quite a bit of buttercream, but I wanted to make sure you had enough for the crumb coat and decorating. If you do frost this cake right away after it cools, you will have quite a bit of crumbs. I like to make the cake layers the night before, wrap them in plastic, and freeze them, then I frost the cake cold and let it come to room temperature before serving.
3 ounces [85g] bittersweet chocolate
1 cup freshly brewed coffee, hot
1/2 cup sour cream
1/2 cup whole milk
1/2 cup canola oil
3 large eggs, room temperature
2 teaspoons pure vanilla extract
2 cups [284g] all-purpose flour
2 cups [400g] granulated sugar
3/4 cup [75g] Dutch process cocoa powder
2 teaspoons baking soda
1 teaspoon baking powder
1 teaspoon salt
mint buttercream
6 sticks [678g] unsalted butter, room temperature
Pinch salt
5 cups [565g] confectioners' sugar
1 to 2 teaspoons pure mint extract, more or less to taste
1/2 teaspoon pure vanilla extract
3 tablespoons heavy cream
pink food coloring, optional
15 peppermint candies or 5 candy canes, crushed in a food processor (see note), for decorating
gold leaf, optional, for decorating
Preheat the oven to 350F [180C]. Butter and flour two 8 by 2-inch round cake pans and line the bottoms with parchment paper.
Put the bittersweet chocolate in a small bowl. Pour the coffee over it and cover with a piece of plastic wrap. In a medium bowl or liquid measuring cup, whisk the sour cream, milk, canola oil, eggs, and vanilla.
In the bowl of a stand mixer fitted with a paddle, mix the flour, sugar, cocoa poweder, baking soda, baking powder, and salt on low speed until combined. With the mixer running on low speed, slowly add the sour cream mixture. Increase the speed to medium and beat until combined, 20 to 30 seconds.
Whisk the chocolate and coffee together until completely smooth. With the mixer running on low, slowly pour the coffee mixture into the batter and mix until just combined. Using a spatula, give the batter a couple of turns to make sure it is fully mixed.
Pour the batter evenly into the prepared pans. Bake 25 to 35 minutes, until a wooden skewer or toothpick comes out with the tiniest bit of crumb.
Transfer the cakes to a wire rack and let cool for 30 minutes. Turn the cakes out onto the rack, removed the parchment paper, and let cool completely. Once cool, the cakes can be wrapped in plastic and refrigerated overnight or frosted.
For the buttercream
In the bowl of a stand mixer fitted with a paddle, beat the butter and salt on medium until creamy. Scrape down the sides of the bowl and add the confectioners' sugar. Mix on low until combined and then beat on medium for 3 to 5 minutes, until creamy and smooth, stopping to scrape down the sides of the bowl as necessary. Add the mint and vanilla and mix until smooth. Add a few drops of food coloring, if desired, and mix on low until it is completely incorporated. Add the heavy cream and mix on medium until smooth, 1 to 2 minutes.
To assemble
Place one layer of the cake on a turntable or serving plate. With an offset spatula spread the top with 1 cup buttercream. Place the second layer on top and frost the cake as desired. Sprinkle the cake with the crushed candies. For the two tone buttercream, I made the frosting, took out 3/4 cup, added two drops of food coloring, and very gently swirled it, only until there were obviously stripes. I applied the crumb coat and frosted the cake with the straight pink frosting, and then embellished with the two tone buttercream.