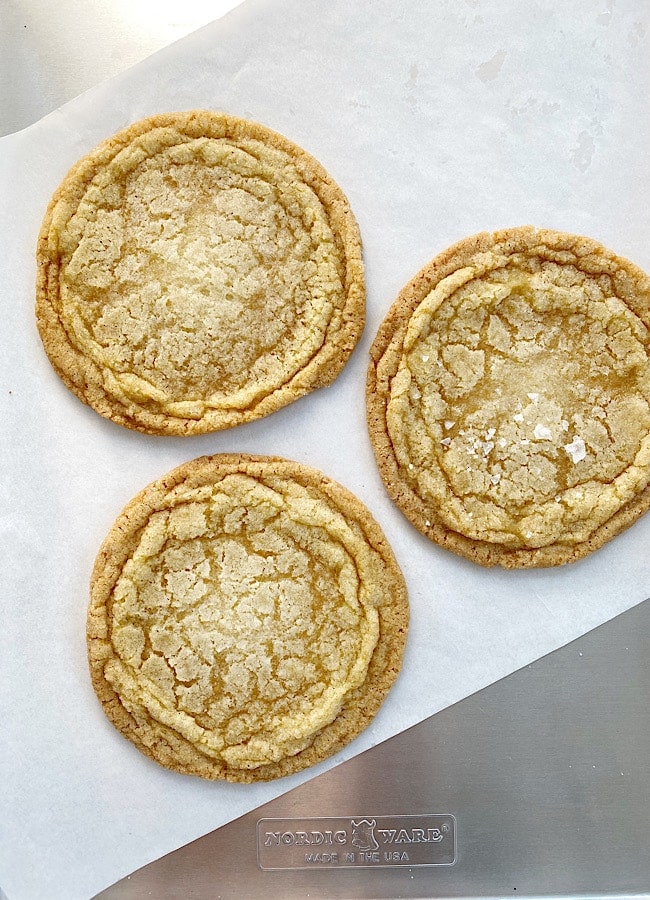 Pan-banging sugar cookies!
This is a recipe from my new cookbook, 100 Cookies. And is an off-shoot of my Pan-Banging Chocolate Chip Cookies. These delicious sugar cookies have buttery, rippled edges and a chewy center as a result of using the pan-banging cookie technique. They have a classic sugar cookie flavor elevated by bold vanilla flavors!
What Are Pan-Banging Cookies?
Bakers tapping their cookie pans in the oven isn't new, of course, but the pan-banging technique I use here is unique in that the pan is tapped in the oven every few minutes, creating ripples on the edge of the cookie. This creates two textures in the cookie: a crisp outer edge, and a soft, gooey center.
Can I Refrigerate Pan-Banging Cookie Dough?
Cookie dough can be refrigerated overnight before using. Shape the dough into balls and cover with plastic wrap before chilling, and then bring it to room temperature before baking (when the cookies are chilled solid, they won't ripple as well). Cookies that spend a night in the fridge will also have a more developed flavor, but also have a bumpier finish.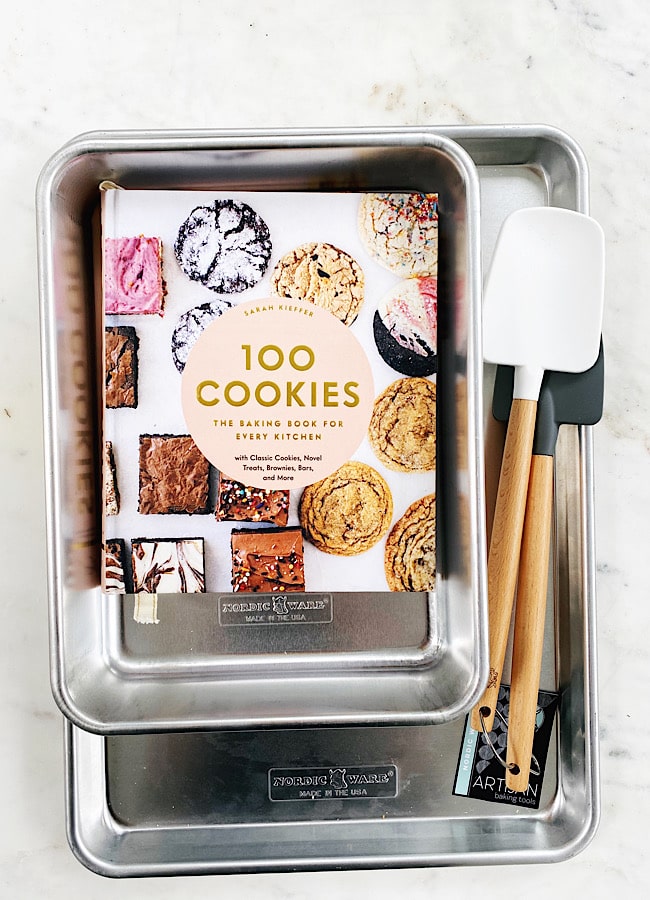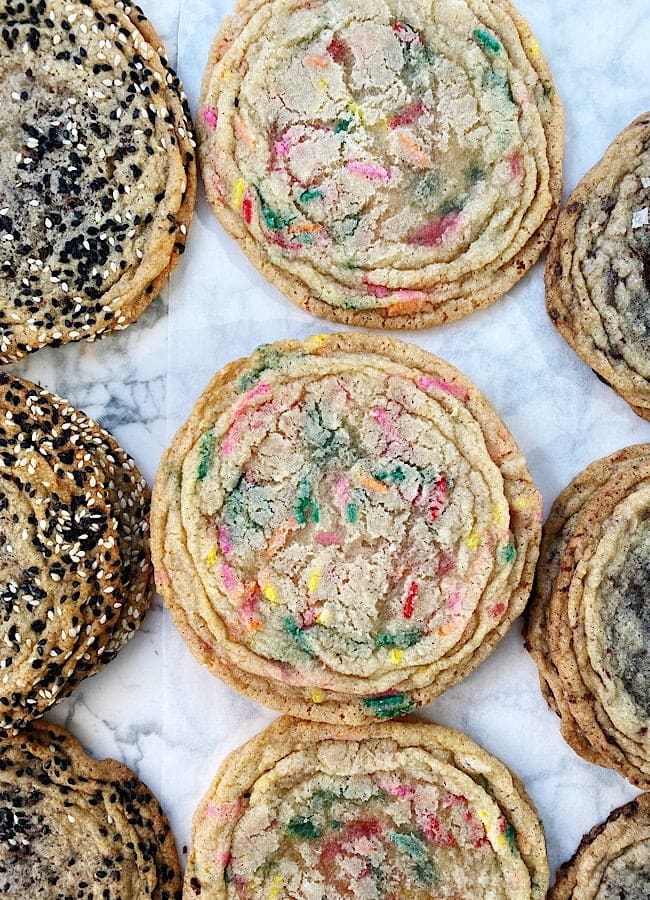 More Pan-banging Cookie Recipes: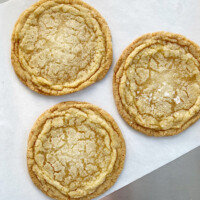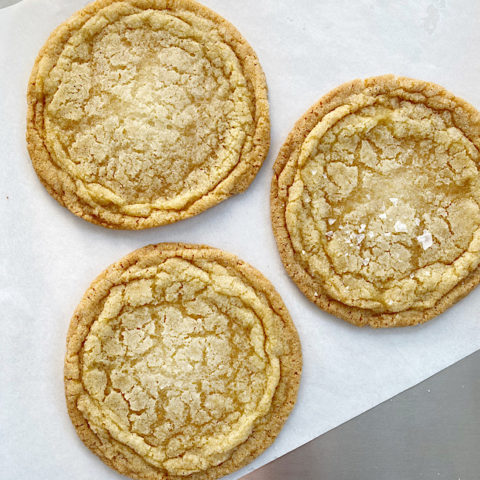 Pan-banging Sugar Cookies
Delicious sugar cookies with rippled edges and a chewy center, using the pan-banging cookie technique. Classic sugar cookie flavor elevated by bold vanilla flavors!
Print
Pin
Rate
Ingredients
2

cups

(284 g) all-purpose flour

1

teaspoon

baking soda

3/4

teaspoon

salt

1/2

teaspoon

cream of tartar

1

cup

(2 sticks or 227 g) unsalted butter, at room temperature

1 3/4

cup

(350 g) granulated sugar, divided

1

large egg

1

tablespoon

pure vanilla extract
Instructions
Adjust an oven rack to the middle of the oven. Preheat the oven to 350F [180C]. Line three sheet pans with aluminum foil, dull-side up.

In a small bowl, whisk together the flour, baking soda, salt, and cream of tartar. 

In the bowl of a stand mixer fitted with a paddle, beat the butter on medium speed until creamy, about 1 minute. Add 1 1/2 cups [300 g] of the sugar and beat on medium speed until light and fluffy, 2 to 3 minutes. Add the egg and vanilla and mix on low speed to combine. Add the flour and mix on low speed until combined. 

Form the dough into 3 oz [85 g] balls [1/4 cup]. Roll each ball in the remaining 1/4 cup [50 g] of sugar. Place 3 or 4 cookies an equal distance apart on the sheet pan. Bake the cookies one pan at a time. Bake until the dough balls have flattened but are puffed slightly in the center, 8 minutes. Lift one side of the sheet pan up about 4 in [10 cm] and gently let it drop down against the oven rack, so the edges of the cookies are set and the center falls back down. After the cookies puff up again in 2 minutes, repeat lifting and dropping the pan. Repeat a few more times to create ridges around the edges of the cookie. Bake for 14 to 15 minutes total, until the cookies have spread out and the edges are golden brown but the centers are much lighter and not fully cooked. 

Transfer the pan to a wire rack. Let the cookies cool for 10 minutes, then move them to a wire rack to finish cooling. Store cookies in an airtight container at room temperature for 2 days (or refrigerate for up to 3 days). 
Notes
This recipe is from my 100 Cookies cookbook.
*If you want to add sprinkles to the sugar cookies, throw in 1/2 cup with the flour.
*Throughout my recipes posted on this website, 1 cup of flour equals 142g. Please note that 1 cup of flour can range anywhere from 120g to 142g, depending on the baker or website. I found that after weighting many cups of flour and averaging the total, mine always ended up around this number. If I am posting a recipe from another cookbook, I will use whatever gram measure of flour used in that book, which is why you may see a few posts with a different cup measurement. 
Different brands of flour have varying levels of protein, ranging from low to high, which can result in very different outcomes when baking. I've found Gold Medal all-purpose unbleached flour to be the best option for many of my recipes; I use it in all the baked goods that don't use yeast. For yeasted doughs that call for all-purpose flour, I like to use King Arthur Brand. If you are using White Lily flour, please note that it is a low protein flour and doesn't absorb liquid the same as regular all-purpose flours. Check the back of the flour bag for instructions on substituting it for regular all-purpose flours.