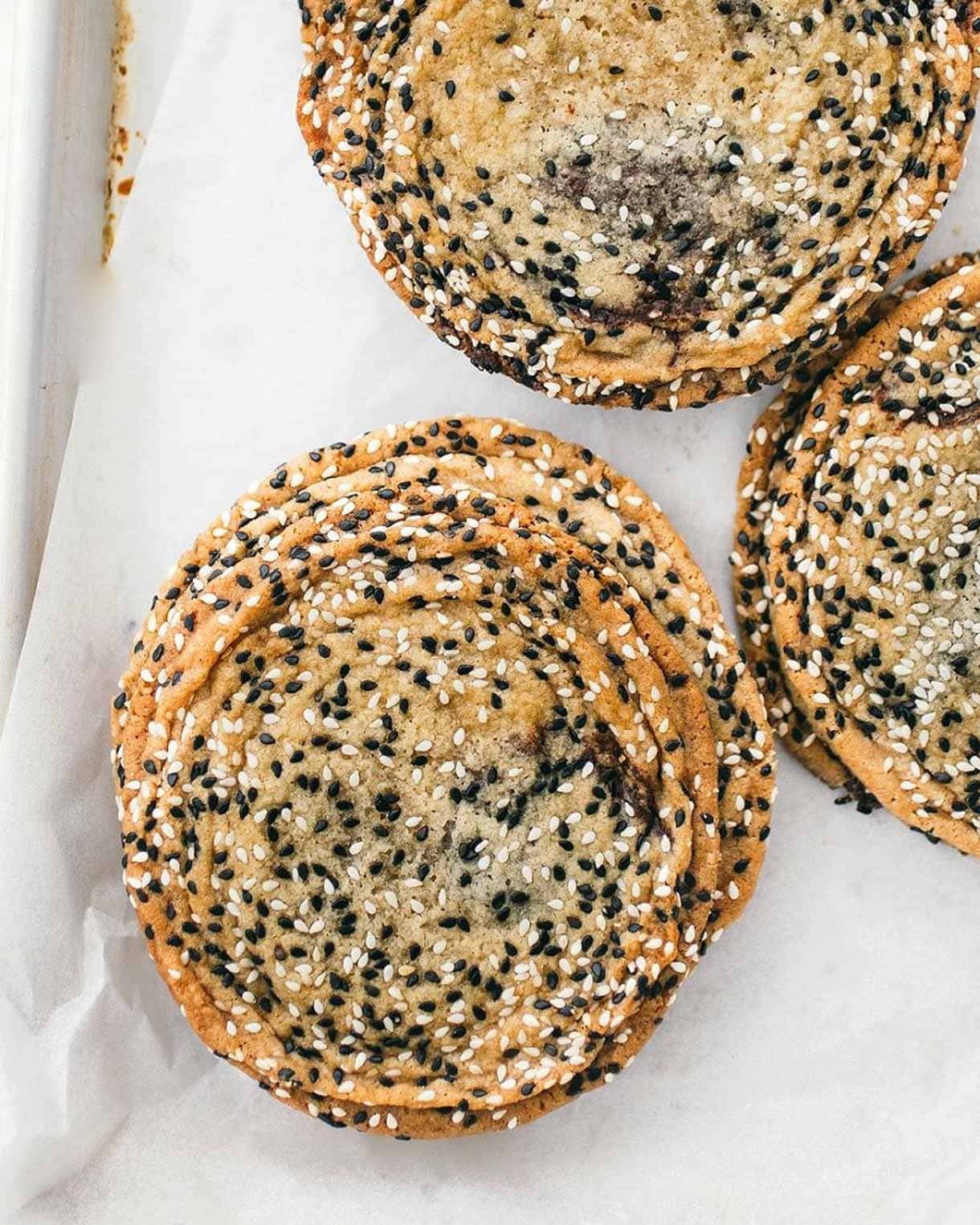 In my first cookbook, my pan-banging chocolate chip cookie recipe had a variation that included toasted sesame oil. The scent of toasted sesame oil gives me the same delicious feeling as the smell of brownies right from the oven, so pairing it with chocolate in cookie form seemed like the next logical step. The nutty oil is sweetened by the sugar in the cookie, and tastes amazing with shards of chocolate. I roll the dough in sesame seeds for a bit of crunch, and even more flavor.
For even more toasty nuttiness and textural contrast, I added white and black sesame seeds to the outside of the dough.
These cookies ended up in the pan-banging chapter of 100 Cookies, and have had rave reviews.
What are pan-banging cookies?
Bakers tapping their cookie pans in the oven isn't new, of course, but my pan-banging technique is unique in that the pan is tapped in the oven every few minutes, creating ripples on the edge of the cookie. This creates two textures in the cookie: a crisp outer edge, and a soft, gooey center. I use this technique for sugar cookies and ginger molasses cookies, too.
What flour is best for making pan-banging cookies?
To reproduce the ripples and wrinkles that are identical to my cookies, I find that Gold Medal Unbleached All-Purpose Flour works best and is the most consistent. It seems that high-protein flour won't allow for as much spreading and wrinkling.
Why I use aluminum foil to line the pan
I find that aluminum foil helps the cookies spread a bit more and creates a slightly crisper bottom. But parchment paper will work well, too.
Can I refrigerate the pan-banging cookie dough?
Cookie dough can be refrigerated overnight before using. Shape the dough into balls and cover with plastic wrap before chilling, and then bring it to room temperature before baking (when the cookies are chilled solid, they won't ripple as well). Cookies that spend a night in the fridge will also have a more developed flavor, but also have a bumpier finish.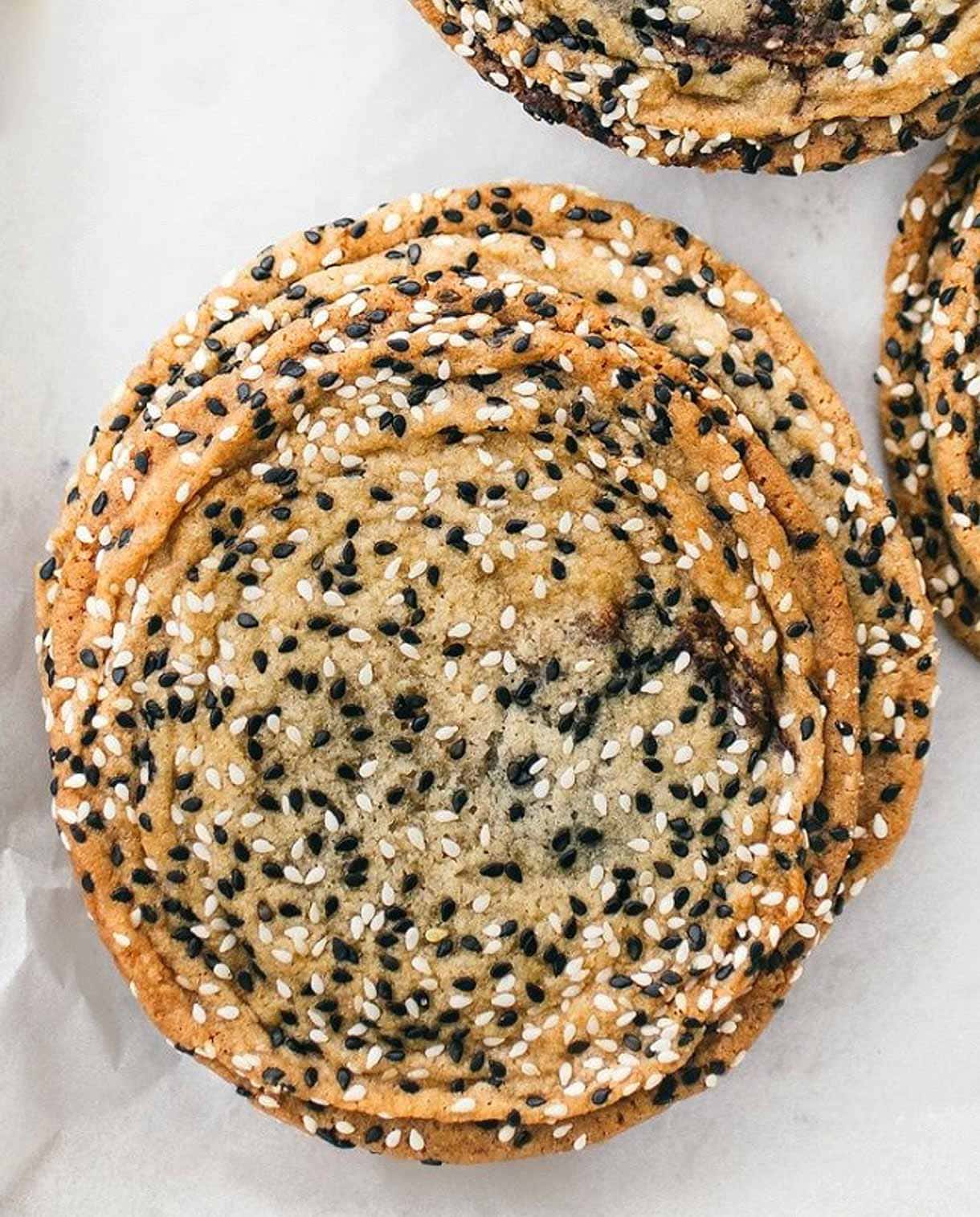 More Pan-banging Cookie Recipes: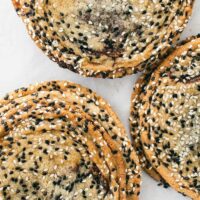 Sesame Chocolate Chip Pan-Banging Cookies
Servings:
10
large cookies
Toasted sesame oil gives these pan-banging cookies a unique and nutty flavor profile, paired with bits of bittersweet chocolate. The crisp edges are rippled and wrinkly, while the center is soft and chewy.
Print
Pin
Rate
Ingredients
1 3/4

cups

(250) grams all-purpose flour

3/4

teaspoon

salt

1/2

teaspoon

baking soda

12

tablespoons

(1 1/2 sticks or 170 grams) unsalted butter, at room temperature

1

cup

(200 grams) granulated sugar

1/2

cup

(100 grams) brown sugar

1

large egg

2

tablespoons

toasted sesame oil

1

tablespoon

water

1 1/2

teaspoons

pure vanilla extract

3

ounces

85 grams bittersweet or semisweet chocolate, chopped into bite-size pieces (averaging 1/2-inch with some smaller and some larger, optional)

Black and white sesame seeds

for rolling
Instructions
Adjust an oven rack to the middle of the oven. Heat the oven to 350°F (180°C). Line three sheet pans with aluminum foil, dull-side up.

In a small bowl, whisk together the flour, salt, and baking soda.

In the bowl of a stand mixer fitted with a paddle, beat the butter on medium speed until creamy, about 1 minute. Add the granulated and brown sugars and beat on medium speed until light and fluffy, 2 to 3 minutes. Add the egg, toasted sesame oil, water, and vanilla, and mix on low speed to combine. Add the flour mixture and mix on low speed until combined. Add the chocolate and mix until combined.

Form the dough into 3-ounce (85-gram) balls (1/4 cup). Roll in the sesame seeds, and place 4 cookies an equal distance apart on each sheet pan. Bake the cookies one pan at a time. Bake until the dough balls have spread flat but are puffed slightly in the center, 9 minutes. Lift one side of the sheet pan up about 4 inches (10 centimeters) and gently let it drop down against the oven rack, so the edges of the cookies set and the center falls back down. After the cookies puff up again in 2 minutes, repeat lifting and dropping the pan. Repeat a few more times to create ridges around the edge of the cookie. Bake for 15 to 16 minutes total, until the cookies have spread out and the edges are golden brown but the centers are much lighter and not fully cooked.

Transfer the pan to a wire rack. Let the cookies cool for 10 minutes, then move them to a wire rack to finish cooling. Store cookies in an airtight container at room temperature for 2 days (or refrigerate for up to 3 days).