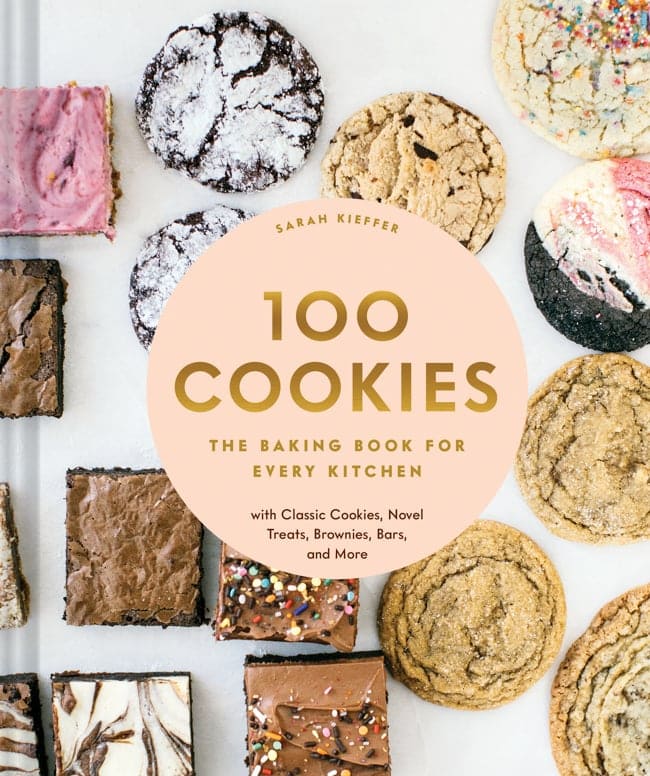 I'm so excited to share with you the cover of my new cookbook, 100 Cookies! My cookbook (originally slated to come oucookbookt October 2020) will be out August 2020, and is available for PREORDER. Chocolatey, fruity, crispy, chewy, classic, inventive—there's a foolproof recipe for everyone in this book. The book is filled with 100 recipes, including classics such as Sugar Cookies, Oatmeal Raisin, and Chocolate Chip, but also includes Marshmallow Peanut Butter Brownies, Olive Oil Sugar Cookies with Blood Orange Glaze, Red Wine Cherry Cheesecake Swirl Bars, and Pan-Banging Ginger Molasses, S'mores Cookies, Snickerdoodles, and more. Plus, there is a WHOLE CHAPTER of pan-banging cookies!
Find the book available for pre-order at your favorite local bookstore or any of these wonderful booksellers:
Cookies have always been a love language for me; all of it: mixing, baking, eating, and sharing. Writing this book was both very hard and very fun – testing and retesting 100 recipes was a labor of love, but I enjoyed the entire process (and my children also were ecstatic to come home from school each day to find fresh-baked cookies). I have so many favorite recipes in this collection, and it was honestly hard to stop at 100 – there are quite a few that didn't make it into the book. The Brown Butter Chocolate Chip Cookies (pictured below) are one of my most beloved recipes in the book, and now a personal family classic. This time around my book is published by Chronicle Books, and I enjoyed working with them: their attention to detail in the designing of the book was so appreciated, and I love how the cover turned out (I've rediscovered light pink in my 40's and can't get enough, ha).
Thank you for all of your support over the years, I truly appreciate it!