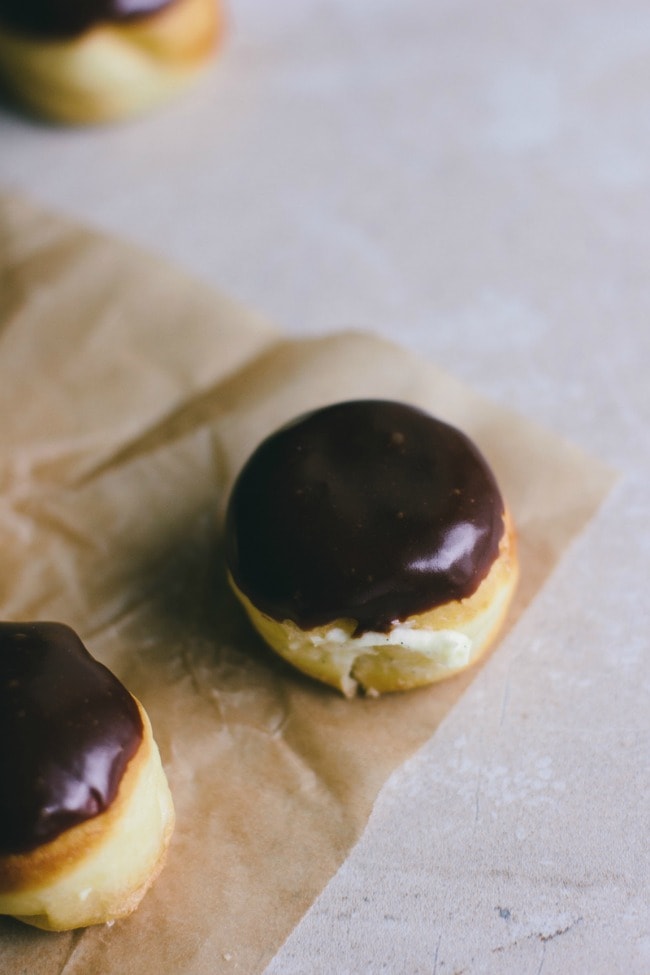 On December 10, 2007, I was 9 months pregnant with my first child, my daughter Winter. That particular day in December was also her due date, and my 10-year 'dating' anniversary with Adam. Ten years ago that very night after walking around for hours talking about how we wanted to be more than just friends, we found ourselves in front of the Winona Middle School and kissed for the first time sitting on the cold, concrete steps. I was wearing my white grandma sweater that came with me everywhere, and Adam had on blue and red: sweater, jeans, hat, and gloves; it was all red and blue. He walked me home, and we were together from that day forward (well, except for the break-up, and the break-up in the break-up. It's complicated).
So ten years later, we climbed in our car and decided to hit the town to do something special. But I had achy hips, and the strong braxton hicks contractions I had been experiencing all afternoon were terrifying me, so I insisted we stay within 10 minutes of our house. This sort of put a damper on 'hitting the town,' and we drove around and around our neighborhood unable to decide where to eat. Finally after a half hour of arguing about restaurants and laughing hysterically, we pulled into an Applebees.
It was not the place I wanted to celebrate our years together. But, all I wanted was a chocolate malt. I wasn't hungry, really, only tired, as my body was about to produce another body. So we sat down in an over-sized booth, and I drank my chocolate malt while we spent our time remembering so many important details from that night on the middle school steps.
*******************************
April has not shown herself to be kind, and we just made our way through another stressful weekend on top of a stressful week. In a moment of weakness I jumped in the car at 8 pm Monday night and bought ice cream and chocolate syrup at the local grocery store. As I loaded the bag in my trunk, I glanced across the parking lot and saw that same Applebees all lit up like a Christmas tree. I hadn't been in since our anniversary date, and I found myself smiling, remembering that night so long ago. Here I was again, years later, about to sell my birthright for a chocolate malt. I went home to Adam, and put the ice cream and syrup and a huge splash of bourbon in the blender. We drank those cold shakes in silence, smiling and nodding. It may have rained for forty days and nights this week and I have more on my plate than I can chew, but it was quietly forgotten for a brief moment. I sat there, remembering how I looked into Winter's eyes for the first time. They were dark, murky pools; they had never seen light. I held her close to me, memorizing her. She belonged to us now, and we belonged to her.
old wool sweaters, concrete stairs,
first kisses, hats and mittens,
comfy booths, long talks,
red and blue jeans, winter walks,
a splash of bourbon and chocolate malts,
that's what little girls are made of.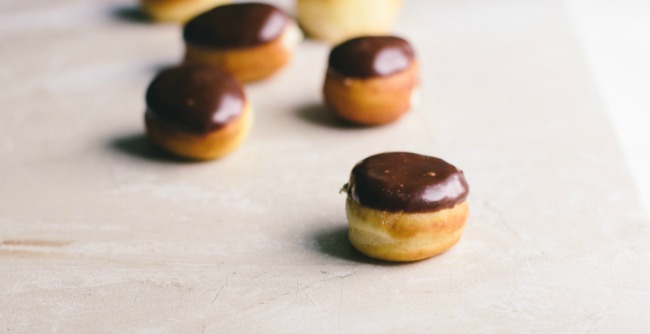 Brioche doughnuts with chocolate-bourbon glaze
I decided to give you a recipe for these doughnut instead of a chocolate malt, because I really just threw a few scoops of ice cream in a blender and topped it off with a squirt of chocolate and a mighty fine splash of bourbon. But, there is chocolate, and bourbon, and cream here as well, so it's sort of the same thing.
I hate to send you all over the place, but I used three different recipes to make these doughnuts, and I didn't change much, if anything on them, so I feel a link is best. I used Bread in Five's famous no-knead brioche dough for these doughnuts, which makes things extra easy, as you can make the dough up to a week in advance, and store it in the fridge (if you'd like to go the healthier route, their whole wheat brioche dough also works here). I used 1 1/2 pounds of dough, which made a little more than 2 dozen mini doughnuts. I used Zoë François' pastry cream recipe here; and folded 1/2 cup whipped cream into the pastry cream; it worked perfectly (and can also be made a few days ahead). For the glaze, I used Alton Brown's Chocolate Bourbon Glaze, and stirred in 1 tablespoons of bourbon at the end.
1 1/2 pounds of brioche dough (see note)
flour, for rolling
canola oil, for frying
pastry cream (see note)
chocolate-bourbon glaze (see note)
Roll the dough into a 1/4 inch thick rectangle on a lightly floured surface. Using a small biscuit or cookie cutter (mine was about 2 inches), cut out the dough into small circles, and place them on a lined sheet pan. Let the doughnuts rest 15-20 minutes while the oil is heating up.
Pour the canola oil to a depth of about 3 inches into a large, heavy saucepan and heat the oil to 360-370 degrees (as determined by a candy thermometer). Carefully drop the doughnuts into the hot oil, 2 or 3 at a time. Do not overcrowd them. After 1-2 minutes (or until doughnuts are light golden brown and puffed), flip the doughnuts over with a slotted spoon and fry another minute or until golden brown on both sides.
Using the slotted spoon, remove the doughnuts from the oil and drain on paper towels. Repeat until all the doughnuts are fried. When the doughnuts have cooled, poke a hole in the side of each doughnut. Fit a pastry bag with a small round tip and fill the bag with the filling. Squirt 1-2 tablespoons inside each doughnut. Glaze the doughnuts with the chocolate-bourbon glaze, and wait for it to set. These doughnuts are best eaten the day they are made.