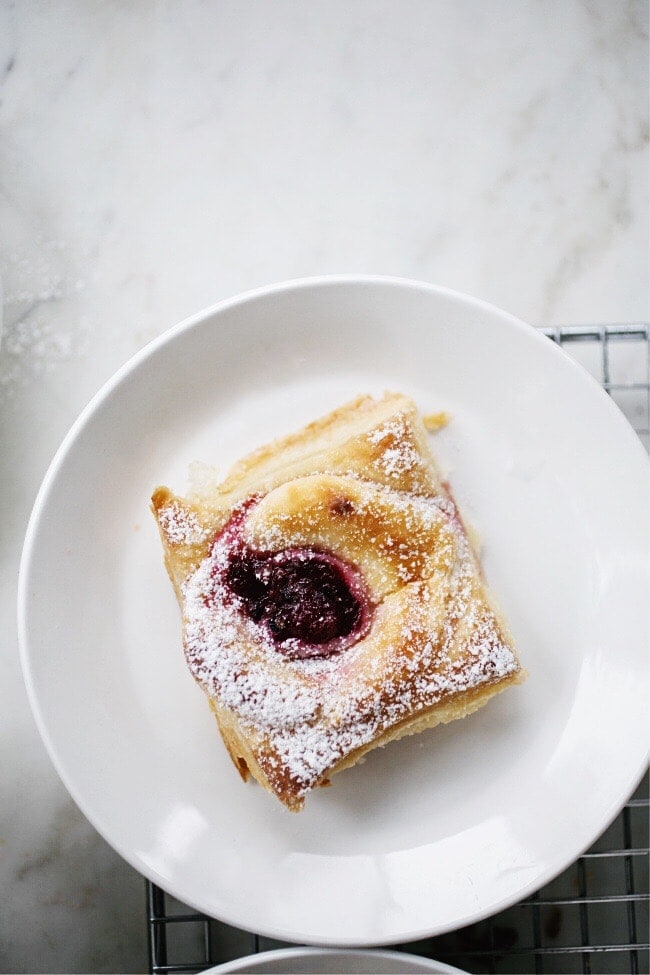 I recently received Cathy Barrow's new cookbook, Pie Squared (affiliate link), and have been highly enjoying it.
The concept of the book is slab pies, a pie that strays from its traditional circle shape and is instead baked in a baking sheet.
I am a huge fan of slab pie; I prefer the crust to filling ratio, and it cuts so nice and neat into squares while being large enough to feed a crowd. It's a perfect dessert. One of the first recipes I made from the book was this Cheese Danish Slab Pie, which involves a puff pastry crust, cream cheese and jam, and a dusting of powdered sugar.
Similar recipes you might enjoy: Danish Braid with Apple and Cream Cheese, Cardamom Sugar Buns, Morning Buns, Cherries and Cream Slab Pie, and Peach Puff Pastry Pie.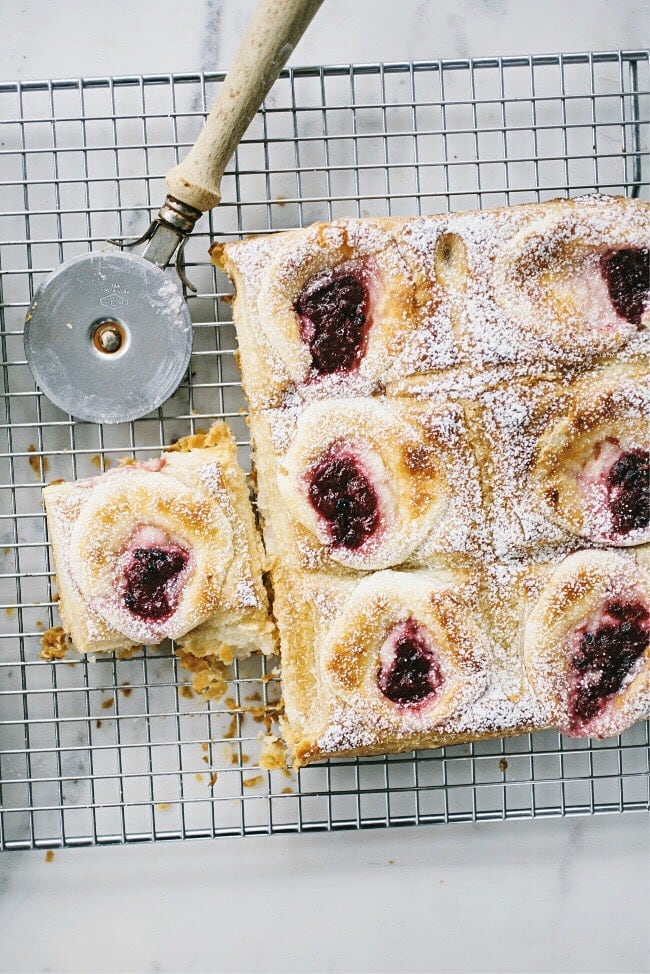 ***************************************************************
"[A]t that moment, some strange melodious bird took up its song, and sang, not an ordinary bird-song, with constant repetitions of the same melody, but what sounded like a continuous strain, in which one thought was expressed, deepening in intensity as evolved in progress. It sounded like a welcome already overshadowed with the coming farewell. As in all sweetest music, a tinge of sadness was in every note. Nor do we know how much of the pleasures even of life we owe to the intermingled sorrows. Joy cannot unfold the deepest truth, although deepest truth must be deepest joy. Cometh white-robed Sorrow, stopping and wan, and flingeth wide the doors she may not enter. Almost we linger with Sorrow for very love."
-George MacDonald, Phantastes  (affiliate link)
I've been trying to ease myself away from social media; making some small changes in my day so that it's not a constant in my life (sometimes it gets to be that way). I purchased an alarm clock so I can keep my phone out of my bedroom at night and the early morning – I'm not falling asleep and waking to the endless stream of other people's perfect lives while also being bombarded with godawful news.
This means (happily) that I've been reading more, at least a little, before entering phone land. (Please note: I think reading the news and keeping up-to-date with current events is important, but it's been helpful not to spend my first and last minutes of each day consumed.) I am currently in the middle of George MacDonald's Phantastes, a novel I tried to read 15+ years ago and it just didn't resonate, but this time round I am enjoying Anodos' journey through Fairy Land immensely. MacDonald's writing is pure poetry, and it's been a cozy way to spend these autumn evenings.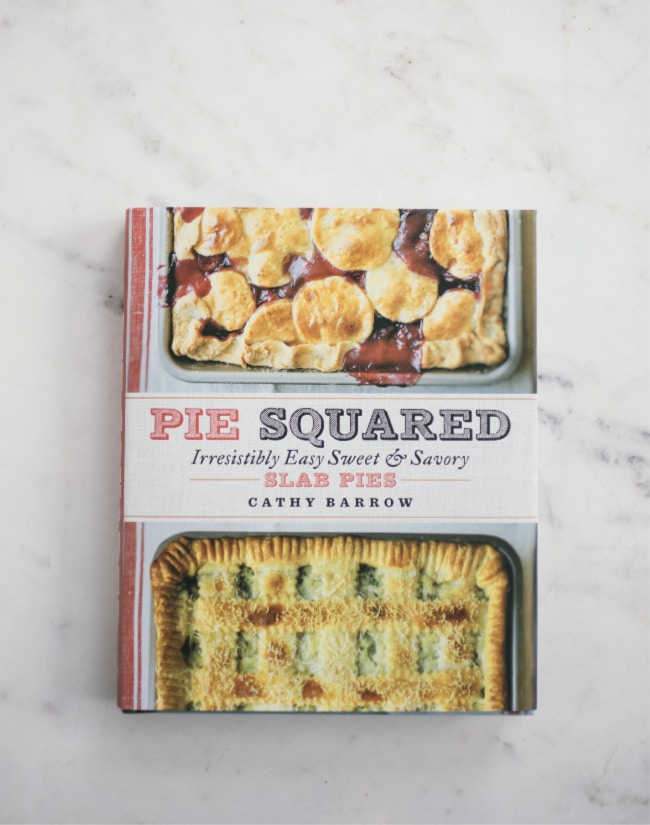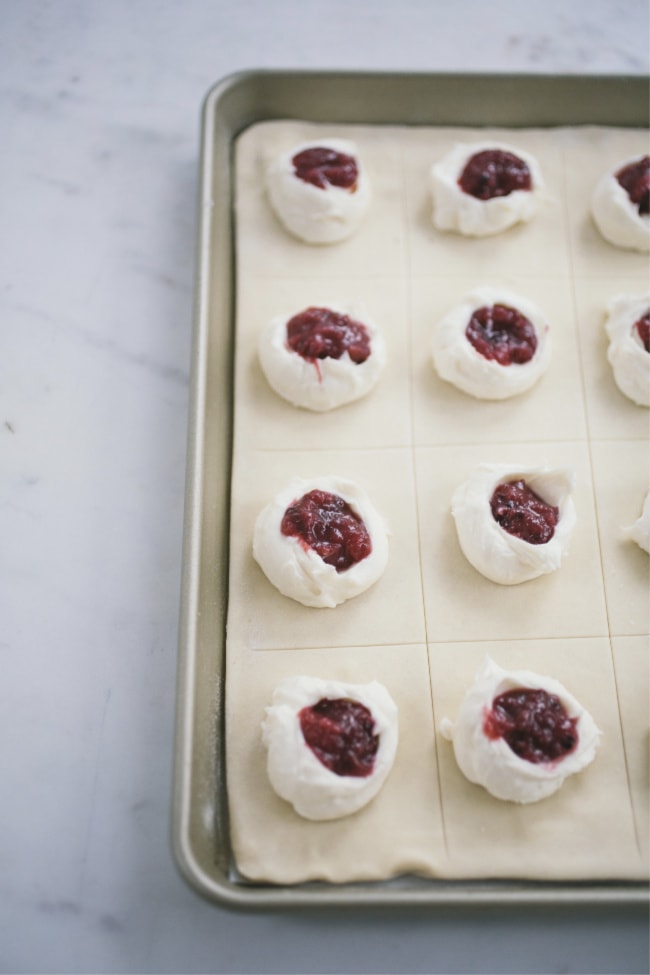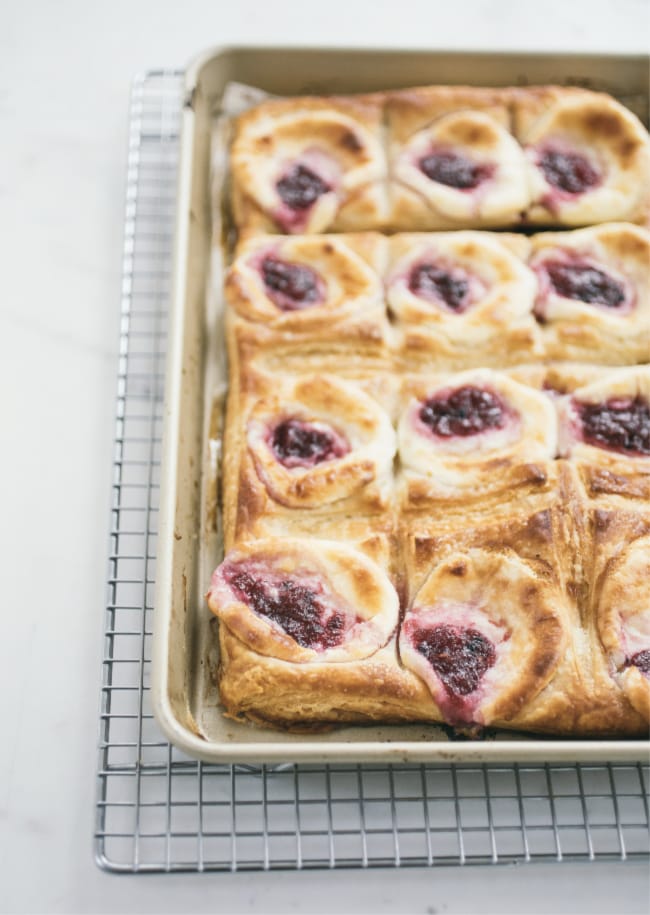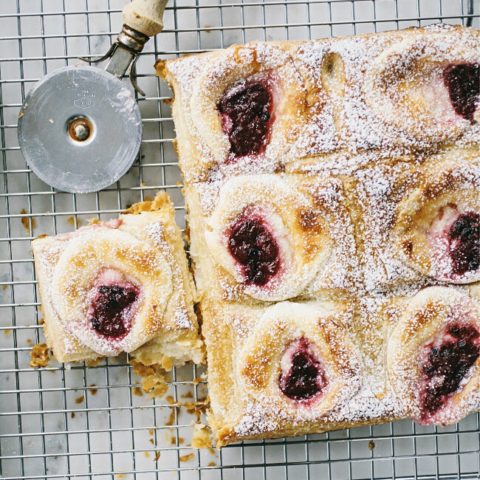 Danish Puff Pastry Slab Pie
An easy to make slab pie, using store-bought puff pastry. Filled with the flavors of a cream cheese danish!
Print
Pin
Rate
Ingredients
1

sheet

200-285g puff pastry, defrosted if frozen, but still cold (Store bought works great, see note below. Or you can use a half recipe of the rough puff pastry from my first cookbook.)

8

ounces

226g cream cheese, at room temperature

1/4

cup

50g granulated sugar

Pinch

salt

1/2

teaspoon

pure vanilla extract

1/2-1

teaspoon

lemon juice

2-3

tablespoons

jam

I used blackberry-pear, but your favorite jam will work here

Powdered sugar for dusting
Instructions
Heat the oven to 400F. Place a baking stone or half sheet pan on the center rack to heat. (The half sheet pan is slightly larger than the quarter sheet pan used for the slab pie. Preheating a baking stone or half sheet pan and then placing the slab pie pan on it when ready to bake helps brown and crisp up the bottom of the crust. You can skip this step if you don't have either.)

Cut a piece of parchment paper to fit the slab pie pan (

9 x 13-inch baking sheet

). Dust lightly with flour and use it as a guide to roll out the puff pastry to size. With a sharp knife, score the surface of the pastry nearly all the way through the dough in a tic-tac-toe pattern, to mark off either 8-12 portions. Slide the parchment with the pastry into the slab pie pan and refrigerate.

In the bowl of a stand mixer fitted with a paddle, beat the cream cheese on medium speed until smooth. Scrape down the sides of the bowl and add the sugar, salt, vanilla, and 1/2 teaspoon of lemon juice and mix on low until completely combined. Taste the filling, and add a little more lemon juice if the flavor is dull. (The filling shouldn't taste like lemon, but a little bit of lemon juice will add a bright note to the filling. When tasting, look for a bit of a zing in your mouth that doesn't scream lemon.)

Use a small scoop or two spoons to plop cheese filling on top of each portion, no more than 1 – 1 1/2 tablespoons each. Less is more: Too much cheese will overwhelm the pastry and tamp down the layers, so hold back.

Use the back of a spoon to make a well in each dot of the cheese and spoon in a scant 1/2 teaspoon of jam. Place the slab pie (in its pan) on top of the heated baking stone or the half sheet pan. Bake until the cheese is beginning to brown here and there and the pastry is toasty brown, 21-23 minutes.

Cool the cheese danish slab pie for no more than a moment. Dust with the powdered sugar. Ideally, slice and serve this pie barely warm, using a sharp scissors or pizza wheel to cut the portions along the score lines.
Notes
* A note on store bought puff pastry: look for a puff pastry that is all butter. Ms. Barrow recommends Dufour, Simply Enjoy, and Trader Joe brands. The pie is baked in a 9 x 13-inch baking sheet, otherwise known as quarter sheet pan.
* Recipe adapted from Pie Squared by Cathy Barrow.