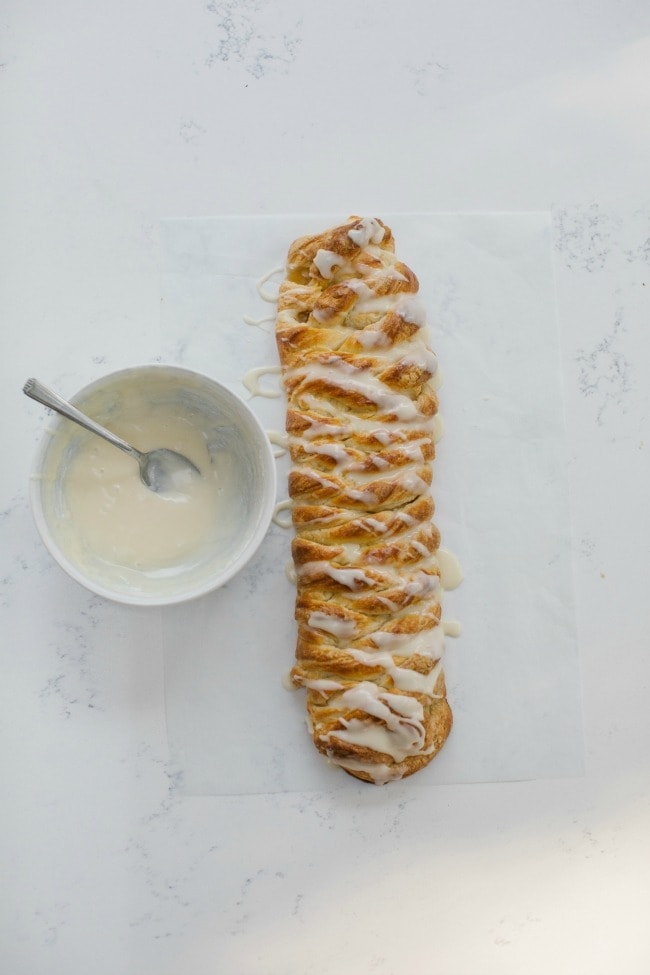 We entered September with a bang: school for everyone except me, birthday celebrations, anniversary dinner, and then we splurged on U2 tickets and saw the Joshua Tree tour (and they did play the Joshua Tree from start to finish and it was amazing) (also the poems they scrolled on giant screens before the show are worth reading) and then saw Maria Bamford the very next night (along with Jackie Kashian who was also hilarious) and then family visiting and then meet-the-teacher night and then scrubbing my house from top to bottom because summer made it embarrassingly dirty.
There is still so much packed into the rest of this month I am actually looking forward to October, along with some cool fall breezes and falling leaves, long walks and even longer books.
September started out rather chilly, but this past week we found ourselves in a major heat wave, so naturally I found myself in the kitchen making pies, puff pastry, and Danish dough.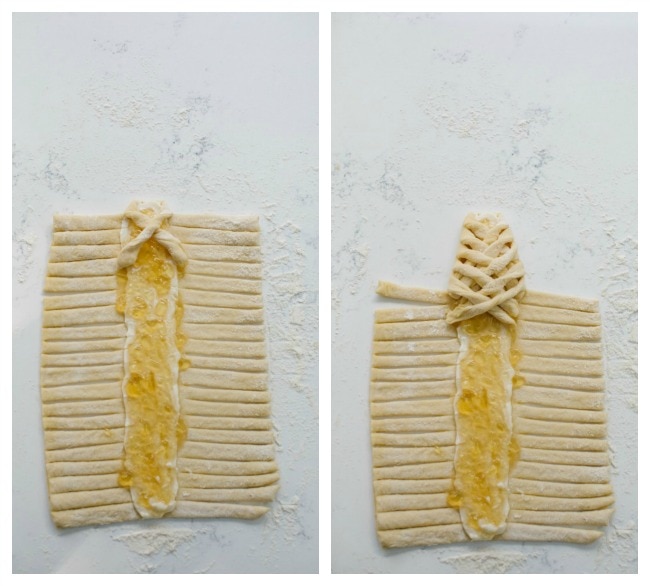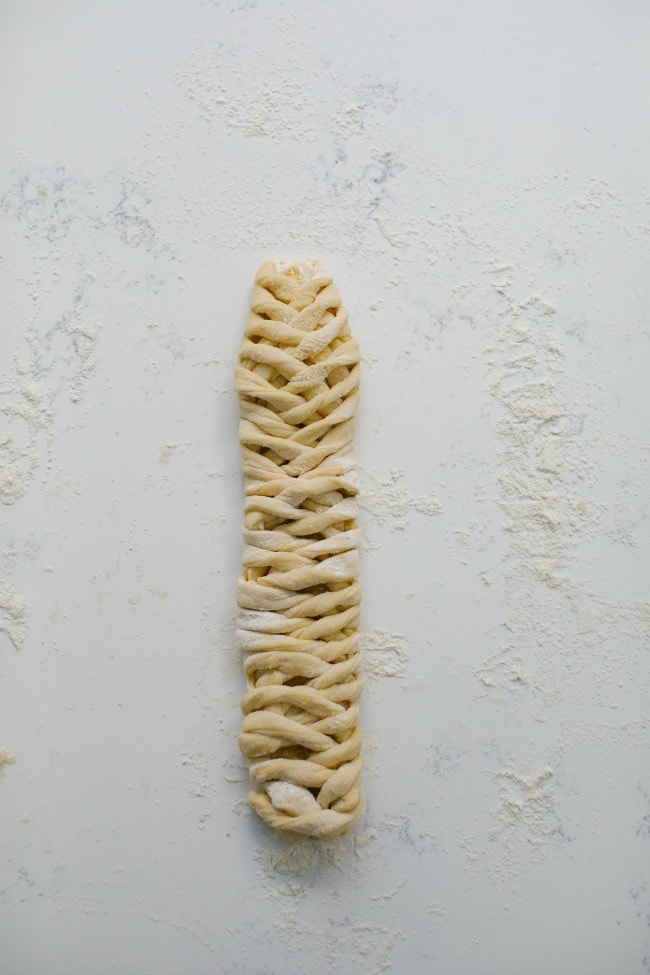 I have this odd desire to bake on extremely hot days, which doesn't make much sense to me, but then again, I have the same desire on icy cold days, so maybe it's just that I'm obsessed with baking.
Whatever the reason, this Danish braid was made, and I've declared it my new favorite, spread with apple butter or apple jelly and a cream cheese filling.
The braid itself was inspired by Zoe Francois – she made this beautiful Raspberry braid with Bread in 5's no-knead dough, and the second I saw it, I knew I had to try one with my Easy Danish Dough.
It worked wonderfully, and I have a feeling any guests I have for the next 6 months will be served some variation of this.
Tips for Making Easy Danish Dough
The dough used in this Danish braid does need to rest overnight in the refrigerator, so plan accordingly. It's important for the Danish dough to come to room temperature before you roll it out, or the butter will not incorporate correctly.
This dough can be frozen, but doesn't rise quite as nicely as when it's fresh. If the dough is not used right away after being out and turned, it will puff up in the refrigerator. This will make it a little harder to roll out, but you will still have good results.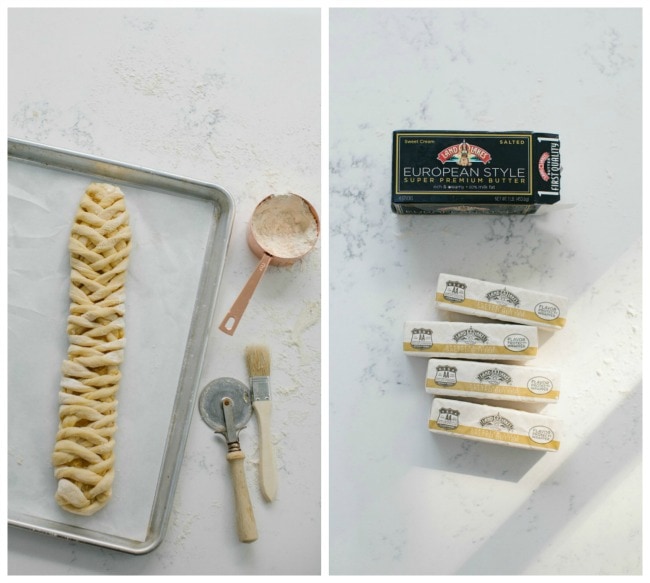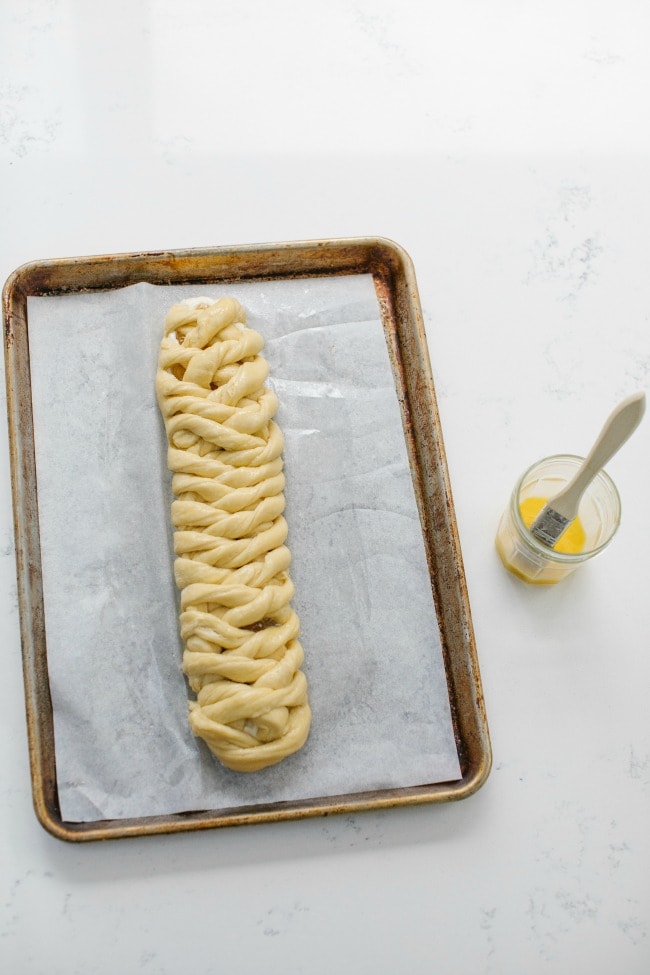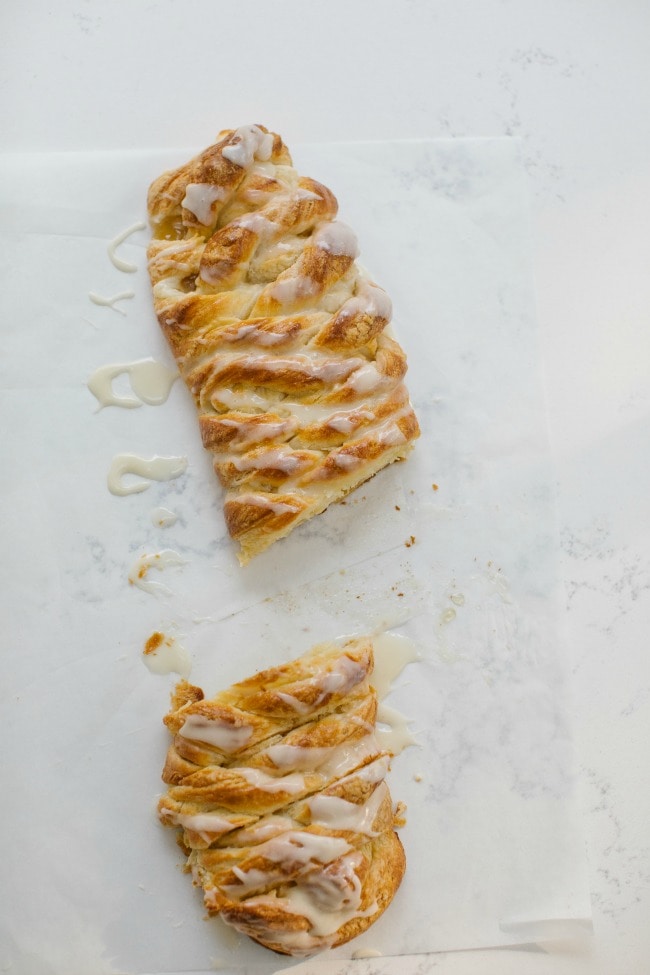 More Danish Recipes: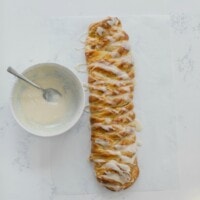 Apple Danish Braid with Cream Cheese
A light and flaky danish pastry filled with apples and cream cheese, then braided for a beautiful look. The easy danish dough is perfect!
Print
Pin
Rate
Ingredients
3/4

cup

whole milk

warm (100-110F)

1

large egg,

room temperature

2

large egg yolks,

room temperature

1

teaspoon

pure vanilla extract

2 1/2

cups

(355g) all-purpose flour

2 1/4

teaspoons

instant yeast

2

tablespoons

sugar

1

teaspoon

salt

4

tablespoons

(1/2 stick | 57g) European style butter, room temperature

12

tablespoons

(1 1/2 sticks | 170g) European style butter, cold, cut in 1/2-inch pieces
Cream Cheese Filling
6

ounces

cream cheese,

room temperature

1/4

cup

sugar

Pinch

salt

1/2

teaspoon

pure vanilla extract

1/2-1

teaspoon

lemon juice
Glaze
1

cup

confectioner's sugar

2-4

tablespoons

whole milk or heavy cream

1/2

teaspoon

pure vanilla extract

Pinch

salt

1/4

to 1/2 teaspoon lemon juice

1

tablespoon

creme fraiche,

optional
Instructions
For the easy Danish dough
Grease a large bowl.

In a large liquid measuring cup, combine the milk, egg, yolks, and vanilla.

In the bowl of a stand mixer fitted with a paddle, mix the flour, yeast, sugar, and salt on low. Add the room temperature butter and mix on low until it is incorporated into the flour and no pieces are visible. Add the cold butter and mix on low, until it is broken down and smashed a bit, but still in 1/2-inch pieces. Add the milk mixture and mix on low until combined. The dough will be very sticky and there will be visible lumps of butter. Using a spatula, scrape the dough into the prepared bowl and cover tightly with plastic wrap and refrigerate overnight, or up to 3 days.

The next morning, transfer the dough to a well-floured work surface. Knead 10-12 times, until the dough forms a ball. Cover the top lightly with flour and cover with a tea towel, let rest until it comes to room temperature. Pat the dough into a 6-inch square and roll into a 16 by 20-inch rectangle. If the dough sticks at all, sprinkle more flour underneath it. Brush any excess flour off the dough, and, using a bench scraper, fold the short ends of the dough over the middle to made three layers, similar to a business letter. This is the first turn.

Flip the dough over (seam side down) and roll into an 8 x 16-inch rectangle. Fold the short ends over the middle, business letter style. Repeat the steps again, for a total of four turns.

On the last turn, gently use the rolling pin to compress the layers together slightly. Wrap the dough tightly in plastic wrap and chill for at least 1 hour before using or keep refrigerated for 2 days.
For the cream cheese filling
In the bowl of a stand mixer fitted with a paddle, beat the cream cheese on medium speed until smooth. Scrape down the sides of the bowl and add the sugar, salt, vanilla, and 1/2 teaspoon of lemon juice and mix on low until completely combined. Taste the filling, and add a little more lemon juice if the flavor is dull. (The filling shouldn't taste like lemon, but a little bit of lemon juice will add a bright note to the filling. When tasting, look for a bit of a zing in your mouth that doesn't scream lemon.) Cover the filling and set aside until ready to use.
For the glaze
In a medium bowl, whisk together the confectioner's sugar, 2 tablespoons milk, vanilla, and salt (if using the creme fraiche, add here, too). Add more milk, 1 tablespoon at a time, to thin the icing to a preferred consistency. Add 1/4 teaspoon lemon juice, and taste for brightness (add more if needed, but again, you don't want a lemon flavor here).
To assemble
Cut the Danish dough in two equal pieces. Roll the first piece of dough into a 10 x 14-inch rectangle, using enough flour so the dough doesn't stick to the surface or the rolling pin. Transfer the piece of dough to a piece of parchment paper (this will make moving the braid much easier). Spread half of the cream cheese filling down the center of the dough, about 1 1/2 inches wide. Top the cream cheese with about 3/4 cup of the apple jelly. Carefully cut 1/2-inch thick strips of dough (a pastry cutter works best here), doing your best to make the strips even and equal on both sides. Starting with the top two pieces, gently twist then cross the pieces over the top of the filling. Continue the same motion of twisting the pieces and crossing them all the way down the braid. When you get to end of the braid, tuck the loose ends underneath the braid (this way they won't pop out when baking). Repeat with the second piece of dough.

Move the braids (on the parchment) to baking sheets, and cover loosely with plastic wrap. Let the Danish braid rise until puffy (similar to a marshmallow when pressed), about 1 1/2 hours.

Adjust an oven rack to the lower middle position. Preheat the oven to 350F. (I like to bake mine one at a time, but you could bake them together – adjust oven racks instead to upper and lower middle positions, then rotate sheets to opposite oven racks half way through baking.

Lightly brush the braids with egg wash. Bake for 25-30 minutes, until golden brown. Transfer the baking sheets to a wire rack and let cool slightly. Drizzle the braids with the glaze.