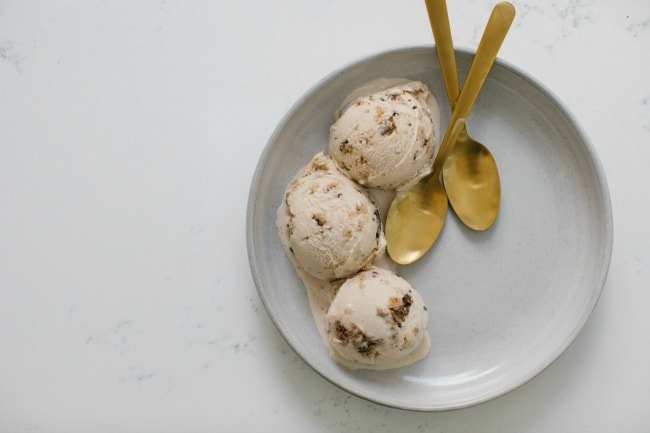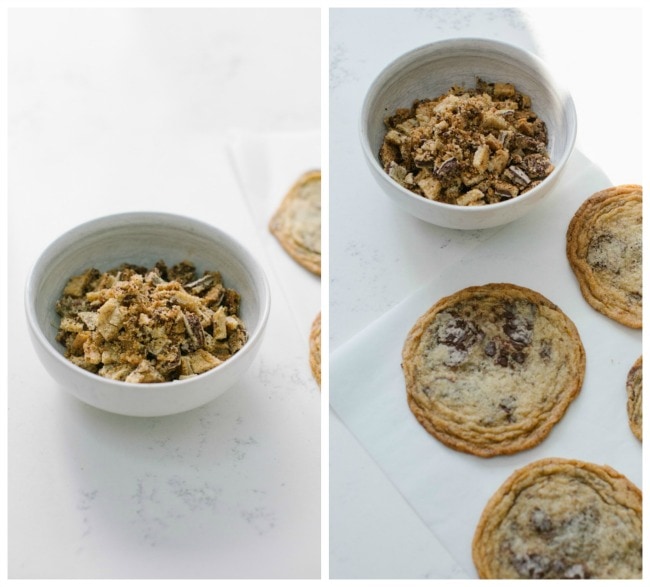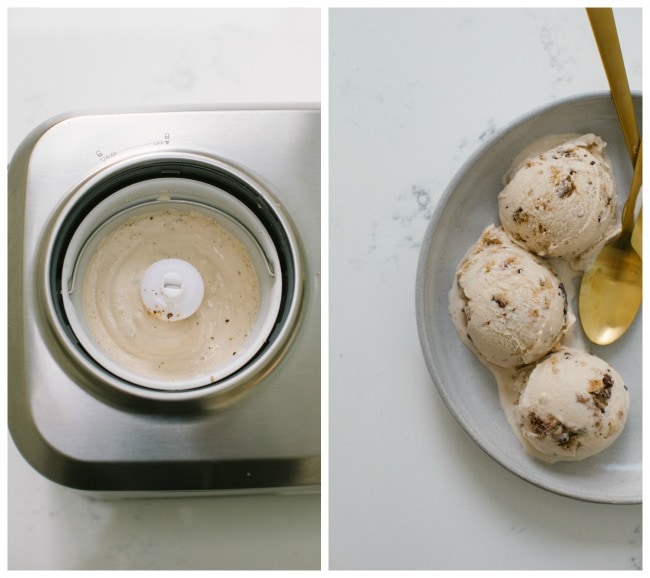 My face in thine eye, thine in mine appears,
And true plain hearts do in the faces rest;
Where can we find two better hemispheres,
Without sharp North, without declining West?
Whatever dies was not mixed equally;
If our two loves be one, or thou and I
Love so alike that none do slacken, none can die.
-John Donne, The Good-Morrow
This past week I found volumes A-F of the Norton Anthology of English Literature (affiliate link) at my local thrift store, and I gleefully tucked them into my cart and took them home to read. I had a gigantic hardcover anthology that I carried around all through college, but since graduating the books have been updated tremendously (YAY), and I'm happy to find better translations, women authors, and helpful commentary. I'm a sucker for sixteenth century literature; I fell in love with Shakespeare in high school and enjoy reading the poetry from that time period (as you can see in the above poem). However, I'm starting at the Middle Ages and working my way through. It's always a good sign when you pick up a book before an iphone; I haven't enjoyed reading this much in quite awhile.
I also received a new cookbook recently – Hello, My Name is Ice Cream, by Dana Cree. This worked out perfectly, because Williams-Sonoma was very kind and sent me a Breville Ice Cream Compressor in August, and I have been making waaaaay too much ice cream with it. (Side note: I LOVE the ice cream compressor. It's dreamy and quiet and so fun to use.) I decided to make my chocolate chip cookies into ice cream, and the results were, as you can imagine, delicious.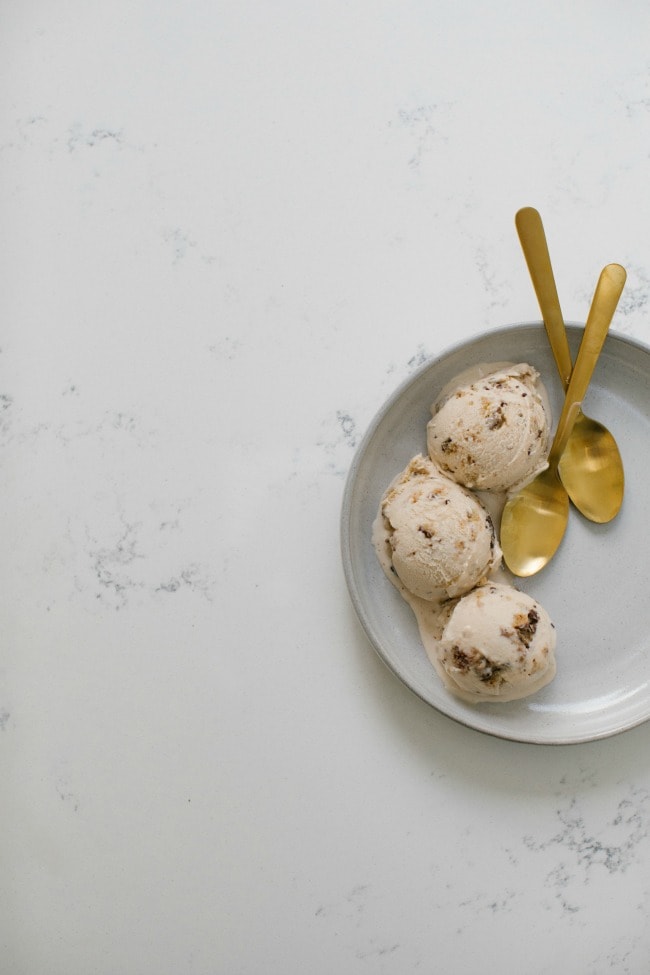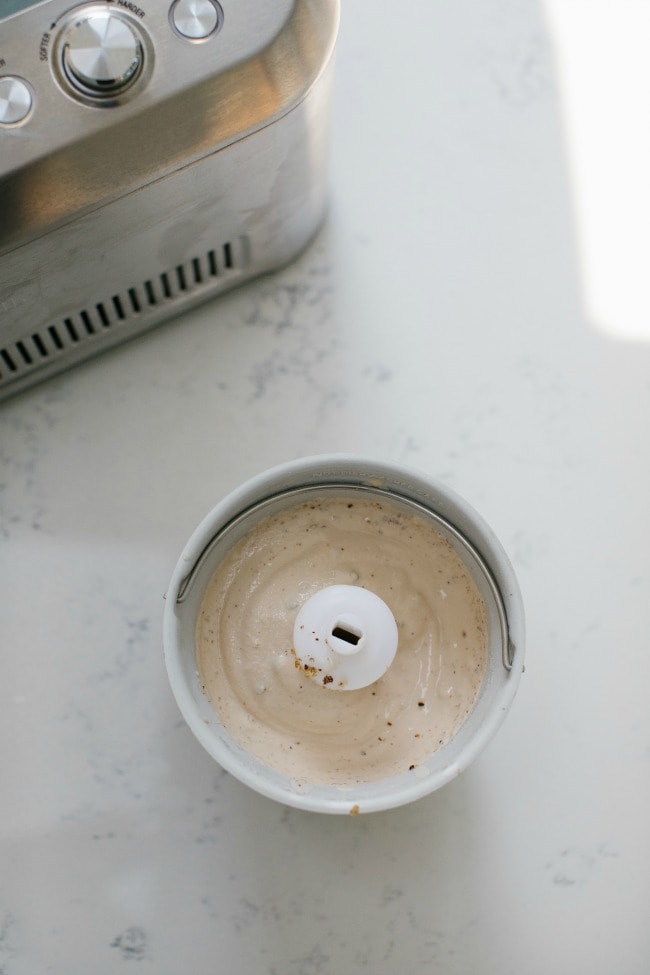 Chocolate Chip Cookie Ice Cream
Adapted from Hello, My Name is Ice Cream by Dana Cree (affiliate link).
A few notes: This recipe calls for ice cream stabilizer (affiliate link) and glucose (affiliate link), which are not easy-to-find grocery store items. I ordered mine here (affiliate link) and here (affiliate link). Corn syrup can be substituted for the glucose, but the ice cream will be slightly sweeter. Cornstarch can be substituted for the stabilizer, but will be need to be added at a different time and in a different amount. To use cornstarch, add 1 tablespoon plus 1 teaspoon (10g) cornstarch to 2 tablespoons (20g) of cold milk and mix together. Whisk the mixture into the simmering ice cream base, then cook for 1 minute (see recipe for exact time to add).
Most ice cream stabilizers contain carrageenan, which is a thickening agent found in many food/drink items. I've discovered recently that it gives me a terrible stomach ache, so while this ice cream was delicious, I regretted using the stabilizer afterward. No one else in my family was bothered by the carrageenan, but I would personally try making this with cornstarch the next time I try it out.
The ice cream base does need to chill for 4 hours and up to overnight, so plan accordingly.
This ice cream recipe calls for a donut instead of chocolate chip cookies in the book, which I think would also be amazing.
3/4 cup (150g) granulated sugar
1 teaspoon (3g) commercial ice cream stabilizer (see note)
2 cups (380g) heavy whipping cream
1 3/4 cups (370g) whole milk
1/4 cup (50g) glucose (see note)
2 ounces (50g) chocolate chip cookie pieces, plus 1 1/2 cup chocolate chip cookie pieces (any chocolate chip cookies will work here! I used the recipe from my book)
1/2 teaspoon (3g) pure vanilla extract
1/3 teaspoon (2g) kosher or sea salt
In a small bowl, whisk together the sugar and the commercial ice cream stabilizer.
Place the cream, milk, sugar (with stabilizer), and glucose in a medium heavy-bottomed saucepan over medium-high heat and cook, whisking occasionally to discourage the milk from scorching, until it comes to a full rolling boil.
Add the 2 ounces of chocolate chip cookie pieces to the dairy, breaking it up with a whisk while you stir it in. Reduce the heat and cook at a low simmer for 2 minutes (if using cornstarch add now), whisking occasionally to help break up the cookie.
Remove the pot from the heat and carefully transfer the hot base to a blender. Add the vanilla and salt, and start blending on low speed at first, increasing gradually to full speed, to avoid the hot liquid jumping out the top. When the blender is on high, continue blending for 1 to 2 minutes, until very smooth.
Immediately pour the base into a shallow metal or glass bowl. Working quickly, fill a large bowl two-thirds of the way with very icy ice water. Nest the hot bowl into the ice bath, stirring occasionally, until it cools down.
When the ice cream base is cool to the touch (50F or below), strain it through a fine-mesh sieve. (This step is optional, but will help ensure the smoothest ice cream possible.)
Transfer the ice cream base to the refrigerator to cure for 4 hours, or preferably overnight. (This step is also optional, but the texture will be much improved with it.)
Place the base into the bowl of an ice cream maker and churn according to the manufacturer's instructions. Add 1 1/2 cups of chocolate chip cookie pieces when your ice cream maker instructs you to include 'add-ins'. The ice cream is ready when it thickens into the texture of soft-serve ice cream and holds its shape, typically 20 to 30 minutes.
To freeze your chocolate chip cookie ice cream in the American hard-pack style, immediately transfer it to a container with an airtight lid. Press plastic wrap directly on the surface of the ice cream to prevent ice crystals from forming, cover, and store it in your freezer until it hardens completely, between 4 and 12 hours. Or, feel free to enjoy your ice cream immediately; the texture will be similar to soft-serve.