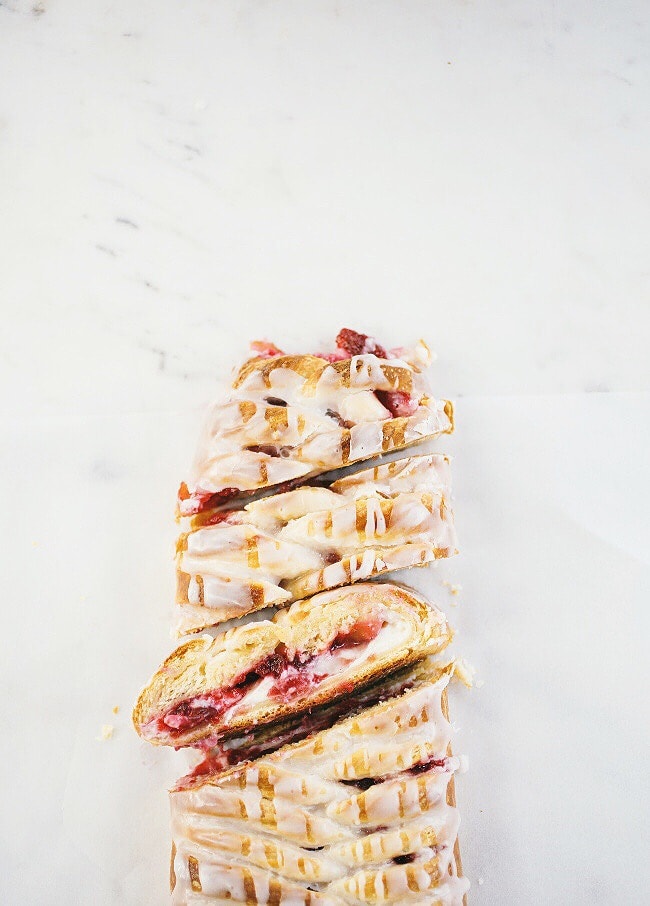 Christmas is just around the corner. I've been baking for weeks (mostly recipe testing for my next book, but also holiday baking!), and must say this cranberries and cream Danish braid is one of my favorite things I've made this December. The tart cranberries paired with cream cheese, sweet icing, and flaky Danish dough is just about perfection. If cranberries aren't your thing, you could fill the braid with your favorite jam or curd.
Other recipes you might enjoy: Danish Braid with Apple and Cream Cheese, Good Morning Cheese Danish Slab Pie, St. Lucia Buns, Pistachio Chocolate Twist. 
**************************************************
I've mentioned this before, but I do have holiday playlists if you need some Christmas tunes. On Spotify: My Holiday Mix from last year is here. My Classic Christmas Mix is here. And my Quiet Christmas Mix is here.) On Apple Music: Christmas Fun, Ease Into Christmas, Ease Into Christmas (Jazz and Classics Edition), and Christmas Albums.
I also just discovered local band Graveyard Club, and have been enjoying their latest album (affiliate link).
If you are a Tolkien or Narnia nerd, you may enjoy the book The Fellowship: The Literary Lives of the Inklings (affiliate link), by Zaleski. I just finished all 600+ pages of it, and recommend it.
I really loved this piece Endless Preparation: Apples and Women's Work by Lyz Lenz.
Feist and Gonzales making music together. Love.
Now you have an excuse to buy all those books! (I'm standing by this.)
Ella Fitzgerald + Nat King Cole. Two of my very favorites.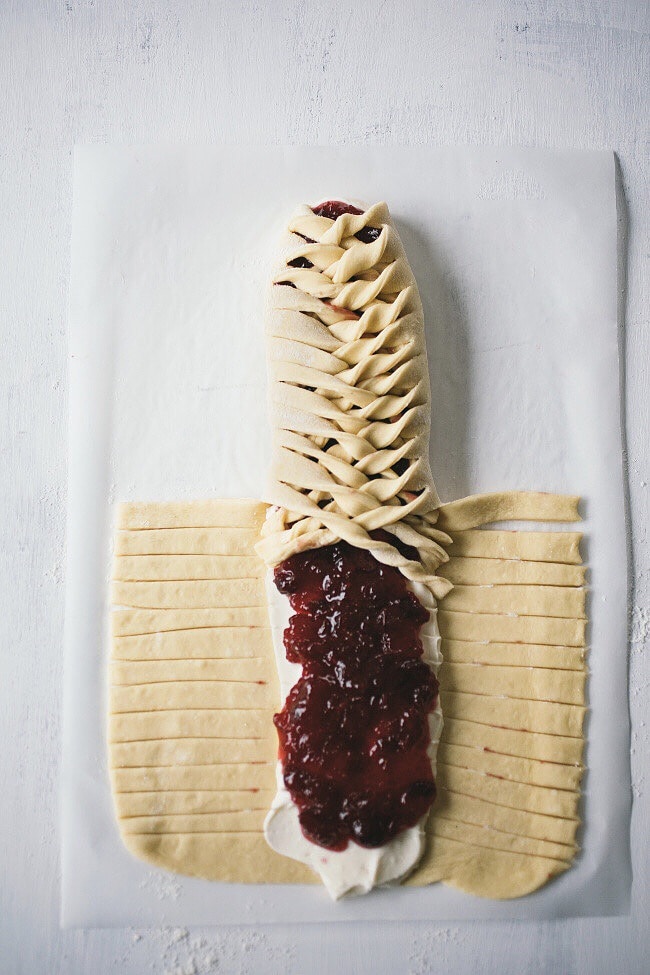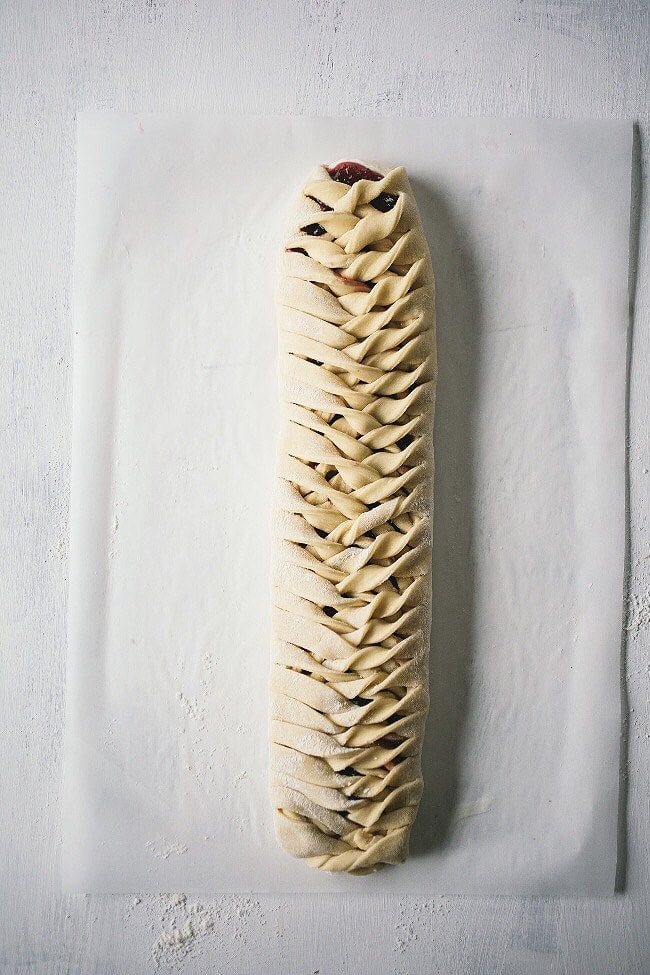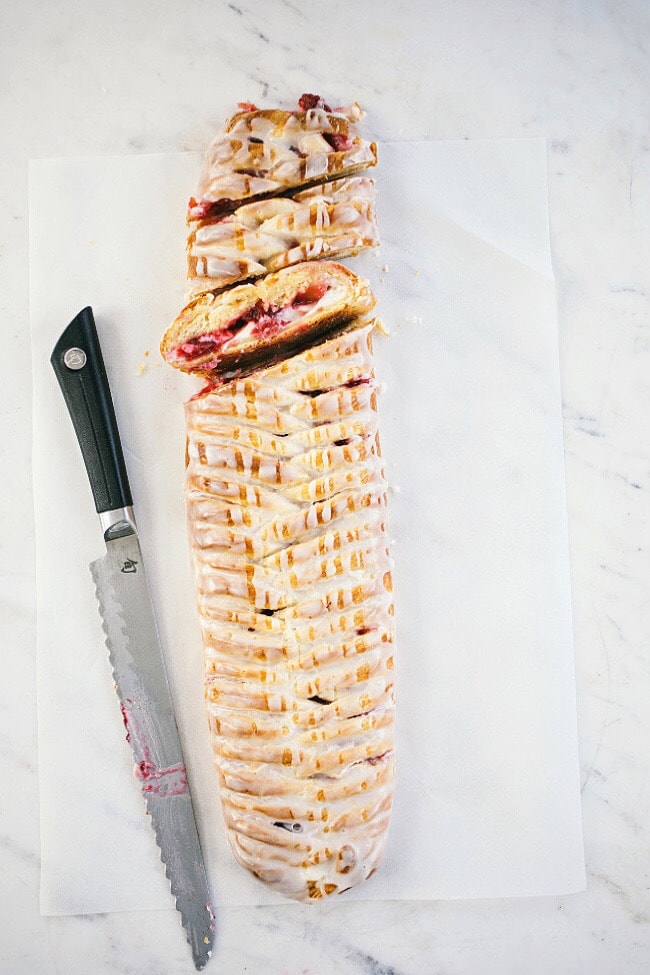 Cranberries and Cream Danish Braid 
The Easy Danish Dough recipe is from my book, The Vanilla Bean Baking Book (affiliate link).
The cranberry filling is adapted from The America's Test Kitchen Family Cookbook (affiliate link).
Easy Danish Dough
Notes: The dough does need to rest overnight in the refrigerator, so plan accordingly. If the dough is not used right away after being out and turned, it will puff up a bit in the refrigerator. This will make it a little harder to roll out, but you will still have good results.
3/4 cup whole milk, warm (100-110F)
1 large egg, room temperature
2 large egg yolks, room temperature
1 teaspoon pure vanilla extract
2 1/2 cups (355g) all-purpose flour
2 1/4 teaspoons instant yeast
2 tablespoons sugar
1 teaspoon salt
4 tablespoons (1/2 stick | 57g) unsalted butter, room temperature
12 tablespoons (1 1/2 sticks | 170g) unsalted butter, cold, cut in 1/2-inch pieces
Cream Cheese Filling
6 ounces (170g) cream cheese, room temperature
1/4 cup (50g) sugar
Pinch salt
1/2 teaspoon pure vanilla extract
1/2-1 teaspoon lemon juice
Cranberry Filling
1 cup (198g) granulated sugar
3/4 cup water
1/4 teaspoon salt
1 (12-ounce) bag fresh cranberries
1/2 teaspoon pure vanilla extract
Glaze
1 cup (113g) confectioner's sugar
2-4 tablespoons whole milk or heavy cream
1/2 teaspoon pure vanilla extract
Pinch salt
For the Danish dough
Grease a large bowl.
In a large liquid measuring cup, combine the milk, egg, yolks, and vanilla.
In the bowl of a stand mixer fitted with a paddle, mix the flour, yeast, sugar, and salt on low. Add the room temperature butter and mix on low until it is incorporated into the flour and no pieces are visible. Add the cold butter and mix on low, until it is broken down and smashed a bit, but still in 1/2-inch pieces. Add the milk mixture and mix on low until combined. The dough will be very sticky and there will be visible lumps of butter. Using a spatula, scrape the dough into the prepared bowl and cover tightly with plastic wrap and refrigerate overnight, or up to 3 days.
The next morning, transfer the dough to a well-floured work surface. Knead 10-12 times, until the dough forms a ball. Cover the top lightly with flour and cover with a tea towel, let rest until it comes to room temperature. Pat the dough into a 6-inch square and roll into a 16 by 20-inch rectangle. If the dough sticks at all, sprinkle more flour underneath it. Brush any excess flour off the dough, and, using a bench scraper, fold the short ends of the dough over the middle to made three layers, similar to a business letter. This is the first turn.
Flip the dough over (seam side down) and roll into an 8 x 16-inch rectangle. Fold the short ends over the middle, business letter style. Repeat the steps again, for a total of four turns.
On the last turn, gently use the rolling pin to compress the layers together slightly. Wrap the dough tightly in plastic wrap and chill for at least 1 hour before using or keep refrigerated for 2 days.
For the cream cheese filling
In the bowl of a stand mixer fitted with a paddle, beat the cream cheese on medium speed until smooth. Scrape down the sides of the bowl and add the sugar, salt, vanilla, and 1/2 teaspoon of lemon juice and mix on low until completely combined. Taste the filling, and add a little more lemon juice if the flavor is dull. (The filling shouldn't taste like lemon, but a little bit of lemon juice will add a bright note to the filling. When tasting, look for a bit of a zing in your mouth that doesn't scream lemon.) Cover the filling and set aside until ready to use.
For the cranberry filling
Bring the sugar, water, and salt to a boil in a medium nonreactive saucepan over medium heat, stirring occasionally to help dissolve the sugar. Stir in the cranberries and simmer until slightly thickened and the berries begin to pop, about 10 minutes. Remove from the heat and stir in the vanilla. Cool to room temperature before using, about 1 hour (filling can be made ahead of time and refrigerated up to one week).
For the glaze
In a medium bowl, whisk together the confectioner's sugar, 2 tablespoons milk, vanilla, and salt. Add more milk, 1 tablespoon at a time, to thin the icing to a preferred consistency.
To assemble
Cut the Danish dough in two equal pieces. Roll the first piece of dough into a 10 x 14-inch rectangle, using enough flour so the dough doesn't stick to the surface or the rolling pin. Transfer the piece of dough to a piece of parchment paper (this will make moving the braid much easier).  Spread half of the cream cheese filling down the center of the dough, about 1 1/2 inches wide. Top the cream cheese with about 3/4 cup of the cranberries. Carefully cut 1/2-inch thick strips of dough (a pastry cutter works best here), doing your best to make the strips even and equal on both sides. Starting with the top two pieces, gently twist then cross the pieces over the top of the filling. Continue the same motion of twisting the pieces and crossing them all the way down the braid. When you get to end of the braid, tuck the loose ends underneath the braid (this way they won't pop out when baking). Repeat with the second piece of dough.
Move the braids (on the parchment) to baking sheets, and cover loosely with plastic wrap. Let the braid rise until puffy (similar to a marshmallow when pressed), about 1-1 1/2 hours.
Adjust an oven rack to the lower middle position. Preheat the oven to 350F. (I like to bake mine one at a time, but you could bake them together – adjust oven racks instead to upper and lower middle positions, then rotate sheets to opposite oven racks half way through baking.)
Lightly brush the braids with egg wash. Bake for 25-30 minutes, until  golden brown. Transfer the baking sheets to a wire rack and let cool slightly. Drizzle the cranberries and cream braids with the glaze.