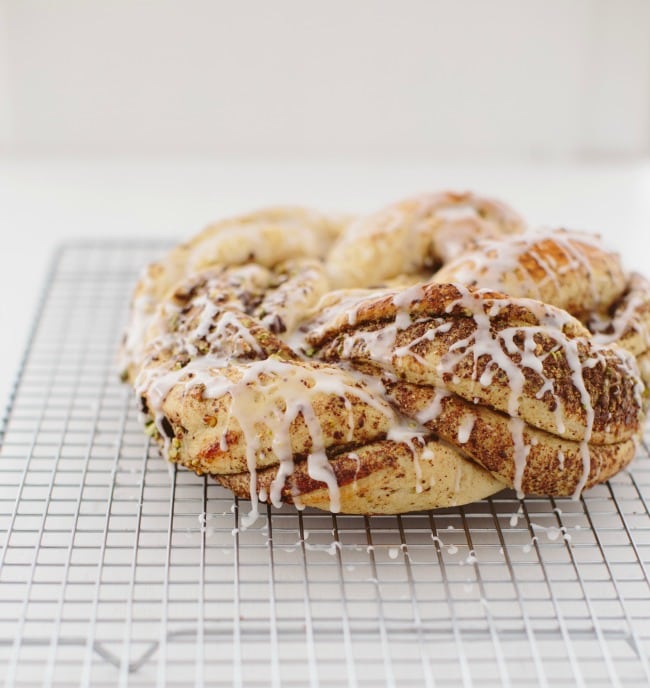 'The snow
began here
this morning and all day
continued, its white
rhetoric everywhere
calling us back to why, how,
whence such beauty and what
the meaning; such
an oracular fever! flowing
past windows, an energy it seemed
would never ebb, never settle
less than lovely! and only now,
deep into night,
it has finally ended…
and though the questions
that have assailed us all day
remain — not a single
answer has been found —
walking out now
into the silence and the light
under the trees,
and through the fields,
feels like one.'
-Mary Oliver, excerpted from American Primitive
**********************************************************************
Many of you know that I contribute over at Artisan Bread in Five Minutes a Day – I've been working  for Jeff Hertzberg and Zoë François about four years. While I write some blog posts for them and spend a good deal of time pinning to their Pinterest boards, one of the highlights of my job is helping them work on cookbooks. A little over a year ago we spent another week together, along with photographer Stephen Scott Gross, mixing buckets of dough and baking piles of bread for their book.
I've said this before, and I'll say it again: I was a fan of the Bread in Five series before I met Jeff and Zoë, and now after spending time with the two of them, I can't rave about them, and their books, enough. I've made boules, baguettes, bagels, doughnuts, beignets, coffee cake, sandwich bread, dinner rolls, bostok, and cinnamon rolls with their dough. They recently put out a new edition of Healthy Bread in Five Minutes a Day (affiliate link), which is revised and updated with new recipes. I'm a huge fan of the whole wheat brioche dough, and use it often in my baking. It works great made into whole grain doughnuts, Christmas Stollen, Caramel or Cinnamon Rolls, and this Pistachio Chocolate Twist Bread, which is a new family favorite.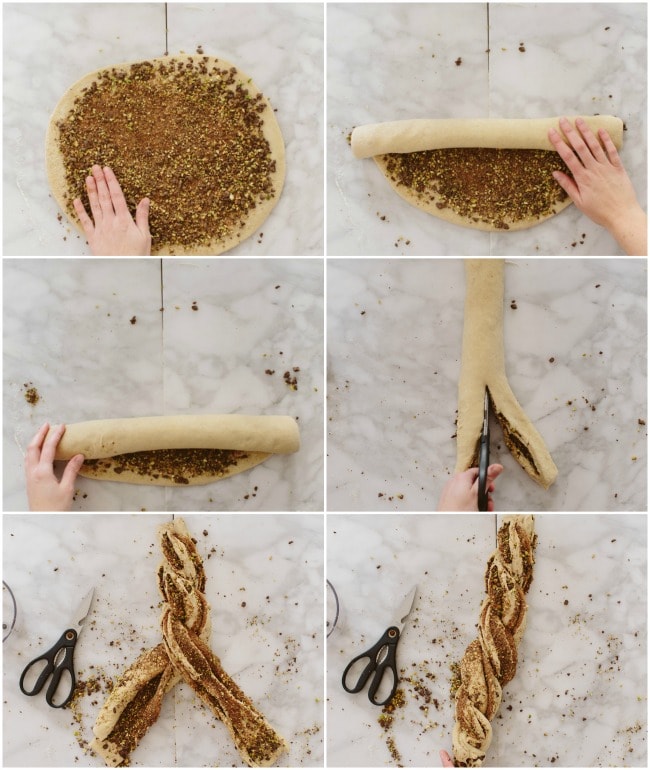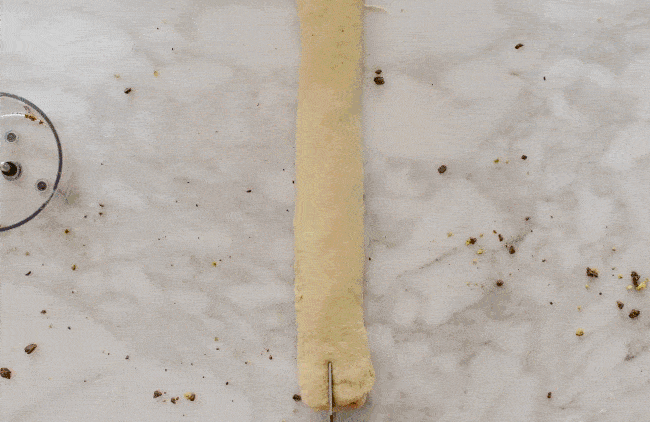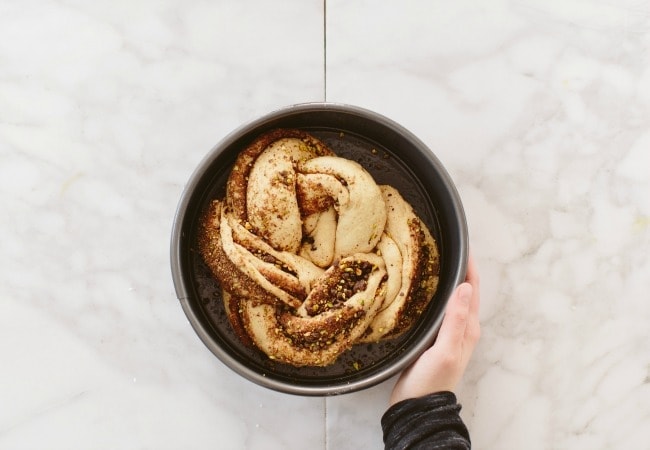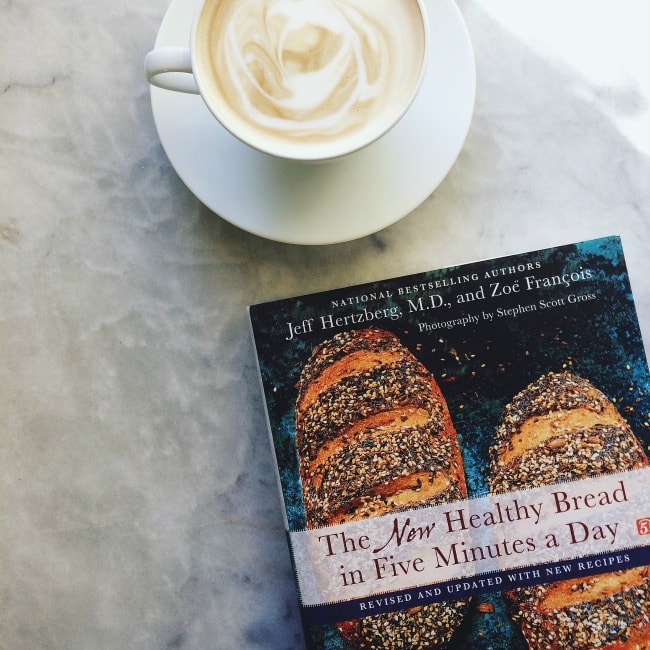 If you haven't tried out any Bread in 5 recipes yet, I highly encourage you to! If you're new to bread baking, their recipes are a great place to start, and if you've been baking bread for awhile, there is so much room for experimentation. It's an easy and delicious way to make bread a part of your daily life.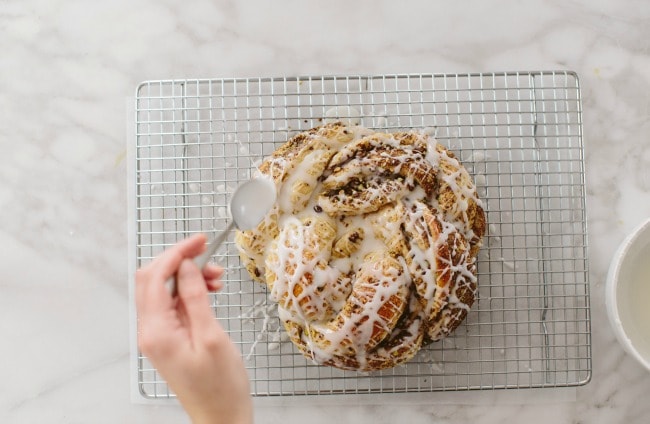 Pistachio Chocolate Twist Bread
Adapted from The New Healthy Bread in Five Minutes A Day (affiliate link) by Jeff Hertzberg and Zoë François. The Cake-Twist shape inspired by Floating Kitchen.
Make sure the center is cooked all the way through before taking out of the oven. I used Jeff and Zoë's whole wheat brioche; you could also use their regular brioche dough, too.
2 pounds whole wheat brioche dough
1/4 cup (55g) unsalted butter, melted
1/2 cup (65g) finely ground pistachios
1/2 cup (100g) finely chopped bittersweet chocolate
Icing
1 cup confectioners' sugar
2-4 tablespoons water or milk
For the twist
Grease a 10-inch springform pan.
Place the dough on a generously floured surface. Knead the dough a few times, and shape into a ball. Cover with a tea towel and let rest on the counter for 15-20 minutes.
With a rolling pin, roll out the dough until it is a 1/8-inch-thick rectangle. As you roll out the dough, use enough to flour to prevent the dough from sticking to the work surface, but not so much to make it dry.
Brush 3 tablespoons of the melted butter over the dough. Spread the pistachios and chocolate evenly over the butter. Roll the dough into a log, starting at the long end. Pinch the seam closed.
Starting an inch from the end, carefully cut the dough down the center of the log. Carefully twist the two strands of the log, one strand over the other, keeping the cut side up at all times, so the filling won't fall out. Starting at the cut end, gently spiral the braid into a circle, no bigger than 9-inches across, making sure not to leave any holes or gaps.
Move the bread to the prepared pan. Cover with plastic wrap or a dishtowel and let the dough rise in a warm place for 1-1/2 hours, until puffed and touching (or almost touching) the sides of the pan.
Adjust an oven rack to the middle position, and preheat the oven to 350F.
Brush the ends of the twist with the remaining 1 tablespoon butter. Bake for 30 minutes, or until the ends are golden brown and it is well set in the center.
Allow to cool on a wire rack before slicing.
For the icing
Put the confectioners' sugar into a medium bowl. Add 2 tablespoons water, and mix until combined. If the icing is too thick, add more water, 1 tablespoon at a time, until the desired consistency is reached. Drizzle over warm the warm bread.