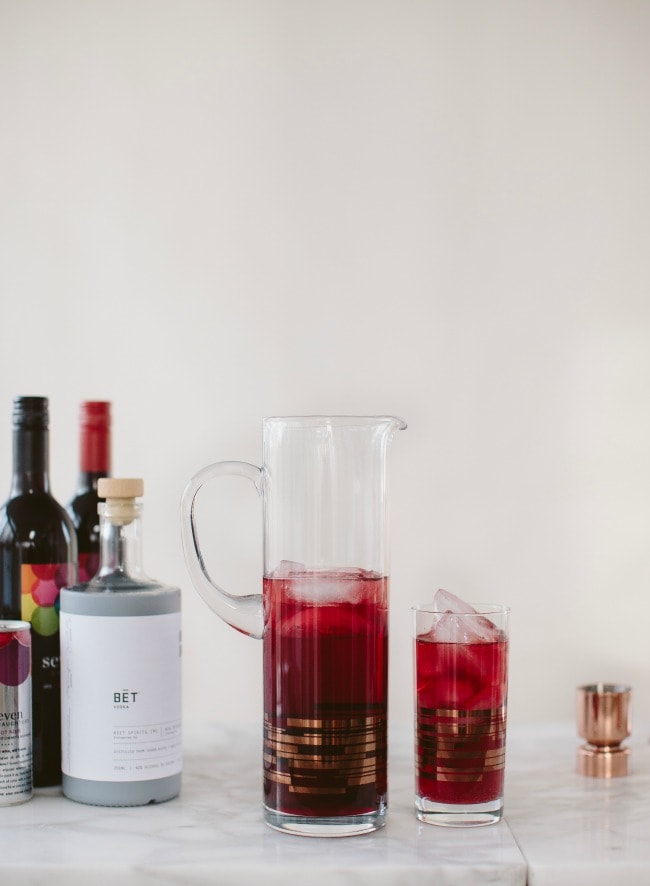 A few weeks ago the kind folks at Martha Stewart Living sent me their new copper bar set. I'm not much of a mixed drink kind of person, more like the '1/2 beer with dinner' type, even though I do have a cabinet stuffed full of liqueur bottles. These, however, are used almost exclusively for baking. I decided to live it up just a little this December; trade the beer in for something more sassy, and put the new set to good use with holiday drinks.
I met Ben from BET Vodka at Molly's fabulous brunch a few weeks back, and he donated a bottle to make some drinks with. I took a fancy to his beautiful vodka bottles at the brunch (I also had a delicious drink made from it), and thought it would go well with pomegranate juice and ginger ale. Turns out it does. Then I received a few bottles of wine from Seven Daughters – I have had a good number of glasses of it over at the Faux Martha's house, and knew it would pair wonderfully with something simple. Orange juice and Moscato happened at a recent family gathering, and everyone loved it.
These two holiday drinks are so simple they probably don't need recipes, but I figured there might be someone like me out there who needs a little help with making party beverages appear fancy, so I thought this might come in handy.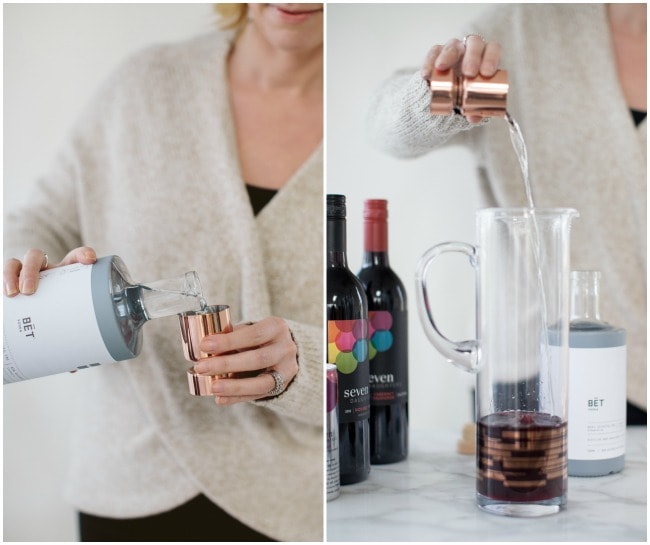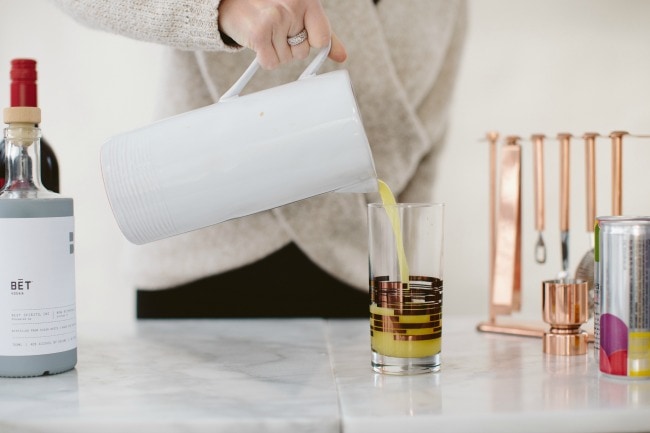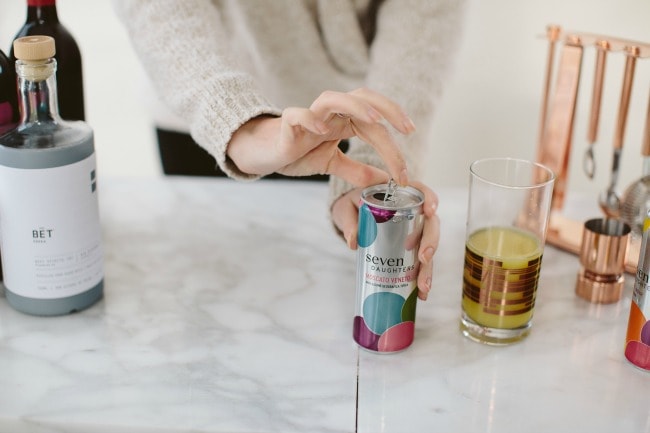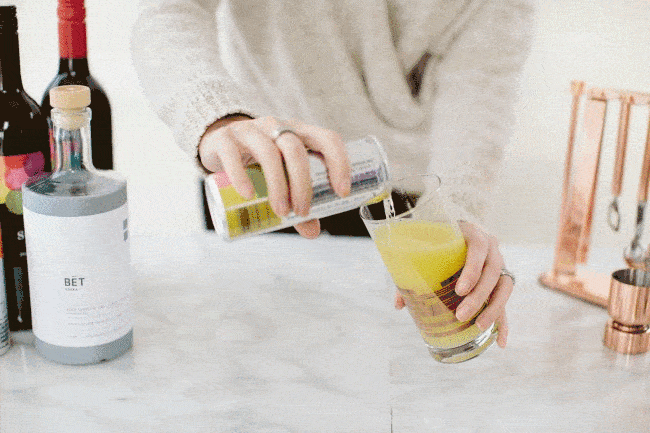 The copper bar set was sent to me by Martha Stewart Living, and can be found exclusively at Macys.
BET Vodka can be found online here.
Seven Daughters wine can be found online here.
As always, all opinions are my own.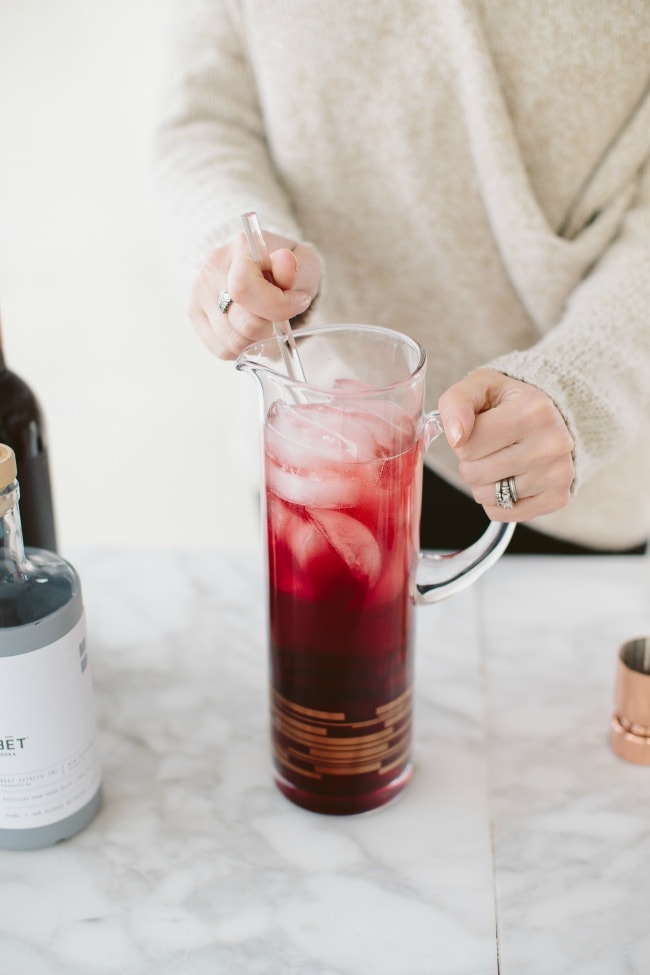 Holiday Drinks Recipes
Pomegranate Ginger Sparkler
A trick I learned from an old Martha Stewart Living magazine is to use juice concentrate instead of regular juice in drinks – because you are adding more liquid to the drink, the concentrate will give more flavor. You could use any juice concentrate you like here – pomegranate-cherry is also really good. You could also add a little vanilla extract (1/2 teaspoon or so) to give it a vanilla edge.
For each glass:
3 tablespoons frozen (but scoop-able) pomegranate juice concentrate
1 shot vodka (more or less to preference)
Ginger ale
Place the pomegranate concentrate in a glass. Add the vodka and mix to combine. Pour in the ginger ale until the glass is 3/4 full. Stir again. Top with ice. Serve.
Moscato Mimosa
Mimosas are usually made with champagne or sparkling wine, but any sweet white wine will do here.
Orange juice
Moscato Veneto
Fill each glass with equal parts orange juice and Moscato. Top with ice, and stir. Serve.