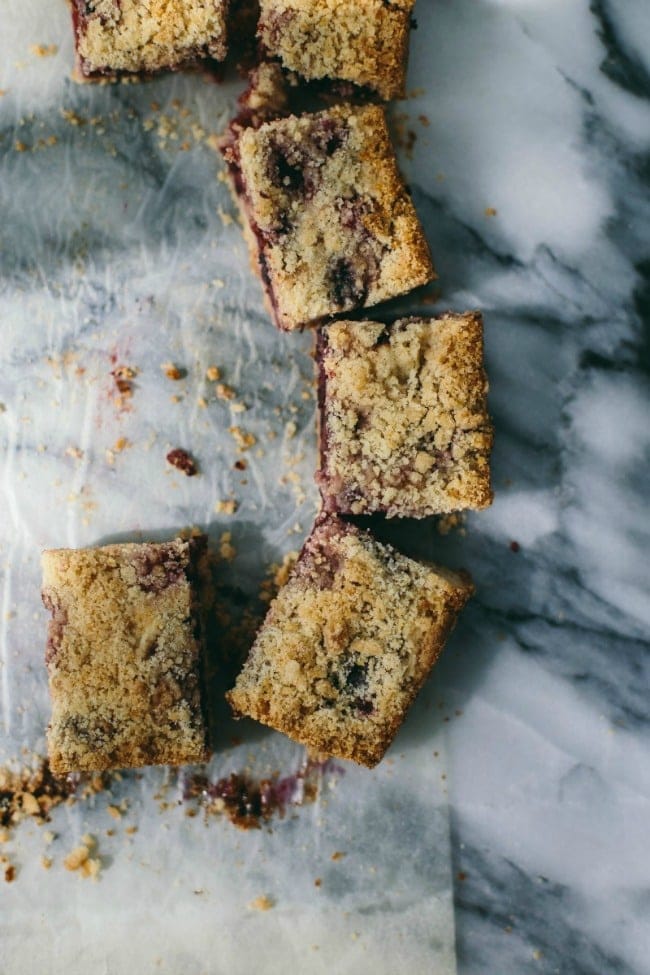 A kind reader pointed out to me that there is a slight mistake in the Blueberry Crumble Bars recipe in The Vanilla Bean Baking Book (affiliate link), so I'm putting the recipe below (with corrections). The ingredient list is correct in the book, but the directions mention 'baking soda' instead of 'baking powder', and list cinnamon in the filling when there is none. Sorry about that!
If any of you happen to live in Winona, Minnesota, or are visiting there this weekend, I'll be doing a book signing at The Blue Heron Coffeehouse from 2-4 this Saturday, January 14th. The Blue Heron is the coffeehouse I talk about throughout my book, and where I learned to bake, and it's wonderful to be going back for this event.
I am also teaching a class in St. Paul at Cooks of Crocus Hill Sunday, February 5th, from 1-2:30. I'll be doing some demonstrations, sharing treats, and signing books.
You can find a few of my recipes from the book around the web. So many beautiful posts, I'm totally overwhelmed! Julie from Always with Butter made my chocolate chip cookies. Molly from My Name is Yeh made my yellow cake with chocolate frosting. Michelle from Hummingbird High made my cheesecake, and Cynthia from Two Red Bowls made my cheesecake with a hazelnut twist. Alex and Sonja from A Couple Cooks made my shortbread with chocolate. Food 52 made my oatmeal white chocolate cookies. Sara from Sprouted Kitchen made my whole wheat banana chocolate muffins. Cindy from Hungry Girl Por Vida made my honey cake and added grapefruit. Elizabeth from Brooklyn Supper made my orange cranberry bundt cake. Alana from Fix Feast Flair made my brown butter buttercream. Alanna from Bojon Gourmet made my peanut butter granola. There are a few more that I will post later!
Thank you again for all your support. It's been so fun to see what everyone is making from the book on Instagram, and I appreciate all your kind words and reviews. If you make something from the book, please tag it #vanillabeanbakingbook so I can find it!
Apple Blueberry Crumble Bars
Crust
2 1/2 cups (355g) all-purpose flour
1/2 cup (45g) rolled or quick oats
1 cup (198g) granulated sugar
1 teaspoon baking powder
1/2 teaspoon salt
1/2 teaspoon cinnamon
1/2 pound (2 sticks; 227g) unsalted butter, at room temperature, and sliced into 1-inch pieces
Blueberry Filling
5 heaping cups blueberries (700g)
1/2 cup (75g) grated Gala apple (about one small apple)
1 tablespoon lemon juice
1/3 cup (66g) granulated sugar
2 tablespoons cornstarch
Pinch salt
Adjust an oven rack to the middle position. Preheat the oven to 350F. Grease a 9 x 13-inch baking pan and line it with parchment sling.
In the bowl of a stand mixer fitted with a paddle, mix the flour, oats, sugar, baking powder, salt, and cinnamon on low to combine. Add the butter and mix on medium until the mixture resembles coarse sand.
Press half the flour-oat mixture into the bottom of the prepared pan. Bake 10 minutes. Prepare the berry filling while the crust is baking (see below). Remove the pan from the oven, spread the berry mixture over the crust, and sprinkle the remaining crumble mixture evenly over the top. Bake 20 to 25 minutes, until the crumbly top is light golden brown.
Transfer to a wire rack and let cool. Place the pan in the fridge and let chill 4 to 6 hours. Slice bars and serve. The apple blueberry crumble bars can be served cold or at room temperature, but keep best in the fridge.
For the blueberry filling
In a large bowl, mix the blueberries, apple, and lemon juice. In a small bowl, combine the sugar, cornstarch, and salt. pour the sugar mixture over the berries and stir gently with a spatula to evenly combine.