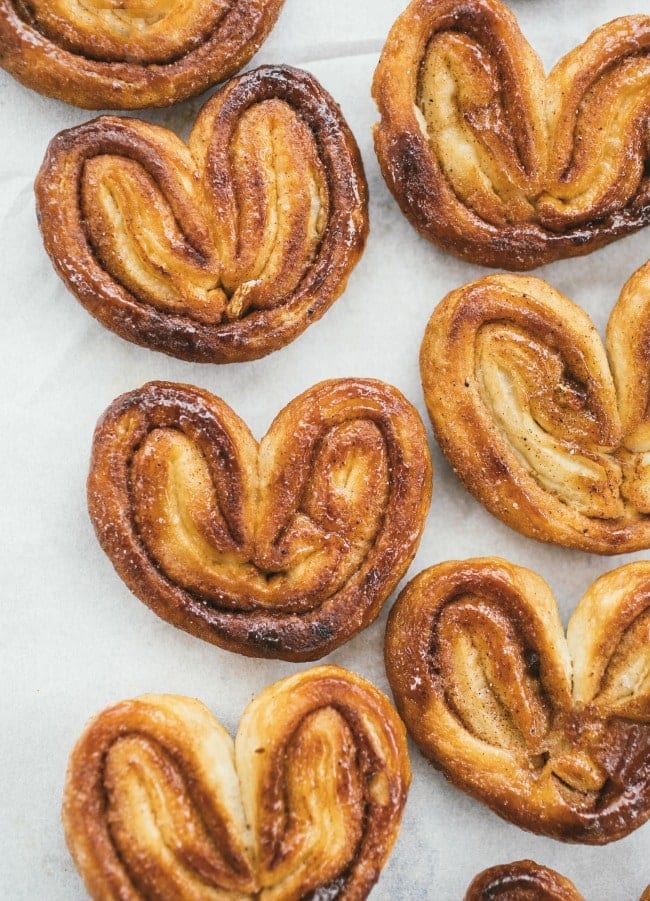 I always forget how delicious palmiers are until I make them – puff pastry, coated in sugar and spices and then baked until crisp and caramelized – what's not to love? This version from Maggie Battista's new cookbook, A New Way to Food, is made with Masala spice mix (a blend of cinnamon, clove, cardamom, coriander, black pepper, and fennel) and maple sugar.
Other puff pastry desserts you might enjoy: Peach Puff Pastry Pie, Puff Pastry Tarts with Twangy Blueberry Sauce, Cheese Danish Slab Pie, and Turnovers with Jam.
Also! I am giving away a copy of Maggie's new cookbook over on Instagram! The instructions to enter are on this photo here. You can also win a loungewear kit from Universal Standard. Read about their fashion for all women mission here.
**************************
Did you too see it, drifting, all night, on the black river?
Did you see it in the morning, rising into the silvery air –
An armful of white blossoms,
A perfect commotion of silk and linen as it leaned
into the bondage of its wings; a snowbank, a bank of lilies,
Biting the air with its black beak?
Did you hear it, fluting and whistling
A shrill dark music – like the rain pelting the trees – like a waterfall
Knifing down the black ledges?
And did you see it, finally, just under the clouds –
A white cross Streaming across the sky, its feet
Like black leaves, its wings Like the stretching light of the river?
And did you feel it, in your heart, how it pertained to everything?
And have you too finally figured out what beauty is for?
And have you changed your life?
-Mary Oliver, The Swan
I was so sad to hear today that Mary Oliver had died; her poetry and words have been very important to me. I highly recommend picking up a book of her poetry if you haven't read any of her works before. You could also start with this interview with her.
Masala-Spice Palmiers
From A New Way to Food by Maggie Battista
A note on store bought puff pastry: look for a puff pastry that is all butter. Dufour, Simply Enjoy, and Trader Joe brands are good options. These are also delicious without the coriander, pepper, and fennel – I made them with just the cinnamon, clove, and cardamom for my kids and they preferred the sweeter version, but both ways are delicious. I have also made these substituting the maple sugar with granulated sugar and they turn out beautifully.
Headnote from Maggie: Place your puff pastry in the fridge to defrost overnight the moment the thought to make these cookies crosses your mind. Once it defrosts, you're so very close to Masala-spice bliss.
I often keep ground Masala spice mix – a blend of cinnamon, clove, cardamom, coriander, black pepper, and fennel – on hand for these cookies. After you've made all the correct folds, position your log in front of you and slice your cookies to life. Be careful to keep all the loose spices in between the thin layers. Bake them for a few minutes on one side and then flip – the flipping ensures that both sides caramelize nicely.
1 teaspoon ground cinnamon
1/4 teaspoon ground cloves
1/4 teaspoon ground cardamom
1/4 teaspoon ground coriander
1/4 teaspoon freshly ground black pepper
1/4 teaspoon ground fennel
1/2 cup (80g) lightly packed maple sugar
1/2 teaspoon sea salt
One 14-ounce (397g) puff pastry sheet, defrosted (I used a half recipe of the rough puff pastry from my book (affiliate link), but store bought will work fine, too. See above note about store bought puff pastry)
2 tablespoons finely diced candied ginger
1 egg, beaten
Preheat the oven to 435F (218C) with the rack in the center position. Line two baking sheets with parchment paper
Make the Masala spice mix by whisking together the cinnamon, cloves, cardamom, coriander, black pepper, fennel, 1/4 cup of the sugar, and the salt in a small bowl. Set aside.
On a clean work surface, sprinkle the remaining 1/4 cup of sugar and open your pastry out on top of the sugar. Sprinkle the Masala mix over the top of the pastry. Roll the dough out a little larger to be about 15 or 16 inches x 13 inches (41 x 33 cm). Sprinkle the candied ginger all over the top of the pastry.
Fold both long sides of the pastry into the middle of the dough, making sure the edges touch each other. Fold both long sides up and into the center again, getting the edges to touch each other. Brush off any excess sugar on the exposed side, the top side, of the pastry (this will help the egg adhere to the dough). Using a pastry brush, brush the egg on one of the long sides. Now, take the other long side and fold it up and over to cover the long side with the beaten egg. Tap the top of the dough lightly to nudge the dough and help it stick together.
Slice the dough into 3/8-inch (1cm) slices and place them cut side up on the lined baking sheet 2 to 3 inches apart. Fit 12 cookies per baking sheet.
Place a single sheet in the oven (and the other sheet in the fridge for now) and bake the cookies for 6 to 7 minutes, until caramelized and cooked through. Carefully flip each cookie and bake again for 3-4 minutes, ntl caramelized on the other side. Repeat for the second baking sheet. Move to a cooling rack and cool completely before serving.