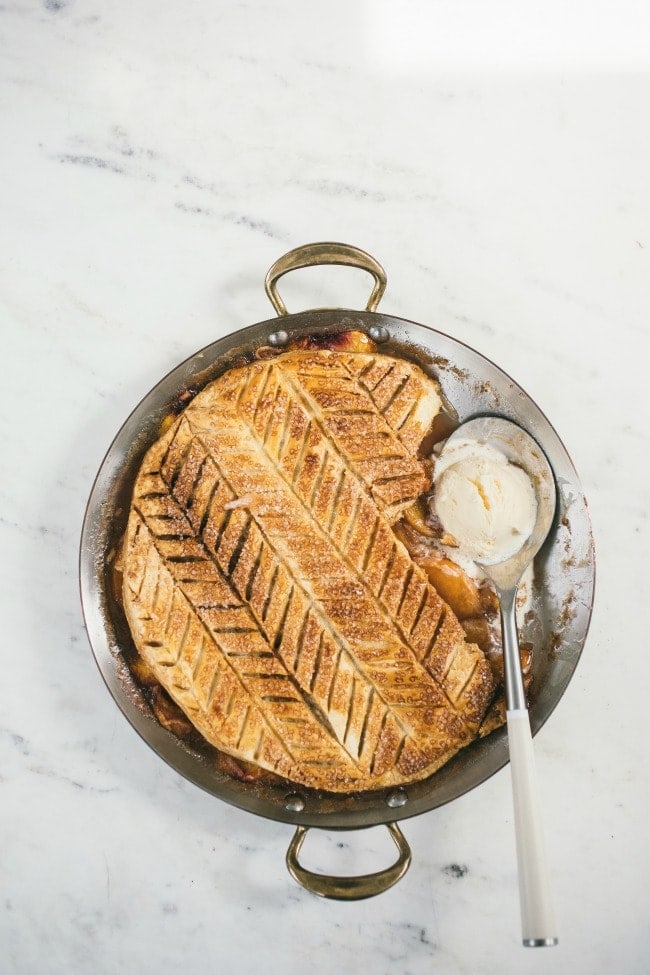 I realized today that I hadn't made one pie this summer, not even ONE! Luckily I had a pile of peaches on my counter and rough puff pastry in my fridge, and so decided to remedy the situation immediately by putting the two together.
Peach Puff Pastry Pie was born. While I usually prefer a traditional All-Butter Pie Crust, this comes in a very close second. I did make my own puff pastry here, but you can use store bought and save yourself some time.
****************************************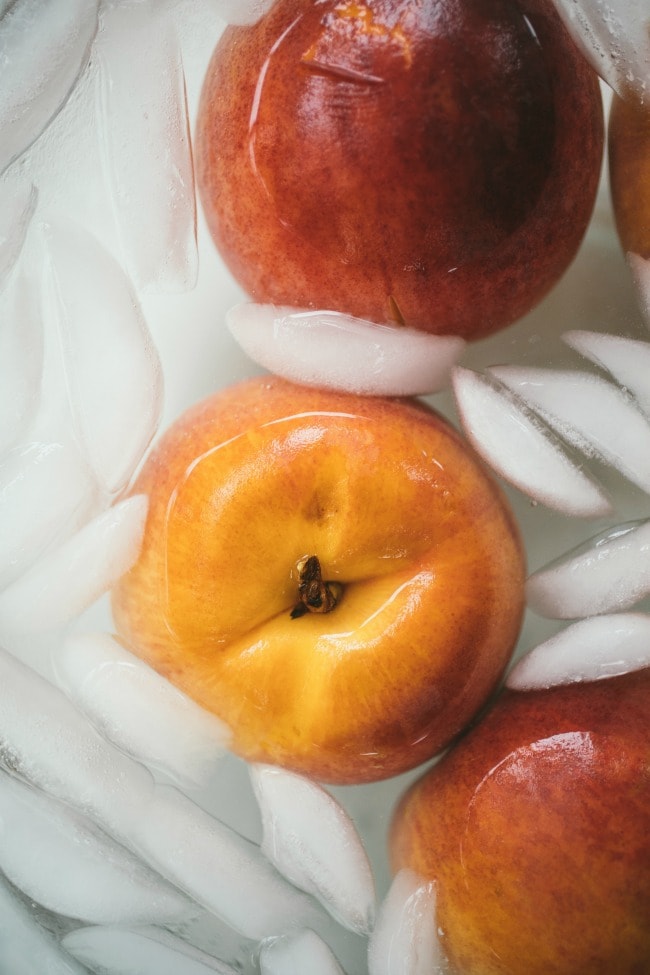 Peach-Apple Puff Pastry Pie
This recipe is inspired by the Apple-Ginger Skillet Pie recipe from my book (affiliate link), and also this Peach Pot Pie from Martha Stewart Living.
If you've never peeled peaches before, here is a tutorial on how to.
I do have a few notes on how I make pie here, if you are interested.
Tips for Making this Peach Pie:
I used a half recipe of my Rough Puff Pastry, but store bought will work fine. If using store bought, look for a brand that uses real butter.
I always use Gala apples in my baking, but if you have another baking apple you love, you can use that instead.
I used this 10-inch pan to bake the pie in, but other oven safe pans will work, too (I've made this before in a 10-inch skillet). Just make sure your pan is non-reactive. If you use a smaller pan (such as a pie pan) your fruit will stack higher in the pan and may take longer to bake.
I love adding peach schnapps to my peach desserts (it gives a nice bump of flavor), but you can omit it if you wish.
Just like a "regular" pie, the longer you let it sit to cool, the more the filling will set. You can dive in immediately, but the juices will run pretty thin. I let mine sit 2 hours and then gave in.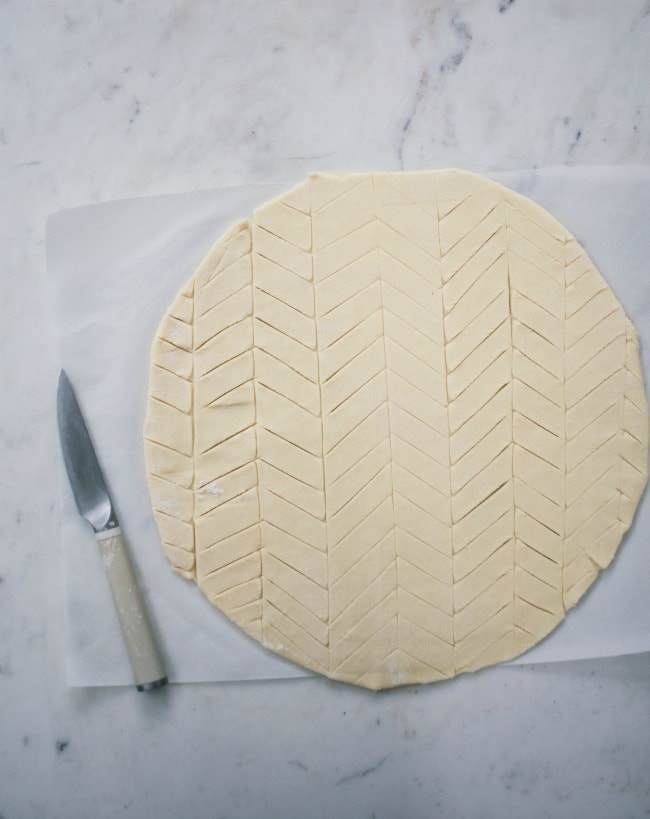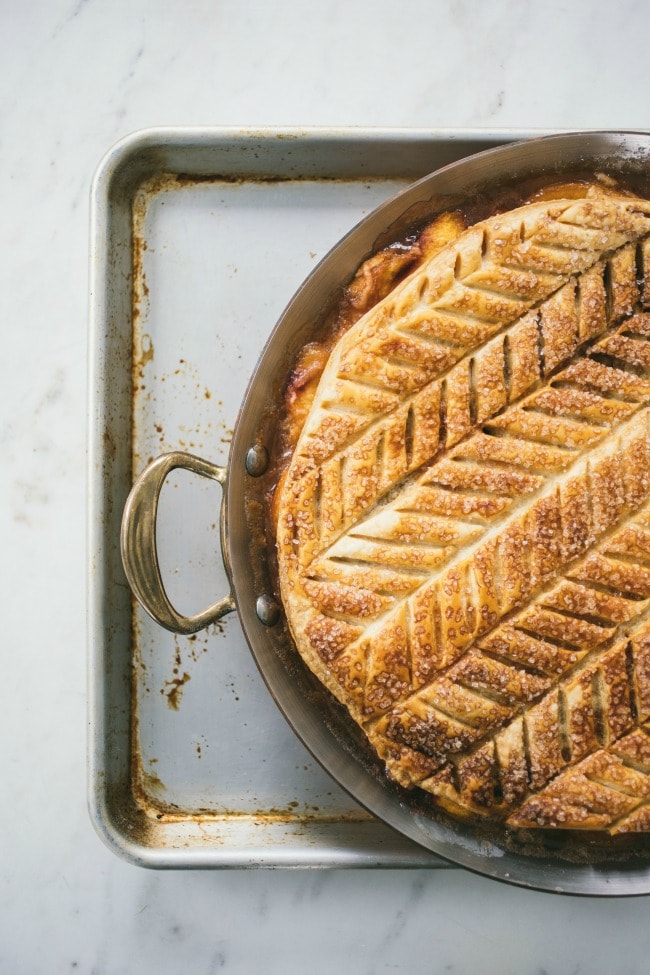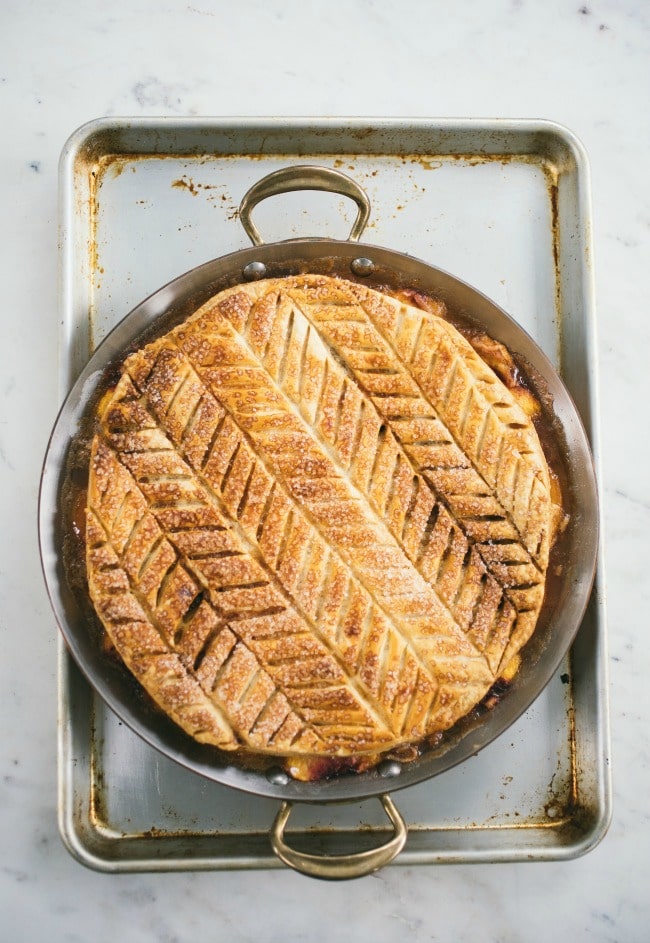 More Puff Pastry Recipes: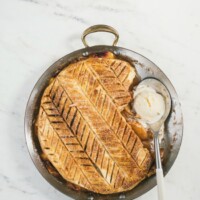 Peach Puff Pastry Pie
Use juicy summer peaches to make this easy puff pastry pie! The peaches are tossed in sugar and cinnamon, baked underneath a blanket of buttery, flaky puff pastry.
Print
Pin
Rate
Ingredients
1/2

recipe of this puff pastry, or

1/2 pound (1 sheet) store-bought puff pastry, thawed, but still chilled

8

cups

(1135g) sliced peaches, ripe but still firm (peeled, pitted, and sliced into 1-inch pieces), 7-8 peaches (see note above for peeling peaches)

1

cup

(150g) peeled and grated Gala apple, about 2 small apples

1/2

cup

(100g) granulated sugar, plus 1/4 cup (50g) and 1-2 tablespoons for sprinkling (sanding sugar works for sprinkling, too)

1/4

teaspoon

salt

2

tablespoons

(29g) unsalted butter, cold

2

tablespoons

peach schnapps

optional

1

teaspoon

pure vanilla extract

1/4

cup

(28g) cornstarch

1

teaspoon

lemon juice

1/2

teaspoon

ground cinnamon

Egg wash:

1 egg + 1 teaspoon of water + pinch salt
Instructions
Adjust oven racks in the top and bottom thirds of the oven, and place a foil-lined rimmed baking sheet on bottom of the oven to catch any possible drips. Preheat the oven to 350F. Combine the peaches, apple, 1/2 cup sugar, and salt in a large bowl. Let sit 30-45 minutes at room temperature.

On a lightly floured workspace, unfold the pastry and roll it out into a square one inch larger than your pan (see note for different sized baking pans). Center your baking pan upside down on the pastry and use a paring knife to trace a circle around it. Remove the pan and then remove the extra pastry around the edges. Transfer the pastry circle to a baking sheet lined with parchment paper and let chill for 10 minutes. Take the pastry out of the fridge and create a pattern on the top (I followed these instructions for the design), but be careful not to cut through the dough. Return the puff pastry to the refrigerator until ready to use.

Strain the sugary juice from the peaches and apples into a medium saucepan (you should have 1/2 to 3/4 cup of juice). Return the fruit to the large bowl.

Add the remaining 1/4 cup of sugar to the saucepan and bring it to a boil over medium heat. Simmer until reduced to a scant 1/2 cup, 5-6 minutes, shaking the pan occasionally to stir. Remove from the heat and whisk in the butter. Add the peach schnapps and vanilla and stir gently. Set aside to cool slightly.

Sprinkle the cornstarch over the fruit and toss to coat. Add the lemon juice and cinnamon and toss to combine. Pour the peach juice mixture over the fruit and stir gently.

Pour the peaches and all the juices into a 10-inch oven proof baking pan and press into an even layer. Cover the pan with with foil, and bake on the lower rack for 20 minutes.

Remove the puff pastry from the refrigerator and brush with the egg wash, then sprinkle with sugar. Place the baking sheet with the puff pastry on the upper rack in the oven. Bake until the pastry is puffed and golden and the fruit in dish is bubbling, 20-30 minutes (if the puff pastry is browning too quickly, you can tent it with foil). Remove the baking pan from the oven, and then remove the foil from the top. Carefully place the puff pastry circle on top of the peaches and bake 10 minutes more. Let cool at least 15 minutes (but pie is at its best 2 hours after baking); serve with ice cream if desired.