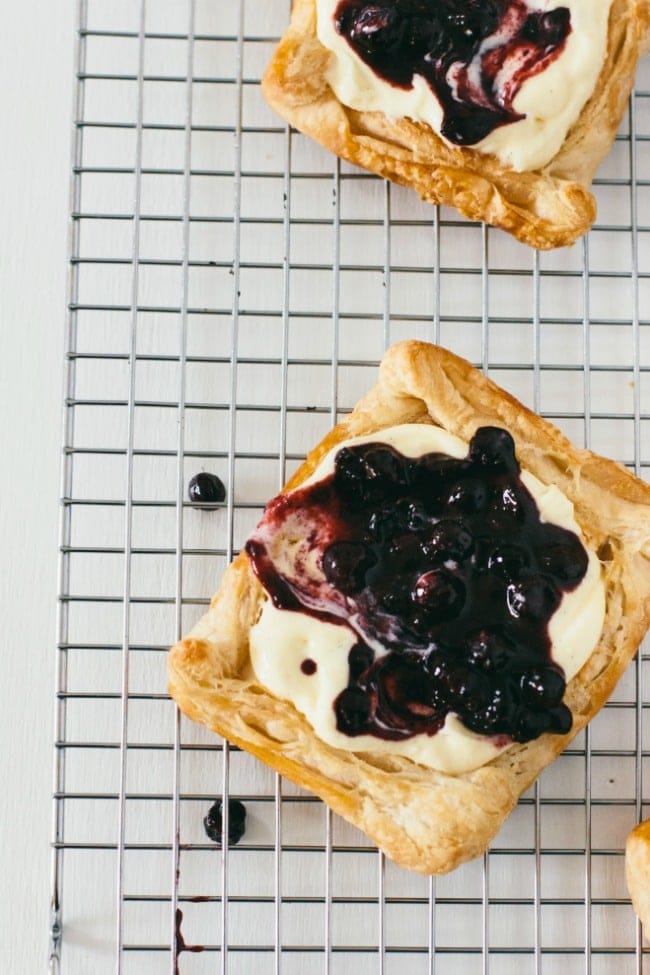 Four years ago when I started this space I set up a Flickr account, mostly because everyone else was doing it. I browsed through pages and pages of photographs and profiles, and after falling down long rabbit holes of foodie pics and vacation photos that inspired serious bouts of envy, I found this cake made by Tara O'Brady. There was something about it that made me pause. All the subtle streaks of color in the frosting, that uneven pattern made with a spoon, and the well-worn wood it was resting on was a perfect union of comfort and class; simplicity mixed with unpretentious sophistication. Without hesitation I clicked on the link to Tara's blog, and started faithfully reading Seven Spoons.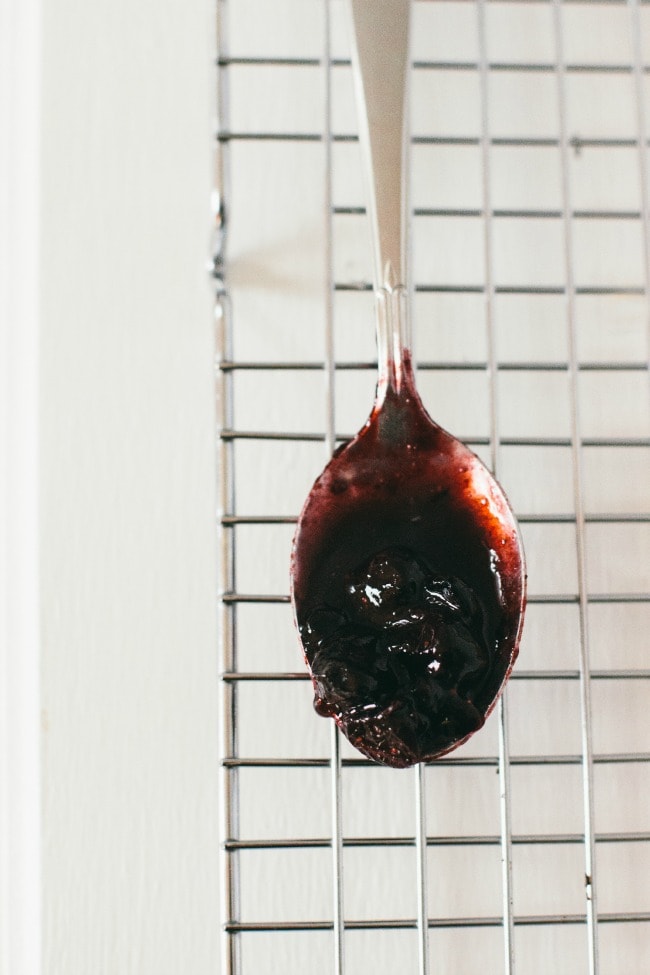 Twangy blueberry sauce is found in Tara O'Brady's new cookbook; a collection of recipes that is "less about innovation and more about getting supper on the table, but doing so thoughtfully, and beautifully, too." It is everything I look for in a book on cooking: beautiful photographs, thoughtful writing, and recipes I want to put on repeat. This twangy berry sauce does not disappoint. Neither does the Basic, Great Chocolate Chip Cookies, the Vietnamese Coffee Ice Cream (with candied cacao nibs!), the Poppy Seed Snacking Cake, or the most perfectly perfect biscuits you will ever make with your own two hands. My copy is already dusted with flour, and its pages are stained.

"A cookbook's value is only half on the page; the other half is in the action it inspires. My goal in sharing these recipes and lessons is for you to come away empowered to trust your instincts, to consider your own perspective and opinions, and to keep you well fed." -Tara O'Brady


Puff Pastry Tarts with Twangy Blueberry Sauce
Store-bought puff pastry is fine, but look for one that is made with real butter verses palm or soybean oil. I made Kamran's Quick Puff Pastry. I used Zoe's pastry cream (2 cups lightened with 1/2 cup of whipped cream) here, but I've also made a similar puff pastry tart with a cream cheese filling, and I've included that recipe here.
1 sheet puff pastry (see note)
egg wash (1 egg, 1 teaspoon water, and pinch of salt all whisked together with a fork)
cream cheese filling (recipe follows) or Pastry cream (see note)
Twangy Blueberry Sauce (recipe follows)
For the puff pastry
Line a half sheet pan with parchment paper.
Lightly flour your work surface, and gently roll out the puff pastry into a 10-inch square. Using a pizza wheel (or knife), cut the square into 4 smaller squares of equal size. Transfer the squares to the parchment lined sheet pan. Moisten the dough edges with the egg wash, and then fold the edges of the pastry over about 1/2-inch on all sides. Using a fork, pierce the puff pastry square all over on just the bottom. Brush the tops of the folded dough edges with the egg wash, being very careful not to let any drip down the sides (this can hinder the puff pastry from rising). Refrigerate the puff pastry for 30 minutes.
Preheat the oven to 400.
Bake the puff pastry until brown and puffed, about 8-12 minutes. Using an offset spatula, press down on the center of the pastry, leaving the borders puffed up. Return to the oven, and bake 8-12 minutes more, until the pastry is golden and puffed. Transfer the tarts to a wire rack to cool, and press down the center again if needed. Let the tart cool completely before filling.
Cream Cheese Filling
4 ounces cream cheese, room temperature
4 tablespoons sugar
1 teaspoon vanilla
A good pinch of salt
1 cup heavy cream
In the bowl of a standing mixer fitted with a whisk attachment, whip the cream cheese, sugar, vanilla, and salt on medium-high until light and fluffy (1-2 minutes). Reduce the speed to low and add the heavy cream in a slow, steady stream. Once the cream is incorporated, increase the speed to medium-high again and beat until the mixture holds stiff peaks, 2-3 minutes.
Twangy Blueberry Sauce
adapted from Seven Spoons
I only made a few changes to the original recipe – I added a pinch of salt and a dash of vanilla. I also used white balsamic vinegar, only because that's all I had in my pantry.
3 cups | 510 g fresh or frozen blueberries
1/4 cup | 50 g granulated sugar
2 teaspoons tapioca flour
good pinch of salt
1 tablespoon best-quality balsamic-vinegar
1 teaspoon vanilla
Put 1 1/2 cups (255g) of the blueberries into a saucepan over medium heat. Cook, stirring occasionally, until the blueberries start to release their liquid (about 1 minute). Stir the sugar, tapioca flour, and salt together in a small bowl, and add it to the saucepan. Continue to cook, stirring occasionally, until the fruit begins to split and the juice become thick and glossy (3-5 minutes). Add the vinegar and cook for another minute, stirring (the sauce will turn sticky). Turn off the heat, and add the vanilla, stirring to combine. Add the remaining 1 1/2 cups (255g) of blueberries, and set aside to cool in the pan. Stir the sauce every few minutes. Use the sauce right away, or cool to room temperature, cover, and refrigerate until needed (up to 1 week). Can be served hot or cold.
To assemble the tarts
Put 1/4 cup-1/2 cup (depending on how much you want) of cream cheese filling in the center of each tart. Spread the filling evenly to the puffed borders, and then top with the blueberry sauce.