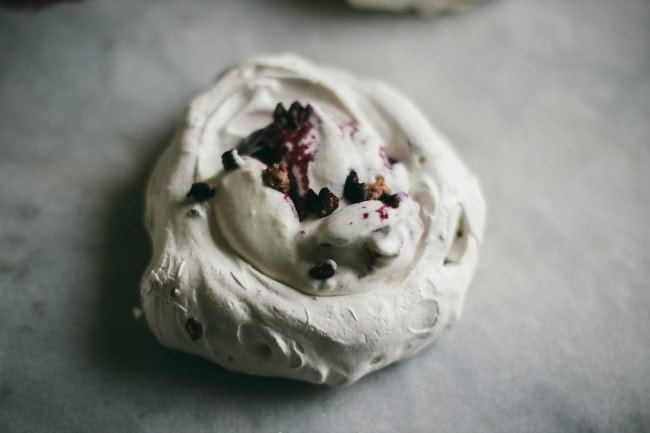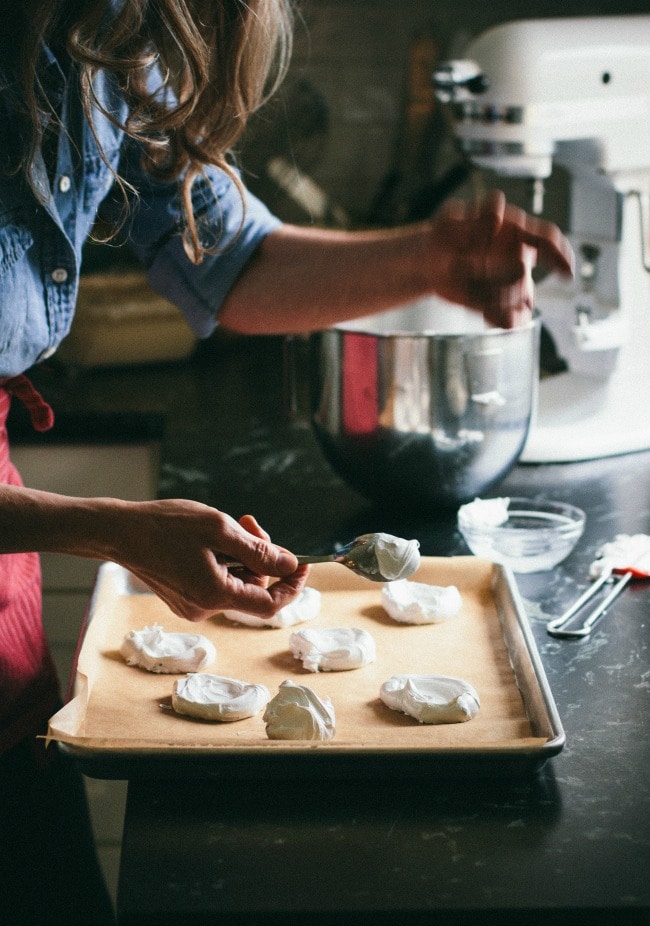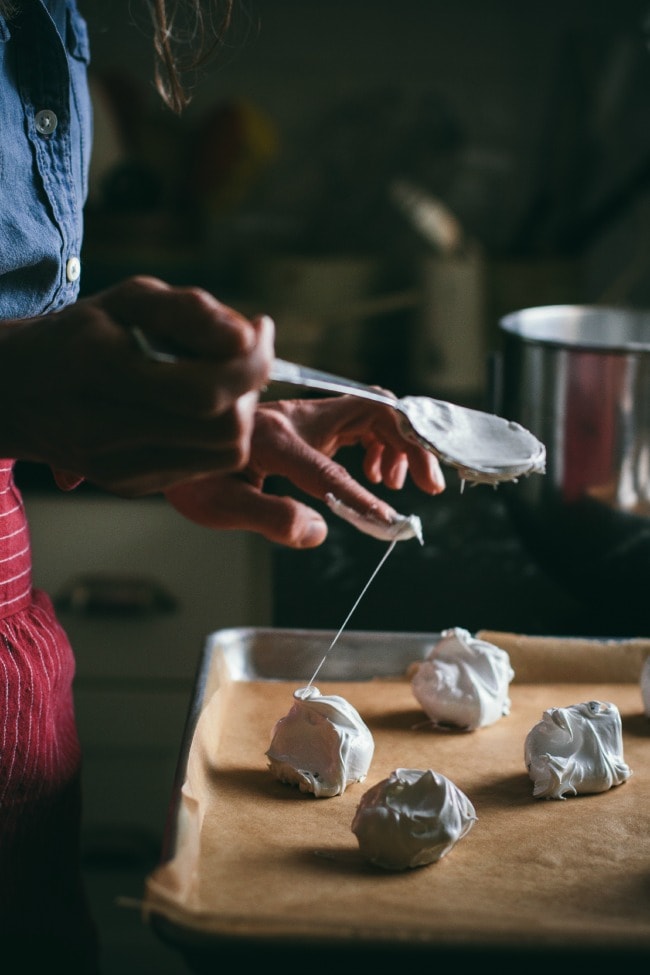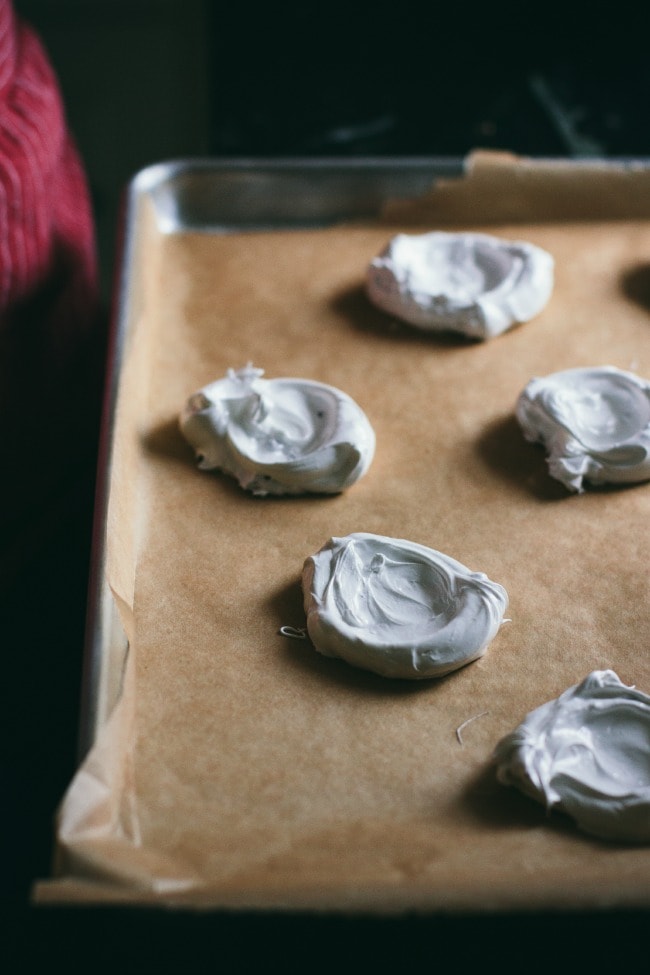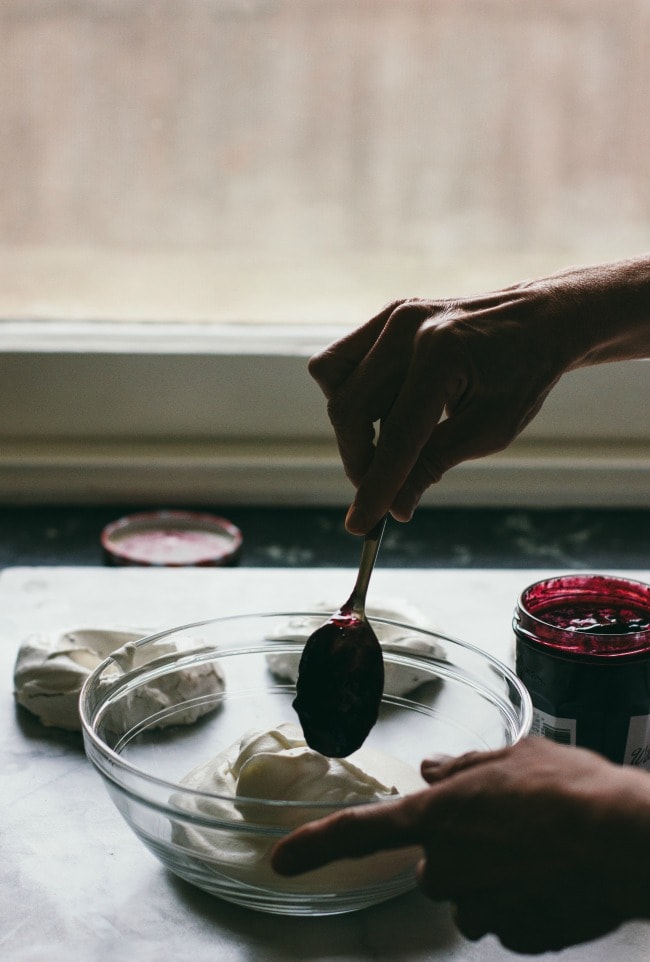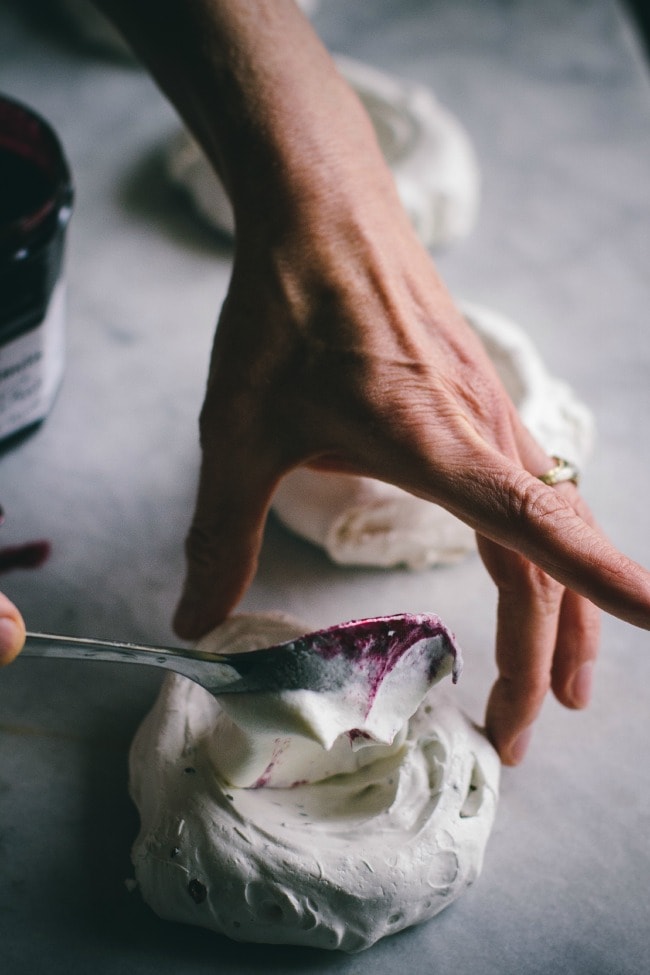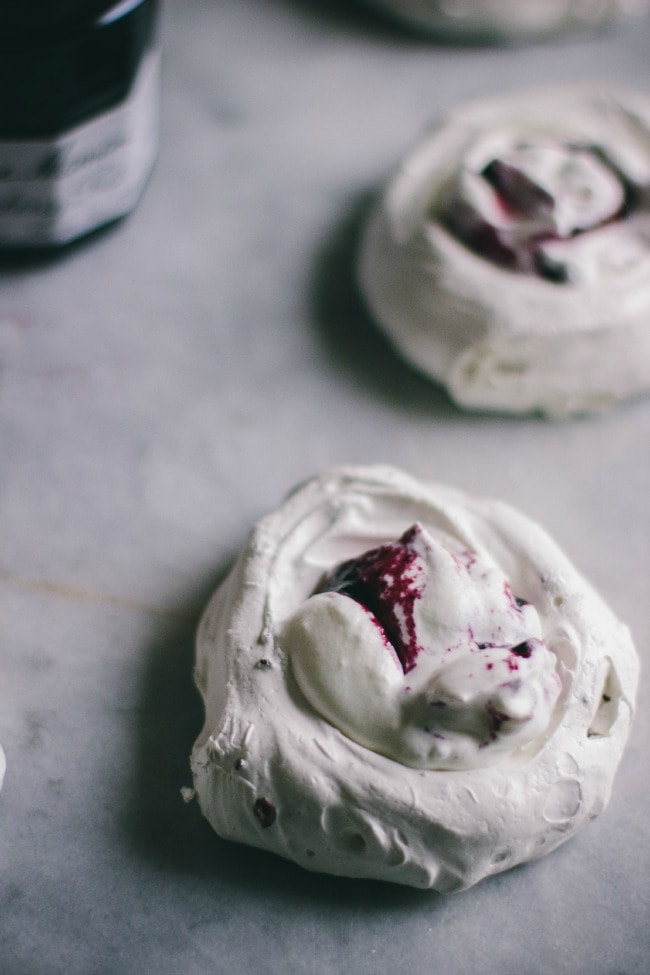 Sara Forte's new cookbook, Bowl + Spoon, is beautiful, with recipes focused on simple, healthy ingredients served in the perfect vessel. I found her pavlovas to be a fantastic riff on the bowl: a delicious, edible bowl. Also, meringues with cacao nibs! Totally genius. (Also, thanks to the amazing Zoe Francois for making these pavlovas with me!)
Cocoa Nib Pavlovas with Jam
adapted from Bowl + Spoon by Sara Forte
I've changed things just a bit from Sara's recipe. Sara makes a French meringue (egg whites aren't heated first, and the larger sugar crystals leave a little crunch) with mostly natural cane sugar, and I've made these a Swiss meringue with mostly white sugar (egg whites are gently heated, resulting in a more delicate texture). Either way will make for a delicious dessert. Sara also serves her pavlovas with mixed berries, but here in Minneapolis our berries aren't quite in season, so jam was a great substitute.
4 egg whites, at room temperature
3/4 cup granulated sugar
1/4 cup natural cane sugar
good pinch of salt
1/2 teaspoon vanilla extract
2 tablespoons cacoa nibs
Preheat the oven to 200 degrees and line two rimmed baking sheets with parchment paper.
In the bowl of a stand mixer, combine the egg whites, sugar, and salt. Put the bowl over a double boiler and stir with a rubber spatula until the sugar is completely melted (this will take several minutes). Brush the sides down with the spatula occasionally to make sure all the sugar is melted and no grains are clinging to the sides. Feel the egg mixture between your fingers to check for graininess. Once the mixture is completely smooth (you can check by putting it between your fingers and checking for graininess), put it on your stand mixer and beat with the whip attachment on medium high speed. Beat it until it is light, fluffy, glossy, and the bowl feels just about room temperature. Add the vanilla and cacao nibs, and beat until they are combined.
On the parchment lined sheets, divide the mixture into 8 meringue pillows (or 12 smaller portions). Use the back of a spoon to create a generous well in the middle of each meringue (you want the edges higher than the center). Bake the meringues for an 1 and 1/2 hours (if you are baking smaller meringues, bake them for less time – one hour). Turn off the heat and allow the meringues to sit in the oven for 30 more minutes. Remove from the oven and let cool completely before filling. (You can make the meringues up to 2 days in advance. Keep them in an airtight container until ready to fill.)
Filling
2 cups heavy whipping cream
1/2 teaspoon vanilla
1/4 – 1/2 cup jam (any flavor will do; I used Wild Blueberry)
Whip the heavy cream and vanilla until soft peaks form. Gently stir in the jam, making large streaks in the whipped cream. Scoop the whipped cream into the wells of the meringue, and serve. (A sprinkle of Tara's candied cacao nibs on top wouldn't hurt, either.)